Le Camondo is a perfect address for summer dining, too, since it has a spacious garden courtyard terrace. The modish contemporary French cooking by young chef Alexis Le Tadic at Le Camondo is pleasant; the service young, friendly and eager; and the people watching first-rate, but you'll probably enjoy a meal here even more if you know something about the Camondos themselves, since the history of this defunct dynasty–the last Camondos perished in Auschwitz in 1944, is worthy of long brilliant novel or a sententious documentary film.
The Camondos were part of the Sephardic Jewish community in Spain before they resettled in Venice after the Spanish Inquisition in 1492. They later moved on to Istanbul, where they founded Camondo & Cie, one of the greatest banks of the Ottoman Empire, in 1802. Eventually, In 1869, Abraham Solomon Camondo, the eighty-six-year-old patriarch of the family, followed his grandsons Behor Abraham Camondo (1829–1889) and Nissim Camondo (1830–1889) to Paris where they had settled and were successful bankers.
On my way to dinner here on a recent wiltingly hot night, I found myself wondering what the Camondos might have made of this restaurant. Would they have been appalled by the idea of strangers intruding on the sanctuary of their home, or amused that the most workaday parts of their mansion had now become one of the most fashionable restaurants in Paris. A bit of both, I expect.
Arriving, the welcome was cordial and seating was efficient, which provided further evidence of another welcome recent trend in Paris. To wit, the haughty dismissive service style that was pioneered by the Costes brothers at their various waningly fashionable addresses, including the Hotel Costes, Georges at the Centre Pompidou, and La Société in Saint-Germain-des-Prés, has happily been eclipsed by an accelerating return to the golden rules of good hospitality–manners, charm, attentiveness, humor, and efficiency, in Paris fashion restaurants.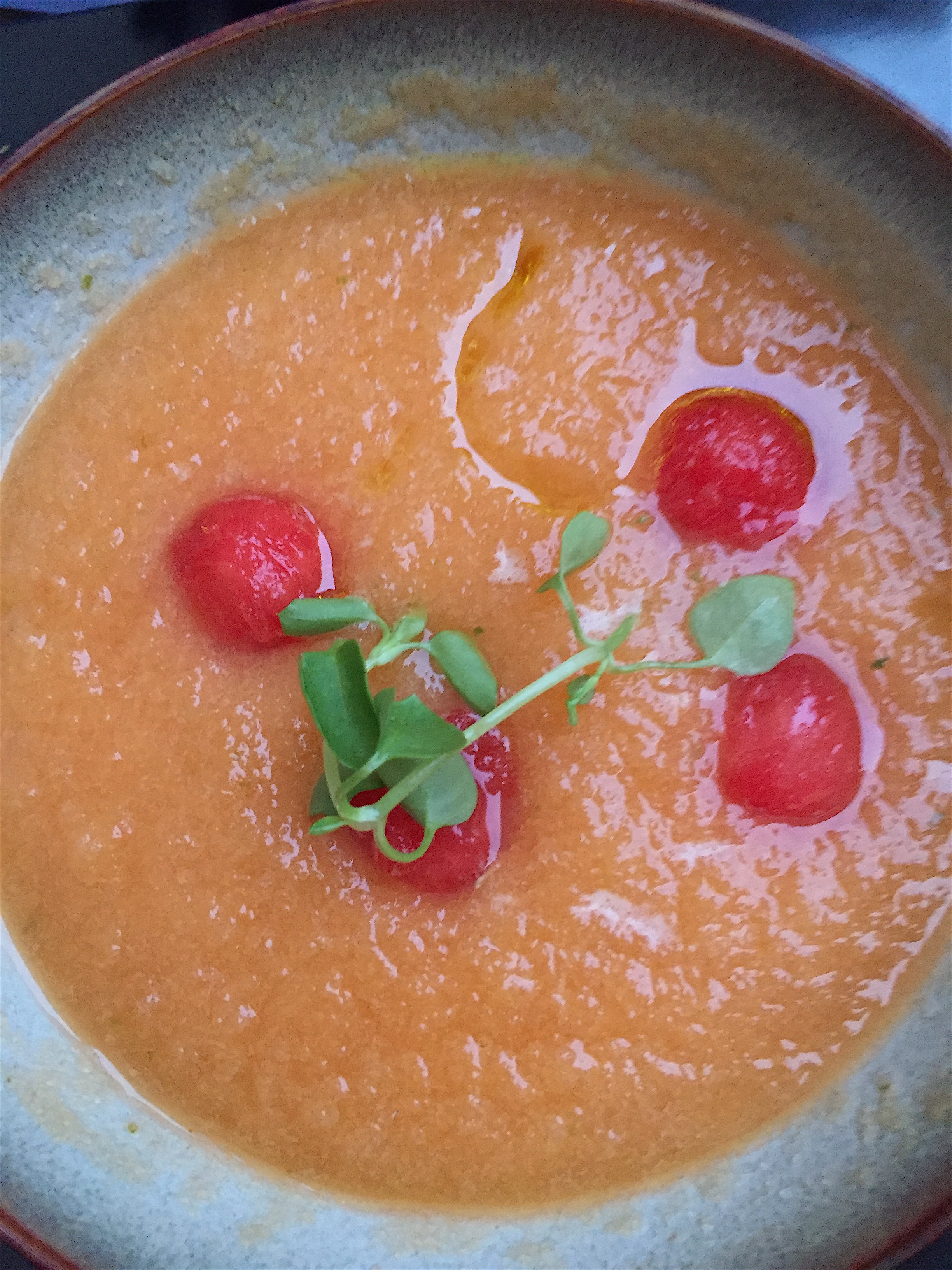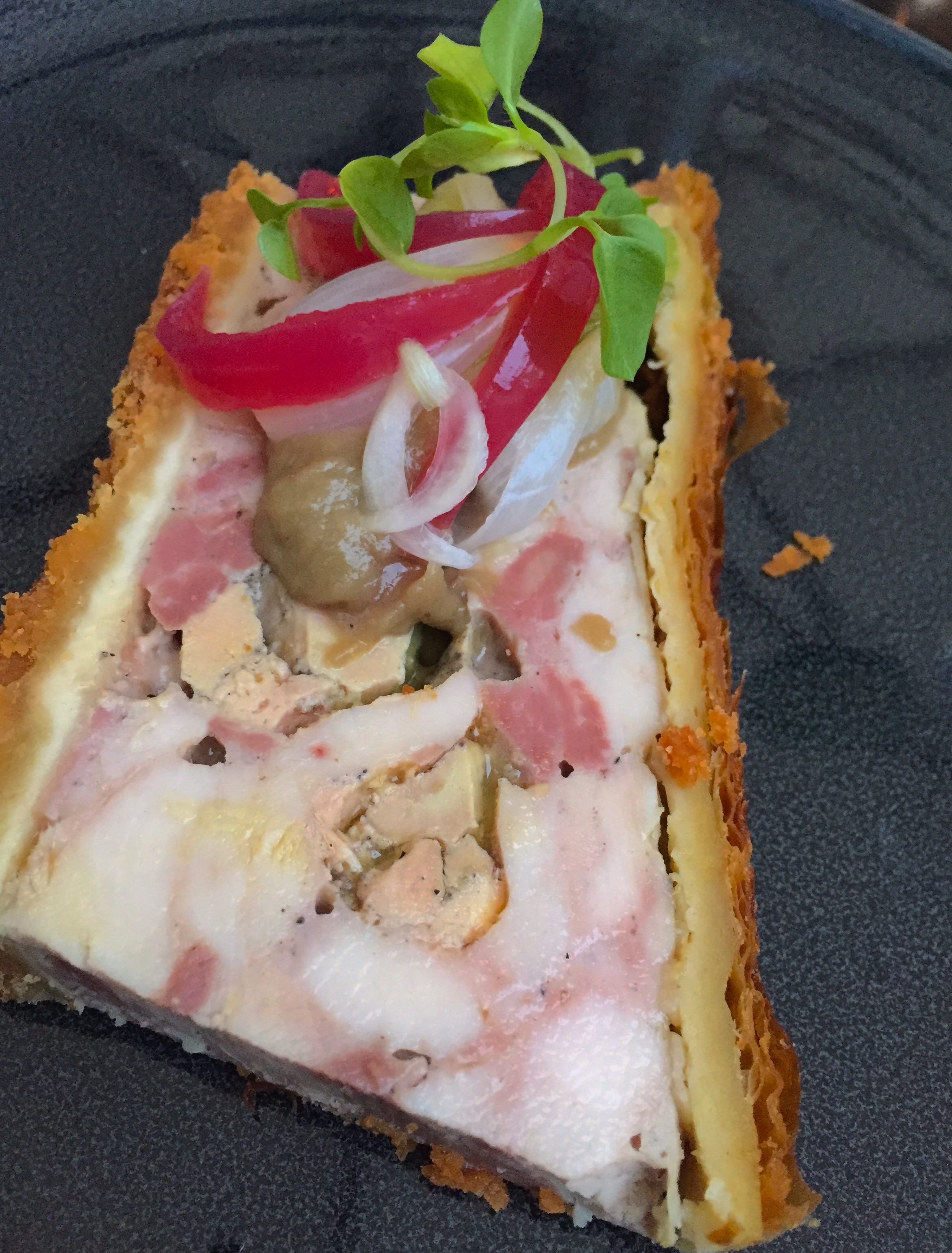 Heat wearied, we started with cocktails, both of which were watery and weak, and a plate of very good twenty-month old Bellota ham that was a little the worse for wear from having been sliced ahead of time, and studied the menu. It was a toothsome run of dishes perfectly aimed at a hot summer night. Bruno began with a two-melon soup that was basically pureed cantaloupe garnished with balls of watermelon, and knowing that Le Tadic had worked with brilliant charcutier Arnaud Nicolas (he also cooked at Yves Camdeborde's Le Comptoir and Jouvence, an excellent modern bistro in the 10th Arrondissement), I chose the pate en croute, which had a wonderfully crumbly crust wrapping an excellent pork terrine that was brightened by a garnish of pickled vegetables. Bruno liked his soup, but I found it rather plain, needing maybe some mint or piment d'Espelette to make it livelier and temper its sweetness. Still, this was summer-in-the-city food that made sense and had appeal.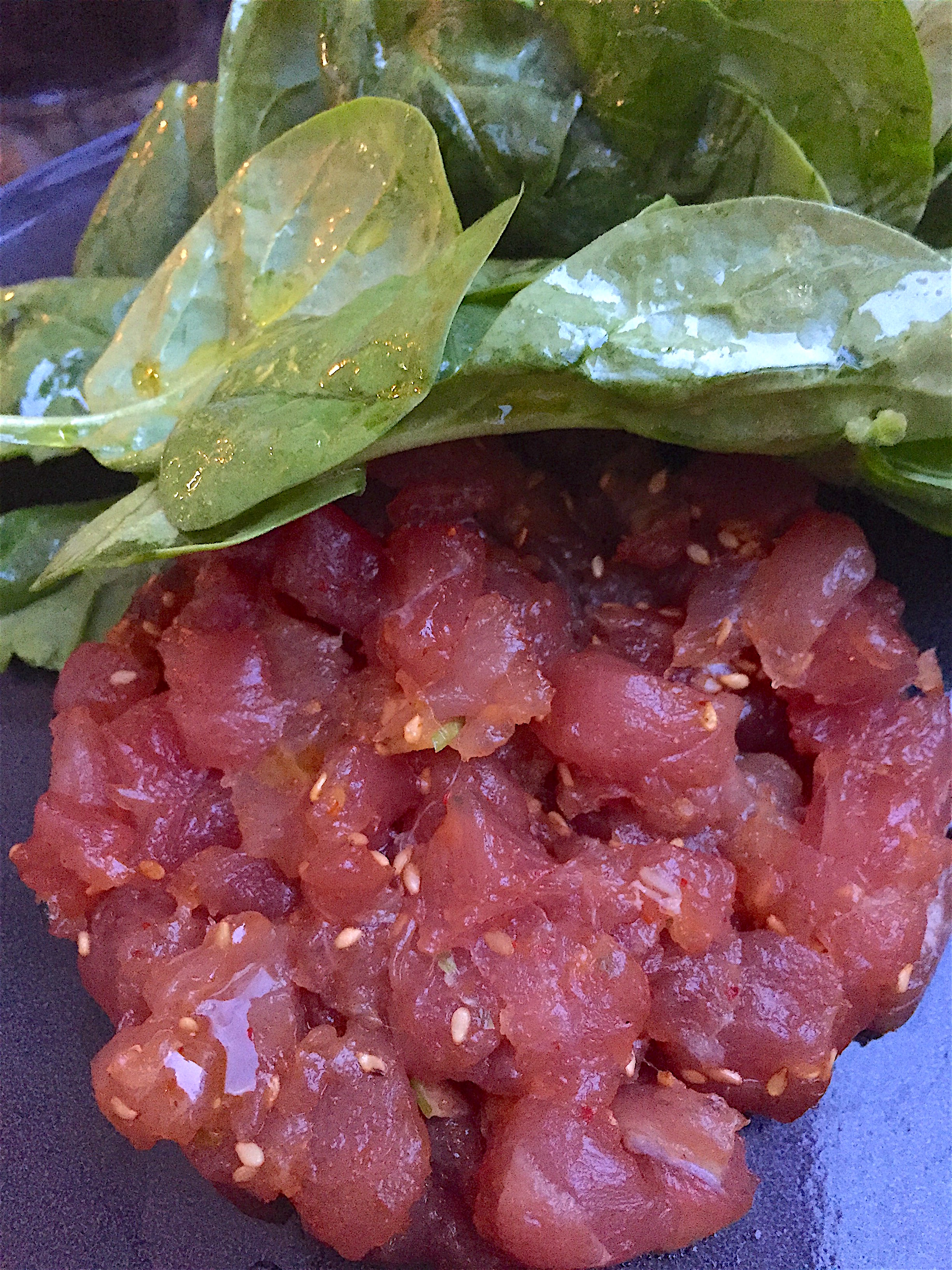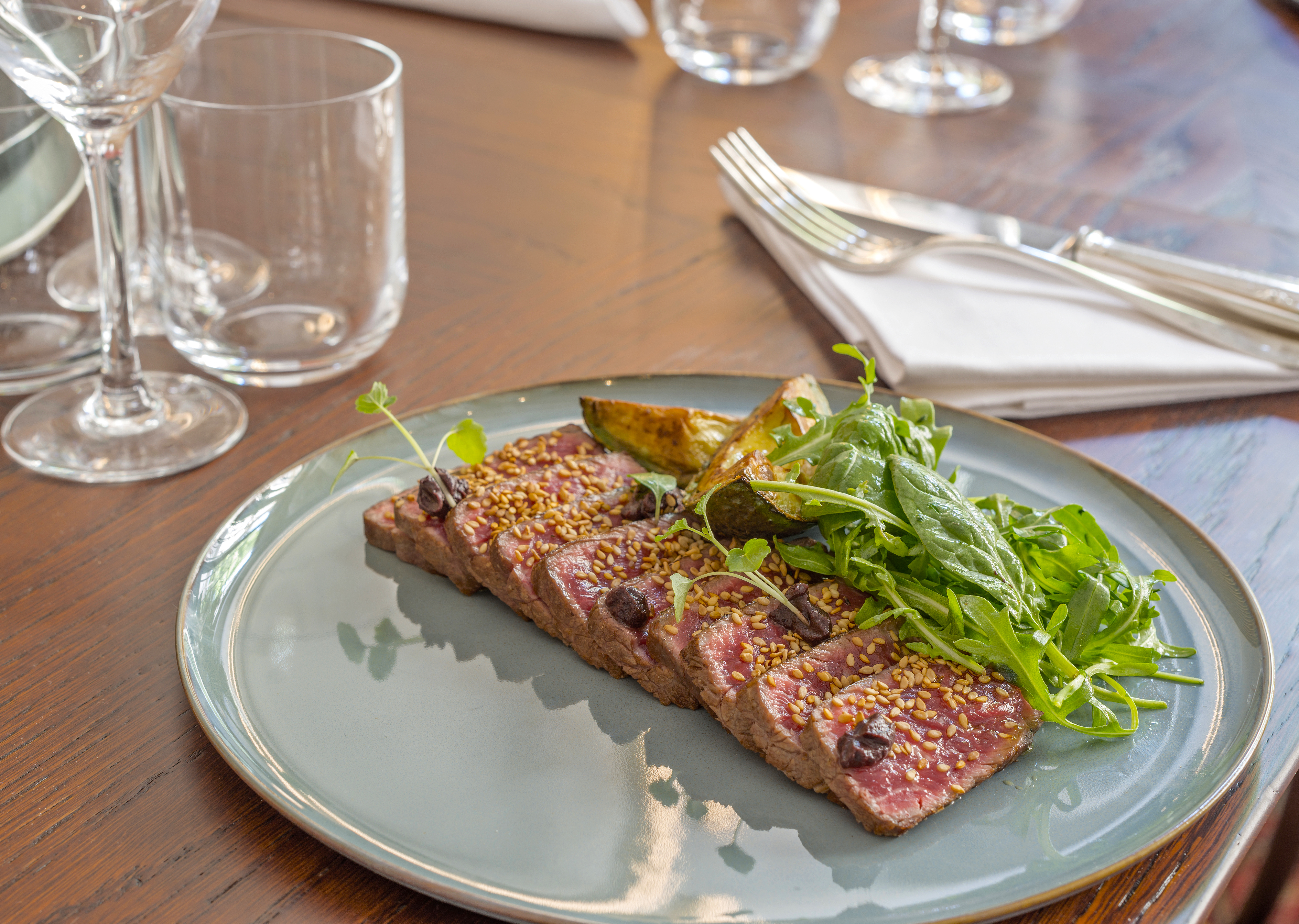 I saw a lot of Cesar salads at neighboring tables that night, but I opted for the tuna tartare with baby spinach leaves, a nice fresh coarsely chopped red hash of this fish with a whisper of ginger and citrus and vinaigrette-slicked baby leaves. It was generously served and made from good produce. Wanting meat, Bruno preferred the Tataki de Boeuf, thin slices of steak cooked rare garnished with grilled sesame seeds.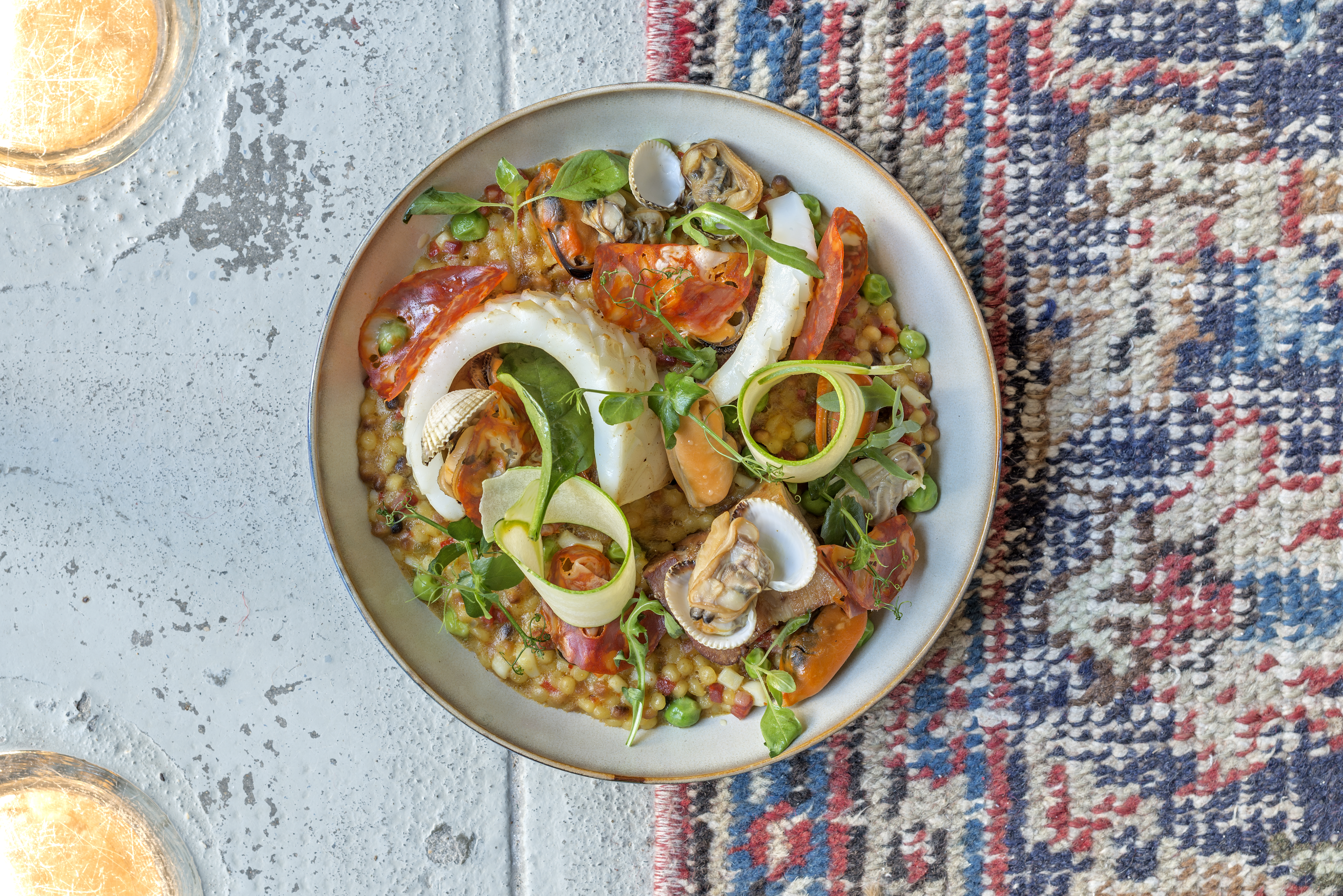 There were other dishes on the menu that might appeal on a cooler day, including the Sardinian fregola pasta cooked liked a paella with shellfish that my nice neighbor let me snap; duck breast with roasted figs and potato puree; and turbot with herbs, fennel and green mango.
Desserts are signed by Christophe Michalak, formerly at the Hotel Plaza Athenee and now working on his own, and they included the excellent pavlova with raspberries, litchi and lime that we shared, plus a beautiful looking millefeuille and a yuzu tart. Simpler choices ran to fruit salad and raspberries with whipped cream.
The menu here will change monthly, both to follow the seasons but also to cater to the large local business clientele–they're still a lot of banks in this neighborhood, that has already made this place it's canteen. For many of these people, the restaurant is both a professional and social necessity, since they entertain clients at noon and gather together at the end of long work days for a meal before heading home. So expect to see a lot of well-cut suit jackets drapped on chairs with neckties folded up in their pockets, and expensive shoes from J.M. Weston and Berluti. Suits and shifts on the ladies, too, with simple family heirloom jewelry and quietly expensive handbags from Hermes and Goyard. Adding to the interest of this crowd is the fact that it's the Parisian cast from which the new French president Emmanuel Macron issues, too.
I enjoyed my meal here, but is it a good choice for visitors? Well, yes, because good simple honest food like this can be a relief from the ardors of more elaborate gastronomy, especially when you're traveling, plus the terrace is lovely, and it's a great place to book for lunch after visiting the Musée Nissim de Camondo.
This is equally true for Parisians, but given the local passion for al fresco dining during the summer months, many of us locals will probably prefer to come for dinner. And finally, just in case you were wondering about the aristocratic 'particule' (de) that proceeds the Camondo's family name, it indicates the hereditary countship that was bestowed on Abraham Solomon Camondo in 1870 by King Victor Emmanuel II of Italy in recognition of his financial help in liberating Venice from Austrian rule. And if the dense loaf of the Camondo family's history interests you, the great summer read I'd recommend is the Hare With Amber Eyes by Edmund de Waal, a perfect page turner of a similar family history that you can find in my Amazon store on this site.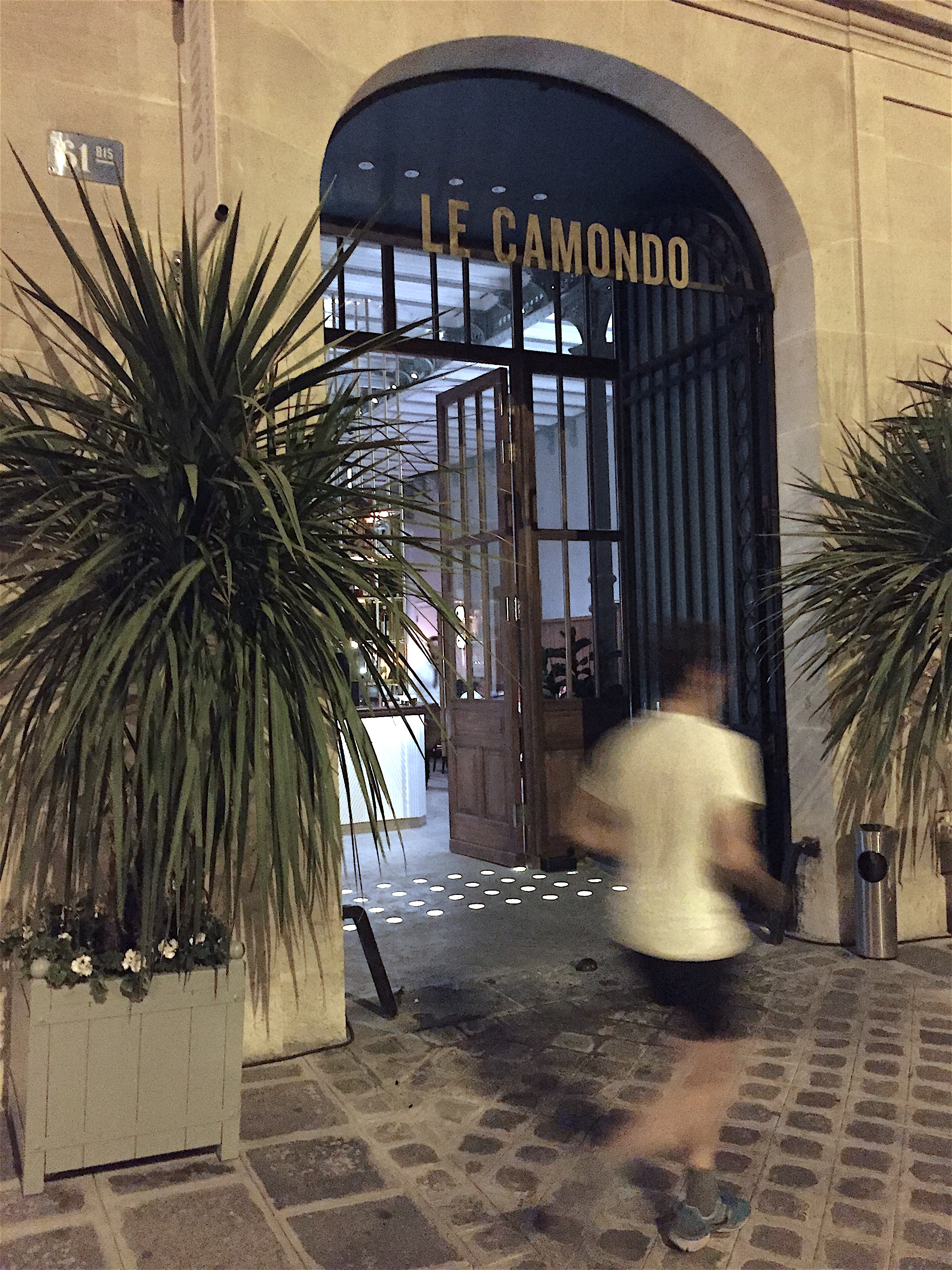 61 bis, rue de Monceau, Paris, 8th arrondissement, Tel. (33) 01-45-63-40-40. Metro: Villiers or Monceau. Open for lunch and dinner Tuesday to Saturday. Open for lunch on Sunday. Closed Monday.  Average dinner for two 140 Euros. www.lecamondo.fr