Kitchen Ter(re), Paris | Superb Pasta on the Left Bank, A-
July 17, 2017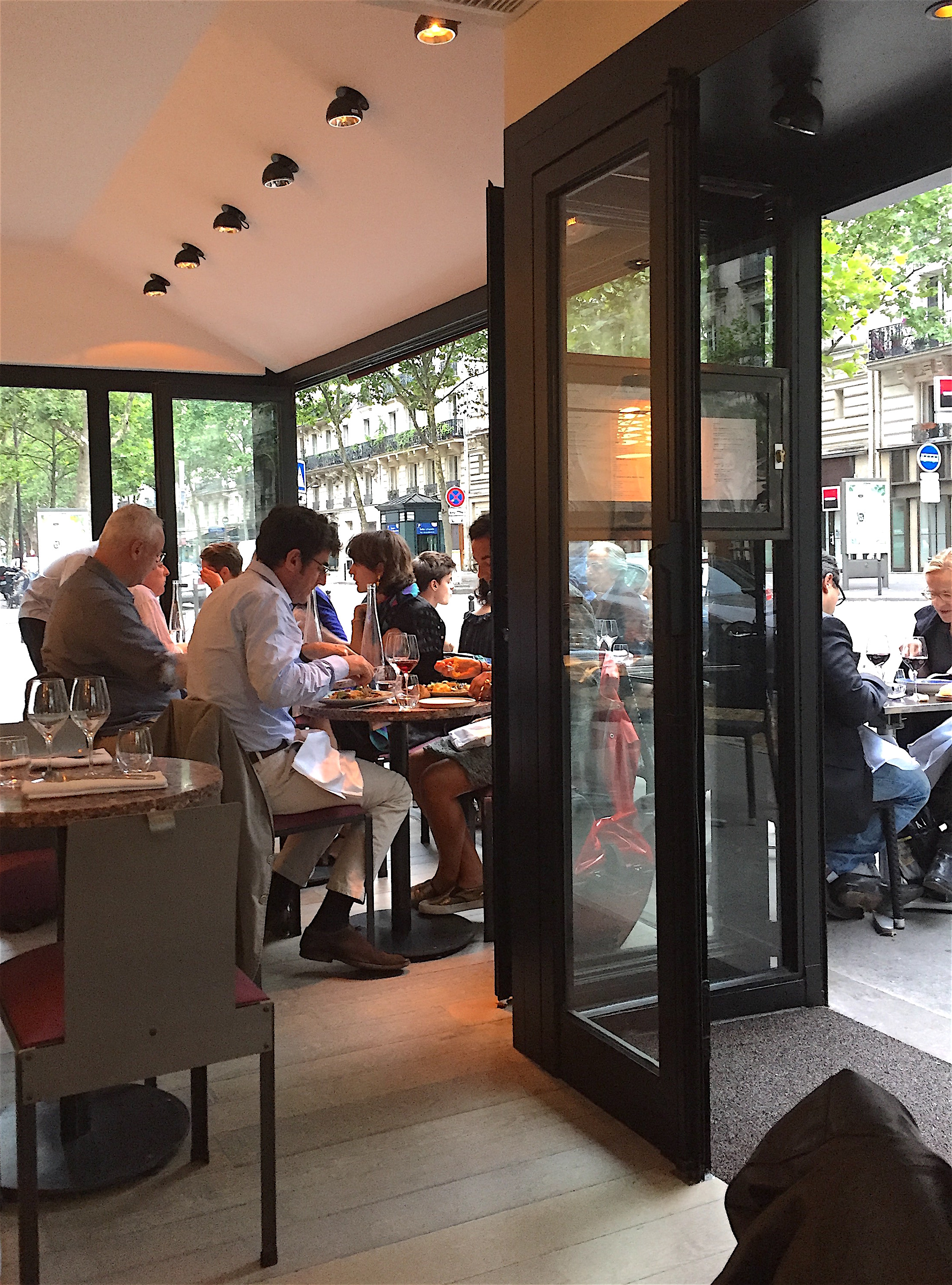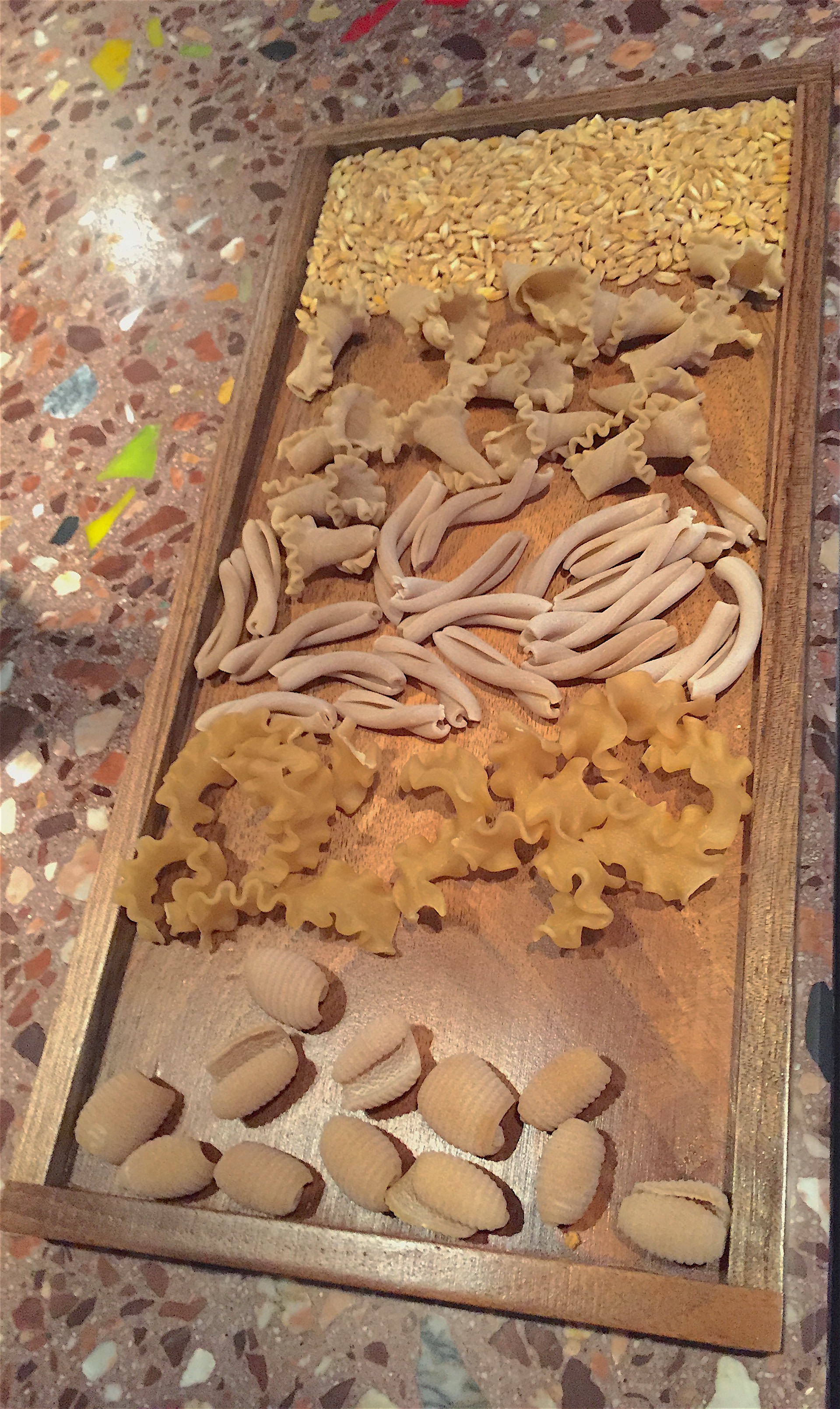 With a menu of artisanally made pastas napped with vibrant Asian inspired sauces and a sidewalk terrace on the quieter end of Boulevard Saint Germain in the 5th Arrondissement, chef William Ledeuil's restaurant Kitchen Ter(re) is the best new restaurant in Paris this summer. Ledeuil, one of the most consistently amiable and innovative chefs in Paris, already has two excellent Left Bank tables–Ze Kitchen Galerie, his first one, and KGB (Kitchen Galerie Bis), Ze Kitchen's Galerie's more casual and less expensive little brother, both of which are on the rue des Grands Augustins in Saint-Germain-des-Prés.
Ledeuil's new place was born from a chance meeting arranged through one of his suppliers, Michel Bachès. Bachès, whose farm is located in Eus near Perpignan, supplies Ledeuil with the citrus fruits that are a key ingredient in his cooking, and he was the one who introduced him to Roland Feuillas, a miller and baker in Cucugnan in twenty miles northwest of Perpignan. "I was immediately fascinated by Roland's work," says Ledeuil. "He makes his own flour from heirloom grains that he grows himself and then he grinds them with an old stone millstone. The quality of the flour is exceptional, but it was when I tried his pasta (Dentelles de Cucugnan) that I had the idea of creating a new Paris table that would serve Feuillas's original pasta and some new ones that we invented together." What drew Ledeuil to Feuillas's pasta is that it's made without eggs, just stone-ground flour from ancient grain varieties and water, and so has an exceptional capacity to absorb the flavors of the bouillons and sauces that have made his reputation. "It has an exceptional texture when cooked and a suave nutty taste," the chef added.
Ledeuil has long been intrigued by Asian herbs and cooking techniques, especially those of Thailand, and they've come to define his inventive, bright, flavorful cooking ever since he left his post at Les Bouqinistes and opened his own restaurant next door in 2001. Among his favorite ingredients are galangal, basil, ginger, Japanese seaweed, lemongrass, coconut milk, and coriander, and he also uses a variety of typically southeast Asian cooking techniques, including steaming, bouillons, marinades and juxtapositions of raw and cooked ingredients in the same dish to create a contrast of textures. Long before the now rather worn out term 'fusion' began to be batted around, Ledeuil was deeply involved in inventing his own hybrid kitchen, and the surprise is that his cooking is still as intriguingly vivid and refreshing as it was when I first tasted it nearly twenty years ago.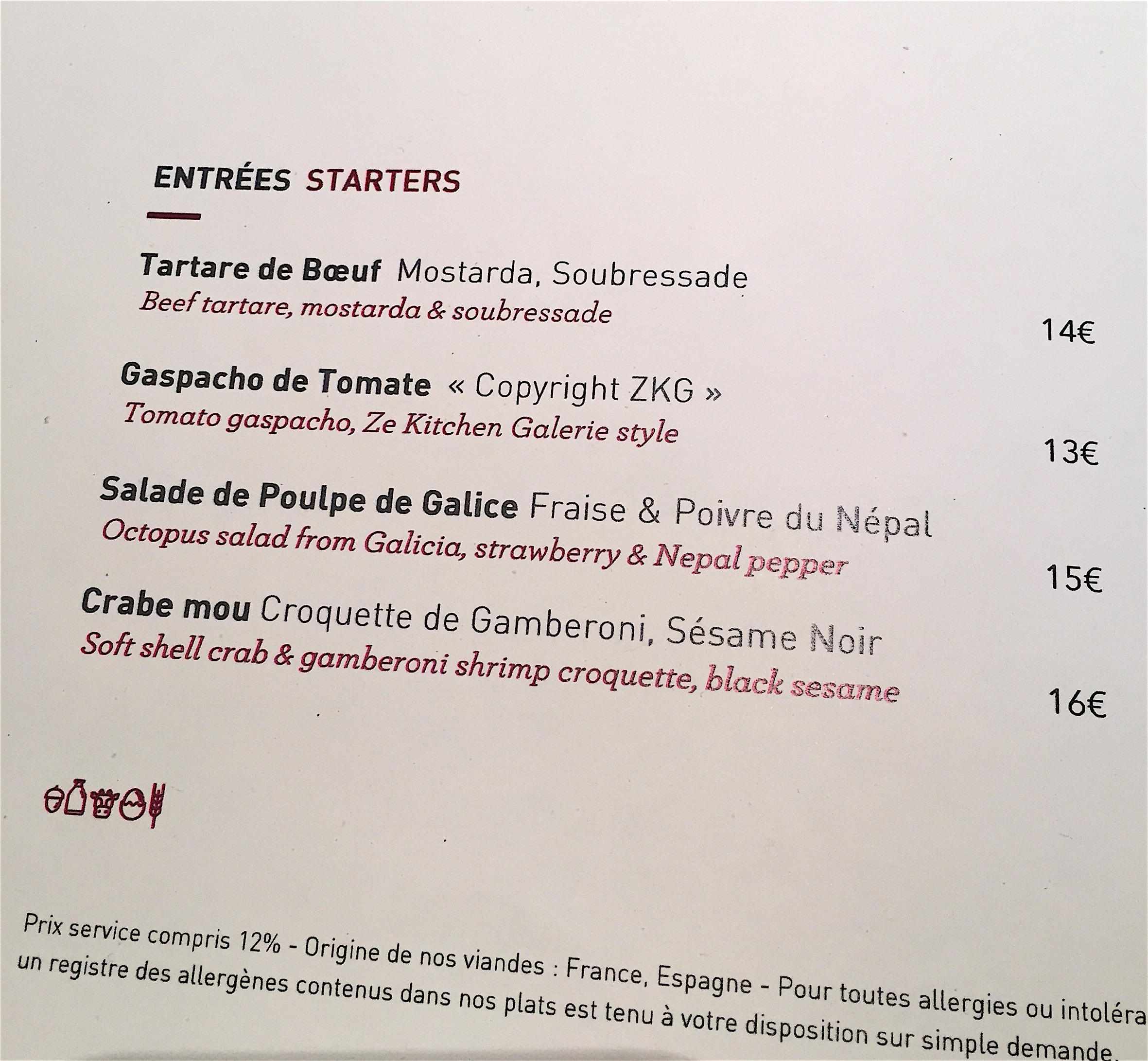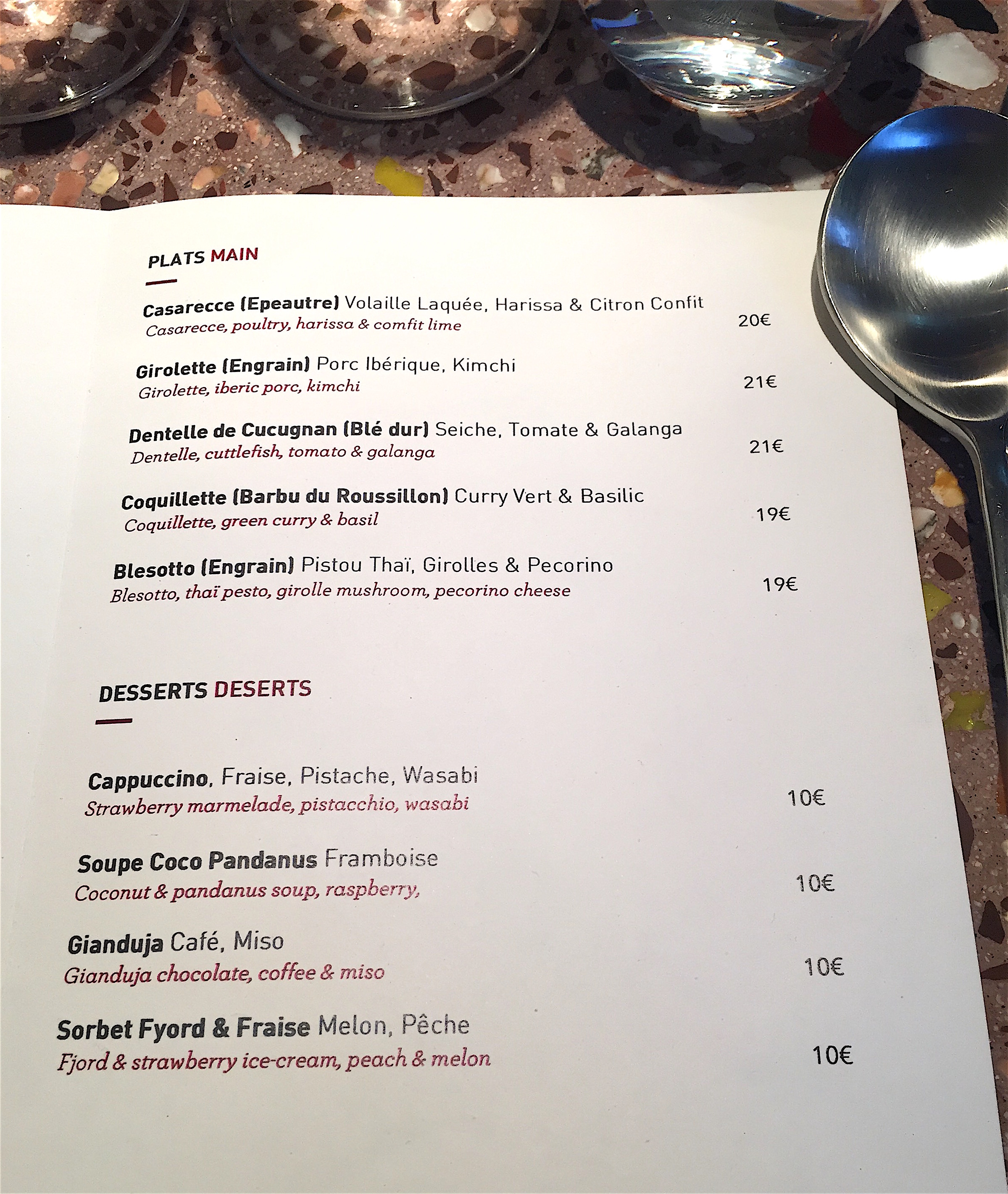 The menu at Kitchen Ter(re) is short, seasonal and exceptionally vegetarian friendly. Executed by chef Bruno Laporte, it's also piquantly cosmopolitan, because Ledeuil's culinary imagination and very personal gastronomic logic roves the world in search of inspiration. Spain, Morocco and Korea have all inspired dishes at Kitchen Ter(re).
Some dishes involve new spices, herbs and products, largely from Asia; some feature different and unexpected juxtapositions of products, textures and preparations –raw and cooked, for example, and and some involve different cooking techniques, including steaming, poaching in aromatic bouillons, and marinades. But all of them reflect Ledeuil's savvy gastronomic logic in creating intriguing new dishes for the 21st century.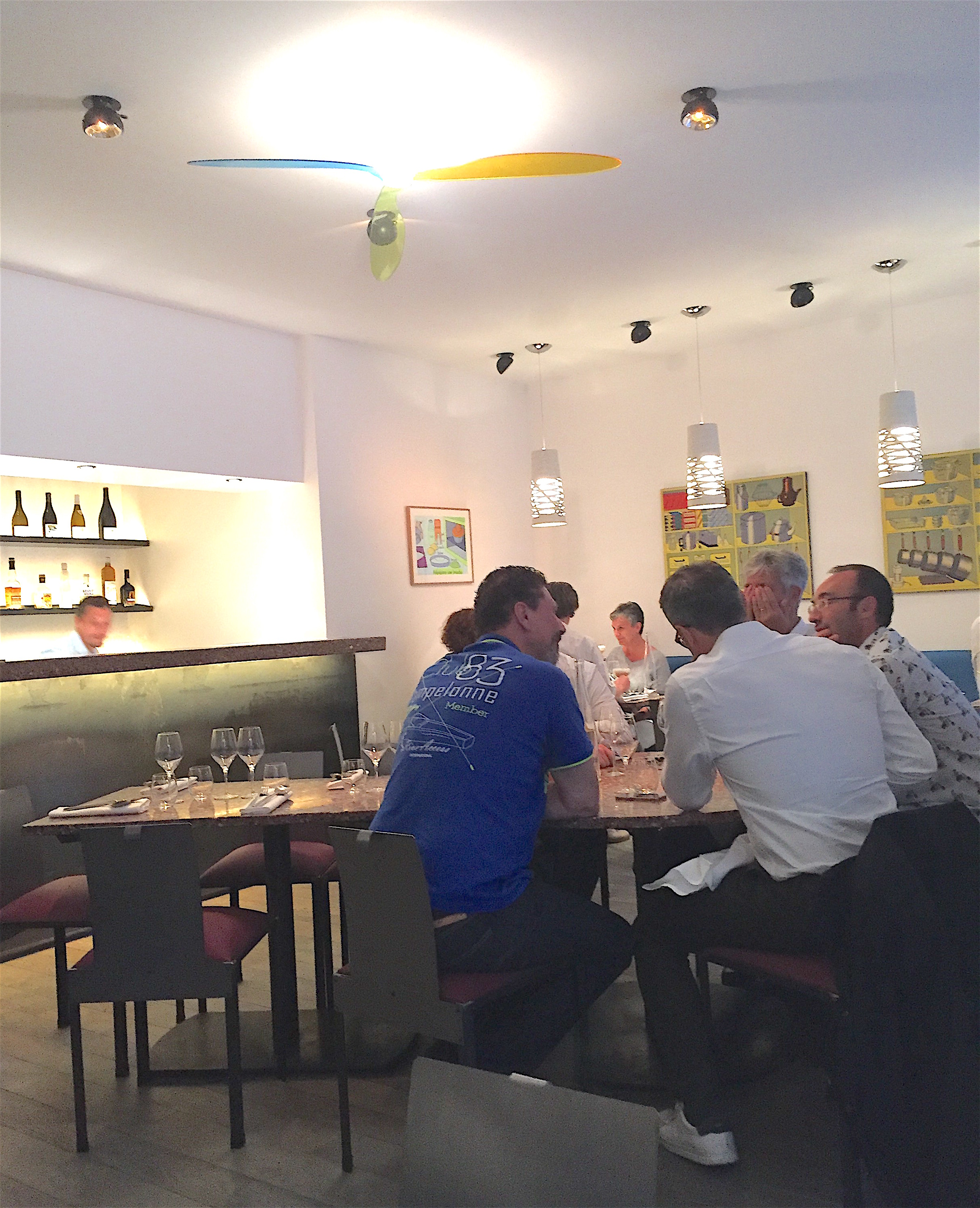 Stopping by for dinner with Bruno on a breezy summer night, the windows of the enclosed terrace were open and tables had been set out on the sidewalk. Aside from his superb cooking, I was immediately reminded of two other reasons I've always liked his restaurants–service is exceptionally friendly and well-trained, and the dining room was light, clean and modern, with well-spaced terrazzo topped tables with steel chairs, good lighting and a stylish but low-key decor that takes its cues from local art galleries.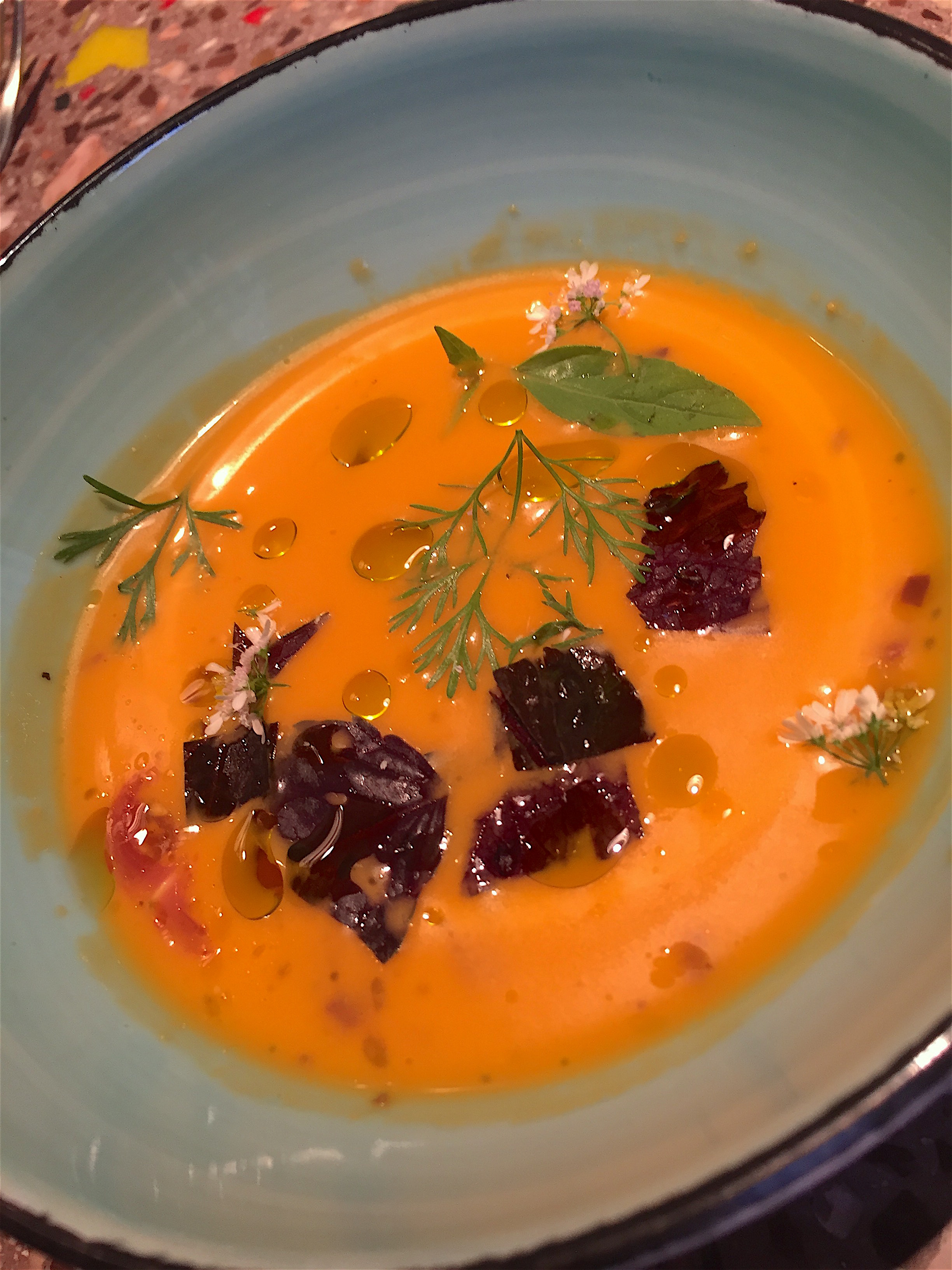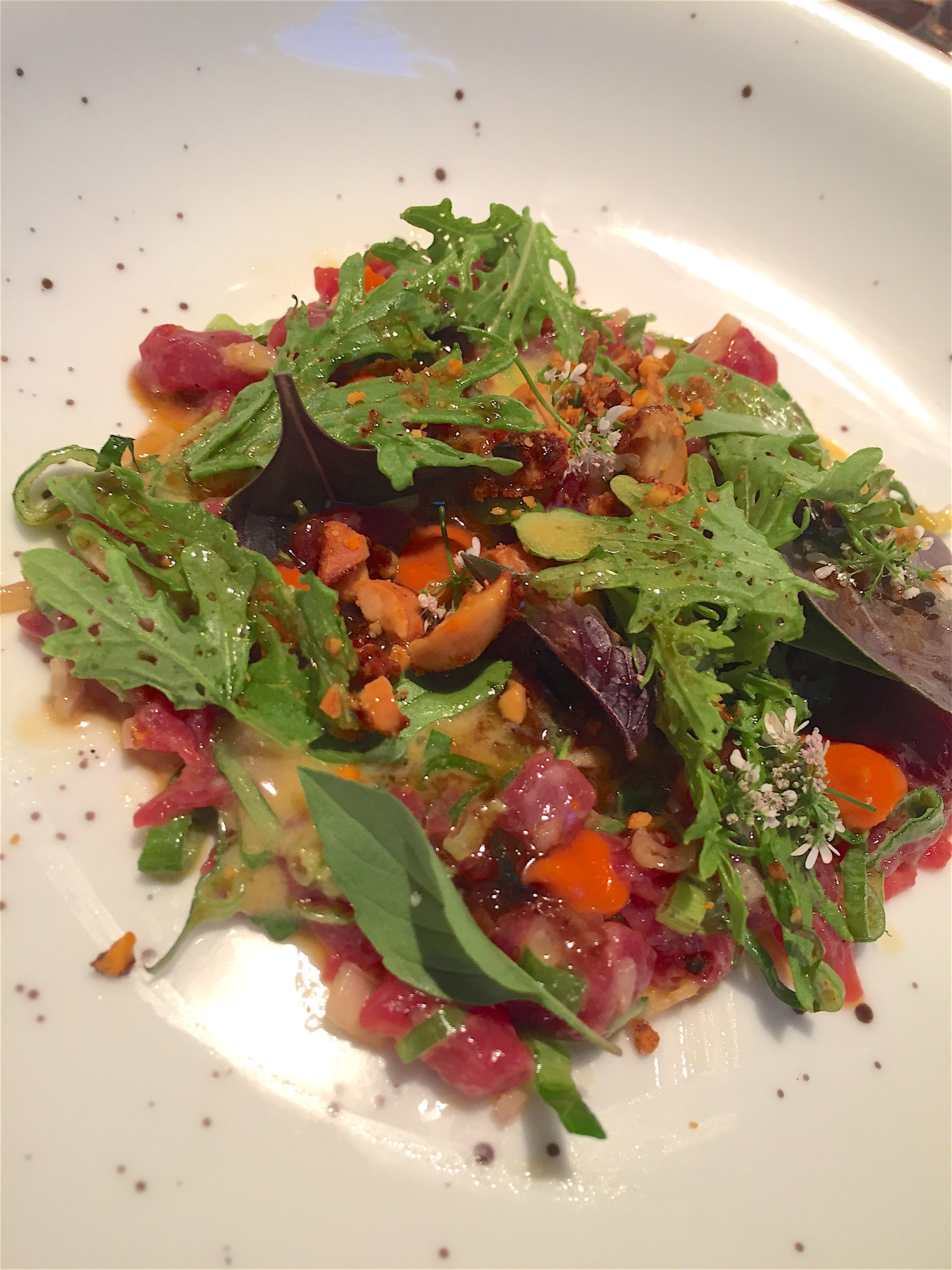 Since both of us were eager for a lighter starter that night, we chose the gaspacho and the steak tartare as our starters. Both are wonderful dishes, but only Ledeuil could have produced a gaspacho with such a deep vibrant depth of flavor, since this lush poppy-colored soup had ringing tones of varying acidity and was brilliantly revivifying on a warm night. The steak tartare was excellent quality hand-chopped beef with a dressing of mostarda, or Italian mustard syrup, dabs of soft Pimenton spiked Sobressada, a soft pork sausage from Mallorca. It came under a thatch of fresh herbs that included shiso, Thai basil, and Italian basil, plus a scattering of chopped green onion and crushed hazelnuts. All of these garnishes flattered the beef, and this dish was so good I later suggested to Ledeuil that he also offer it as a main course.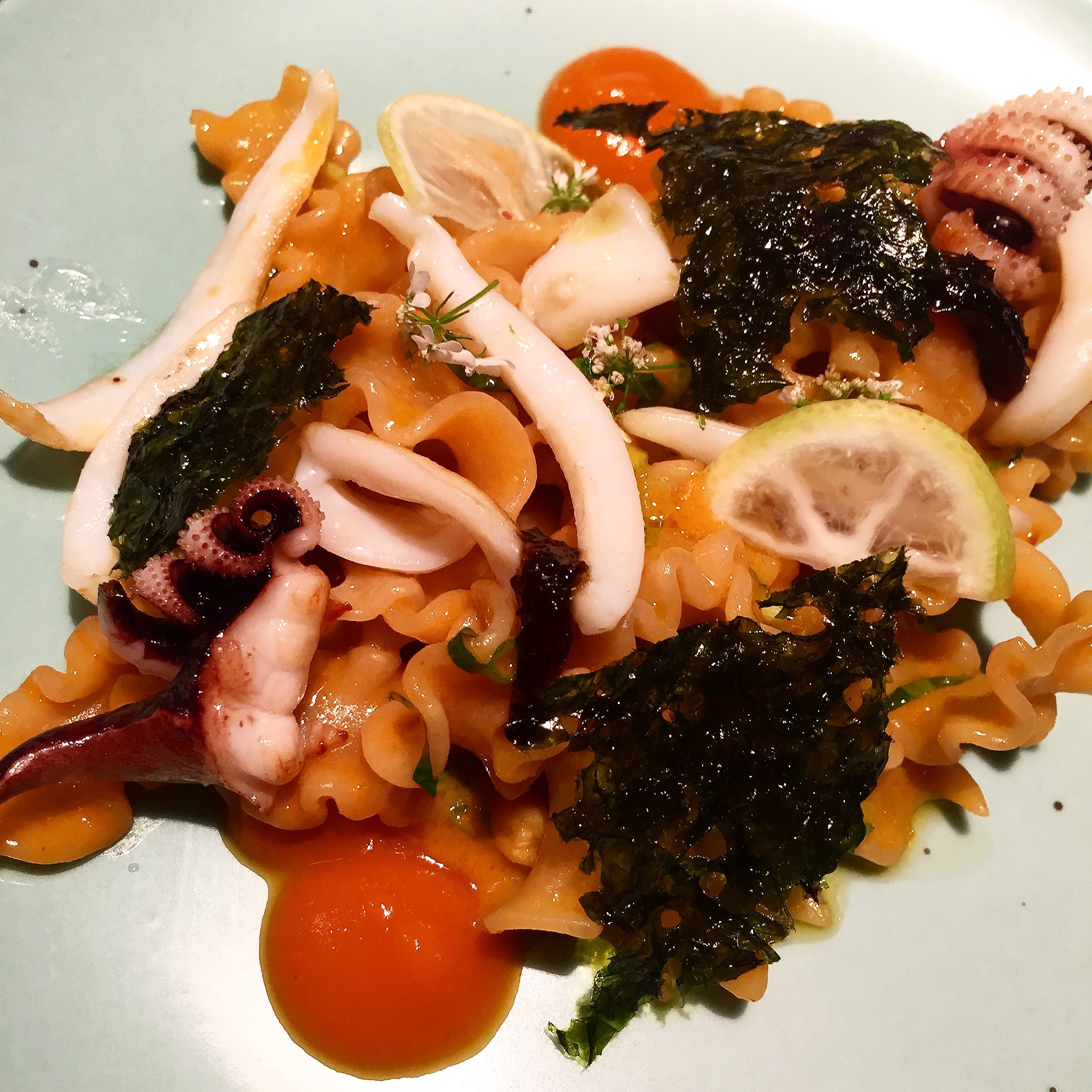 Among the five pastas, all of which are identified according to the grain they were made from, I had my eyes on the Dentrelle de Cucugnan with cuttlefish, tomato and Galanga, while Bruno was eye-balling the Coquillette with green curry and basil. My frilled pasta came with tender pieces of cuttlefish, Nori, and a tangy sauce that probably included piquillo peppers, tomatoes and pickled lemon. Ultimately, it was Ledeuil's very own mash on the fact that pasta is loved and eaten in many different cultures around the world in different shapes and with different garnishes, and it was excellent. Bruno's coquilllettes had been cooked in Thai bouillon and also had a fascinating depth of flavor. What both of us liked was the 'mache,' or toothsomeness of this pasta, which was cooked al dente and had a quiet but appealing taste of the grain from which it was made.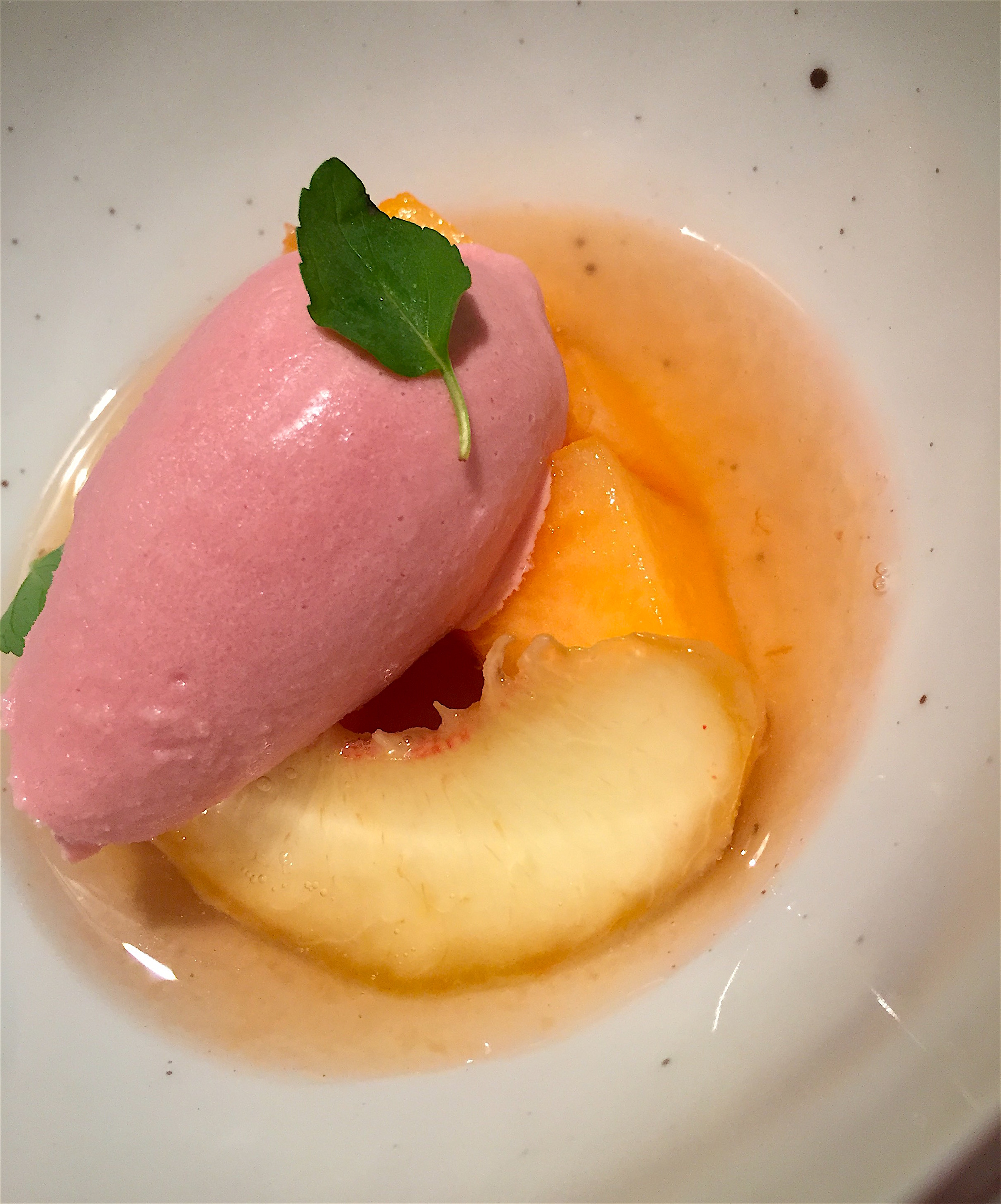 A really good dessert always does that best of things, which makes you glad you ordered it in spite of a certain diffidence about eating too much and calories. And this is exactly what Ledeuil's sublime summer concoction of Strawberry and kefir ice cream with melon and white peaches in verbena broth accomplished for me. To wit, I didn't thinkI wanted it, but was hugely glad I'd caved after it came to the table, since the mixture of fruity tastes and textures backdropped by the verbena was one of the best summertime desserts I've had in a longtime. What I loved about it is that it was simple–with resonances of those fruits I loved best during childhood summers, but complex and racy at the same time.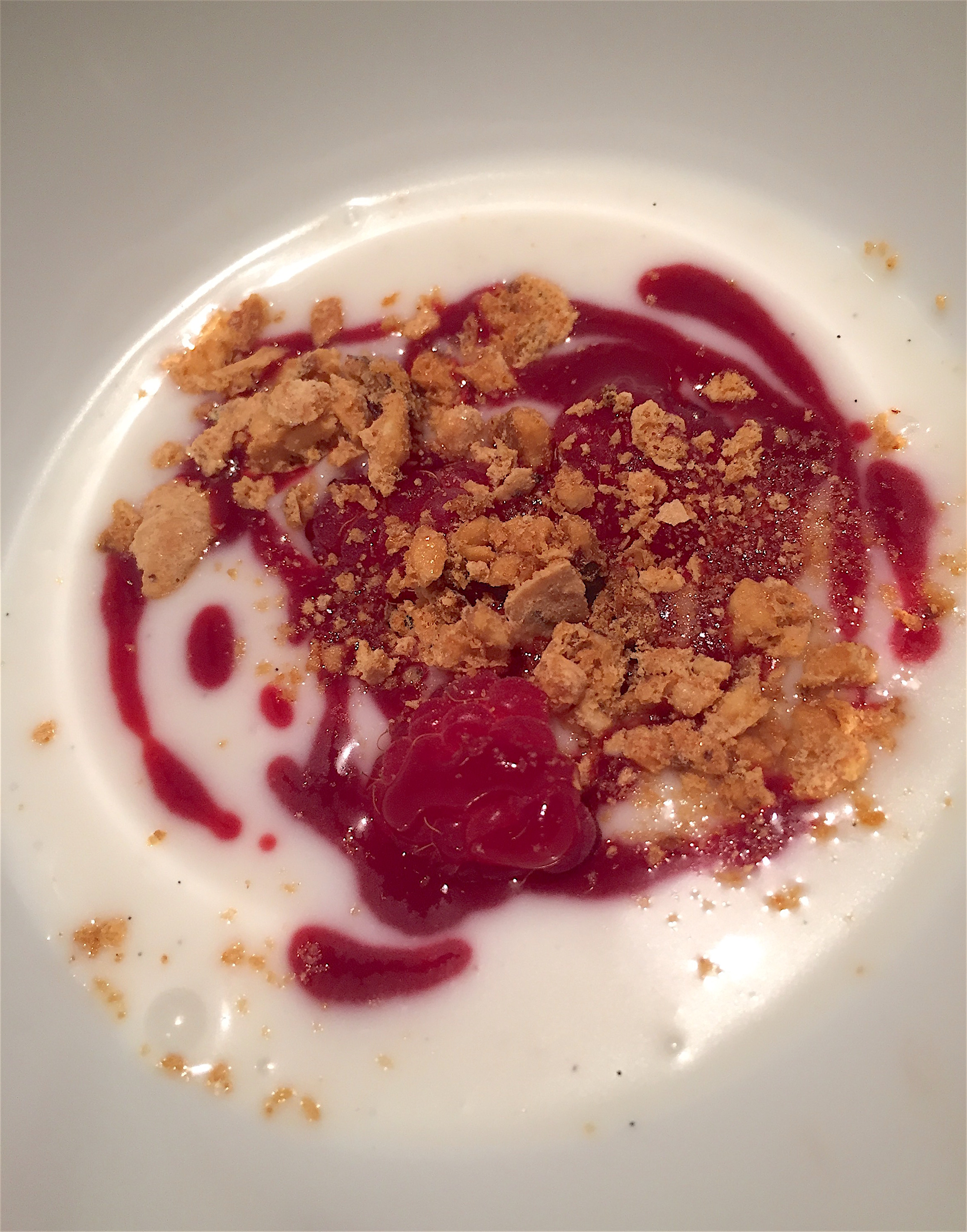 Bruno loved his pandanus-flavoured coconut milk soup with raspberry coulis, too. Pandanus had nothing to do with my childhood summers, or Bruno's either for that matter, since he's from Valenciennes on the Franco-Belgian border. Instead this curiously flavored fruit that has a taste that's at once resinous and then softened by notes of banana and strawberry is is native to Malasia, eastern Australia, and the Pacific Islands. The raspberry coulis cut the base notes of sweetness in this dish with a welcome acidity and also made familiar.
"Pandanus! Goodness! Sounds like something from Rikki-Tikki-Tavi (the short story from The Jungle Book from Rudyard Kipling) might have eaten," said my mother in New England, when I got home and returned the three messages that she'd left while we were out for dinner. Well, yes, and that's just the point. They're almost no boundaries in the kitchen anymore thanks to chefs like William Ledeuil, and this makes the beginning of the 21st century in Paris a particularly exciting place to eat.
26 boulevard Saint Germain, 5th Arrondissement, Paris, Tel. (33) 01-42-39-47-48. Metro: Maubert-Mutualite. Open Tuesday to Saturday for lunch and dinner. Closed Sunday and Monday. Average 50 Euros. www.zekitchengalerie.fr
https://www.facebook.com/Kitchen-Terre-254725888344694/ 
N.B. As of this writing, Kitchen Ter(re) will be open almost all summer long, closing only from August 15-19.