Le Champ des Lunes, Lauris | A Dazzlingly Creative New Chef Arrives in Provence, B+
March 30, 2016
When the summer throngs descend upon the Luberon, the tenderloin of Provence, this year, I have no doubt that Le Champ des Lunes, the table gastronomique of the magnificent new Domaine de Fontenille hotel outside of Lauris near Lourmarin, will become one of the season's most sought-after reservations. Chef Jérôme Faure may be a native of the Jura, the mountainous region of eastern France on the border of Switzerland best known for its Comte cheese and Montbeliard sausages and the place where he won a Michelin star, but in the space of a few of months, he has brilliantly created a very personal and strikingly creative new contemporary Provencale cuisine that's based on superb local seasonal produce.
"It's not exactly breaking news, but the best thing about Provence for a chef is the incredible produce," says the amiable Faure, who scouted local markets and chatted up farmers to create his own unique network of suppliers for the two restaurants he runs at the hotel, Le Champ des Lunes, the gastronomic table with an open kitchen overlooking a dining room with polished cement floors, dangling lamps with Edison bulbs, and re-editions of classic modern furniture, including Charles and Ray Eames chairs, and La Cuisine d'Amélie, a simpler bistro with a southern accent.
During the course of an overnight stay at this lovely new hotel, I was lucky enough to eat twice at Le Champ des Lunes, and aside from the wonderful food, one of the things I liked best about these meals was the dining room itself. I love Provence but it was refreshing to dine in a space that was more worldly and urbane than most of the restaurants in the region. There wasn't a ribbon tied bunch of lavender, a faience cicada or an inch of fussy Souleiado fabric to be seen anywhere in this cool, hip space with a lot of natural light. Like the decors throughout the Domaine de Fontenille, this bracing good taste is the work of owners Frédéric Biousse and Guillaume Foucher, who own art galleries in Paris and Brussels.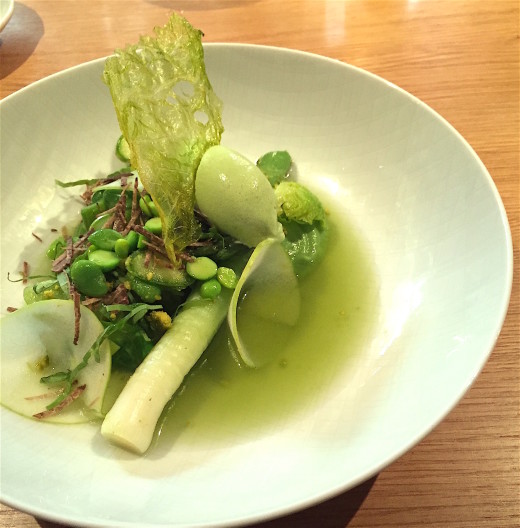 But what interested me most, bien sur, was Jérôme Faure's cooking, and lunching with friends, my curiosity was immediately rewarded by a superbly seasonal composition of all the tender spring vegetables that induce a pulse-racing desire at this time of the year–fava beens, asparagus, and tiny peas, plus a baby leek, Savoy cabbage, and broccoli in a pool of watercress-and-sorrel bouillon that was garnished with an improbably pleasant scoop of pistachio ice cream and spiked with Chartreuse, the potent but tonifying–or so I'd like to think–herbal elixir made by monks in Faure's native region. As an introduction to Faure's style and gastronomic logic, I was completely conquered, since this dish seemed to have been conjured up to appeal directly to the subliminal interface between my cerebral and carnal hungers. Or in other words, it was profoundly healthy but also packed a solid punch of pleasure.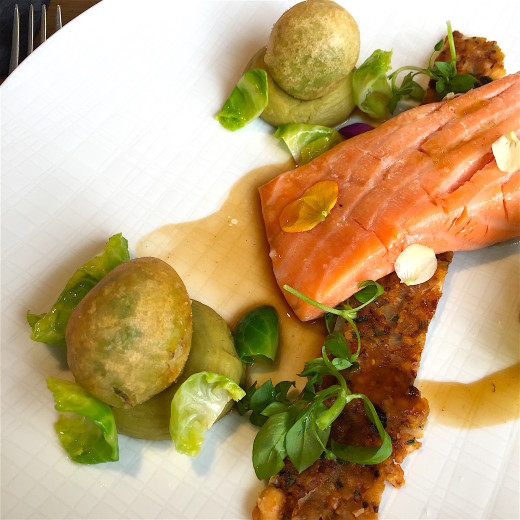 This easy equilibrium between higher and lower desires turned out to the be the rather wonderful theme of this meal, too. Olive oil poached salmon came with brussels sprout beignets on beds of split-pea puree, and the earthiness of the vegetal garnishes was unexpectedly flattering to the fish, while a strip of baked seeds, sprouts and pulses not only served as a banner of nutritional good intentions but brought some welcome texture to the composition. And the other gastronomic theme that made the meal so pleasant was Faure's unselfconscious playfulness in terms of garnishes of sprouts, petals and flowers and food that was as visually interesting looking as it was delectable.
This was especially true of dessert, a declension of Valrohna chocolate with cep mushroom ice cream, an idea I intend to steal for a summer barbecue meal dessert, since the mixture of funkiness and sweetness was so sexy.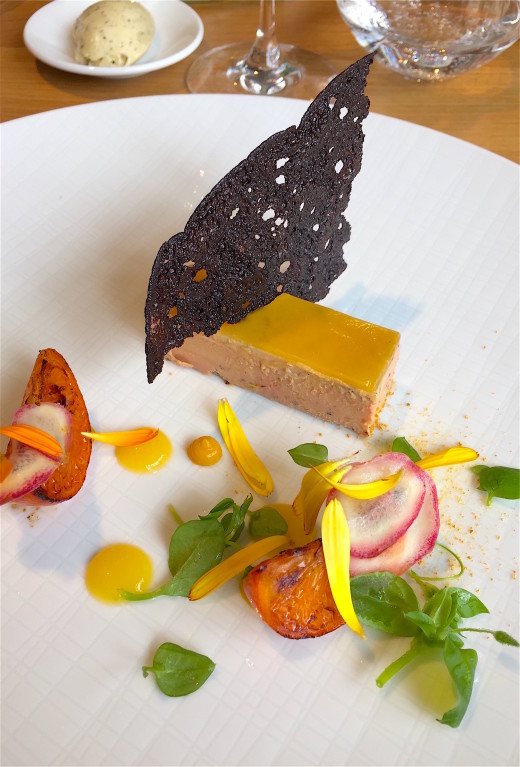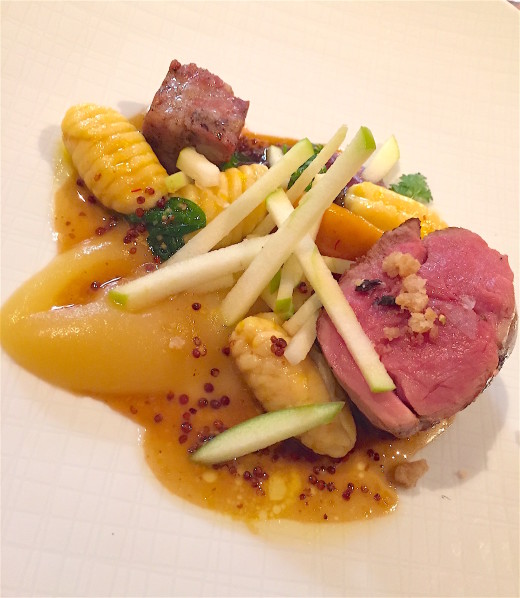 Normally, it's a bit dull to eat at the same restaurant twice in a row, but after a visit to the new winery at Le Domaine de Fontenille and a big thumping nap, that great luxury of a night away in the country, I was really looking forward to dinner that night, and Faure's nocturnal performance was every bit as charming as his noontime one. We ate some beautiful foie gras with seared citrus and yuzu coulis, and then a superb preparation of juicy free-range Mont Ventoux pork with Granny Smith apple twigs, pear, and gnocchi in a sauce charcuterie (cooking juices deglazed with mustard and vinegar) spiked with locally grown saffron. When the pork arrived at the table, I couldn't help but thinking of how my mother might react to its rareness, since such is her fear of undercooked pork that it always came to the table in a rather unpalatable gray hue when I was a child. That said, the reason this pork could be eaten so rare is that it was organically raised from an heirloom breed and then slow cooked.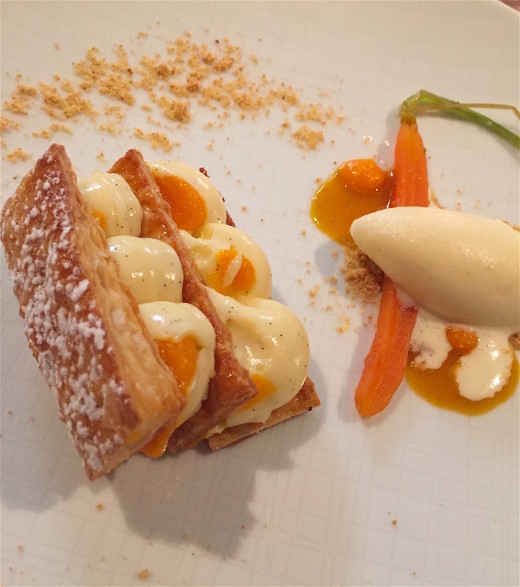 And as if I needed another demonstration of the chef's wit and talent, the meal concluded with a millefeuille of candied carrots and ice cream made with Caissons d'Aix nougat candies. I have a skittish sweet tooth, but this was excellent, since the earthiness of the carrots tempered the sweetness of the pastry cream and ice cream in the same way the cep ice cream had cut the richness of the chocolate dessert at noon.
So with the arrival of Jérôme Faure at Le Domaine de Fontenille, Provence has gained a very talented and interesting chef who will doubtless shake-up the stale culinary tropes of this very beautiful region. And on the basis of the dining room being filled with locals at both of the meals I had here, word is getting around very quickly, too. So I can't think of a better address–both the restaurant and the hotel–with which to greet the summer, and the next time I go, I'll look forward to sampling Faure's simpler bistro menu at La Cuisine d'Amélie.
Domaine de Fontenille, Route de Roquefraiche, Lauris, Tel. (33) 04-13-98-00-00, Le Champs des Lunes: prix-fixe menus 38 Euros, 40 Euros, 62 Euros, and 112 Euros; La Cuisine d'Amélie: average a la carte 30 Euros. www.domainedefontenille.com