Kult, Paris | Good Casual Dining in Saint-Germain-des-Pres, B
March 16, 2016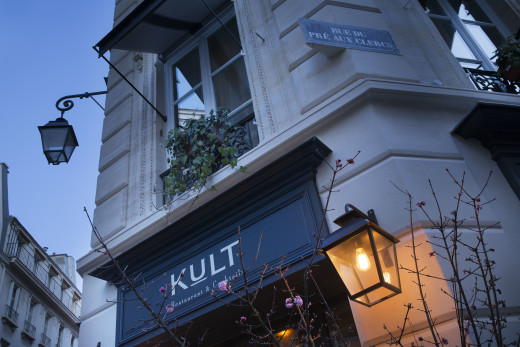 Inspite of its dopey name, Kult, the stylish but easygoing restaurant in the just-opened hotel Le Saint, is a welcome new option for good casual dining in Saint-Germain-des-Prés. Surprisingly, the restaurant offer in this storied Left Bank neighborhood, the most loved district of Paris for upmarket visitors to the city, is relatively meager. To wit, if you want a good French meal within a five-to-ten-minute walk of the Cafe Deux Magots or the Cafe de Flore, your best choices are pretty much Fish La Boissonnerie, Semilla, Le 21 and, a little bit further afield, the excellent Cafe Trama on the rue du Cherche Midi.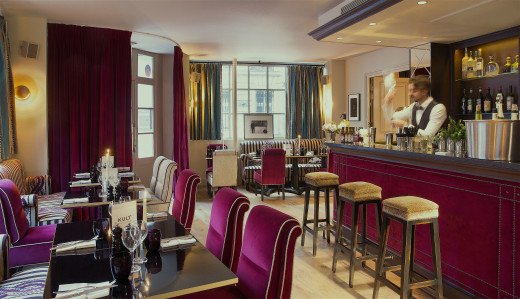 The good-looking new hotel Le Saint was created from a legendary local hotel, the Hotel Lenox, a place I loved, because I lived there for three months in a beautiful duplex suite at the expense of the publishing company I was working for when I first moved to Paris. Day in and day out, the Lenox offered me, a gangly unknowing neophyte, lessons in the ways of Saint-Germain-des-Prés, the neighborhood which remains the boiler-room of a certain eternal style of that distinctively Parisian off-center bourgeois chic the world just can't get enough of.
So what did I learn there in those early days? Oh, well, lots of things, but among them, the fact that true beauty is always flawed, personal and a tiny bit eccentric. That charm comes from a dared but never excessively scrutinized mixture of social confidence, verbal wit, graciousness and self-deprecation. And that even if it isn't always easy, it's better to listen for a long time rather than to speak too quickly. Oh, and also that opposites are always style friends, as in cheap and expensive, new and old, and bold and conservative. H & M and Hermes, Marks & Spencer and Comme des Garcons, mais pourquoi pas?
My gastronomic lessons in the neighborhood were of less importance, since even in 1986, Saint-Germain-des-Prés wasn't exactly heaving with good bistros aside from the long gone but still much missed La Cafetière in the rue Mazarine. That said, my take away from Saint-Germain-des-Prés was an infinitely valuable lesson about great French food, which is that the true axis of this country's exalted cuisine is a triumph of exceptionally good seasonal produce cooked simply.
So after I was seated on a stripped velvet banquette at the end of the bar and watching the bar tenders slowly, slowly, slowly mixing drinks, I wondered, would Kult 'get' the food ways of Saint-Germain-des-Prés, or would it be a silly gimmicky place like the Costes brothers glamorous but mediocre La Société?
Even before I glanced at the menu, my expectations were hopeful, however, since I've always liked the clean, lucid, well-focused cooking of chef Guillaume Monnet, who cooks at L'Affable, a pleasant nearby modern bistro. He drew up the menu at Kult and put its staff and suppliers in place.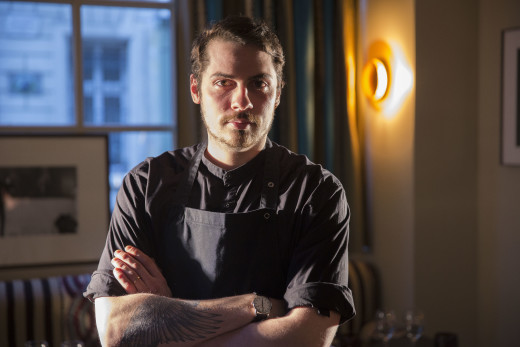 So Monnet knows and understands the eating habits of the locals, or that ur Parisian mix of fashion people, politicians, antique dealers, book editors, expats, and famous faces (Catherine Deneuve, Bernard Henri Levi, etc.) but is also savvy enough to factor the cravings of worldly, wealthy tourists into the mix when he draws up a menu, too. What these people have in common is that they know they should eat healthy but also like to spoil themselves a bit and also love sophisticated but unpretentious comfort food.
So I'd already decided that at the end of a serious bear of a stress-ridden day, I'd throw calories to the winds with foie gras and grilled onions, a superb combination, and then go with a primally pleasing steak tartare with homemade frites when Bruno finally galloped through the door and walked right past me, because he's getting used to new pair of glasses. He needed a cocktail, we needed a cocktail, and so we did. And they were good, even if the craft aspect of bar-tending always means they take too long to arrive.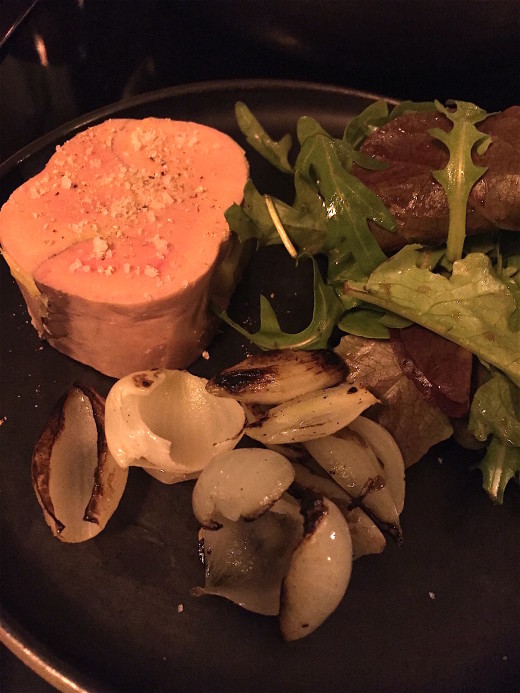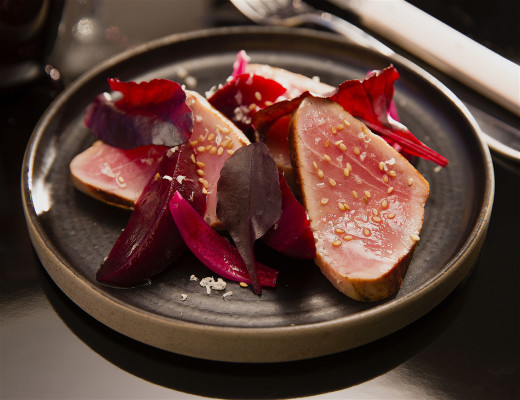 Soothed by his Manhattan, Bruno chose the tuna tataki with beets and horseradish cream and the ginger spiked duck breast with carrots and an unexpectedly successful sweet-and-sour sauce. Both of our starters were excellent, since the charred onion gently tempered the barnyard richness of my foie gras and picked onions teased the earthiness of Bruno's beets and back-stopped the fleshy iodine-rich tuna.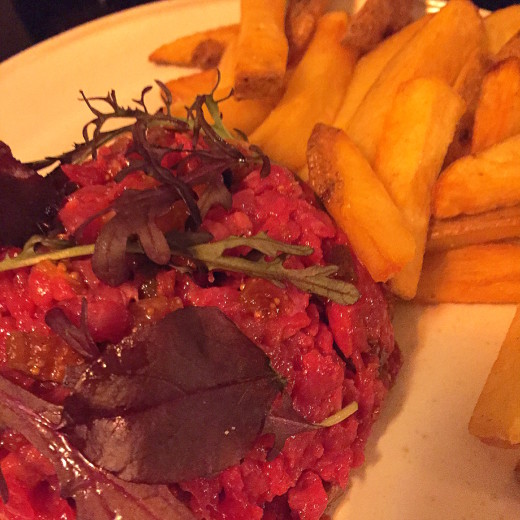 My steak tartare was excellent, or just that carnivore thing you want to eat when you need iron and minerals and don't have the attention to offer to the elegance of sauce or the flirtatiousness of an unexpected spice or herb. What made it original, though, was the chopped dried fig that had been folded into the meat, an interesting idea that would have been even more effective if it had been a little more subtle, i.e, the fig was too present, since I didn't really want anything to blunt the taste of my beef.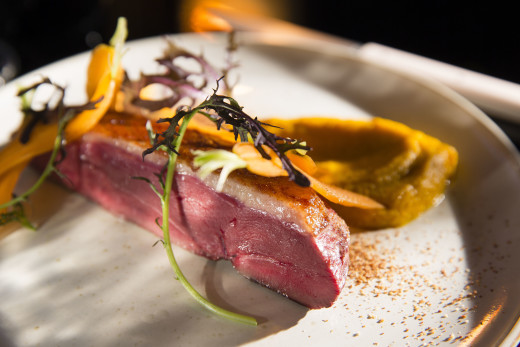 On the same wave-length of urgent appetite but with a little more wit was Bruno's duck breast, which came with a lightly crispy skin that had basted the meat with its earthy, flavor-rich fat but was still cooked juicy. Our garnishes were perfect, too–a few salad leaves and double-cooked fries for me, ginger boosted carrot puree for Bruno. I finished up with an unremarkable cheese plate–a shame when you have cheese shops like Quatrehommes and Barthelemy so nearby, but Bruno was pleased with his poached pear with speculoos crumbs (these Belgian spice cookies are the Old World equivalent of graham crackers)  and vanilla ice cream.
Surrounded by an intriguingly Saint-Germain-des-Pres crowd, including a well-known politician with his ambitiously busty transgender girl friend, and an antiques dealer who surprised me by coming to dinner with a wife I didn't know he had–his boyfriend, however, I've known for years–this casual table delivered exactly the kind of uncomplicated good-quality contemporary French meal we'd come here hoping to find. I expect that it will become very popular very quickly, too.
Kult, Hotel Le Saint, 3 rue du Pré aux Clercs, 7th Arrondissement, Paris, Tel. (33) 01-42-61-01-51, Metro: Rue du Bac or Saint-Germain-des-Pres. www.lesainthotelparis.com Lunch menu 28 Euros, Dinner menu 38 Euros. Open Tuesday to Saturday for Lunch and Dinner; closed Sunday and Monday.