Le CRISTAL DE SEL, Sincerely Good, B+; La COUR JARDIN, La Vie en Rose, B-/C+
June 26, 2010
One of the conundrums of writing about food in Paris is that I rarely have the opportunity to return to a restaurant I've already reviewed as often as I'd like.* Why? The insistent churn of the new and the fact that I won't do more than five dinners out during any given week–weekends I not only love to stay home and cook but also give my alarming girth a respite, mean that it's hard to get back to places I've already been with much regularity, so I was delighted when a friend who lives in the 15th arrondissement suggested dinner at Le Cristal de Sel the other night. *(the recent exception has been La Regalade Saint Honore, where I've now been almost a dozen times and thoroughly enjoyed every meal)
I liked it when it opened two years ago, ate there several times, and then it sort of slipped by me. My friend told me that they'd just reopened after a fire, though, so this seemed a good occasion to see how talented chef Karil Lopez's cooking had evolved in the meantime. Lopez trained with Eric Frechon at the Bristol hotel before he went out on his own, and my abiding memory of his food was that it was unusually sincere, delicate and almost maternal, or quite unusual for a male chef.
Though it was a rather long Metro ride from my digs in the 9th arrondissement, it was nice to come above ground on the rue du Commerce in the 15th arrondissement–it's one of the sweetest streets in Paris and has a real village feel, being friendly, convivial and peaceable. The only real danger in this neighborhood, in fact, is that you might be hit in the head by an expired geranium flower, since several people were busily dead-heading their window boxes as I walked down the street. The last time I'd been out here, I had an excellent meal at the Cafe du Commerce, which serves great steaks and really good frites, and heading to Le Cristal de Sel, the memory of this feed meant that I arrived with a really good appetite, too.
Arriving, the restaurant looked terrific, with bamboo floors, generously spaced zinc topped tables with comfortable wooden chairs, good lighting, and votive candles burning inside niches gouged into pink blocks of cristal de sel, or salt cristal, probably from Tunisia.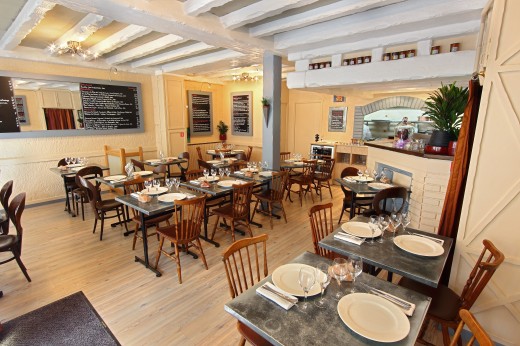 Le Cristal de Sel Over glasses of a Jean-Luc Colombo Viognier so good we decided to drink a bottle with dinner, we studied the chalkboard menu, which was helpfully explained by Damien, the charming maitre d'hotel here. Lots of things looked good, but I started with shrimp wrapped in crisp phyllo pastry and served with a delicious Tandoori spiced mayonnaise and a lively little salad of fresh herbs and Madame C went for the crab lasagna, which had also tempted me and was terrific–perfectly dressed crabmeat with fava beans and fine matchsticks of Granny Smith apple that shot the dish through with a pleasant tanginess. Next, langoustine filled ravioli in a foamy nage on a bed of buttered cabbage for me–a dish that's at once comforting and quietly luxurious, and perfectly cooked gray mullet in a brilliant sauce of rosemary honey with green asparagus tips and squid rings for Madame C.
Both of these main courses were not only delicious, but served as a perfect foil to our chatter about living in New York City in the early 1980s when the subway cars were still covered with graffiti and both of us were completely broke. C worked for a famous fashion designer with an insatiable appetite for both cocaine and Latin men, and I toiled in a niche on East 50th Street as the editorial assistant to Random House editor Joe Fox, one of the most brilliant and charming men I've ever met. Joe used to refer to the letters I typed for him as my "canvasses" because they were often so thick with White-Out, the correction fluid used for typing mistakes, of which I made many and also generously gave me the review copies of every book the company published, a privilege of being an editor. I'd like to think that it never occurred to him that I'd run them downtown to the Strand bookstore for weekend money, or at least until the shock horror day when I showed up with a big bag of books to sell and found myself standing in front of his son, who'd just gotten a job there. "Oh, Hi Alec–Books to sell?" he said, and I fled. In any event, shared memories of how we'd both once subsisted on Progesso brand canned lentil soup only served to make this excellent dinner taste even better.
C finished up with fromage blanc from Bordier in Saint Malo, which came with a choice of homemade jams–Lopez loves making jam, and I had a nice aumoniere (fancy name for a crepe folded like a purse) filled with apples that had been cooked in salted caramel, a wonderful dessert. All told, a very good meal, and I hope I'll be able to get back to this charming restaurant again sometime soon.
Le Cristal de Sel, 13 rue Mademoiselle, 15th, Tel. 01-42-50-35-29. Metro: Commerce. Lunch formulas 15 and 18 Euros, a la carte 40 Euros.
————————————————————————————
I love summertime in Paris, and one of the things I like best about it is the full-barrel enthusiasm with which Parisians take to dining outdoors whenever they can. Paris does outdoor dining than any of the other large cities that I know well–New York, Boston, London, Prague–too, because it not only has wide sidewalks but is truffled with secret gardens and courtyards.
One of the prettiest ones is the interior courtyard of the Hotel Plaza Athenee, a charming aerie with marble floors and ivy colored walls punctuated with tomato red window awnings where a surprising number of birds (tape?) provide a chirpy aural backdrop.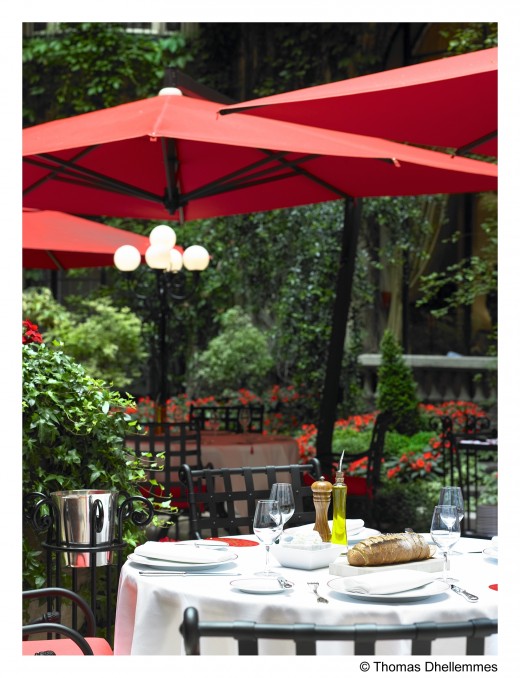 La Cour Jardin at the Hotel Plaza Athenee
During the summer, a seasonal restaurant called La Cour Jardin sets up shop here, and on a warm night, it's a very pleasant if predictably pricey place to dine. Working with executive chef Alain Ducasse, La Cour Jardin's chef Sylvain Fouilleul does an appealing Mediterranean themed menu of the sort of simple summery dishes that make for great warm weather dining.
Stopping by for dinner the other night, I loved my terrine of heirloom tomatoes with fresh basil and a delicious cartridge of Rove (a fresh goat cheese that's produced just outside of Marseilles), and my glamorous friend enjoyed her lobster salad, too. The latter was composed of perfectly poached medallions of lobster and a huge thatch of herbs and greens that were intriguingly garnished with oven-dried lobster roe, but which might otherwise have benefited from slightly more assertive seasoning.
Our main courses were excellent, though, including goujonettes (strips) of John Dory with delicious stuffed baby vegetables for me and baby sole meuniere for my friend. We shared a curious declension of raspberries for dessert–raspberry compote, a raspberry glazed beignet, and a raspberry milk shake for dessert, and thoroughly enjoyed both an excellent bottle of William Lefevre Grand Cru Chablis Les Preuses and the cheerful, eager young service here.
As I mentioned, this place is expensive, but as habitually frugal as I usually am, I have to admit that a little extravagance is occasionally bracing.
La Cour Jardin, Hotel Plaza Athenee, 25 avenue Montaigne, 8th, Tel. 01-53-67-66-65. Metro: Alma-Marceau. Average 100 Euros.