GUY SAVOY, Haute Cuisine That's Worth the Wound to Your Wallet, A-; Aux Deux Amis, A Sweet Little Bisto, B
June 20, 2010
Quite understandably, given their vertiginous prices, one of the questions that I'm asked most often is which Michelin three-stars are worth the wound to the wallet. It's a tough one to answer, too, since I don't go to any of them as often as I'd like, and they do have their ups and downs. So I was delighted the other day when a pal who's as food mad as I am invited me to lunch at Guy Savoy.
I hadn't been to this exalted table for a longtime and was honestly curious as to what I'd find, too. As my memory served me, Guy Savoy has always offered superb service and reliably very fine food, but was rarely a place where any single dish stopped me in mid-sentence. Instead of the sort of intense, sensual, almost shocking haute cuisine I love–the cooking of Pierre Gagnaire and Pascal Barbot at L'Astrance, for example, I've often found that Guy Savoy delivers the type of impeccably prepared, reliably delicious and rather polite dishes that suit his clientele of well-heeled local business people (at noon) and frankly rich international types (at dinner) to a T.
Arriving, I was freshly surprised by the warmth of the welcome here and the charm of everyone in the dining room, which, rather wonderfully in these lean times, was packed to the rafters. Sheathed in aquamarine silk, my friend was waiting for me and we sipped Champagne and nibbled sublime wands of foie gras with sea salt while we launched into a conversation that included the Gulf oil spill, Sarah Palin's incomprehension of same, the brilliant New York Times columnists Paul Krugman and Thomas Friedman, and an English friend's new affair with a sheik from a Persian Gulf country (this latter subject kept us busy for some time).
She'd arranged a tasting menu, and the first course was brilliant for its stunning simplicity and full-barrell umami goodness–tiny and incredibly sweet baby peas on a puree of same with a few drops of veal stock and excellent olive oil, a poached quail's egg that the waiter teasingly slit open with the point of his knife and a light scattering of mustard cress. It was also beautiful to look at, and brought the season (early June) to the table with an odd but sophisticated mix of sweetness and wit.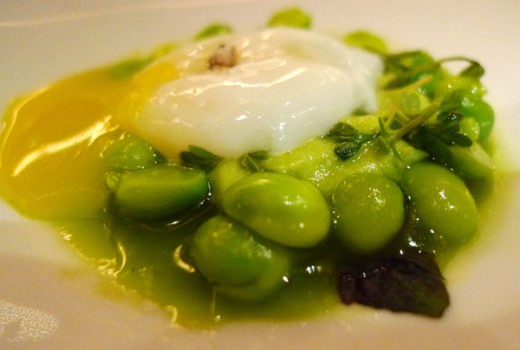 Baby Peas with Poached Quail's Egg Next up was a bowl of Savoy's sublime artichoke and black truffle soup with Parmesan shavings, one of my favorite dishes in Paris, and suddenly I found myself freshly musing on this chef's cooking for the first time in a longtime. The fact is that Guy Savoy is not only one of the great chefs of France, but, with Christian Constant, one of the most influential Parisian chefs of the last thirty years for being a pioneer of the Baby Bistro movement. I haven't been to Les Bookinistes, Savoy's ground breaking Left Bank bistro, in ages, because it's become tourist central and the service is often bored and unfriendly, but when it opened in the late 1980s it had a major impact on the Paris dining scene by applying a lot of the most valuable lessons of la nouvelle cuisine–particularly the ingenious use of fresh herbs and stocks–to bistro cooking.
Now I was finding that even though he's occupied a place in the pantheon of great French chefs for many years, Savoy was suddenly cooking vivid, inventive and stunningly good new dishes that completely catch several of the most interesting emerging trends of French cooking in the 21st century, most notably a new respect for and fascination with vegetables, and as if to drive home the point, the next course was a declension of first of season heirloom tomatoes that was yet again a stroke of genius for its simplicity and deliciousness.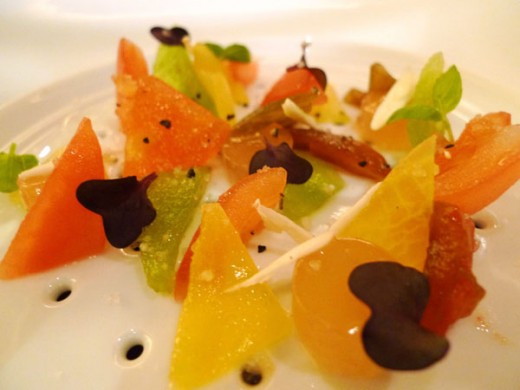 Heirloom Tomatoes with Thai Basil and Fresh Almonds
The tomatoes in this dish had been lightly sweated and were garnished with Thai basil and slivers of fresh almond that provided a delicious foil of texture to the tomatoes, and the composition was subsequently doused with lukewarm fresh tomato coulis that drained through the holes in the serving plate and into a soup bowl below, where it constituted a second course.
Grilled baby pigeon, an outstanding cheese course from Quatrehommes, and a luscious strawberry dessert that concentrated the essence of this fruit in a way I've never experienced before rounded out this brilliant lunch, and walking down the Champs Elysees after lunch–I certainly needed the exercise, since we left the restaurant around 3.45pm, I found myself thinking that I can't wait to try Guy Savoy again after his restaurant moves to a new space in La Monnaie de Paris, the beautiful old mint on the banks of the Seine in Saint Germain des Pres, sometime next year.
Guy Savoy, 18 rue Troyon, 17th, Tel. 01-43-80-40-61. Metro: Charles-de-Gaulle-Etoile. Prix Fixe menus: 275-345 Euros/ Menu "Estivale"–5 courses with 5 different glasses of winefrom July 15 to September 15. Average a la Carte 250 Euros.
—————
Within the last few weeks, I've been thinking a lot about a curious dilemma that faces me as a Paris food writer, to wit, I've recently noticed that there's a distinct difference between the way that we locals perceive of a restaurant and the reception accorded to the same addresses by visitors. Understandably, most visitors are looking for truly exalting gastronomic experiences when they come to Paris, and so they tend to be mystified and disappointed by certain new Paris addresses that have been enthusiastically received by local food critics.
What brought all of this to mind was the ferocious disappointment expressed by visiting friends after they recently went for a meal at Aux Deux Amis, a trendy new bistro in the Oberkampf neighborhood of the 11th arrondissement. "When I come to Paris, I want food that really knocks me out," said one of my friends. "Aux Deux Amis is just a pleasant little neighborhood place that doesn't warrant the lionizing it's received in the blogosphere."
Truth be told, I've been to Aux Deux Amis several times during the last few months and like it quite a lot. I had an excellent lunch there a few weeks back–oeufs mayonnaise, juicy duck breast with Swiss chard and baby carrots, and a really excellent lemon tart for dessert, and then a pleasant dinner of Spanish style tortilla omelette, Basque charcuterie, homemade empanadas and white asparagus vinaigrette a week ago. The service is extremely friendly, the prices are low, and the dead simple and very plain setting is a bona fide 1950s cafe dans son jus. They also have some excellent wines, including a fine Morgon Cote du Py, and their prices are reasonable. But I can understand why my friends were letdown. "It wasn't that the food wasn't good, it's just that when we come to Paris we crave real old-fashioned bistro cooking or the food of some brilliant young chef who knocks you out cold with his or her talent," one further explained. "Aux Deux Amis is a nice little neighborhood place, nothing more, nothing less," he concluded. And I'd tend to agree. And for le petit histoire, the meals that wowed these San Franciscans while they were here were at Frenchie, La Regalade Saint Honore, (use the search engine on this site for my reviews of these two addresses) and Josephine Chez Dumonet.
Aux Deux Amis, 45 rue Oberkampf, 11th, Tel. 01-58-30-38-13. Metro: Oberkampf or Parmentier. Avg 30 Euros.