LE PETIT CHABLISIEN, B and LES CANAILLES, B — The Joy of the Good New Neighborhood Restaurants in Paris
June 12, 2012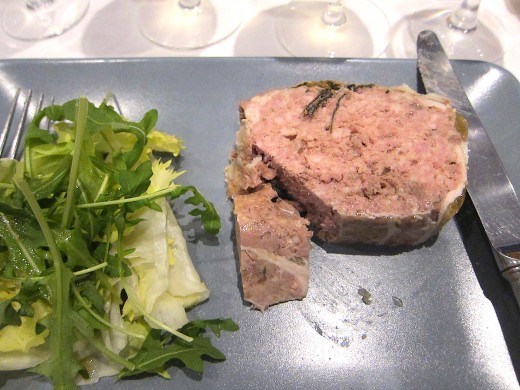 Terrine de Campagne at Le Petit Chablisien
It's taken well over a decade, but the renovation of the Gare Saint Lazare, the busiest train station in France, has finally been completed, and despite the fact that the clear marching orders to the architect must have been to compress the public spaces in favor of rent-paying commercial ones, i.e., shops, overall, it's a success, especially since they cleaned and repaired the wonderful painted-on-glass portraits of all of the destinations the station originally served when it first opened in the main departures hall. With the station smartened up, it seems likely that the rather drab immediate surroundings of the Gare Saint Lazare will probably go upmarket a bit, too, which would make sense, since it remains a puzzling island of low-rent drabness that straddles three of the Paris's most affluent arrondissements, the 8th, the 9th and the 17th.
Interestingly enough, this seems to be exactly what's going on in the environs of the station, too, since Le Petit Chablisien, an old boy's club of a bistro that used to appeal to SNCF and insurance company execs looking for a discreet place to get sozzled at noon has been very surprisingly reborn as a stylish modern French bistro with a cute Seventies retro decor–the tip off here is all of the orange, since orange was the mystifying hue of choice in Seventies France, and an appealing and fairly priced regularly changing menu that's produced by a capable young Japanese born chef who works with first-rate produce and has nearly flawless culinary technical skills.
To be sure, the only thing anyone might possibly find charming about the rue de Londres is that its Belgian block paving hasn't yet been asphalted over and it leads to the wonderful iron suspension bridge over the tracks coming into the Gare Saint Lazare that was so often a subject of the impressionist painters, but the menu had looked good when I stopped to read it a few days earlier and it was a convenient heart-of-town location for the friend from New York with whom I was having lunch. So we settled at the table and quickly decided on the three course 25 Euro lunch menu with a half-bottle of Crozes Hermitage.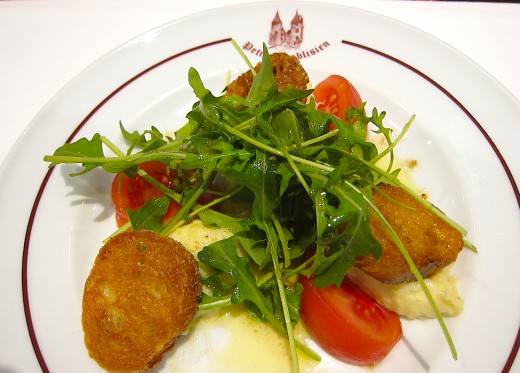 Brandade de Morue at Le Petit Chablisien
Served with good bread, my terrine de Campagne with mesclun was excellent–it had a nice coarse texture with just enough fat to brag its porcine origins and give it a pleasant unctuous texture, and Mme. Manhattan's brandade de morue was clearly home-made and gallantly garlicky and was similarly attractively plated and generously served. Even though we found ourselves in a really engrossing conversation about the pros and cons of 'Social Media," our main course–pollack with roasted new potatoes and caramelized cauliflower, was good enough to derail us for a few minutes.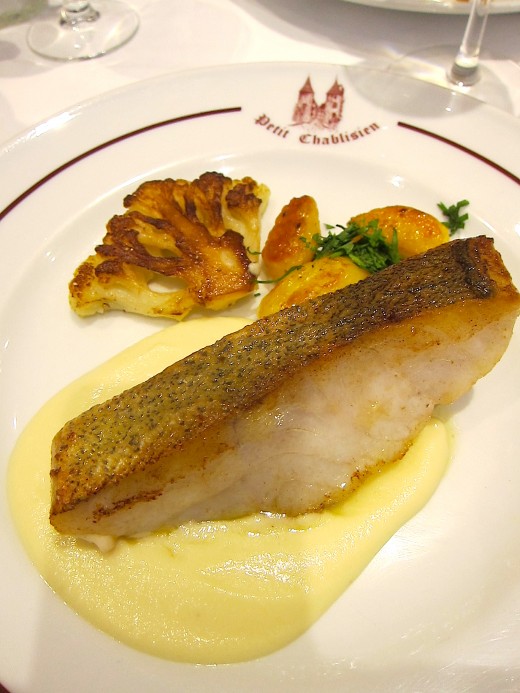 Before we returned to the conversation we'd mentally book-marked, I couldn't help but exulting over the fact that the last few years have seen a really remarkable renewal of the good neighborhood restaurant in Paris. And to call them neighborhood restaurants, or places that are recommended should you happen to be in a particular part of town but which might not be worth going out of your way for, isn't to denigrate them at all. Everyone wants a good dozen or so favorite fail-safe addresses just out their door, and everyone is also glad to know of a few good addresses in and around Paris's major train stations, since SNCF food is so shamelessly awful.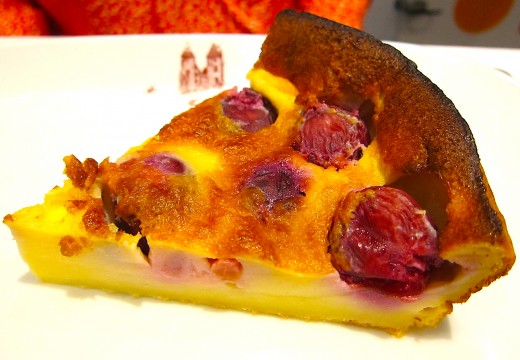 So as we finished a very pleasant meal over generous slices of homemade black-cherry clafoutis, we agreed that this little bistro is a great address for a pre- or post-train meal and is also good enough to bear in mind for a tete a tete after a good hard shop at the big department stores nearby, especially since we we'd been so obliviously garulous that I didn't even notice that it was 3.30pm until we stood to leave. And when I offered our apologies to the very polite waiter who hadn't betrayed even a flutter of impatience or exasperation, he replied "Je vous en prie," and added that he hoped we'd enjoyed our lunch.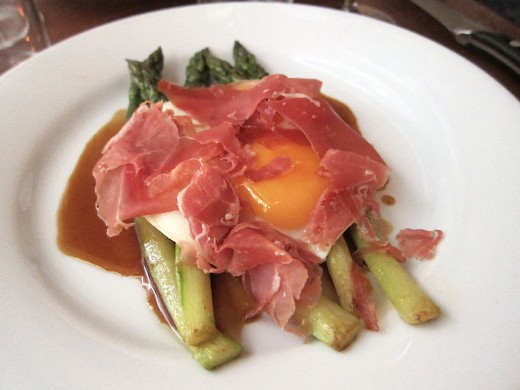 Green asparagus, proscuitto, and fried egg with veal jus
As luck would have it, I ended up in another delightful neighborhood restaurant that evening, and this place, Les Canailles, really is a just-out-the-door spot for me, since I live in the 9th between the Place Saint Georges and La Trinitee. I'd heard good things about this place from a very diverse cast of characters, too, including the nice guy who runs the TABAC/Magazine Shop downstairs, a pal at La Poste–believe it or not, I actually have made a friend at my local post office, because he has a great sense of humor and loves to read and eat, and Philippe, my barber. Philippe, who also loves to eat, cuts the hair of a lot of famous politicians and captains of industry, along with a nearly indigent journalist or two, and he was the one who told me that the team here–Yann Le Pevedic in the kitchen and Sébastien Guillo in the diningroom, had come from Dominique Bouchet in the 8th, a very good sign, since I very much like Dominique Bouchet and his cooking. So I met my friend Judy for dinner in the somewhat awkward storefront space that looked like it had been converted into a restaurant sometime in the Seventies with some expectations.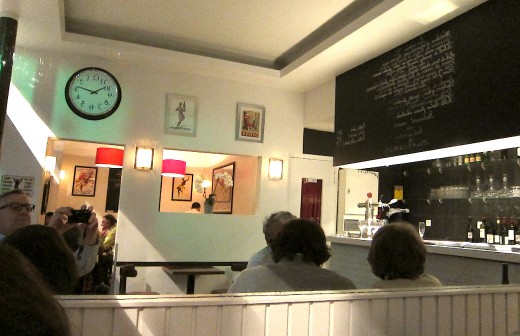 Right off the bat, I admired Guillo for managing to be so friendly and efficient as the only wait staff for some forty people, and both of us found the chalkboard menu appetizing. My first course of asparagus with proscuitto and a fried egg in a beautifully made jus de veau was generously served and elegantly balanced in terms of its umami base notes and pleasingly varied textures, and as a good Gulf Coast native, Judy was delighted with her excellent salad garnished with sauteed shrimp.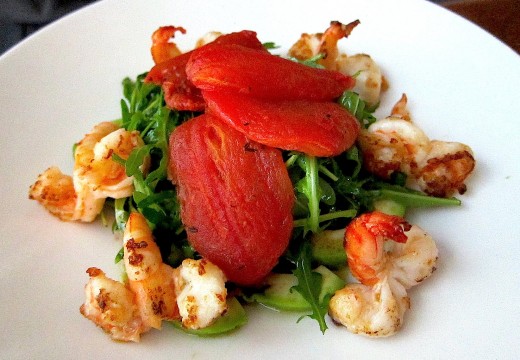 As part of a 33 Euro dinner menu, I was impressed by the quality of the produce that Le Pevedic cooks with and again by the way we were so generously served. After our main courses–an excellent steak with pleurottes and a side of macaroni-and-cheese for me and grilled sea bream with Spring vegetables for Judy, were served, Monsieur Guillo stopped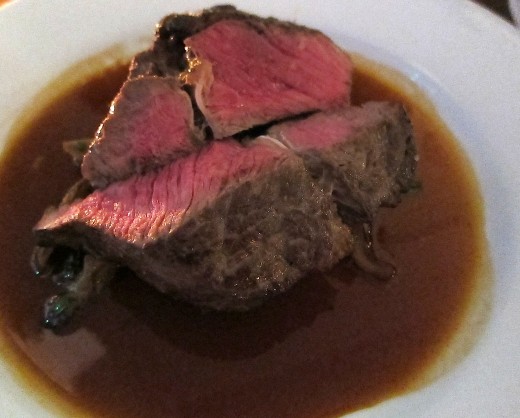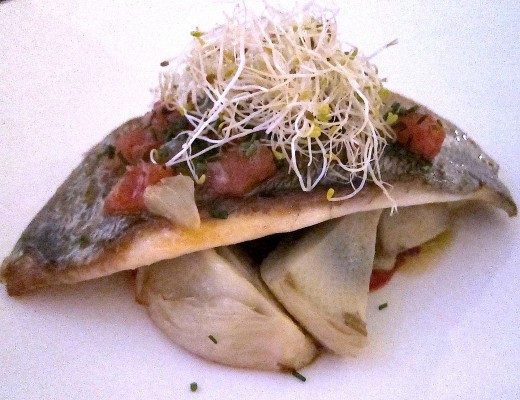 by several times to make sure we were happy, which struck me as odd. "Do you think he's figured out that you're a journalist?" Judy asked, and I cringed, since I'm enough of an Old School writer to very much not want to be recognized or in any way coddled, and go to some trouble to remain as anonymous as I can. This puts me rather at odds with the self-promotion of so many cyber gastronomes these days, but so be it. And in any event, I decided there was absolutely no way Guillo could know that I'm a food writer either, since I'd booked in Judy's name and never went to Dominique Bouchet often enough to be a recognized customer. One way or another, what we were eating was in no way different in quantity or plating than the food of our neighbors, so I let in drop.
We were sharing a very good cheese plate–I must say, though, that I sure do miss the glory of a real old-fashioned cheese tray, which is something you sadly almost never see in Paris anymore, when chef Le Pevedic stopped by to say hello. We chatted a bit about his appealing cooking style–a pleasant hybrid of bistro cooking and cuisine bourgeoise, but as he lingered, I must have seemed a bit perplexed by his attention. "Glad you enjoyed your meal," he said, "And I hope we'll see you again." I assured him that I'd be back with Bruno soon. "And if I may say so, you have a very nice haircut, Mr. Lobrano," said Monsieur Guillo puckishly, which instantly reminded me that during the barberchair prattle I very much enjoy with Philippe, I'd mentioned that I was going to try Les Canailles, while he was headed there that same night with four friends, and obviously bearing the message that an American food writer client of his would be there the next night. Lose lips sink ships, and keep calm and carry on, as they say. But even disrobed of my anonymity, there's nothing that's going to keep me away from Les Canailles, which is a swell little bistro.
Le Petit Chablisien, 44 rue de Londres, 8th, Tel. 01-43-87-46-15, Metro: Saint Lazare. Closed Saturday and Sunday. Lunch menus 20 and 25 Euros; dinner menus 25 and 30 Euros, a la carte 40 Euros.
Les Canailles, 25 Rue la Bruyère, 9th, Tel. 01-48-74-10-48, Metro: Saint Georges or La Trinitee. Closed Saturday and Sunday. Lunch menu 25 Euros, Dinner menu 33 Euros, a la carte 40 Euros.