SAINT JAMES CLUB–A Pricey but Pleasant Pastoral Soiree in Paris, B-
June 29, 2012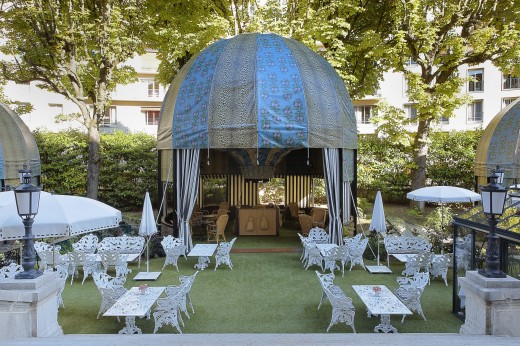 "No conversational subject warns the world that you're a bore faster than the weather," my perspicacious paternal grandmother once cautioned, and she was right, of course. So let me fleetingly mention that the weather in Paris this summer has been just awful, since you need this back story to understand why I enjoyed dinner in the gardens of the Saint James Club in the plummy 16th arrondissement so much the other night.
Urban dining al fresco, you see, is one of the grand Gallic pleasures of a Parisian summer. Not only is it the height of corny romance–and no harm done for it, either–but being seated outside on a Parisian sidewalk, or even better in a private garden, allows you to study and savor the city and its inhabitants in a way that you just can't do when you're in motion. Before I moved to Paris, I had little experience of this particular summertime pleasure, since the cities I'd lived in previously–Boston, New York and London, just never embraced the cult of fresh-air gastronomy the way that Paris has. That being said, the regrettable little fly-in-the-ointment about outdoor dining establishments in Paris is that they often serve expensive and rather mediocre food, something they rightly calculate they can get away with when the mercury rises and everyone wants to sit outside and enjoy a breeze.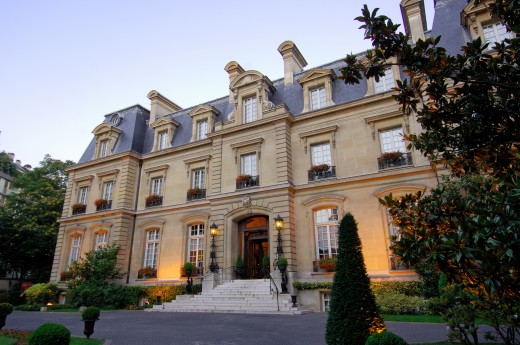 All of this rattled around in the back of my mind when my friend Corinne suggested dinner at the Saint James Club, an elegant semi-public semi-private club cum hotel in the 16th arrondissement. Last winter, the hotel was much in the French press after a visually bubbly makeover by a Franco-American decorator named Bambi Sloan. Now, apparently, a new chef, Virginie Basselot, had left a previous post at the Bristol working with Eric Frechon to take over the kitchen here. One or two early reviews of her cooking were so harsh as to be not entirely credible, but still…this place wouldn't be cheap, and what if the thumbs-down reviewers weren't all wrong? So I fretted, because they're few things in the world that make me more violently despondent than a bad expensive meal.
On the other hand, I hadn't seen Corinne for a while, and when I checked the weather forecast, the day she'd suggested was forecast to be hot and sunny. So I threw my hat in the ring, I mean after all, how bad could the meal actually be?
Arriving, the Saint James Club was impressive and a tiny bit intimidating, but after coming through the front door, I was surprised by a warm greeting from an attendant, who immediately escorted me to the garden terrace behind the limestone mansion where my friend was waiting. Along the way, I made a note that this place has one of the best looking hotel bars I've ever seen in Paris.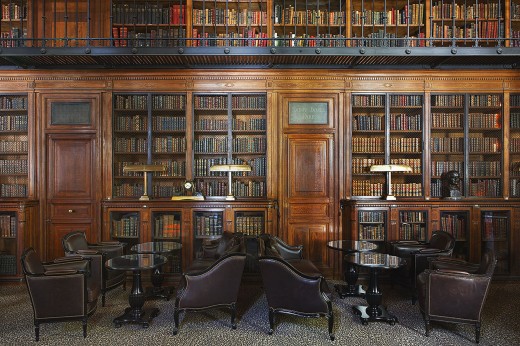 The garden terrace was full, with people having drinks at white wrought iron tables, and three large hot-air-balloon-like pavillions, a reference to the fact that this address was the site of Paris's first aerodrome, and the place from which hot-air balloons, known as Montgolfières in French, first lifted, or drifted, off. On a warm night, gentle gusts of linden-flower perfume from trees in this very green corner of Paris seemed to have dopped the well-dressed crowd into a relaxed good humor, and seated with Corinne, we sipped Champagne and eyeballed the appealing, if–as I expected, rather fearsomely priced menu. And yet, it was a beautiful night, and the occasional bout of extravagance is vitally tonic, so I decided not to fret the prices, and just have what I hoped would be a good meal.
Corinne started with a poignantly sincere and very generously served dish of fresh peas in a velvety and bright green pea broth with a flan of onions and a garnish of fine briefly sauteed ribbons of Black Forest ham, which was delicious, while I was warned off of my first choice–the poached egg and white asparagus in arugula juice, by a snatch of conversation from a neighboring table–the asparagus came chopped up in a timidly flavored green soup with an over-cooked egg, or so I heard, and went with the tartare of wild sea bass with wasabi root and herb crumpets instead. I only order any kind of tartare (raw meat or fish) in an establishment I trust, so this turned out to be a very well-rewarded act of faith–microplaned wasabi root underlined just how impeccably fresh this fish was and the warm crumpets were homemade and redolent of chives and thyme.
The service was absolutely delightful, too–prompt and very charming, and so we were in fine fettle when our main courses arrived. Corinne had an exquisitely beautiful chunk of snowy white cod on a fine confetti of green vegetables glossed with lemon-balm butter, a truly ideal dish for a blistering night, while I chose the rack of lamb. The lamb was pleasant enough–a well-trimmed little rack of lamb, but the accompanying lime-zest spiked hummus was underwhelming. The dish that I'd come back here to eat this summer–and I would return, is definitely the cod.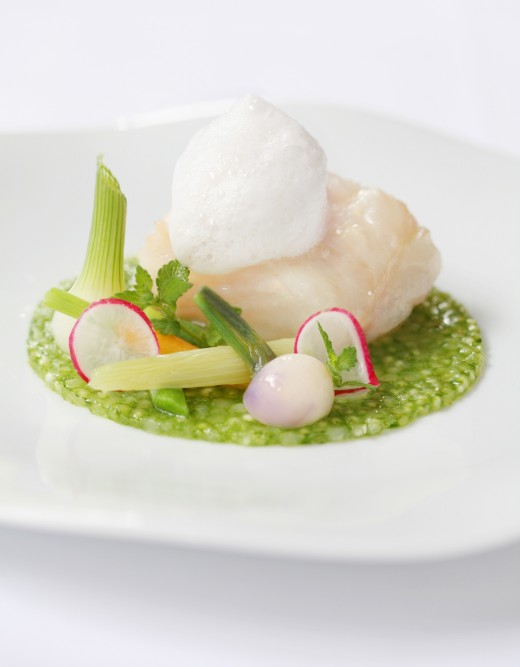 Working our way through an excellent bottle of Saint Aubin, one of the last reasonably priced Burgundies, we both decided on the stewed raspberries and rhubarb with fontainbleau cheese–a sublimely airy whipped cream like cheese with a nice lactic bite, a perfect dessert on such a warm night. And then we dawdled over coffee, which was served with a nice selection of little nibbles, before Corinne finally glanced at her wrist and saw that we needed to make a move if we were going to get the last Metro. The bill? Oh well, it was about 130 Euros a piece, but this interlude was still less expensive and perhaps vastly more refreshing than an overnight trip to Barcelona might have been, as the Cinderella factor of finding ourselves waiting for the train in a hot tunnel emphasized. Sometimes, in fact, there really is no place like home, especially when there's such a talented and gentle-spirited cook in the kitchen and you can linger in a beautiful garden for a suite of midsummer hours.
Saint James Club, 43 avenue Bugeaud, 16th arrondissement, Tel. 01-44-05-81-81. Metro: Porte Dauphine. Open to non-members only for dinner from Monday to Saturday and for Sunday brunch. Reservations required. Average a la carte dinner 100 Euros.