LE RICHER — A Perfect Neighborhood Joint That's Worth A Journey Across Town, B+
January 15, 2013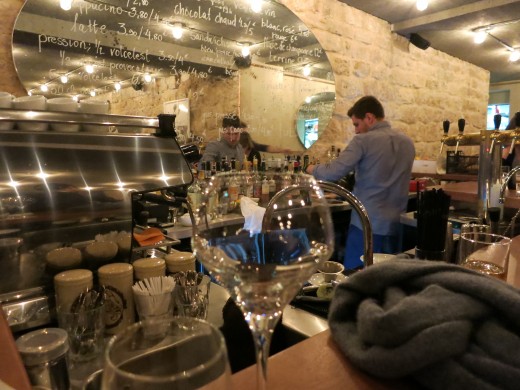 I know, I know, I'm a bit odd, because I actually like winter. Some part of this preference may be due to my New England upbringing, but most it surely comes from the DNA I inherited from stalwart ancestors 95% of whom lived in cold, light-deprived parts of Northern Europe my surname notwithstanding. So sallying forth on a winter night when big fat lazy snow flakes were whirling to the ground, I was in fine fettle, because I was meeting a friend at the new Septime La Cave, the wine-bar annex of Septime, a restaurant I like very much.
Alas, my pal didn't turn up, and though Septime La Cave is a pleasant enough spot for a glass of wine or two if you happen to be in the neighborhood (the deep 11th arrondissement in eastern Paris) on your way to dinner at Septime, Le Bistrot Paul Bert, L'Ecailler du Bistrot or Le 6 Paul Bert, it's not really a destination in and of itself. So after a bracing pour or two, I got on the horn to the indefatigible Bruno, and we met at another place I've been wanting to try, Le Richer, which is in the buzzy quarter around the rue du Faubourg Saint Denis in the 9th/10th.
The already flannel-clad Bruno nicely agreed to change back into street clothes and meet me, and as soon as I walked in the door at Le Richer, which is run by the same team as the swell L'Office across the street, I knew I'd love this place. First of all, the aesthetics were impeccable, with an old corner cafe having been transformed into a really good-looking neighborhood bistro with exposed stone walls, perfect lighting, an oak bar, and a sound-proofed gray ceiling which meant that you could enjoy the funky retro music but still here a pleasant background noise of conservation.
Since every table in this no-reservations place was full, we sat at the bar, and had a glass of excellent of Vin de Pays d'Allobrogie Domaine des Ardoisieres Argile Blanc, a superb Savoyard white, and studied the short menu. Though starters like a saute of butternut and pumpkin with mustard greens and burrata and cream of celery soup with blue-cheese whipped cream, sliced pears and walnuts sounded terrific, we both just ordered a main course, since it was late.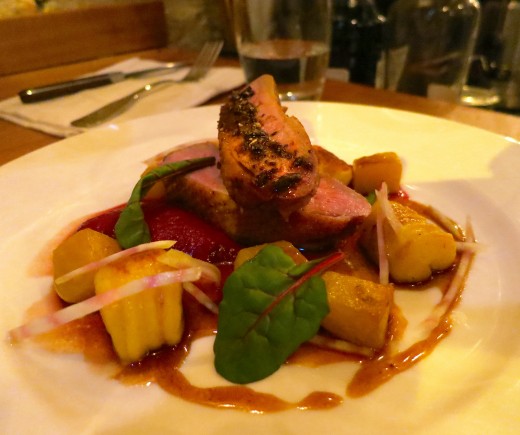 Pan-roasted duckling breast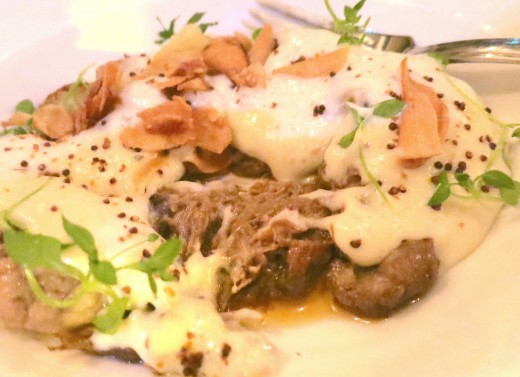 Roast lamb in potato foam
Both of them were brilliant winter eating, which is to say really consoling and warming food that also surprised by being light, precisely cooked and cleverly garnished. Bruno's ducking came rare as ordered with sliced beets, beautifully made gnocci Parisienne, and a sublime mole-spiked nougatine, while my roasted lamb was tucked under an airy potato foam with firm chunks of Jerusalem artichoke and a scattering of verjus-moistened mustard grains. Accompanied by a terrific Domaine Combier Crozes-Hermitage, these dishes vanished in a heart-beat, and suddenly we were very happy for having a place we really liked not too far from home that we could go to last-minute seven-days-a-week.
The charming and attentive service of Raoul, the friendly bar tender-barrista, added a lot to our good time, too. Like all really good restaurant people, he takes sincere pleasure in seeing other people enjoy their food and their wine, and this sets in motion a pleasant pendulum of mutual satisfaction between the server and the served. He also filled us in that the chef in the kitchen is a really talented young Japanese man and that Le Richer's coffee comes from Coutume, the great little cafe and roaster over in the rue de Babylone.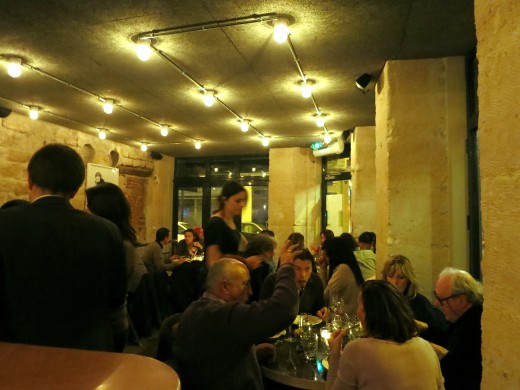 We hadn't really planned on having anything more, but Raoul vaunted the cheese plate from a fromagerie in the rue Cadet, so we decided to share one and were generously served. The cheeses were terrific.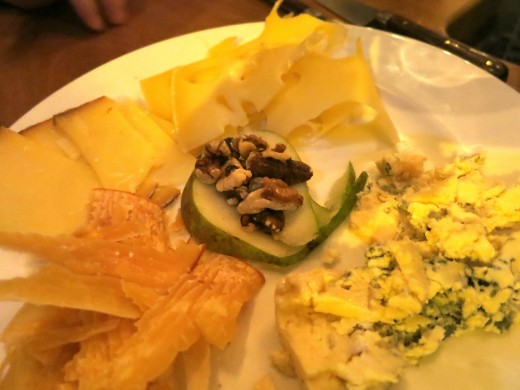 The apple tart with lime-spiked cream and the floating island with caramel and mango both sounded wonderful, but struggling to stick with a new (and miserable) low-calorie regime, we gave them a pass, although I know I'll definitely have dessert when I come over here on my own for lunch without Bruno sometime very soon. So let's let this be our little secret. As it is, I doubt Bruno would be very happy to know that I've already let the cat out of the bag by blogging about a place he liked so much, but with any luck at all, this terrific place will serve as a model for the renovation of many other drab and struggling neighborhood cafes all over Paris.
Le Richer, 2 rue Richer, 9th, No phone/no reservations, Metro: Poissonnière, Grands Boulevards, Bonne Nouvelle or Cadet. Open daily for breakfast, lunch and dinner. Average two-course dinner 30 Euros. Sandwiches, tapas and other light eats are always on offer.
Septime La Cave, 3 rue Basfroi, 11th, Tel. 01-43-67-14-87. Metro: Ledru Rollin, Voltaire or Charonne, Closed Sunday and Monday.