PARIS NEW YORK–Basta With the Burgers Already! C- ; VERJUS–Chef Braden Perkins is on a Roll, A-/B+
February 8, 2013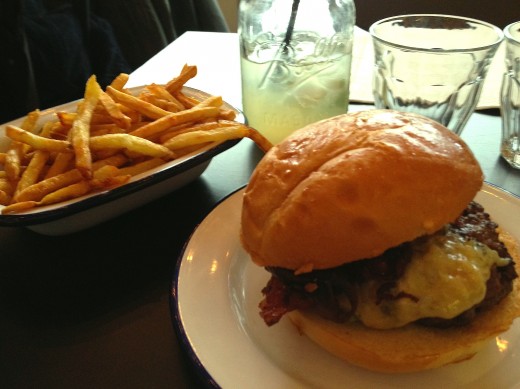 Mea culpa, but it's the middle of winter in Paris when the days seem to last fifteen minutes and everyone I know is sun-and-fun deprived and slammed with work. So you do what you can, which in my case meant an impromptu decision to have a big fat burger for lunch after a morning of appointments in the 10th arrondissement. Truth be told, I'd have preferred the Daily Syrien, for Ahmad's fabulous falafel and turnip pickles, but it was packed, so I crossed the street to Paris New York, the latest high-concept burger joint in Paris and hoped for the best. The brief menu offered a choice of 4 differently garnished burgers made with Breton Pie Noir beef from Le Poncelet, a prestigious butcher shop, or a portobello mushroom burger; fries; cheesecake; various craft beers; wine by the glass at three different price points, the most expensive being Francis Ford Coppola Diamond Collection red and Newton Chardonnay.
Well, while I was waiting for my burger the place filled up quickly with a gaggle of twenty-somethings who spent a lot of their time poking away at their phones even if they were with friends. So my "Smoky Blue" burger came, and it was so sparsely garnished with the promised Stilton, bacon and onion confit that they didn't register on the palate. The fries were lukewarm, but pretty good. The lemonade in a Ball Jar, something I haven't seen since a meal at Mrs. Wilkes Boarding House in Savannah, Georgia twenty years ago, was more Brooklyn than Biloxi–or tart than sweet, and this was a blessing. This meal happened in twenty minutes, left me 15 Euros poorer, and the most interesting thing about it was that I had the opportunity to taste Heinz Balsamic Vinegar Ketchup, which I found surprisingly delicious–I'd assumed it was a no-interest gimmick, and also to realize that I have become hugely weary of the wave of edible Americana that just keeps washing over Paris.
Don't get me wrong. It's nice to be able to get a half-decent burger in Paris (none of the burgers in Paris are better than that), since I remember the days when the truly lousy Joe Allen and a couple of other similarly underperforming faux Yankee tables ruled the roost when it came to nostalgic eats. But the phenomenon has now gained so much self-perpetuating momentum it's becoming a serious bore. I can't help but thinking that a lot of the clever young backers of the ever-growing number of Paris burger places have realized that they can be real gold mines, since all you need are some good graphics, some better-than-average sourcing, respectable foot traffic in a neighborhood where a lot of people work in front of computer screens, and you're done, since there sure isn't any serious cooking going on in any burger shop. I mean, even a really good Croque Monsieur or Madame require more effort.
So this week wasn't bringing great joy until I went to dinner at Verjus, American-in-Paris chef Braden Perkin's place in the Palais Royal. Here Bruno and I joined a bunch of old and new friends for a tasting meal in the new and really great looking indigo-painted private dining room Perkins and partner Laura Adrian, Paris's most charming bar keep, have created on the third floor of their space between the rue Richelieu and the Palais Royal. As soon as I went upstairs and saw this room–and I'm sorry, no photo, but it was so dimly lit that my iPhone, which was all I had on me, was useless, I was delighted, because it can seat 12 at a pinch and so becomes my perfect recommendation for anyone who wants a private space in Paris. I was also happy, because I've always liked Braden's cooking, but in my antic effort to keep up with the new, new, new I hadn't been here in a year.
So we ate, and it was fascinating to see how Perkins' style has become quieter, subtler–well, more French, since he first opened. To be sure, each tasting plate is as intricately and logically constructed as a Swiss watch, and most of them induce real pleasure in anyone who was willng to accord them a more than a few very necessary moments of meditation. But even though Braden still looks like an endearing Grant Wood subject circa 2013, a certain sophistication has set in, and this is a good thing. He hasn't lost the wiry winsomeness he brought with him in his back pocket when he first showed in Paris after cooking in Seattle, but he's learned a lot. The thing is, though, most of what he's learned, he's intuited from the spectularly good French produce he works with–like any seriously good chef, his produce cues him. And in this case, the cue was to turn the flavor spectrums down a few notches so that we could relish the perfect freshness and natural tastes of his produce.
After an amuse bouche of citrus-cured trout with smoked fingerling potatoes and trout roe, we had a superb little clam chowder made with Portuguese cherry stone clams, celery root, thyme oil, wild thyme, lovage, homemade harissa and a crumbly garlic crouton. This was a beautiful little miniature that created a tiny universe of ricocheting tastes which made me think of minnows left behind in a tidal pond. Then a gorgeous slow-cooked egg yolk under a tiny thatch of frisee on a bed of soft polenta with salsify, sweet onions, baby leeks, pumperknickel crumbs and finely chopped kimchi.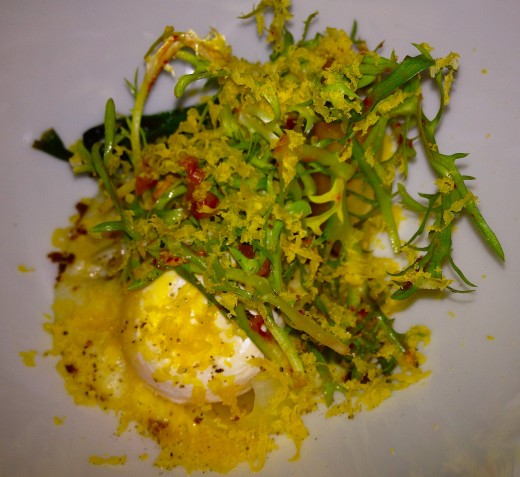 Duck breast with winter sauerkraut, orange, rye, and smoked celery root skin–Braden likes smoke, and so do I–came with a brilliant side of baby spinach leaves, hazelnuts, pickled grapes, crimini mushrooms and frozen foie gras shavings that lasted seconds before they dissolved into the leaves while remaining the base note flavor of this terrific little dish.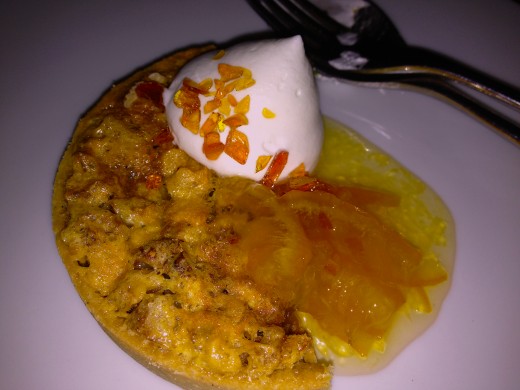 Braden's gifted Korean pastry chef Cassandra offered up three desserts, and if all of them were impeccably conceived and executed, the one I liked best was the walnut tart with bergamot jam. All told, this was a fascinating meal, because it highlighted the ways in which a talented and ambitious young American's cooking has become more gastronomically elegant–bien sur, we're talking casual elegance here, the longer he lives in Paris.
Daily Syrien, 55 rue du Faubourg-Saint-Denis, 10th, Tel 09-54-11-75-35. Metro: Strasbourg-Saint-Denis, Bonne Nouvelle or Château d'Eau. Open daily. Average 12 Euros.
Khaosan Road, 52 rue Condorcet, 9th, Tel. 01-49-70-07-06, Metro: Anvers, Cadet, Saint Georges. www.khaosan.fr Closed Sunday. Average 35 Euros.
Paris New York, 50 rue du Faubourg-Saint-Denis, 10th, Tel. 01 47 70 15 24   Metro: Strasbourg-Saint-Denis, Bonne Nouvelle or Château d'Eau.
Verjus,  52 rue Richelieu, 1st, Tel. 01-42-97-54-40. Metro: Palais-Royal Musee du Louvre or Pyramide. Dinner only. Closed Saturday, Sunday. Prix-fixe 60 Euros.