LE SAOTICO, Good Modern French Cuisine du Marche, B ; LE COMPTOIR DU RELAIS, Open Seating Sunday Dinner, C+/B-
August 3, 2010
A long time ago in the Latin Quarter, there was a terrific little restaurant called Le Reminet. It still exists, and it's still pretty good, but since founding chef Hugues Gournay and his delightful wife Anne Surcouf moved on, it's fallen off of my regular go-to list. So I was delighted the other day to have a note from Surcouf telling me that she and her husband had opened a new place, the curiously named Le Saotico (according to Surcouf, the word is Norman slang for the little gray shrimp found in the waters off of their native Cotentin peninsula in Normandy).
Now they've set up shop in a good-looking duplex space on the rue de Richelieu in the 2nd arrondissement. Walking there to meet a friend for lunch, I found myself wondering how they'd make a go of it in this neighborhood, since they can count on a good lunch trade from the many nearby banks, but the area goes very quiet at night. It turns out they'd thought of this through already, though, since the restaurant is currently only open from 8am-8pm, with the plan being to open one night a week for dinner sometime this Fall.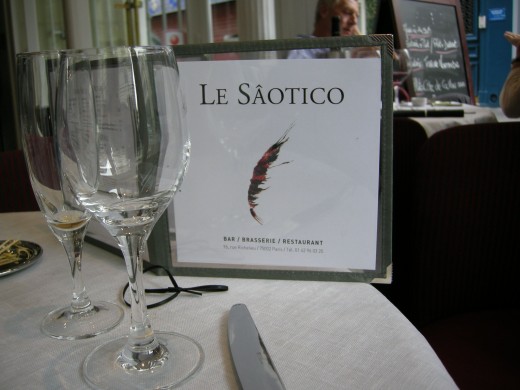 Even though it was a quiet mid-week day in August, the dining room was busy, and by all appearances, they've already developed a crowd of regulars who appreciate both the reasonable prices and Hugues Gournay's really good cuisine du marche. Our starters–a gateau of eggplant and feta and a mix of seasonal vegetables with mozzarella both deliciously demonstrated both Gournay's commitment to quality and his intensely drilled technical skills. The vegetables in both dishes were perfectly cooked, and the tomatoes in both dishes had been briefly poached to remove their skins, which were then dried and used as plate decor.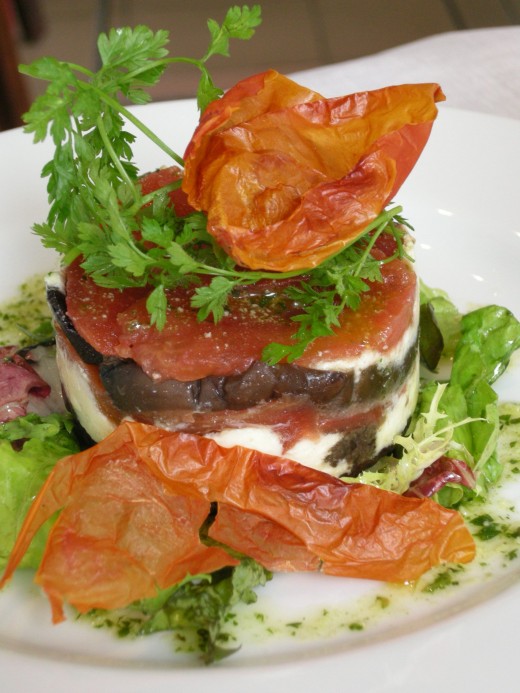 Eggplant and feta gateau with tomato relish Main courses were excellent, too, including a large tender squid stuffed with riced baby vegetables on a bed of rice and wild lieu jaune (yellow pollack) with lime on a bed of baby vegetables that included leeks, celeri rave (bulb), carrots and shitakes. We shared an excellent crunchy homemade feuillantine filled with raspberries and cream for dessert, and finished up with Illy coffees. They pour a nice selection of wines by the glass, service is delightful, and all told, this is a terrific spot for a light, healthy, flavorful lunch in the heart of Paris. Note that they're closing on August 6 and will reopen on August 22.
Le Saotico, 96 rue Richelieu, 2nd, Tel. 01-42-96-03-20. Metro: Bourse or Richelieu-Drouot. Monday-Friday 8am-8pm. Average a la carte 35 Euros.
———————————————–
Ever since chef Yves Camdeborde opened his Le Comptoir du Relais in the heart of Saint Germain des Pres two years ago, it's been one of the hottest reservations in town, which is why I don't get there very often. The way it works here is that you need a reservation for the prix-fixe bistronomique dinner on weekdays but the place foes open seating at lunchtime and at weekend dinners.
I've had some excellent mid-week dinners here during the past two years, but had never come for the free-for-all feeds that occur at lunch and weekend dinners until last Sunday, when a swell English gal pal was in town from her home base in Hong Kong and wanted to eat "real French food." Since I was up in Stockholm over the weekend, the third member of our party, Maeggie, a wonderful Swiss woman who lives in Montmartre, took up the challenge and decided we'd go to Le Comptoir du Relais.
Though my head was still spinning from the blindingly brilliant meal I'd eaten at Mistral in the suburbs of Stockholm on Saturday night, I was looking forward to some good Gallic grub, especially since Air France has now reduced its intra-European meal service to some of the worst sandwiches in the world. In fact, the one I ate on the way to Stockholm gave me serious digestive problems, and the one on the way back to Paris was just plain awful, or as the French woman sitting next to me said after biting into same, "Je ne donnerai pas ce sandwich a mon chien!" Indeed.
Maeggie and Susan were waiting for me on the terrace of Le Relais du Comptoir, and though it was great to see them both and to be sitting outside, I instantly registered the fact that the service was agitated and imprecise in sort of a carnival barker's way. Looking at the menu, I was also gob-smacked by the prices, and when a planche (cutting board) of Eric Ospital's wonderful Basque charcuterie arrived at the table for us to share as a first course, it was skimpy and sloppily served. Maeggie's octopus salad as a main course was similarly diminutive, while Susan's rack of lamb came without any garnishes and my "Bearnaise" chicken was a good juicy bird but would have benefitted from some sort of sauce and a more generous serving of mashed potatoes–the little Staub casserole of same that came with the poulet wasn't large enough to sate Barbie's appetite, let alone mine.
If the overall quality of what we ate was better than average, everything was boldly over-priced and by the time we'd finished our meal, a huge looming crowd had gathered on the sidewalk in front of us. I didn't want to puncture the good humor at our table, but my distinct impression of this place is that it's become a savvy tourist-oriented money-spinner. So I'd say, if you really want to sample Yves Camdeborde's rightly legendary bistro cooking do everything you can to snag a table for the excellent prix-fixe dinner in preference to the open seating service here. Otherwise, even though the quality of what's served is better than the bog-standard fare at most other restaurants in this heavily touristic neighborhood, this place is too fraught for a relaxing meal and too expensive for what's being served, to wit, in comparison Daniel Rose's prix-fixe dinner goes for 64 Euros and La Regalade Saint Honore delivers a superb feed for 33 Euros.
Le Relais du Comptoir, 9 carrefour de l'Odeon, 6th, Tel. 01-44-27-07-50. Metro: Odeon. Open daily. A la carte 70 Euros, Prix-fixe dinner 50 Euros.