LONDON CALLING: BAR BOULUD, Perfect for Lunch, B; BISTROT BRUNO LOUBET, B+, Ideal for Sunday Dinner
July 28, 2010
The first time I lived in London in the late Seventies, the food generally came as a pretty dire shock. On a student's budget, I certainly wasn't able to frequent any of what then passed for the city's better tables, but still, aside from our local Indian, a jolly if middling Russian place on the King's Road called Borsch N' Tears where we went for the chicken Kiev and the Vodka, the original Hard Rock cafe to sate a desperate craving for a more or less proper burger (shame about the fact that it went on to become such a naff chain), and a terrific little Polish restaurant behind the South Kensington tube station, I ate badly day in and day out. Aside from scampi (breaded prawns) and chips, pub food scared the wits out of me, and I prowled the aisles of my local supermarket, the Sainsbury's on the North End Road in a pre-gentrified Fulham that was heavy on retired civil servants and unmarried children living at home with their ancient parents, with lurid curiosity, since everytime I went, I came across yet another little horror. One day it was canned spaghetti, another pre-cooked frozen hamburgers on buns in a box with a stylized version of the stars and stripes.
The second time I lived there in the late eighties, things had improved a lot. Indian food had gone main stream, and Marks & Spencer–then, not now–had wonderful food departments with all sorts of delicious Indian and Asian ready-to-eat meals. I had more money, too, and after the Big Bang, there was suddenly a lot of money sloshing around the city, which led to a welcome restaurant boom. To be sure, everything was far from perfect. I was living with a vegetarian who hated garlic and onions–his idea of a wonderful meal was a baked potato with lots of butter and grated cheddar, and Fulham, were I oddly found myself for a second time, had sprouted a lot of poncey restaurants with stuffy decors meant to ape some imaginary version of the perfect English country house and "French" menus that delivered dishes a real Gaul would gape at. Still, my food-loving brother and his soon-to-be English bride were as keen on tracking down good tables as I was, as were several other English friends, almost all of whom had lived abroad and had a culinary awakening.
In London for a weekend recently, I mused on all this private history in the Underground on my way to meet a friend for lunch at the new Bar Boulud in the Mandarian Oriental Hyde Park Hotel and also quietly savored the circular irony of a London restaurant by a Lyon born French chef who'd found fame and fortune in New York. Who'd have ever thought that a French restaurant in New York would jump the pond? It was a gorgeous summer Sunday in London, a rare thing, that, so I sort of hated to go inside for lunch, but immediately liked the spacious dining room by designer Adam Tihany, who made it warm in spite of a low ceiling by the lavishly using of richly stained wood, a reflection of the overall wine-theme decor of the room, which also includes a zinc-topped bar.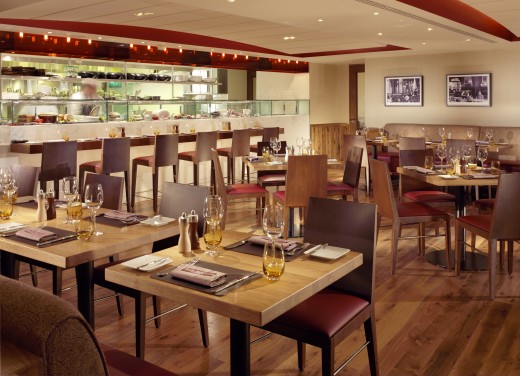 Bar Boulud at the Mandarin Oriental Hyde Park Hotel, London
My friend the most beautiful magazine editor in London was waiting for me, and she had a rant–her bloody mary wasn't very good. I tasted it, and it wasn't good at all. We mentioned same to the waiter, who asked if she wanted another one, and she demurred but it still showed up on our bill. Happily, this was the low point of the meal, since this is a solidly good restaurant in a neighborhood, the heart of Knightsbridge, that really needed one. In fact glancing around the room, it was apparent that lunch at Bar Boulud had become a fashionable new ladies-who-shop-and-lunch hit. The sales were on in London that weekend, and there were shopping bags from Harrod's and Harvey Nichols keeping a lot of ankles company. I also couldn't help but admiring Mandarin Oriental's cleverness in not only turning a rather awkward space into a thriving new commercial layer of the hotel, but also in putting their finger on exactly what it was that this strategic corner of the city had been missing, since it's all well and good to do the shops along Sloane Street, but then where were you supposed to go for lunch if you didn't want to do in-store dining?
We started by sharing a platter of very good charcuterie by Paris-based Gilles Verot that included an excellent pate de campagne, jambon de Bayonne and rosette de Lyon and came with good bread and the requisite cornichons. "If you want a burger, Darling, this is the place," my editor pal told me, and since I always want a burger, I went with "the Frenchie," a burger with pork belly confit, arugula, morbier cheese and tomato-onion relish on a brioche bun with very good frites, while my pal opted for "the Yankee," which came with iceberg lettuce, tomato and sweet onion on a sesame role, with cheddar cheese being an option for a rather chiseling additional pound. Both were good and vastly better than any burger currently available in Paris, which had me wishing that Le Bon Marche department store would decide to open a Paris branch of Bar Boulud. Pourquoi pas, quoi? We finished up with a nice sampler of French cheese and a slice of excellent mocha chocolate tart and I decided that Bar Boulud had earned a place on the short list of restaurants I like to go to alone for lunch when I'm in London (it also includes Masala Zone, a respectable Indian chain that I wish would jump the Channel).
Bar Boulud, 66 Knightsbridge, London SW1X 7LA, Tel. 44-207-201-3899. Average lunch for two 80 pounds.
—————————–
Though I hadn't exactly planned a Gallic gastronomic theme to my London weekend–when I go over, I'm usually desperate to eat ethnic foods we either don't have in Paris or which are better in England, but when I was casting around for a fun place that was open on Sunday night when a friend mentioned the new Bistrot Bruno Loubet at the Zetter Hotel in Clerkenwell. I've known and liked Loubet's cooking for a longtime, but the last I heard, he was in Australia.
Bistrot Bruno Loubet, photo by Jefferson Smith Now he's back in London, and picking up where he left off as the star chef of such London tables in the Nineties as Bistrot Bruno, followed by L'Odeon on Regent Street, and he's getting rave reviews from the London press. So even though I was a little wary about a hotel dining room on a Sunday night, I decided to give this place a shot for a dinner with an old friend from Connecticut whom I hadn't seen for twenty-five years. Happily, we recognized each other in the lobby of his hotel–a reciprocal relief, I think–and happier still, we picked right up where'd left off so many years ago.
So off we went to dinner, and arriving, I immediately loved the sexy dining room and the friendly welcome from the French maitre d'hotel. There were a lot of other people in the room, too, which gave our dinner some nice social water wings, and then we eye-balled the menu over glasses of Champagne, and it looked very promising, and rather Australian in that signature Eurasian way of cooking that makes Sydney such a brilliant food city. The bones of the menu were solidly French, however, as in the guinea fowl boudin blanc on a bed of superb sweet pea soup that I had as a starter, or David's lovely poached salmon with a seasonal vegetable salad with tarragon and creme fraiche mayonnaise. Both dishes were terrific with a bottle of Spanish Albarino, too.
Next, David had an epigram of lamb, Welsh and cooked rare, with smoked eggplant puree and fennel salad, another excellent dish, and I went with the roasted cod filet with ginger, pickled lemon, raisin, almond and radish salad, which was just delightful. Fig carpaccio with pistachio crumble and olive oil ice cream and a brilliant raspberry and passionfruit sable concluded a very happy night–the couples on either side of us went silent for their entire dinners when they overheard a reference to the fact that our reunion had come about through a Facebook search David originated, and we gave them great ear fodder as we recalled the madcap days we both lived in New York City in the early eighties with a lot of spicy and occasionally even sordid details.
Bruno Loubet is an excellent cook, and his sojourn in the antipodes has only made him better. Bistrot Loubet is, in fact, a restaurant that I wish we had in Paris, especially on Sunday nights.
Bistrot Bruno Loubet. The Zetter Hotel, St John's Square 86-88 Clerkenwell Road, London EC1M 5RJ Tel. 44- 207-324-4455. Average dinner for two 90 pounds.