LE SERGENT RECRUTEUR–Better to Be a Draft Evader, C
October 25, 2012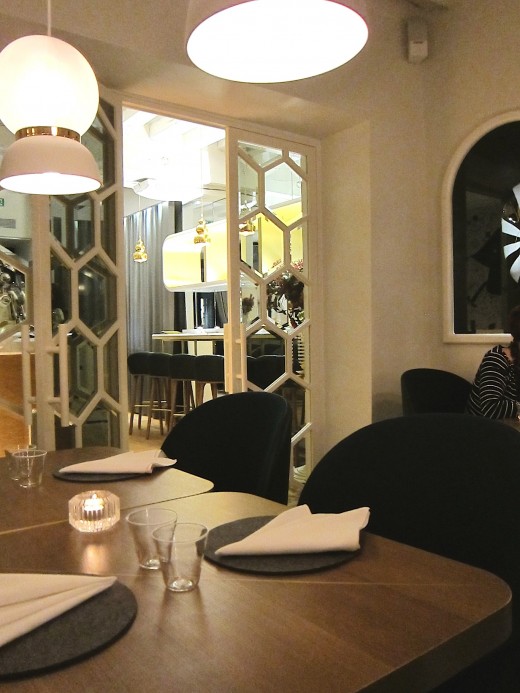 Like most Parisians, I always love getting away to the islands, and especially at this time of the year, when the tourist throngs have thinned and they're still leaves on the trees, which soften the beautiful 17th and 18th century facades of the old houses along their narrow streets. During the winter in contrast, the Ile Saint Louis looks as embarrassedly exposed and vunerable as an old woman unexpectedly surprised in her undergarments. Of the two islands, the Ile de la Cite and the Ile Saint Louis, I prefer the latter, because it remains one of the rare places in Paris with a pleasantly pickled atmosphere of palpable history, and it radiates an aura of secrets and mysteries. And as the writer Edmund White, who once lived here in a charming apartment has observed, there are few better places in Paris to indulge in the pleasure of a long and very deliberately purposeless stroll.
Unfortunately, despite its popularity, the Ile Saint Louis has not had a really good restaurant since the original Hiramatsu moved away. Yes, there's Mon Vieil Ami, but the service there is problematic, it's become too expensive and there are just too many foreigners, so the one place I ever recommend is the perfectly respectable Brasserie de l'Isle Saint Louis, with its charming interior, anthology of decent old-fashioned French dishes and pleasantly teasing and jocular waiters. Still, such a special place has always seemed to warrant an equally special restaurant, so I was intrigued when I read that the hoary old La Taverne du Sergent Recruteur, a tourist table par excellence, had been reborn as Le Segent Recruteur, an elegant contemporary French restaurant.
Since this new restaurant was on the expensive side, I plied the long-suffering and increasingly resistant Bruno–he'd almost always rather stay home and cook, since, according to him, "We rarely eat as well in restaurants as we do at home," by making him my guest for dinner. Arriving, the place had a handsome new decor with good lighting and contemporary ceramics in vitrines by Spanish decorator Jaime Hayon, and it was packed with an international quorum of well-dressed couples, most of whom had clearly been sent here by nearby hotels. The open kitchen in the back of the room was a busy hive, but the dining room had a relaxed atmosphere, so we decided to throw caution to the wind and start the evening with a glass of rather dull mono-cepage Champagne (I later discovered that these were priced at a ridiculous 20 Euros a pour, so you've been warned).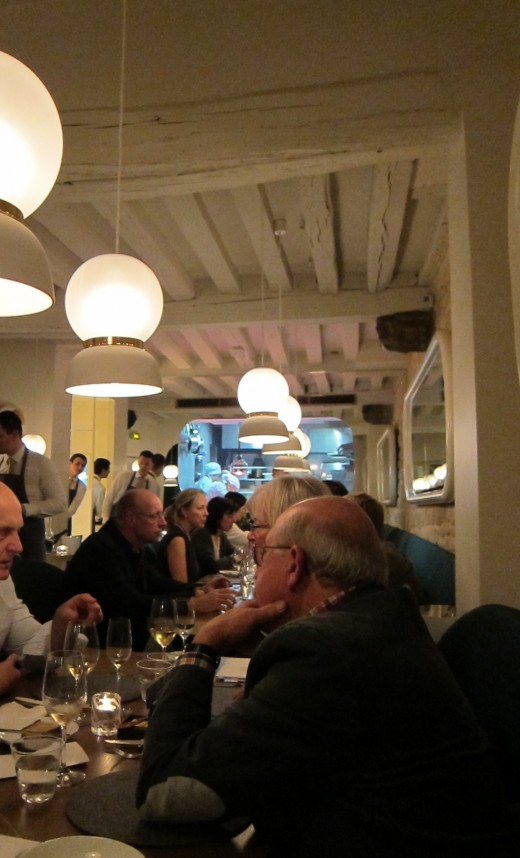 We were hungry that night, so after twenty minutes went by without a menu, I asked one of the numerous wait staff if we could see one and order. He returned with a puckish grin and handed us two triple-folded sheets of paper that had been sealed with sealing wax. This didn't bode well, but I opened mine, and experienced an instant blaze or irritation. Here's what I found:
Partir de Rien: 95 Euros
S'Inspirer: 145 Euros
Bruno shot me a beady eye, and I asked the server if he might explain the menu a bit further. "It's better if it's all a surprise," he said coyly. I said that we'd really rather know what the sequence of dishes in each menu might be so that we could order a single bottle of wine for the meal. "You're better off having a specially chosen glass with each course," I was told. While remaining cordial, I told him that we didn't like shifting from one wine to another during a meal, and that we'd rather start with some white, if that was appropriate, and then add a glass of red somewhere if that was warranted, etc.
"As you wish," he replied, followed by a quick sing-song recitation of the bill of fare, a tone that implied we were being sticks in the mud. For two fleeting seconds, I thought of paying up for the Champagne and moving on, since we'd clearly blundered into one of those noisome places where we were expected to bow down in astonishment at the chef's prowess. Or in other words, a restaurant that's not particularly eager to make its clients happy, but which prefers instead to impose its culinary will upon them.
So we settled for six-course "Partir de Rien" (Indeed), and another twenty minutes went by before we were served two foamy hors d'oeuvres, pumpkin and herbs. They were just fine, but we still hadn't seen the sommelier when the second hors d'oeuvres came out–an egg shell with a slow-poached yolk and angelica foam, harmless enough but rather deja vu as a concept. After a fair amount of prodding our white Saint Joseph was finally served, much too cold, just as a thoroughly uninteresting carpaccio of beets reached the table with, at long last, some bread and some very good freshly made butter.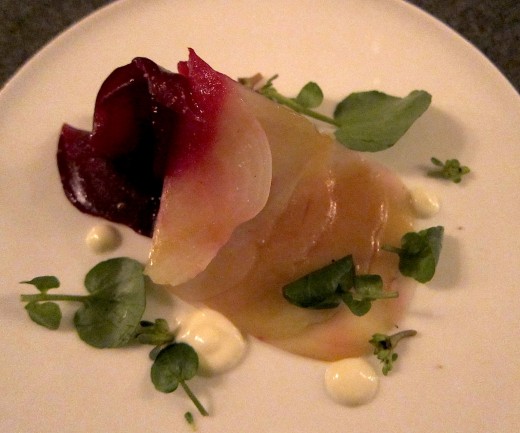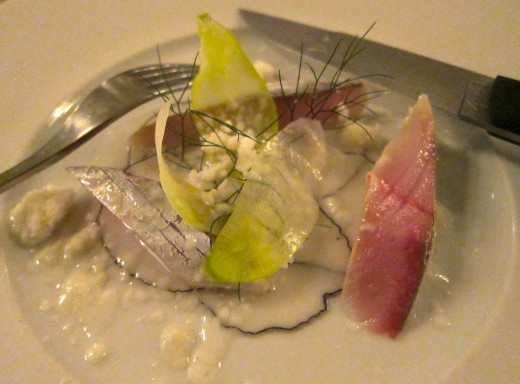 Things improved considerably, however, with the following dish, a beautiful compostion of succulent mackerel garnished with cucumber shavings, lazer-fine slices of black radish and wild fennel leaves. This was clearly a signature dish, since the chef himself emerged from the kitchen to flurry our fish with a fine snow of frozen horseradish and yogurt. This very appealing dish reminded me a lot of similar preparations I've recently eaten in Stockholm, so a propos of nothing, I mentioned to the chef that it looked "tres Scandinave," which earned me a glare before he wordlessly withdrew from the table. Bruno thought I'd unwittingly cast some aspersions on his originality with my comment, but this wasn't my intention–the dish was tres Scandinave, and it was also the best conceived and most satisfying dish of the evening.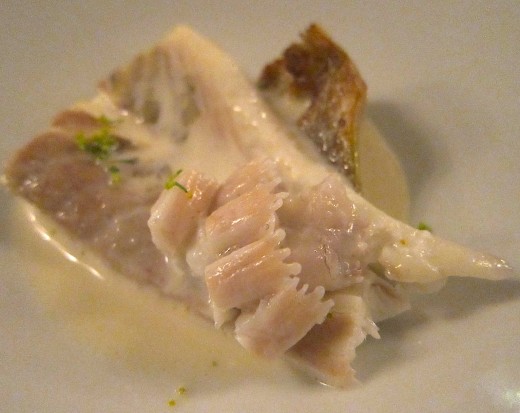 By now, however, we'd been at the table for over two hours, which I wouldn't normally have even noticed, since I love being at the table and could talk to Bruno until the cows come home, but the only way for such an involuntary tasting menu to work is for the rhythm of the dishes to remain relatively well-syncopated. When there are long delays between courses, exasperation sets in, which is what I overhead at the table to my left, where the two husbands staged a rebellion and abbreviated their plodding steeple-chase of a meal by a dessert. This format also requires a lofty level of talent to come off, too, since the diner responds to the heightened expection of it all by focusing intently on every dish. All of which is to say that our next two courses–turbot with grilled artichokes in an acidulated sauce and wonderful suckling pig with caramelized crackling, were good but came no where near the level of David Toutain of Agape Substance, the current Parisian maestro of such tasting menus.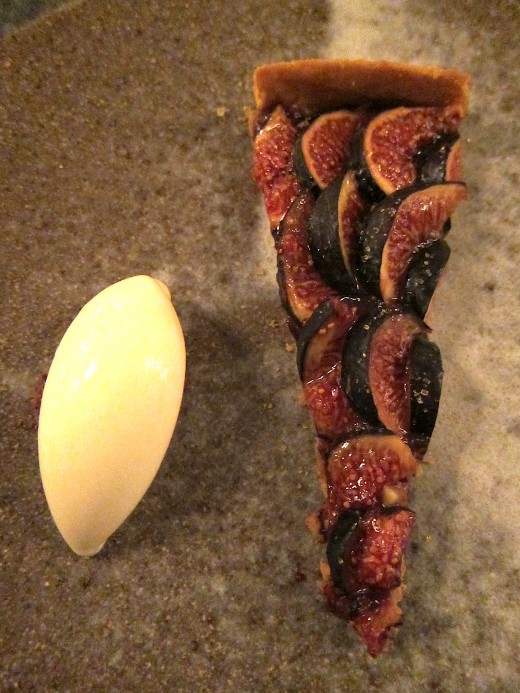 Going on three hours now, we decided to cut things short, too, and concluded with an excellent fresh fig tart with vanilla ice cream. The bill for this meal ran over 300 Euros, which was rather heart-breaking, since it inevitably invited comparison to all of the other places we might have gone instead for a better and more enjoyable meal. Aside from the excruciatingly slow and disorganized service, the problem with this place you see is that the chef is more interested in showing off his culinary prowess, such as it is–and he does have talent, than he is in creating a sincerely memorable evening for his clientele.
41 rue Saint-Louis-en-l'Ile, 4th, Tel. 01-43-54-75-42. Metro: Maubert – Mutualité, Pont Marie or Sully – Morland. Closed Sunday and Monday. Prix-fixe menus 95 Euros, 145 Euros.