L'ECOLE FERRANDI – Tasting New Talent at Le Premier and Le 28, the School's Charming Restaurants
December 8, 2012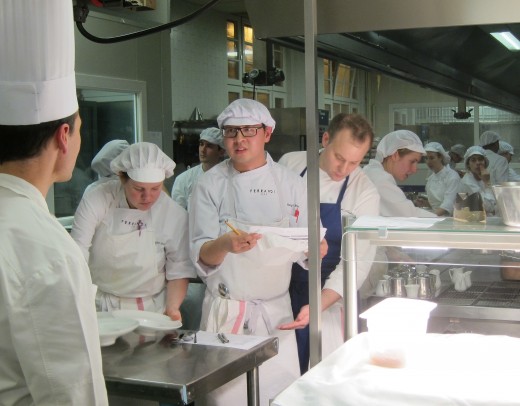 As someone who passionately loves good food, there's nothing I find more fascinating than the privilege of visiting a working restaurant kitchen. When they're busy and well-directed, working kitchens often offer the same magnificent but unselfconscious spectacle of the physical and cerebral metaphysically melded together as one finds at the ballet, the difference being that dance is usually better lit and deprived of the same olfactory teasing a kitchen subjects you to.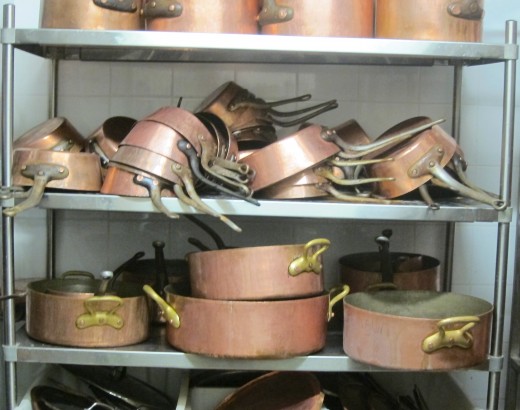 So I was delighted when the friend who'd invited me to the 'Diner des Chefs' four-handed dinner cooked in tandem by chefs David Toutain (Agape Substance) and Alexandre Couillon (La Marine) wangled us behind the kitchen doors for a few minutes before we ordered our meal. This was a special night in the kitchen of Le Premier, one of the two open-to-the-public teaching restaurants at the Ecole Ferrandi, the school of culinary trades in the 6th arrondissement which has recently trained many of the most distinguished chefs in France, including Adeline Grattard (Yam'Tcha), Bertrand Grebaut (Septime), William Ledeuil (Ze Kitchen Galerie), Francois Pasteau (L'Epi Dupin), and Matthieu Viannay (La Mere Brazier, Lyon), among many others. Just before the night got very busy, the last prep was being done in this immaculate kitchen by a bunch of poignantly eager, intense and very serious young students under the direction of the school's permanent fulltime teaching professors, while Toutain and Couillon met with students in smaller groups to go over the details of the plates they'd be cooking and serving together.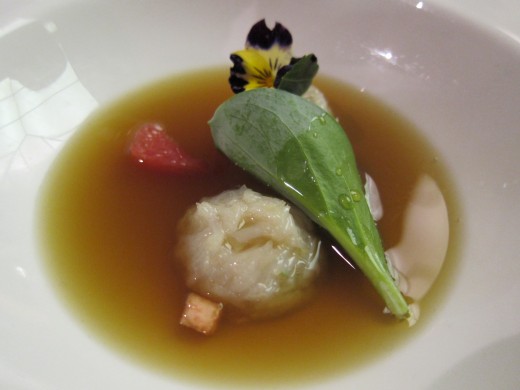 Back at the table with several other friends, we sipped Champagne and enjoyed the expectant atmosphere in a dining room that's unlike any other in Paris–the lighting may be a little harsh, but the joyous sort of maternity-ward atmosphere here just brims with expectation and a desire to please, and the first indication that this would be a slam-dunk of an evening in terms of great food was a stunningly beautiful little amuse-bouche of dressed crabmeat in a pool of deeply reduced shellfish bouillon by David Toutain. Then while waiting for our first course, our table with British, Brazilian and American guests, shared an interesting conversation on the current state of food in Paris–even if the quality of the food in its brasseries and cafes remains pretty much appalling, the city's in the midst of a pretty spectacular revival of the neighborhood bistro recoined for a new century, and just exactly why this revival is taking place. Well, we didn't really have to look very far or very hard for an answer to this last question: the awesome and thoroughly admirable rigor of a classic French culinary education equips young chefs who train at the Ecole Ferrandi to spread their wings with real confidence, because they know how to do everything. And armed with a deep knowledge of the past, it's easier to dare a bit of modernity and succeed. One of the huge global misapprehensions about professional cooking is that it's all about creativity (much of this nonsense comes from the inane cooking shows that have become so popular). It's not. Instead it's all about a relentlessly rigorous execution of technique and ferociously exigent and ingenious sourcing…with a just pinch of creativity.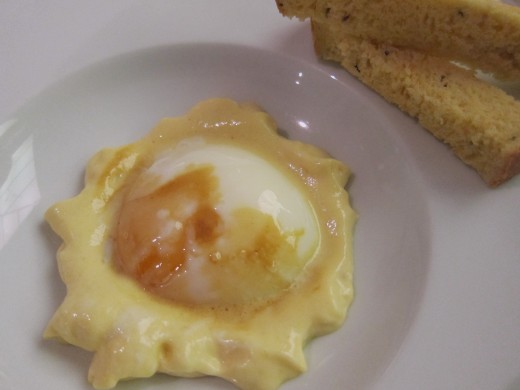 For the first course of this special meal, we had a choice between 'egg, corn, cumin seeds' or 'sea scallop, parsnip, blueberry,' or Toutain and Couillon respectively. On a raw night, anything with an egg was irresistible to me, and the exquisitely comforting little dish that arrived is something I could eat a pair of everyday for breakfast for the rest of my life–a perfectly poached egg yolk on a sunny creamy bed of corn pudding with wands of cumin-spiked corn bread. Next up, a choice between scallops with romanesco (green cauliflower) and Madras curry or cod with butternut emulsion, goat milk and mint. Both dishes were excellent, and emblematic of the type of superb contemporary French cooking students at the Ecole Ferrandi are learning today.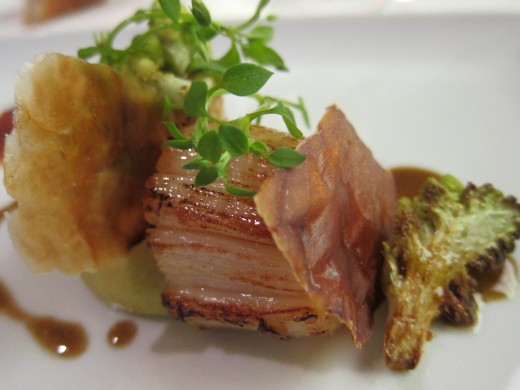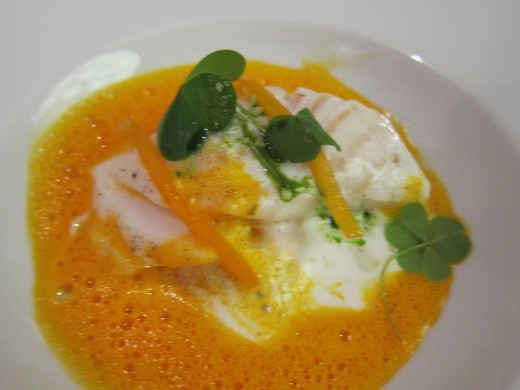 Though this dinner was a one-off event, it still served as a discreet showcase of the skills of the current class of students at the Ecole Ferrandi, and they cook to such an exceptionally impressive level that I'm really looking forward to coming back for a 'normal' service.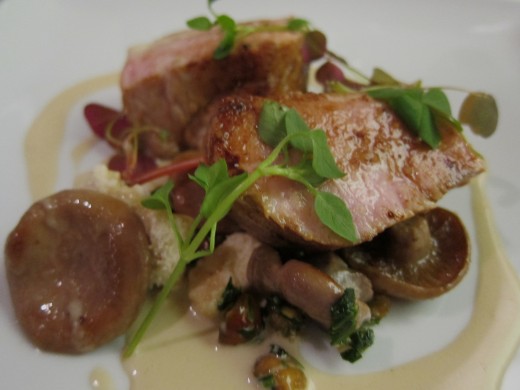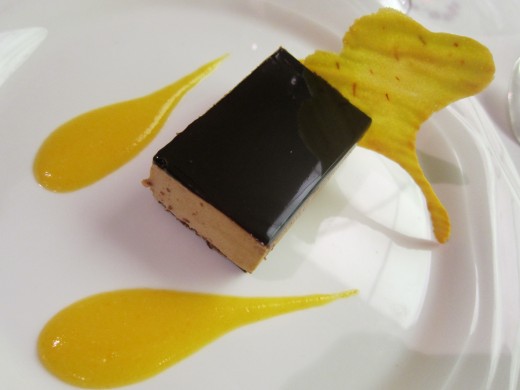 A superb composition of rosy veal with bluefloot mushrooms in clove emulsion and a gorgeous chocolate-caramel-coffee-cream pastry with clementine-pear coulis round-out this excellent meal, an evening of real charm heightened by flawless service and the awareness that we were some of the luckiest guineau pigs in Paris. The friend who invited me advised me to try dinner on Monday or Tuesday at the more intimate Le 28 the next time I come, which I'll look forward to, but the other mental note I made is that the 25 Euro lunch menu at Le Premier is excellent value for money in a setting where the tables are widely spaced and there's lots of sunlight during the day. So it's an original and very convenient spot for a business meal or a tete a tete on the Left Bank. And of course the implicit fun of dining here is that you may very well catch a rising star before he or she becomes fodder for the Michelin guide.
L'Ecole Ferrandi, 28 rue de l'Abbe Gregoire, 6th, Tel. 01-49-54-17-31 (mornings only) or email resaresto@ccip.fr. for reservations in the school's restaurants. Mo Saint Placide or Rennes. Opening hours: Le Premier – Tues-Fri for lunch, 25 Euros; Occasional Thursdays for dinner, 40 Euros; Le 28 – Wed-Fri for lunch, 30 Euros; Mon, Tues for dinner, 40 Euros. www.ferrandi-paris.fr