Les Arlots, Paris | A Stunningly Good New Bistro A-/B+
May 1, 2016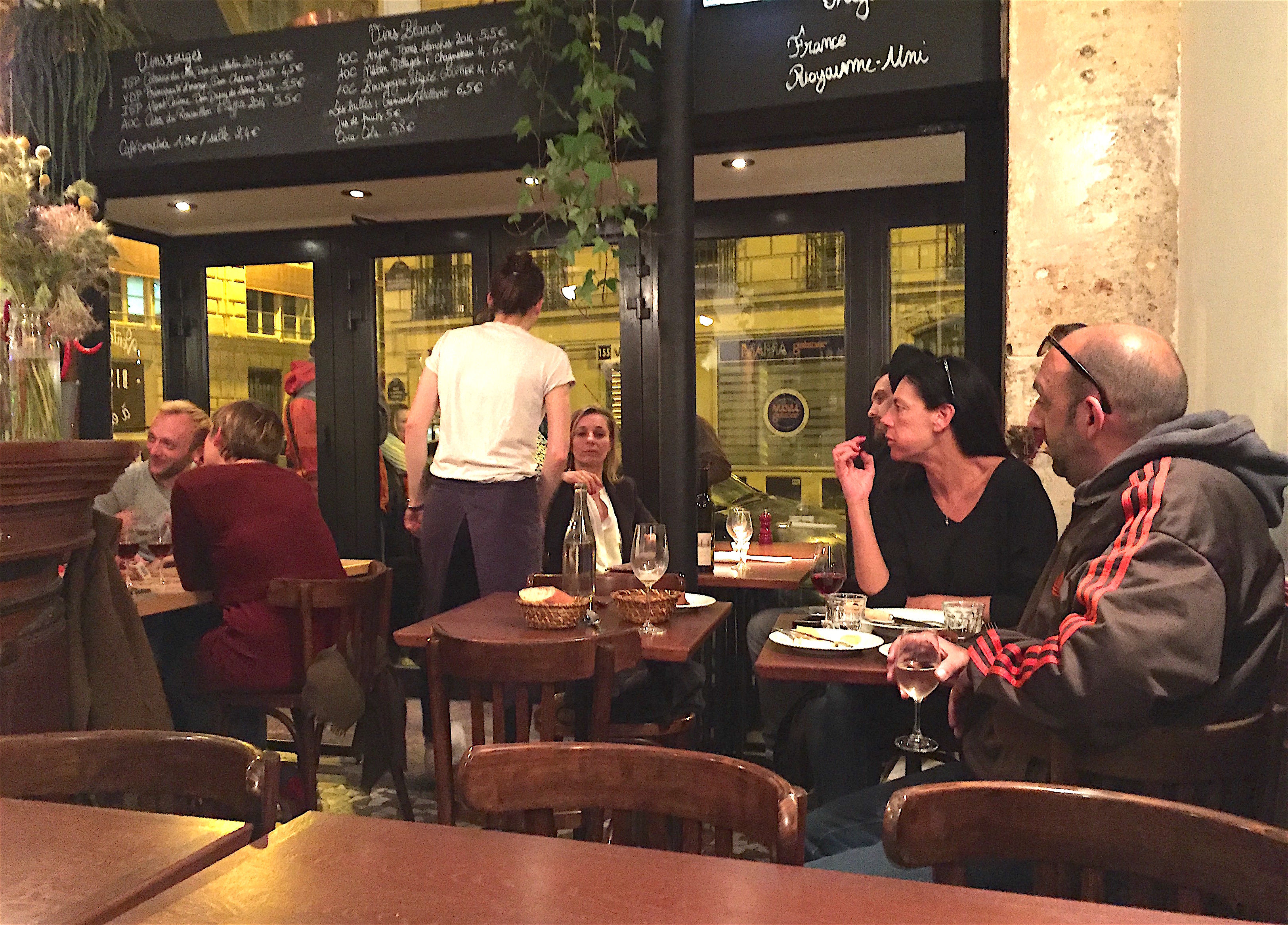 So there are two things you need to know right away about Les Arlots, an excellent new bistro near the Gare du Nord in Paris. The first is that this tiny place is going to become very popular, so if you want to go, please pause now, pick-up the phone and make a reservation. And the second is that despite its diminutive size, it signals a major change in the gastronomic landscape of Paris. To wit, La Bistronomie, or the modern bistro movement that was born in 1994 when chef Yves Camdeborde (along with other Christian Constant alumni) opened the original La Regalade in a remote corner of the 14th Arrondissement, has now run its course to the extent that many of its memes are becoming embarrassing, even a little irritating.
What made me finally certain about something I've been sensing for a while was the avidity with which the four of us savaged every course we ate Les Arlots the other night. To be sure, there were a few dishes on the chalkboard menu that nodded at the better ideas of La Bistronomie, notably beets with goat cheese and a deconstructed fraisier (a strawberries-and-cream dessert usually made with sponge cake but here concocted with crumbled shortbread and dollops of pleasantly acidulated raw milk creme fraiche instead). The fact of the matter, however, is that beyond the catchy (or not so catchy) name, La Bistronomie was always essentially just about applying the basic principles of La Nouvelle Cuisine to bistro cooking, i.e. shorter cooking times; a preference for jus (reductions) over elaborated sauces; the eager use of fresh herbs, citrus and other ingredients that convey bright notes of taste; a respect for vegetables and also the aesthetics of the plate. La Bistronomie also prefers layering or contrasting tastes to those that meld together and would not exist without the skills of the cook. This is why Bistronomique menus can be interesting and refreshing but often lack the gastronomic draft of traditional bistro cooking, which, it would seem, Paris is suddenly craving all over again.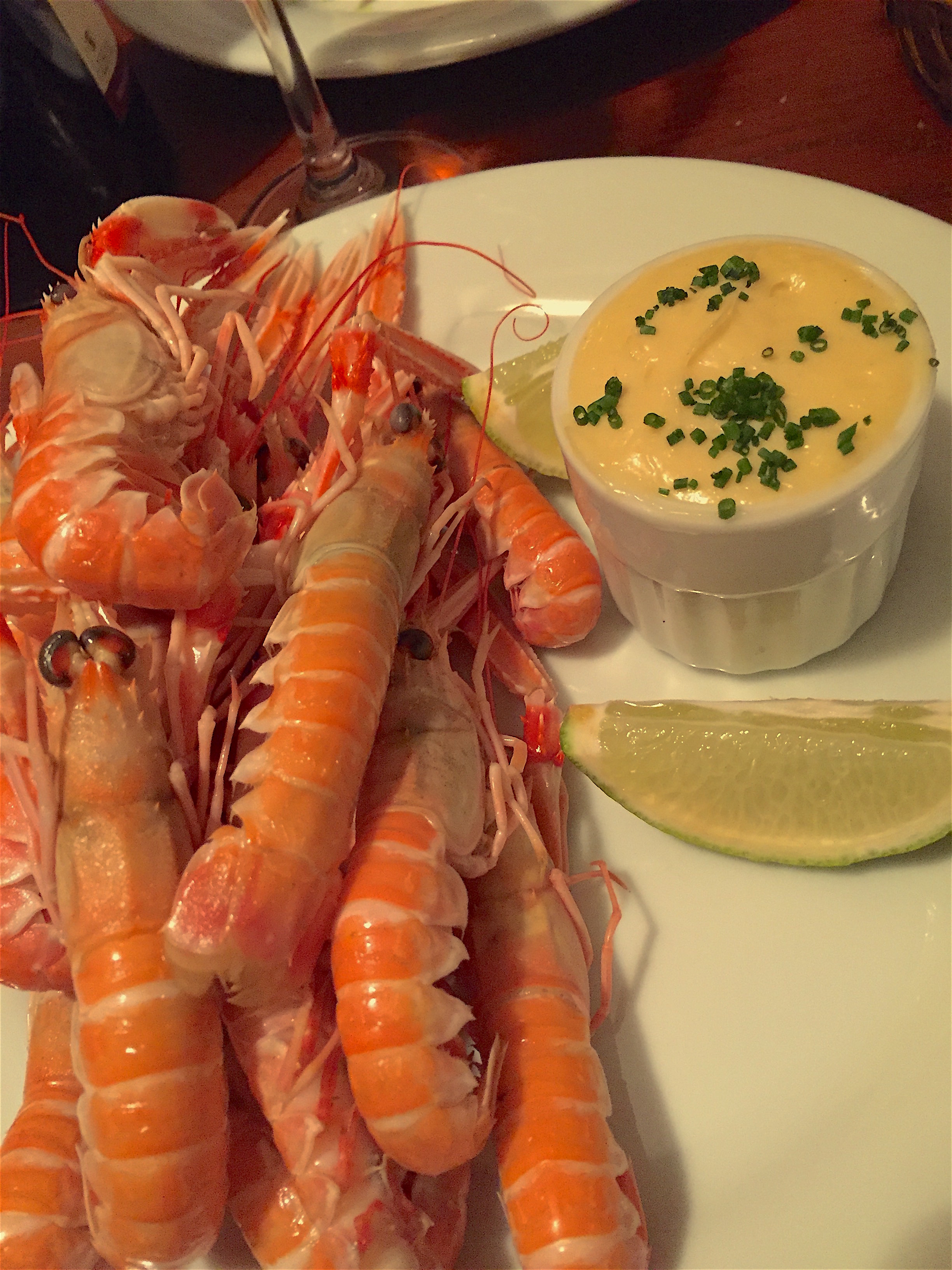 What we yearned for the other night was real food, or mostly traditional dishes that here were beautifully cooked from superb produce and also generously served. I didn't come to dinner in search of gastronomic revelation, but rather in the hopes of being well-fed in the best French traditions of culinary simplicity by people who honestly love working in a restaurant, whether in the dining room as servers or bar tenders, or the kitchen as chef and assistants.
But what was it exactly that clued me in to the fact that we'd be eating a really really good meal? The reflexive unselfconscious friendliness of the dining room staff and the small saucer of excellent slightly warmed Corsican sausage that the kitchen sent out for us to nibble with our Saint Andre Sauvignon, one of the really good natural and/or organic wines from the open-shelf wine list here. Message: We love what we do, and we want you to have a great meal and a good time.
We stared at the chalkboard menu for a longtime before we were able to commit to our respective meals, because there were so many things that all of us wanted. Since pâté en croûte is such a great dish upon which to judge the quality of a bistro, I wavered, but in the end I couldn't stay away from the langoustines with homemade mayonnaise, partly because I adore them, but also because they're rarely seen in such settings and these were so reasonably priced at 15 €. What I did not expect was the lavishness of the portion that eventually came my way, or their perfect cuisson, or mayonnaise so good I ended up finishing it up with torn pieces of excellent baguette.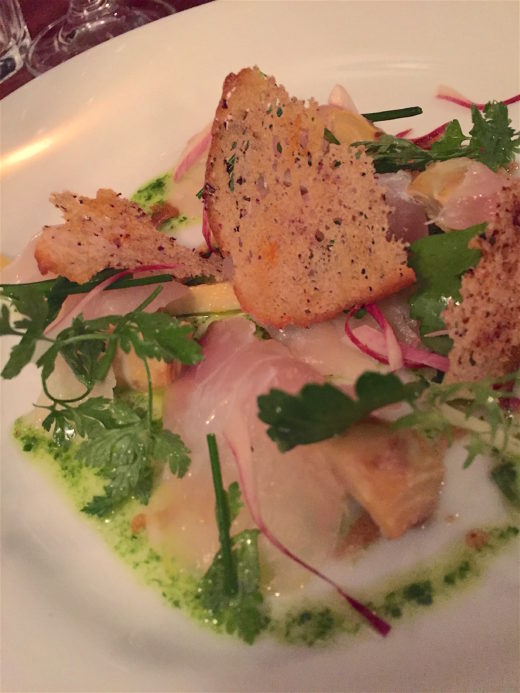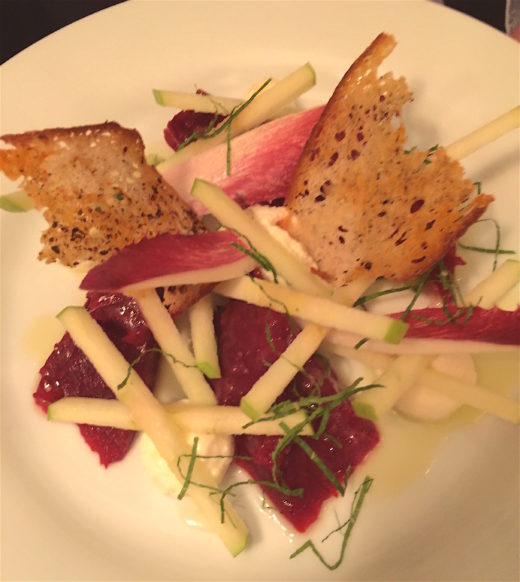 Bruno and Richard loved their marinated raw daurade (sea bream) with a pistou vinaigrette and Roberto his beets and goat cheese with matchsticks of green apple and a few leaves of baby Treviso. Chatting with the lovely waitress when she came to the table with more bread, I learned that the chef here is Thomas Brachet, who had previously worked at La Maison Blanche and the Beef Club. This surprised, because I never found the slightest trace of this brilliant bistro cooking at either of those addresses, so maybe Brachet was just waiting to spread his wings and cook the food he really likes. One way or another, he's an exceptionally talented chef with an impressive battery of cooking skills and an impressive range within his own solid, earthy style.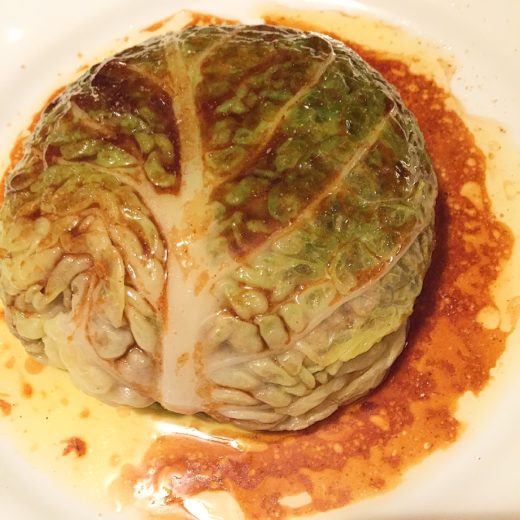 Menus often make me fickle. The reason I'd decided I wanted to discover Les Arlots is that several colleagues had been raving about Brachet's homemade sausage and potato puree, one of my favorite dishes, but when I saw the stuffed cabbage on the menu, I immediately knew there was absolutely no way I wouldn't be ordering that, and Richard, another member of the 'To hell with cholesterol' club, followed suit. It wasn't a conventional stuffed cabbage, but rather a superb saute of foie gras enriched meat covered with a cap of Savoy cabbage and glossed with a rich jus. And it was so clobberingly good that it brought on a little light-headedness, what with that rich rush of fat, salt and falling-down-a-well depth of resonating umami taste.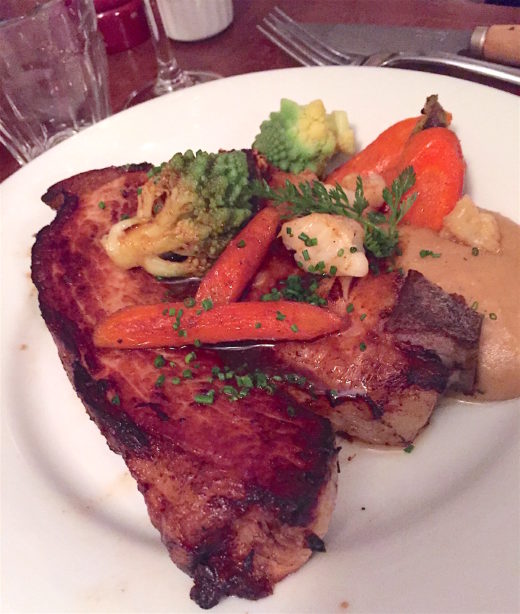 Bruno was very happy with his nicely seared veal steak with baby vegetables and Jerusalem artichoke puree and Roberto, the daintiest eater at the table, was pleased with his rougets. And even though the snug premises were packed tight as a sardine tin, the atmosphere was contagiously jovial, as the nice Italian boys at the table next to us told us not to miss the Fraisier dessert and the quartet behind us couldn't help but asking us where we from, because their eves dropping left them curious (Carracas, Cleveland, Connecticut and Valenciennes, s.v.p.).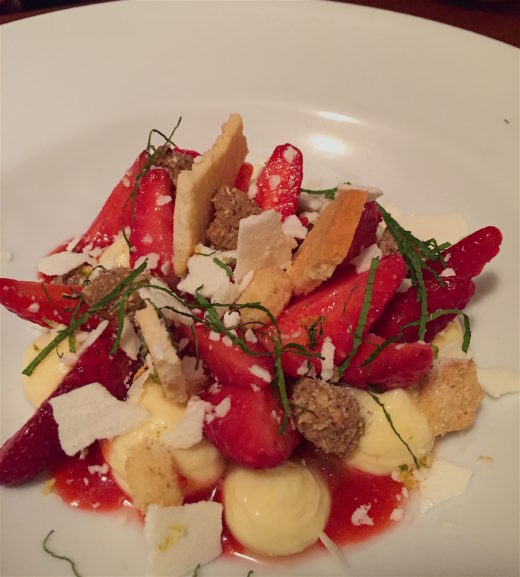 Even though I'm a journalist, trends per se don't particularly interest me. That said, the instant popularity of an excellent new bistro like Les Arlots makes it obvious to me that we're weary of the fiddlier aspects of La Bistronomie, like smears, micro-greens and the artful but often incoherent compositions of a pointillist gastronomy that never quite becomes legible or pleasurable. At Les Arlots, Thomas Brachet has the talent to extract everything that there may be to love about La Bistronomie and apply it to old-fashioned bistro cooking with ardor and talent. This is why I can't wait to return and try his homemade sausage and potato puree. I know, though, that it's not going to be easy to get a reservation.
Les Arlots, 136 rue du Faubourg Poissonnière, 10 Arrondissement, Tel. (33) 01-42-82-92-01, Metro: Rochechouart, Poissonnière or Gare du Nord. Closed Sunday and Monday. Open for lunch and dinner Tuesday to Saturday. Lunch menus 17 €, 20 €; average a la carte 40 €