Les Fables de la Fontaine, Paris | Julia Sedefdjian, An Audacious New Talent, Debuts on the Left Bank, B-
November 10, 2015
An intriguing if imperfect recent meal at the new version of Les Fables de la Fontaine, an expensive Michelin starred fish house founded by chef Christian Constant in its previous incarnation, made me more wiltingly aware of the pernicious effects of listification (if I might invent, I think, a new word) on food writing and the restaurant world than ever before. To wit, if you look at almost any of the lists of the top 50 or top 100 restaurants in the world that are out there, and there are more than you can count, you'll find Paris invariably does rather poorly in these rankings.
But what does this really mean? That Paris chefs and restaurants are less interesting or innovative than those in other cities? Well, unfortunately that is the take away from these lists, when the reality is that Paris has never been as gastronomically exhilarating as it is today. Why? The city is brimming with new talent from all over the world, and the whole experience of a French meal is being more intensely and incisively scrutinized, tweaked, revised and reinvented than at any time since the last raft of great Gallic chefs, i.e. people like Michel Guérard or Roger Vergé, came on the scene in the early seventies. The new chefs of Paris are obsessively interested in good produce and healthy eating, too.
This demure renaissance ranges from the emergence of a new generation of star chefs like David Toutain (Restaurant David Toutain), Bertrand Bertrand Grébaut (Septime), and Jean-François Piège (Le Grand Restaurant), to the fact that there isn't a neighborhood in the city that doesn't have a constellation of small excellent and intelligently inventive new tables, or places like A Mere in the 10th Arrondissement, Le Servan in the 11th Arrondissement (both reviewed on this site) or, somewhat surprisingly, Les Fables de la Fontaine in the 7th Arrondissement.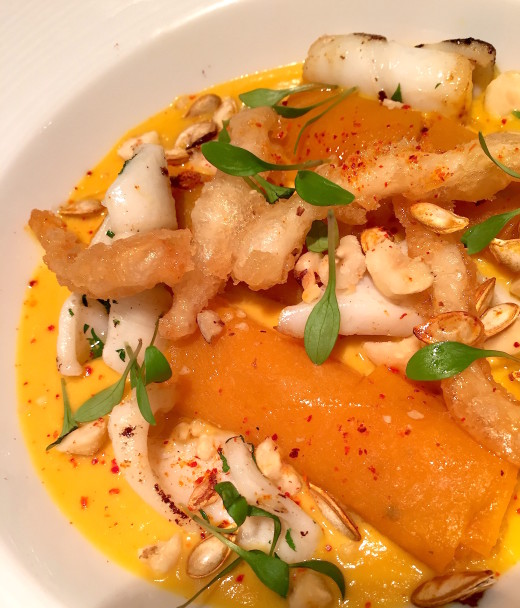 I say surprisingly, because this ur bourgeois chunk of the 7th Arrondissement has long been both habitually penny-pinching and more comfortable with traditional rock-of-ages French cooking than anything new and off-beat. That said, David Toutain is thriving at his eponymous table in this neighborhood (although I suspect most of his clientele travels from other parts of Paris, Europe and the world) and now Julia Sedefdjian, a twenty-one-year-old chef from Nice who began her career at the restaurant as sous-chef before being promoted, is playing to a packed house seven days a week. Gastronomically, Paris is changing, quickly and almost always for the better.
Sedefdjian's cooking is assertively original, too, with the starter that Bruno had the other night offering a perfect example of her unselfconsciously frisky creativity. Brightly autumnal, this composition was comprised of tender deep-fried curls of squid garnishing a sunny bowl pumpkin soup along with a shaved roll of butternut squash stuffed with squid and toasted pumpkin seeds. A lot of work went into this dish, which was soothing but saved from being too sleepy by a judicious sprinkling of Espelette pepper. My starter of oysters in their shells on a bed of eggplant puree with kiwi juice and pulp and lemon 'caviar' didn't quite work, because the fruit completely overwhelmed the natural taste of the oyster, but I did discover the very unexpected affinity that kiwis have for these bivalves.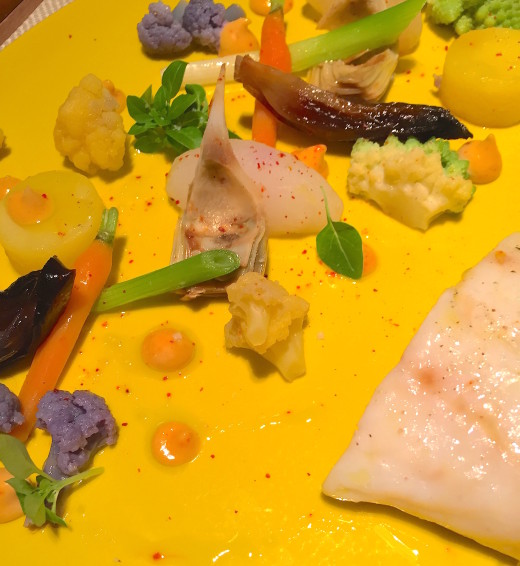 I loved my main course, however, an impeccable and very dainty post-modern version of a grand aioli, or poached cod with vegetables and two sauces, an aioli (garlic mayonnaise) and a roux, which were scattered across the large bright yellow plate in dots. All of the vegetables were perfectly cooked, too, and they ranged from the classics–carrots, leeks, baby artichokes and potatoes–to romanesco and purple cauliflower.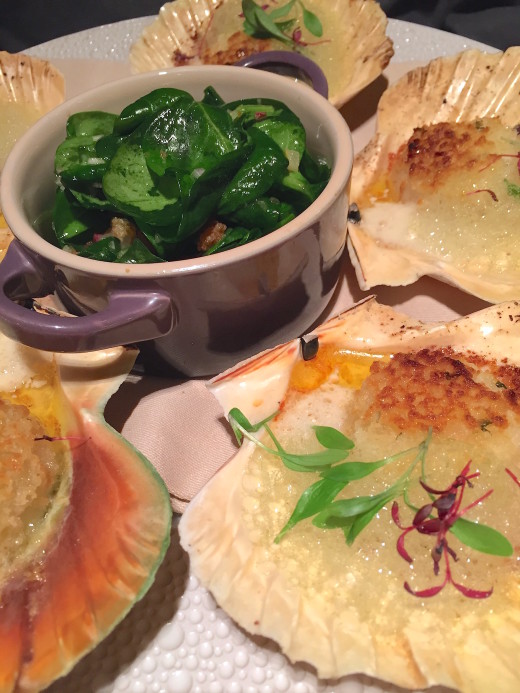 Bruno's scallops in their shells were succulent, lightly caramelized and seasoned with an evanescent citrus foam which proved that the foams many people are weary of still have a deserved place in the kitchen when a cook is looking to avoid a traditional sauce but wants to add another gentle element of flavor to a dish. The little casserole of wilted baby spinach with homemade croutons was welcome, too.
Since portions are generous, we shared a delicious shortbread based riff on a lemon meringue pie for dessert and finished up out excellent bottle of 2014 Sauvignon Pointe d'Agrume by brilliant Loire Valley winemaker François-Xavier Barc while enjoying the buzz in this busy dining room with a friendly and very motivated young staff. Glancing around, I saw not a single example of that dreaded pleasure-killing local genus–the couple comprised of a bespectacled man in a loden overcoat and his wife with a treasured vintage Hermes scarf and an Alice band in her steel gray hair.
Maybe that's because these people were at home reading lists entitled "The Seventeen Best Ham Sandwiches in Paris," "The 33 Cheapest Bistros in the 7th Arrondissement," "The Six Best Bowls of Onion Soup in France." Or more likely their absence could be explained by their having been frightened off by cooking that's as vivid, joyous and inventive as Julia Sedefdjian's served in a lively dining room where everyone was clearly having a great time. One way or another, the inspired and very hard working Sedefidjian is very much a young chef to sample, savour, sample again and keep an eye on.
131 rue Saint Dominique, 7th Arrondissement, Paris, Tel.: (33) 01-44-18-37-55. Metro: Ecole Militaire or La Tour Maubourg. Open daily for lunch and dinner.  Lunch menu 25 Euros, Carte Blanche menu 70 Euros, average a la carte 50 Euros. www.lesfablesdelafontaine.net