LES PAILLOTES–A Breathe of Fresh Air and a Good Meal in the Country, B
July 5, 2011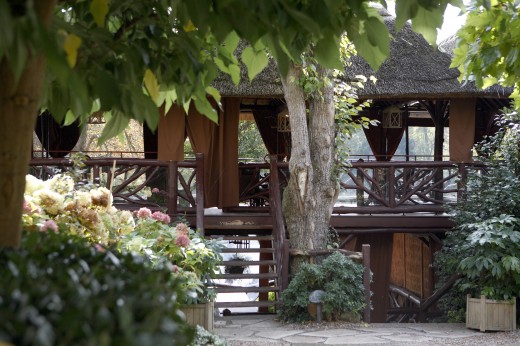 During the twenty-five years I've lived in Paris, the rhythms of summer have changed. The first year I lived here, I was amazed at the way the city perceptibly stilled during July and then almost completely shutdown during the month of August. Shopkeepers pasted kraft paper in their windows, and the newspapers ran lists of bakeries that would still be open for any straggler in search of a fresh baguette. Since I was then working as an editor for an American company, I didn't have the luxury of a month-long holiday, and so I not only became an expert on the French capital in August, but came to love this bestilled and sort of deliciously lonesome season in the city when you never had to worry about getting a seat at a movie if you arrived minutes before the film started and the cafe terraces were filled with people sipping rose wine over salads ignored in the heat.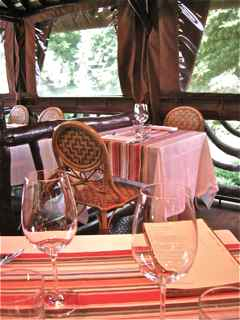 As time as has passed, though, the French holiday season has been compressed–very few working people can take a full month off anymore, and among the many friends I have who work for themselves, summer has become a garland of long weekends rather than even a full week off, which means many are looking for short refreshing escapes without going very far away, and this is how I ended up at the charming Les Paillottes restaurant at Les Etangs de Corot, a hotel in the Paris suburb Ville d'Avray, on a hot summer night.
"Let's run away for a night," my friend Helene suggested, adding that our pals Simon and Adelaide had already agreed to meet for an al fresco dinner on a hot summer night. I balked, because I was on deadline and also because I seem to have developed urban-barnacle syndrome, or the instant reflex of a big-city dweller that it's just too much trouble to leave town. "You'll be sorry that you didn't come when it rains for two weeks running in January," Helene threatened, and twenty-minutes later by car (you'll need one to get here), we arrived at the raised thatched hut, a summer restaurant par excellence, that overlooks the etang, or lake, that inspired the painter Corot, who lived and worked here during the 19th century.
Simon and Adelaide were already working on a bottle of Champagne, and the night air smelled of grass and pond water, with the occasional honied gust of a late flowering linden tree. When we opened our menus, everyone approved. "I love eating outdoors during the summer," Adelaide said, "But so many restaurants boot up their prices and make their food too complicated. Shy or a salad or two, this menu is exactly what I want to eat when the weather gets hot."
People often ask me if I miss the United States after living abroad for so many years, and the one time of the year when I have the occasional nostalgic twinge is the summer, since I love American summer food–barbecued clams, corn-on-the-cob, beef steak tomatoes, blueberry pie, cheeseburgers, potato salad, lobster, all of the delicious things I ate growing up in the Northeast. The French have never been much interested in barbecuing, in the proper sense of the term, and with the exception of a few lovely cold soups and salads, summer doesn't bring the same wholesale change in eating habits that it does in the United States. This is why the menu at Les Paillotes was so appealing–it offers real summer food, like the excellent and rather Ducassian lobster salad that Helene and I started off with and the very good vegetables with a coddled egg and summer truffle shavings (the former didn't add much in terms of taste, because they don't have very much taste, but they looked nice) that Simon and Adelaide chose.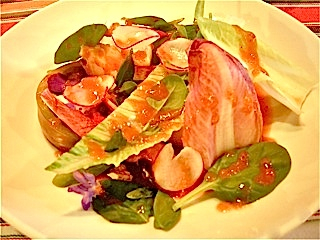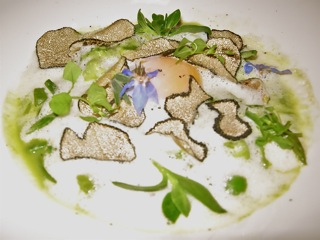 Main courses were good, too, including a perfectly pan-roasted filet of turbot with seaweed butter and delicious little potatoes from Noirmoutier and a hefty cote du boeuf with sauce bordelaise, shallots, and an impeccable buttery fan of potatoes. The light slowly faded during dinner, and the occasional fire fly resuscitated childhood memories for all of us, even though we come from four different countries (America, France, Ireland and South Africa, for the curious among you), and there was also a collective nostalgia for what was surely the most unrecognized luxury of any childhood summer, which is to actually have had enough time on your hands to be bored.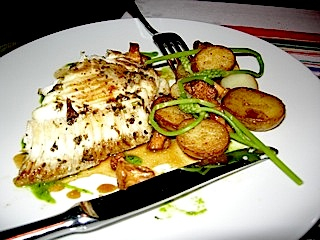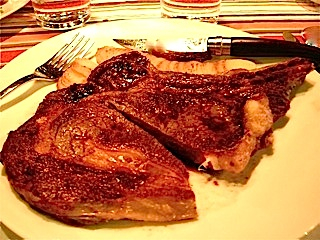 Service throughout this meal was charming, and the kitchen ably delivered on its summery theme right through dessert, with a pleasant raspberry and blueberry garnished vacherin and a sort of deconstructed peach melba. When the bill came, there were raised eyebrows all round–this place isn't cheap, but as the ever diplomatic and cheerful Helene put it, "Oh well, it was a very good meal, it was a lot cheaper than a weekend in Normandy, and we get to sleep in our own beds en plus!"
Les Paillotes, Les Etangs de Corot, 55 rue de Versailles, Ville-d'Avray, Tél : 01-41-15-37-00. Open for lunch and dinner Wednesday-Saturday. Sunday lunch only. Jazz band on Friday and Saturday nights. Average 60 Euros.