JAJA–Stylish Mediocrity in the Marais, C+
July 15, 2011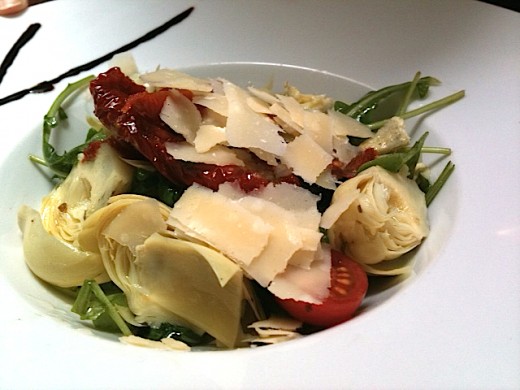 Meeting a friend for lunch at Jaja in the Marais on Bastille Day, I thought, maybe this time I'll be lucky. Just a week earlier I'd had a decidedly mediocre and expensive meal at the embarrassingly named new Pamela Popo, and on the way home I found myself wondering why the restaurants in this otherwise delightful neighborhood are so often disappointing. To be sure, the Marais has a couple of my favorite tables, like the wonderful Cafe des Musees and Le Carre des Vosges, but this popular and charming precinct also supports of a bewildering number of sub-par eateries, including a lot of crummy see-and-be-seen fashion-driven restaurants. The reason, I think, is that a lot of young Parisians come to this 'hood to hang out and then grab a cheap bite after a few drinks and before a few more, plus there's a lot of tourist traffic.
Jaja is the latest address of French food personality Julien Fouin, who he once ran a good food magazine, is often on Gallic culinary television, and who opened the popular but not very good Glou in the nearby 3rd arrondissement two years ago. Fouin knows how to source good product, though, and also how to put together a really good wine list, and since 'Jaja' is French slang for 'wine,' I was pretty sure that at least we'd drink well.
Arriving, the courtyard space down a passage where Jaja serves during the summer is a lovely place for a meal, although I'd hate to eat in their vaulted stone cellar dining room, which smelled musty and felt claustrophobic when I went downstairs to wash my hands. My friend, another Paris based food writer, and I studied the menu, and she decided on both of the daily specials–an artichoke and arugula salad with Parmesan shavings and roasted tomatoes to start and then the grilled sea bream. Hungry after a not very good Vietnamese meal in the 5th the night before, I started with the 'Chinese' style noodles with grilled shrimp and then the pluma, a delicious cut of tender and flavorfully fatty Spanish pork, with sauteed potatoes and salad.
We were well into a discussion about the total madness of the current American budget negotiations when we both noticed that the white Saumur we'd ordered by the glass wasn't very good, and then our starters arrived. Her salad was attractively presented, but canned artichokes were a let down, while I liked my nice little wooden skewer of firm grilled shrimp on a bed of ginger brightened 'Chinese' noodles. The crowd around us ran to a lot of well-heeled couples who'd clearly come to troll the neighborhood's many good boutiques, a Swedish family with two notably well-behaved children, and several tables of buzz-cut boys with tatooed biceps, a source of envy to both of us, since you have to have pretty meaty biceps to make a tatoo work, and alas, this isn't the case for either of us.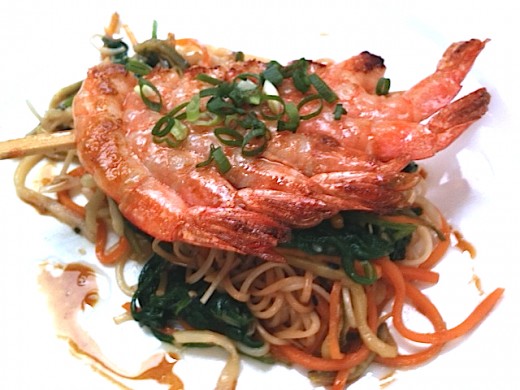 Deciding to ditch our Saumur, which my friend aptly described as a "head-achy' wine, she ordered a glass of Coteaux d'Aix rose and I had a sublime pour of red Clos des Fées, which was a real discovery, since I love the whites from this Cotes du Roussillon producer. When I asked her about her main course, she said, "It's fish. Period." I fared better with my succulent pork, but some of the potatoes were mushy and everything lacked seasoning.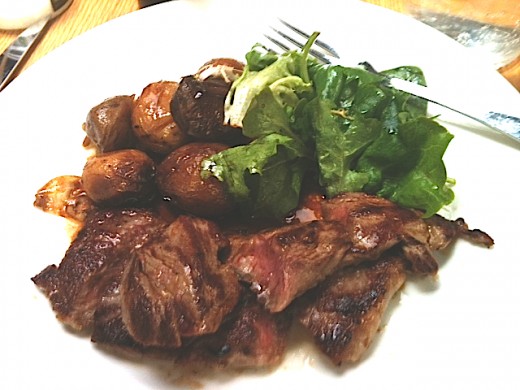 Intrepid, she tried the red fruit soup for dessert, while I had a pelardon (one of my favorite cheeses) that had too recently been in the refrigerator with a smear of fig jam and a few salad leaves. "Sorry about this," my pal said over coffee, since it had been her idea to come here. No problem, I replied, since I enjoyed our chat, had been curious about this place, and forever on the look-out for good restaurants in the Marais. Unfortunately, this place not only didn't fill the bill, but doesn't hold a candle to such really good recent Paris wine bars as Frenchie's Wine Bar or Vivant. Overall, aside from the good produce and the interesting wine list, we came away with the distinct impression that this is one of those restaurants where no one's in charge and no one really cares one way or another if you're happy with your food and the service. This is a shame, too, since the setting's so pretty, this place is open daily, and the kitchen has the privilege of working with great produce. One way or another, neither of us felt that Jaja lived up to the little phrase printed on the business card that arrived with our bill: "Vins & Cuisine Sympathique."
Jaja, 3, rue Sainte Croix de la Bretonnerie, 4th, Tel. 01-42-74-71-52. Metro: Hôtel de Ville, Rambuteau or Saint-Paul. Open daily for lunch and dinner. Average 40 Euros.