L'INSTANT D'OR–Despite the Cringe-Inducing Name, Excellent Contemporary French Cooking, B+
March 24, 2012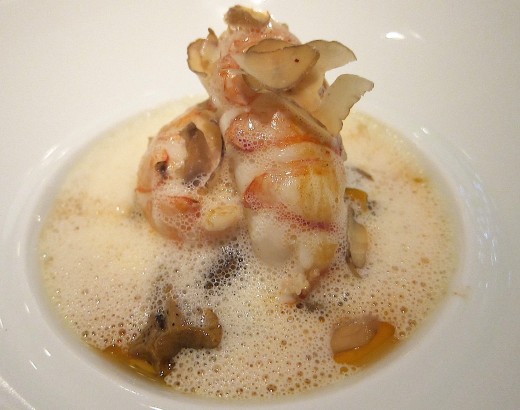 I recently had a good chuckle over what was surely one of the crankiest restaurant reviews I think I've ever read. Ten minutes late for his reservation, a certain French critic had received a call from the restaurant he was on his way to review to inform him that his table would be given away if he didn't show up swiftly. Suffice it say, this put him into a furiously foul frame of mind, which meant that he shook the offending restaurant soundly by the shoulders before kicking it in the shins. The reason I mention this is because so many different factors affect the way we perceive of and subsequently like or dislike a restaurant.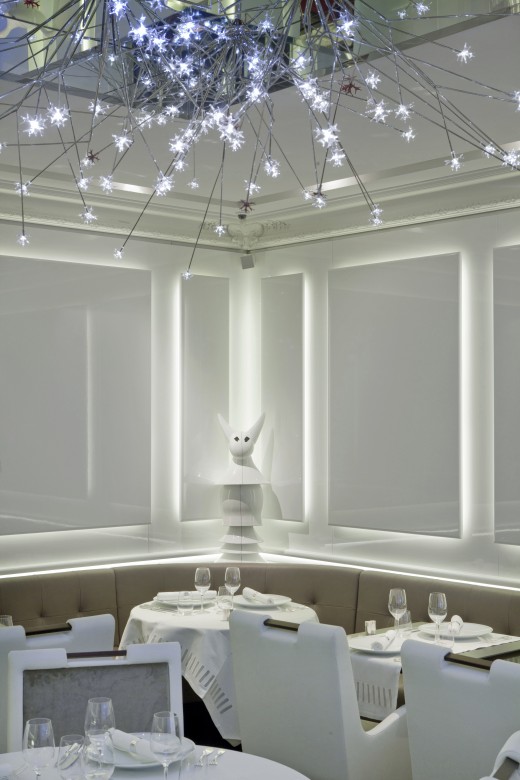 So I'll confess that I was in a grouchy mood on my way to meet a friend who was staying across the street at the Four Seasons George V hotel for dinner at the new L'Instant d'Or. It'd been a very busy day, and my appetite wasn't really in the market for 'important' food–I'd have been very happy with a plate of gyoza or some oysters. It also happens that I don't generally like the 8th arrondissement of my adopted city; it's a bit too flashy for me. I rather dreaded the certain unctuous service style I expected here as well, since for me, social posing is a terrible appetite killer. I was, however, looking forward to seeing my friend, a distinguished doctor and my oldest female friend in the world–we went to Kindergarten together. She had asked me to book somewhere "good, special, new and within a very short walk of my hotel."
Within minutes of arriving, though, I was so engrossed by Laura's decision to close her pediatric practice in a suburb of Boston and move to Myanmar to work for a charity there, that I barely even noticed the slightly icy maitre d'hotel. In fact, I didn't really become much aware of the moment, golden or otherwise, until our first courses arrived.
My langoustines with chestnut shavings and girolles on a sublime pumpkin royale (custard) in a Parmesan 'cappucino' were shockingly good–they were cooked nacreous and the pumpkin and chestnut teased their sweetness without being coy. Laura's ravioli filled with duxelles and topped with ribbons of lardo di Colonnata was a similarly suave, sophisticated rendering of rusticity, too–more Breughel than Vermeer, if you'll allow me the fun of a pretentious art-historical reference.
Though I'd been aware of L'Instant d'Or's chef, Frédéric Duca, who had been formed by two notably tempestuous cooks–Gerard Passedat and Michel del Burgo, and who had most recently been sous-chef at Helene Darroze, this was, of course, the first time I'd sampled his cooking, and I was somehow surprised by its equilibirum. In the kitchen, Duca pulls off an elegant harmony by being sinewy and assertive at the same time that he's reflexively understated and impressively refined. "This is lovely food," observed Laura, "And thanks for trekking across town to meet me." "Well of course I'd come across town to see you, especially after you'd just crossed an ocean." Then Laura's Blackberry, a hateful object if ever there was one, started buzzing on the table like an electronic moth, and she glanced at it. "I'm sorry, I really have to take this. I'll go outside, but remember, Alec, all forms of beauty are needed to prop up civilization."
In her absence, I wondered at the source of the gentle veil of melancholia that had settled over me, and tried not to listen to the loud and entitled quartet at the table next to me debate the merits of Bali or Miami Beach for their month-long August holiday. It must have been the reference to Florida that brought on the next skein of thoughts, but I was surprised to find myself musing on a walk I'd taken on longtime ago on a hard flat Florida beach with my late father. I'd come down from a working trip to New York to spend a week with him for his 70th birthday. It was my treat, and he chose Amelia Island near Jacksonville. It was curious shading to quite odd for the two of us to be alone together after so many years–we were normally bracketed by some quorum of our family of six, so I was gnattering on a bit about the job I'd just been offered to me as European Correspondent for GOURMET Magazine. Then Dad glanced sideways at me and said, 'When did you suddenly go and get so interested in food of all things?"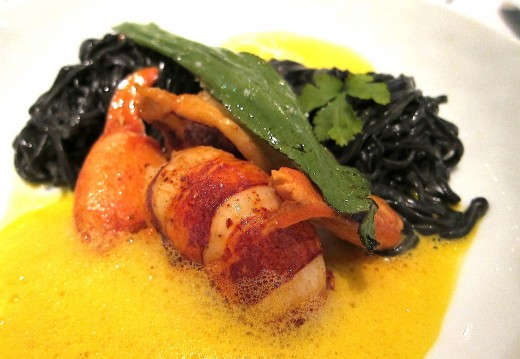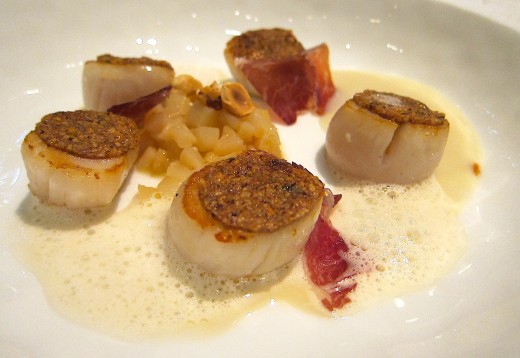 "So sorry," said Laura, returning just seconds before we were served our main courses. Without noticing, I managed to construct an almost all-crustacean meal, since I had roasted lobster on freshly made squid's ink linguine with a delicious lemon foam. Here, too, I was impressed by the humbleness of Duka's technical skills–he's a remarkably good cook but he doesn't show off. Instead, he let's his produce star. Laura's scallops were superb, too–griddled to give them browned edges and topped with delicate hazelnut waters they were accompanied by a few fine pieces of jamon and a warm salad of Jerusalem artichokes in a hazelnut oil froth. She laughed out loud after she tasted them.
"Since you live here, you probably forget how remarkable French cooking really is. I mean we have some great places in Boston now, too, but at its best there's still something so uniquely regal and deliciously superior about great French food." Her scallops were good, and in the back of my mind, I was working out that even though it's far from being cheap, L'Instant d'Or is actually a very good buy. Why? You're getting intelligently original smodern French haute cuisine for half the price of what you'd spend elsewhere in the neighborhood, and the tongue-in-cheek art-gallery decors of the three very differently decorated dining room proposed very different settings as well. To wit, you can hide away in the back rooms or show off by sitting up front (not sure why the maitre d'hotel decided that Laura in ancient Laura Ashley and me in the same brown L.L. Bean corduroy trousers I've been wearing all winter were appropriate for the vitrine dining room but whatever).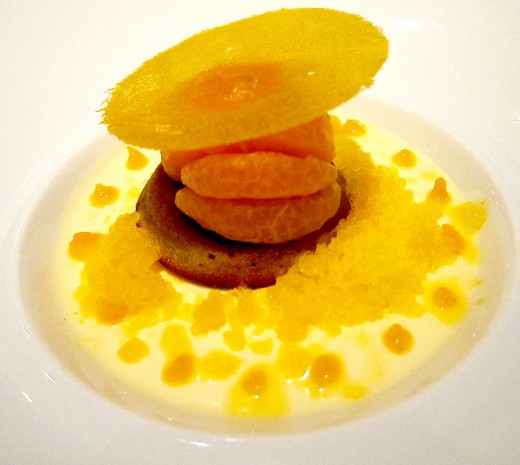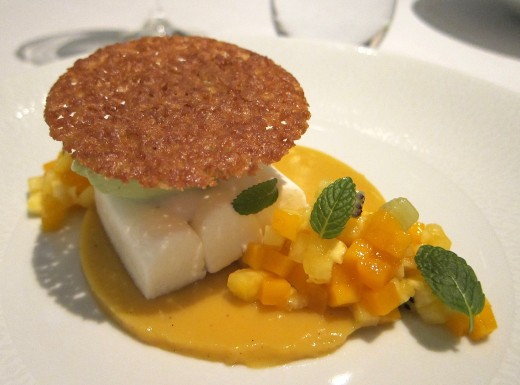 Very talented Japanese pastry chef Kiriko Nakamura provided a festive and very beautiful finale to our evening, too. Her mandarin-orange themed dessert wore a jaunty citrus fascinator, road a beautifully made pillow of sponge and was accompanied by a neat slush of tart citrus ice. This was a bull's eye adult dessert for the hedonistic calorie counter, and it was perfect at the end of my crustacean feast. Laura was quite happy with her tropical fruit themed dessert, which also sported a fascinator, this one burnt sugar.
As the meal had quietly swollen to be rather momentous is so many ways, we dawdled over espresso (me) and a chamomile tea (Laura) and startled each other by making small talk. This persiflage made all of the elephants in the room restless, however, so I walked her across the street to her hotel to say good-bye.
Emotionally espaliered as children both of us, we've long ago mastered the hasty hug and mumbled farewell, but instead we shared a rib-crunching embrace. "Thank you for this great send off. It would never have been so moving or memorable without such good food, Alec," said Laura. I wished her well and told her I'd always be there if she needed me. Then when I turned around to walk away, she snatched the back of my jacket. "I'm so proud of you," she said.
In the morning, the first two thoughts that I had after turning of the alarm were that they're very few people who'd have had the affectionate tenacity to seek me out in the middle of my maze, and also that L'Instant d'Or is a very, very good restaurant indeed. Seriously.
36 avenue Georges V, 8th, Tel. 01-47-23-46-78. Metro: Alma Marceau or George V.
Menus: 49 Euros (lunch), 98 Euros (dinner), a la carte 150 Euros