RED ROOSTER, Harlem–A Fabulous Night Out in New York City, B+
April 4, 2012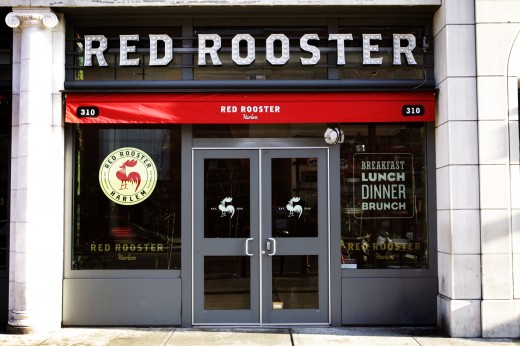 photo @ paul brissman
I'm not sure exactly why it happened, but somehow or another, the whole business of making a simple restaurant reservation has turned into an irritating, multi-step time-consuming chore in most of the world's major cities. And the way in which restaurants cavalierly treat those of us who are willing to put up with this steeplechase completely ignores the two obvious realities–no restaurant would stay open without customers, and a restaurant reservation is a sincere and serious expression of desire and curiosity on the part of a customer with regard to a chef's cooking and hospitality style and a commitment to experience it.
Recently, though, this introductory transaction between restaurant and customer seems to have gone very wrong. In Paris, some of the most popular tables are so over-solicited that they just don't even bother to answer the phone anymore, with the result that people in New York, LA, Sydney and Hong Kong dial away for hours without even the courtesy of an answering machine. London and New York are better in terms of being able to book online (Open Table, etc.), but if the chefs have long complained that customers are rude and careless in not calling to cancel a reservation they no longer need, I'd say that the sort of airline style full-load factor double booking that's become common place in London and New York restaurants is a disgrace. What this is all about is making you show up for a table at a time that's rarely of your chosing–"You can come at 7pm or 10pm," and then making you cool your heels in the bar for a really longtime until your table finally comes up. Mind you, you have to check in with the hostess on the dot of 8.30pm for an 8.30pm reservation, or else there's no guarantee you'll get your table, which I frankly find outrageous.
During a brief recent stopover in New York, I was meeting a good friend, a major food writer from London, for dinner, which I was looking forward to, since we don't see each other enough in Europe and I love Mexican food, and I thought it'd be interesting to hear his take on the foodscape of New York City after a week of eating there. When we realized we'd both be in New York for a single cross-hatched night, he was in Cape Town and I was in Saigon, but he told me he really wanted to try Alex Stupak's new East Village restaurant Empellon Cocina, so I got on Open Table and found out that I couldn't book for March in February, and so had a Post-It note on my computer for a few days. Then I duly made the reservation, which asked for a cellphone–I have a crummy little pay-as-you-go phone that I use in the US, and didn't give it another thought until we showed up on a rainy Friday night for dinner about ten minutes late. "Oh, yeah, well, like, we just gave away your table cuz you were like late, so whatever." Well, how long would we have to wait for another table. "Oh, like forever, so sorry, but it's just not going to happen." I thought my English friend would have a coronary on the spot, so I ushered him outside as soon as possible. "That was the rudest experience I've ever had in a restaurant on any continent, and I'll tell you something, Alec, with that attitude, I don't care if the food's wonderful. I wouldn't set foot in that place at gun point. I honestly think the world's gone mad–have chefs completely forgotten that a restaurant is an optional experience and that customer service is vital part of the experience they're peddling?" Er, well, um, apparently, at least at Empellon Cocina. But not only at Empellon Cocina, since it's become such an ordeal to book a popular new restaurant in almost any major city anywhere that the pleasure of the experience often becomes a wound badly salted even before you show up.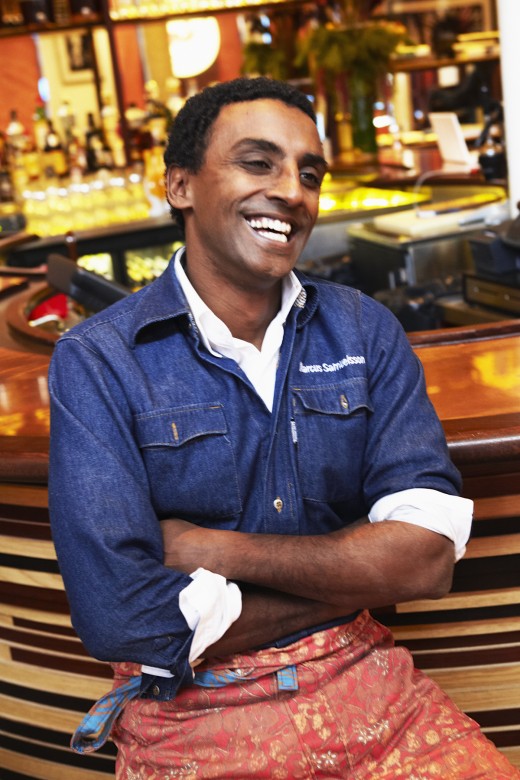 Chef Marcus Samuelsson; photo @ paul brissman On the flip side of the coin, however, they're buzzy new places in New York City that actually more than warrant the major nuisance of scoring a table, a perfect example being brilliant Swedish-Ethiopian-American chef Marcus Samuelsson's Red Rooster in Harlem. Good grief is it hard to get a table at a place that made it on to esteemed colleague Nicholas Lander's Favorite Tables of 2011 in the Financial Times but when I settled in at the bar for a 'Brownstoner," a sublime bourbon cocktail on a Sunday night with my Moldavian friend Nanettina, all was immediately well with the world, even though I'd be lying if I didn't admit to some anxiety about having dinner in Harlem.
Why? I grew up in greater New York during a pair of decades when the city was collapsing into ever great social and criminal turmoil. Though I had a truly ancient memory of climbing down from the train platform on the Harlem River branch of what's now called Metro North at 125th Steet with my thrifty grandmother from Chappaqua–the cab from this station to my aunt's apartment at 91st Street and Park Avenue was cheaper than it would have been from Grand Central Station, this gesture stopped cold sometime in the early seventies, and for decades afterwards, I'd look out the scratched train windows at the burnt-out and abandoned brownstones of Harlem with sorrow and incomprehension.
So after living in Europe for over twenty-five years, I can't pretend that I was exactly sure-footed when I took the subway uptown to Harlem. But the old danger-alert antennae that I developed in New York when the city was still a bit of a shooting gallery in the early 1980s and will forever possess, didn't even flicker as I came upstairs on Lenox Avenue. And from the moment I stepped in the door at this uptown bird, I loved the place.
Not only was the service friendly, prompt and charming, but I haven't seen such an interesting crowd in New York since the days that I was too naive to realize what a dork I was to be wearing penny loafers to Studio 54 and the restaurant Ruskay's on Columbus Avenue was luring daring types north of Lincoln Center for sultry after (and often pre-) performance suppers–the Upper West Side was then very down at the heels. Like any happy American restaurant, Red Rooster was loud, but it stopped short of being deafening, and Nanettina and I read the menu with the fascination that this 21st century culinary Rosetta stone deserves.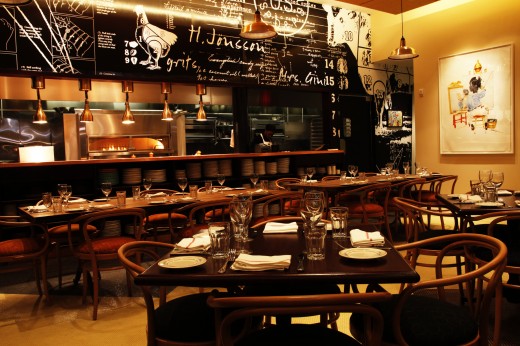 photo @ paul brissman
If the Red Rooster takes its name from a famous Harlem speak-easy, and Samuelsson has lived in Harlem for the last six years, I'd never seen anything like this line up in my life. There were dishes that nodded at Spanish Harlem–the Latino neighborhood now rapidly wilting from gentrification, the Ethiopia of Samuelsson's ancestors and the Sweden of his adoptive parents, and, perhaps most importantly, the great soul food eats of Harlem, or Afro-American comfort food I hadn't eaten since I was a little boy and shared a house keeper's supper (I was always happier with the warm interesting cooks in the various kitchens I haunted as a child then I was with the cool and collected ladies on the other side of the dining room door).
So boy did we eat, beginning with excellent cornbread that was served with a smokey, spicy tomato jam, and then a night owl's breakfast of a starter for me–navy beans with grilled pork belly and a coddled egg, and crab cakes with spicy mayonnaise and pomegranate coulis for the more decorous Nanettina. We traded plates half way in, and both dishes were generously served, cooked from good produce, nicely seasoned and just plain delicious, as was the very good Austrian red that I spotted on the surprisingly good wine list (it would have been nice to have a few bottles from the North Fork of Long Island, though, since this restaurant attempts to fly a locavore flag, and those sturdy reds would go really well with the food here).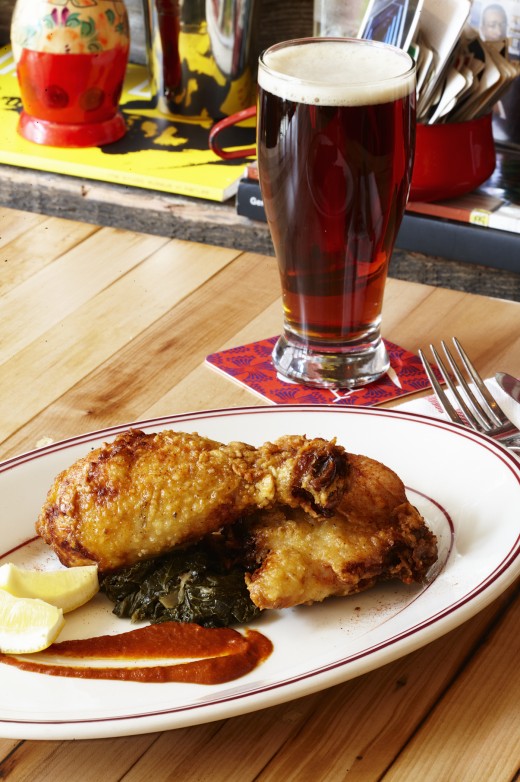 photo @ paul brissman
Next up fried yardbird (if you don't know, yardbird is old American slang for a convict, so this is sort of a coy little joke), or dark-meat chicken (thighs and drum sticks) marinated in spicy buttermilk, fried, and served with heavenly white mace gravy, bread-and-butter pickles and mashed potatoes. To my surprise–chicken in France is vastly better than it is in the U.S., I hadn't enjoyed a poultry feed as much in a really longtime. My Moldavian was very happy with "Helga's" meatballs, a throwback to Samuelsson's childhood and surely some ancestral rissoles of Nanettina's forebearers as well. We also loved the sweet potato beignets and Red Rooster cheese cake–nicely made with a graham cracker crust, it came with citrus yogurt sorbet, lingonberries and passion-fruit sauce, a final study in the deeply appetizing multi-culturalism that informs the kitchen here.
If the food was very good, what I really loved about this place was that it's become a lively, inclusive, progressive new institution in a rapidly evolving neighborhood (urban planners please note: a great restaurant or a lively market often provides the major momentum to a happy urban renewal story, with the wonderful green market in Union Square offering another great example) To wit, we talked to the beautifully dressed and very good looking young black couple next to us out on a first date–I hope our prattle was a relief from the taut tension of new desire rather than a hinderance, and then the two Swedish boys who took their place and quickly announced that they love New York, and a hip jazz musician, and a local real-estate agent, and a whole bunch of other friendly folks, and then headed downstairs to Ginny's Supper Club for a night cap. Chatting with the jazz band between sets and listening to a really terrific singer, I remembered how much fun real night life used to be back before everybody got duped into working from 7am-9pm seven days a week and checking their email every five minutes. Here, on a rainy Sunday night in New York City, we just let go and had a great head-emptying good time.
310 Lenox Avenue, New York, NY 10027, Tel. 1-212-792-9001. Open daily. Average $50.