MARGUERITE–TripAdvisor Tip in Montmartre, B-
July 29, 2011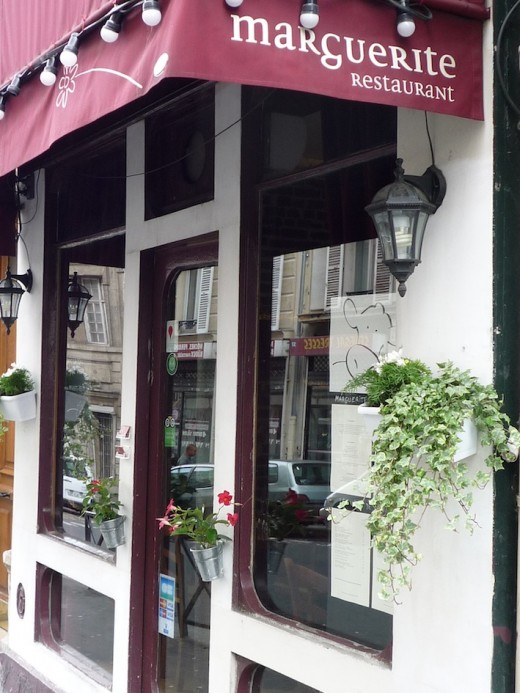 Okay, so I'm a little wary of crowd-sourced travel tips. The one and only time that I ever used TripAdvisor to find a hotel has become a standing joke between Bruno and me. We were traveling to Florida for a wedding with our friends Laurent and Carole, and since I'm the native English-speaker, I'd been deputized to book hotel rooms in Tampa, which is where we'd be first arriving from Paris before heading on to Sarasota. Like anyone before a trip, I had a million things to do the day before we left. Suddenly, it was midnight and I was zipping up my suitcase before a crack-of-dawn flight when Bruno asked me where we were staying in Tampa. Oh, God. I'd completely forgotten to book our rooms, so I galloped on to TripAdvisor and booked two rooms in the top-rated hotel in Tampa, which, the description noted, was very near the airport.
When we picked up our rental car at Tampa airport the next day–another fiasco that was my fault, since we ended up with a fire-engine red Dodge four-wheel drive thing that nearly required a step ladder to get into, consumed a half tank of gas just leaving the parking lot and had speeding tickets and drug dealer written all over it, I asked the guy at the desk how to get to the hotel, which was named something like La Vida Bonita. "Oh, it's a snap. You see that mall over there?"–there was a large pink mall adjacent to the airport. Er, yes. "Well, that building sticking up out of the mall is La Vida Bonita." La Vida was not bonita at the hotel at all either, since it had obligatory valet parking that cost $5 everytime you needed your car, and on arrival the pretty Swedish girl at the front desk blurted out a half-desperate tale of how she'd signed up to work here for a year as part of some hotel-school training program and was frantic to go home to Stockholm.
Anyway, suffice it to say that I was more than a little skeptical when friends from South Carolina who were visiting Paris called and invited me to join them for dinner at a restaurant they'd found on TripAdvisor. "Alec, you must get tired of always being asked where to eat, so we decided we'd sort things out," they told me, and this was how I ended up at Marguerite.
I could have walked from where I lived in the 9th, but I was running late, so I took the Metro, and enjoyed walking through Barbes, one of the last honestly ungentrified neighborhoods in central Paris. With its very mixed population, it reminds me of what the Upper West Side of Manhattan was like when I lived there in the 1980s, except that it's much safer than that neighborhood was in those days.
Still, I kind of wondered what my South Carolinians would make of this urban melting pot on the way to dinner. It turns out that they'd approached the restaurant by walking up from Pigalle, so they perceived of its location very differently than I did. They described the neighborhood as "Eastern Montmartre," which it is in a way. One way or another, owner Stéphane Ducreux was very friendly when I got there, and his restaurant is a nice-looking place that reminded me of what restaurants in NYC's Soho used to look like.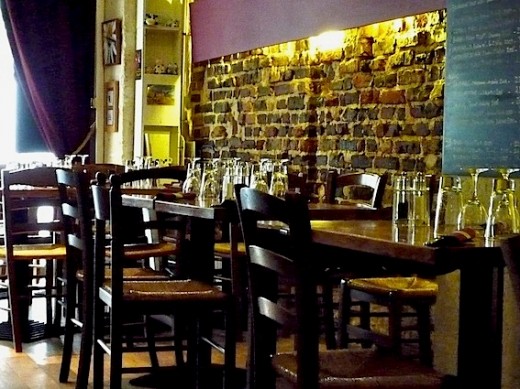 "Alec, I hope you don't mind, but tonight we just wanted some plain old good food, and that's what most of the folks said they served here on TripAdvisor," said my friend Chaz, a college classmate who hasn't changed a jot in all of these years except for a brush stroke of gray at each temple. "Now, I know you've turned into quite a gourmet, so I hope you won't be letdown and one way or another, this is our treat," Chaz continued, and I reassured him that I don't live on langoustines and foie gras and like 'plain old good food' a lot, too, and reading the menu, this is exactly what it looked we'd be getting. In fact the menu read like the 'bill of fare' at Brock's, the Irish steakhouse my mother used to like to go to in a Connecticut strip mall before it closed–soup and salads to start, lots of steaks served on wooden cutting boards, etc.
So we ordered, and after Stéphane had poured us all a glass of terrific white Macon, Sandi, Chaz's wife made a toast to 'old friends' and forbade us to talk politics at dinner, which was sort of a shame, because Chaz and I can give each other a real workout. The Scandinavian ladies who were sitting nearby overheard Sandi and had a good chuckle, too.
When the food came, I was very surprised. Lee, Chaz's eldest son, had been quiet, because he was "really bummed about Amy Winehouse," but he brightened up a lot after tasting his foie gras, and my salad was fresh, huge, and topped with two plump crunchy grilled shrimp on a skewer; the "sauce César" was pretty timid–more garlic, Romano and some anchovies were needed, but it was 'plain old good food,' and it was just fine. My Southerners were happy as clams, too, which I completely understood–sometimes when you're traveling it can be a real bear to eat in restaurants non-stop and you really do want something simple.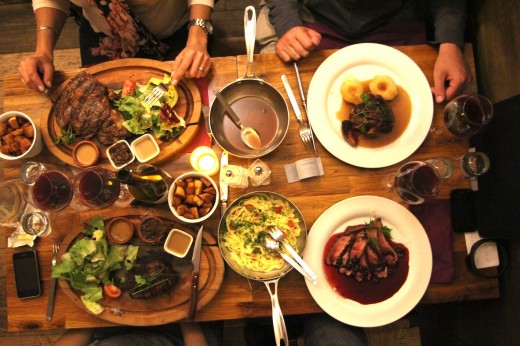 The real surprise of the evening, though, was the size and the quality of the steaks we were served. My rumsteak was fine quality meat, perfectly cooked, and came with salad and a side of well-made sauteeed potatoes with three little ramekins of dipping sauces–shallot, pepper and Roquefort. Mom back in Connecticut would have loved this feed, and my friends liked their 'Burgerite,' a clever French riff on a classic burger, since the patty was enclosed by two potato-onion-and-carrot galettes instead of a pointless cakey bun, and duck breast with a side of tagliatelle.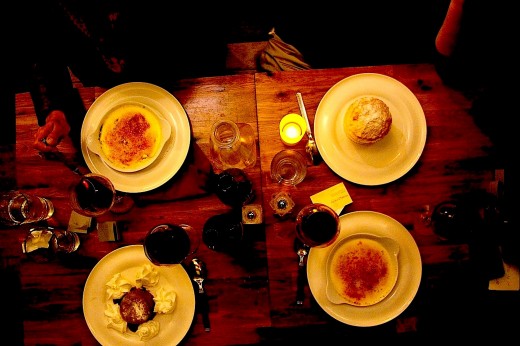 Desserts, however–including cream brulee, a moelleux au chocolat à la pistache et sorbet (runny chocolate cake) and tiramisu, were acceptable but uninteresting. Since Stéphane Ducreux clearly knows how to source good product, I suspect cheese might have been a better choice, especially since there was still a good pour left in our excellent bottle of Chiroubles.
All told, it was a better meal than I'd been expecting, and if I had friends who wanted 'plain good old food' while in Paris, I might send them here, especially since Ducreux is such a pleasant host. When I checked Marguerite's TripAdvisor ranking today, it was listed as the 28th most popular restaurant in Paris. La Billebaude, a place I've never heard of in the 7th was #1, followed by Frenchie at #2. In it's own way, this list is fascinating, since it's sort of like asking everyone at a game in Yankee stadium where they should eat during a visit to New York. When I got home, Bruno, who'd been working late and couldn't join us, raced into the kitchen. "Et alors?" "We had a nice time, and the food was pretty good." "Et La Vida Bonita?" That's enough of that I told him, adding that in the same way I read six or seven newspapers everyday to get different slants on the news, TripAdvisor is out there in the cosmos of gastronomic opinion, too, and sometimes 'plain good old food' really is just fine.
Marguerite, 50 rue de Clignacourt, 18th, Tel. 01-42-51-66-18. Metro: Pigalle, Chateau Rouge or Marcadet- Poissoniers. Open Monday to Friday for lunch and dinner. Saturday dinner only. Average 35 Euros. The Marguerite will be closed from July 31 to August 16.