AGAPE SUBSTANCE–Brilliant Eating in Saint Germain, A-; LA GRENOUILLERE–A Superb Gourmet Weekend Destination, A-
July 23, 2011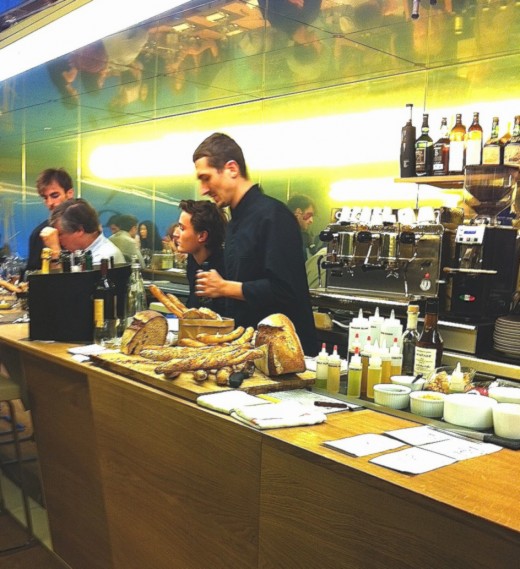 N.B. Chef David Toutain will be serving his last meal at Agape Substance on December 1, 2012, so this review is valid only up until that date.
Since Saint Germain des Pres remains the world's best-loved Paris neighborhood, the recent opening of the oddly named L'Agapé Substance is very good news. Now, at long last, I have a really excellent restaurant to recommend in response to the recurring request for a great place to eat that's within walking distance of the Cafe de Flore. Occupying a tiny railroad-car like space in the rue Mazarine, talented chef David Toutain and Laurent Lapaire have created a chic new table with oustanding contemporary French cooking, and it also offers a relaxed but stylish good time.
This is an interesting restaurant, too, since it's a successful cameo of so many major restaurant trends in France right now, among them, small-plate dining; the cryptic menu–at L'Agapé Substance, a menu is offered, but it's just a list of ingredients with no explanation of how they're prepared; a decidedly Asian aesthetic in terms of the way the food is presented; a starring role for vegetables and fresh herbs and shoots, including many obscure ones; tables d'hotes serving with stool seating; pedigreed produce–the names of the producers are supplied by your waiter with a certain reverence; a relaxed and friendly serving style; and the use of foams and oils instead of traditional sauces.
Coming for dinner on a Friday night, the restaurant was packed–this rare summer opening has attracted a lot of attention, and we were seated at what's described on the restaurant's website as the 'VIP table,' which is a table for two in a niche directly across from the small, busy galley kitchen, a perch that provided a great show during our meal but not one that I would recommend on a warm night, since I would describe this restaurant as being nominally air-conditioned. From our first amuse bouche, though, I knew that we were in for a fascinating meal.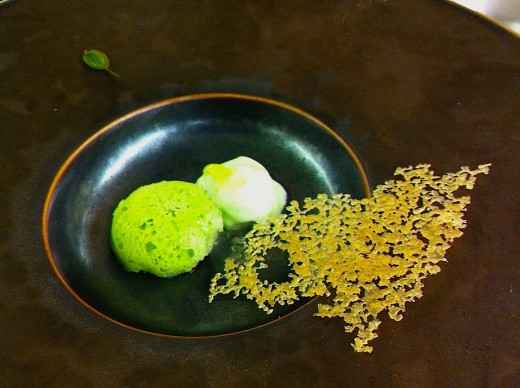 This edible miniature was not only beautiful, but it also provided the perfect preview to our meal, and a reason to use the dictionary when I got home., which is how I learned that the 'berce' in this composition of berce is hogweed, or an herb from the parsley family. The other ingredients were mandarin skin, a gelee of the Japanese citrus fruit yuzu, and a fragile crispy rice wafer. This dish also served as a resume of the thirty-year-old Toutain's peripatetic career–prior to teaming up with Lapaire, Toutain, a native of Normandy, worked at L'Arpege, Marc Veyrat, Mugaritz in Spain and New York's Corton, and he clearly learned his lessons well enough to have invented a distinctive cooking style of his own.
After skimming the good wine list, here on an Ipad, we decided to drink by the glass–a good decision, even though I normally prefer to stick with a wine or two during a meal, and to go with the carte blanche tasting menu at 99€, which is what I'd recommend. At noon, the other options are three dishes for 39€ or four for 51€, but I don't think these shorter versions let you adequately discover the impressive culinary imagination of the chef.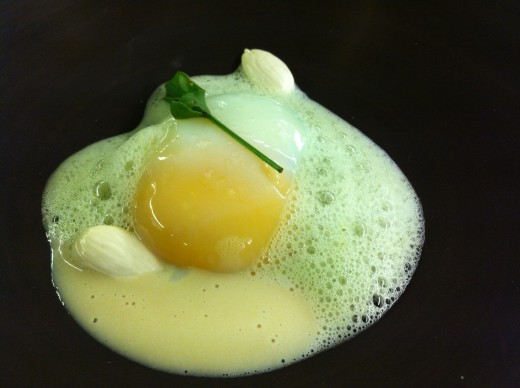 Next, a sublime hen's egg in a puddle of gentle new garlic cream with fresh almonds and lemon verbena foam, a composition that was angelic in its purity and modesty. It was also delicious. Tasting menus don't work unless they're served with a rhythm that leaves you enough time to ponder what you're eating and then a brief pause, but the timing on this one was absolutely impeccable.
Tiny baby carrots followed, and if they were pleasant, they were eclipsed a few minutes later by a an exquisite dish of two cork-sized spoonfuls of impeccably dressed crab with grapefruit confit and a hauntingly good consommé of sweet gray North Sea shrimp. This delicate and perfectly balanced miniature was one of the best and most satisfying dishes I've eaten this year.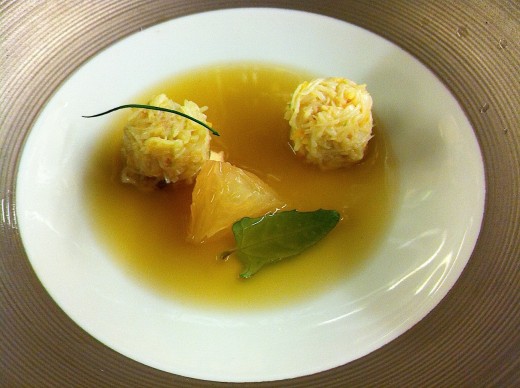 A truly beautiful edible still life of lightly griddled razor shell clams, squid and zucchini in lavender foam with yuzu cream and a scattering of dill flowers arrived a few minutes later, and it was simple, lucid, and shrewd, or just plain brilliant.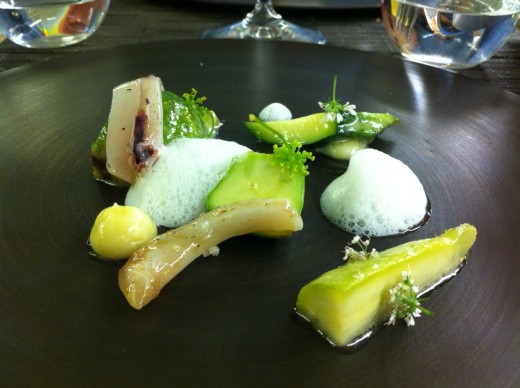 Then, just when I'd begun to wonder at a kitchen with such a restrained sensuality, it seemed nearly asexual, two courses followed that showed some quiet muscle. A creamy lotte filet came with epeautre, a foamy tonka bean sauce and a griddled baby green onion, and the tone of the meal gently shifted to an earthier appeal to the palate.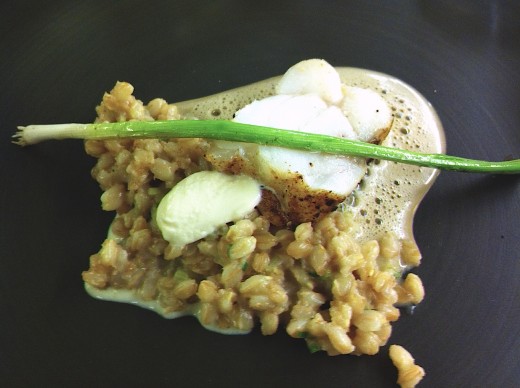 The sweet tones of the fish were followed by a politely assertive chunk of tender veal clad in black tapenade and accompanied by a grilled gray shallot.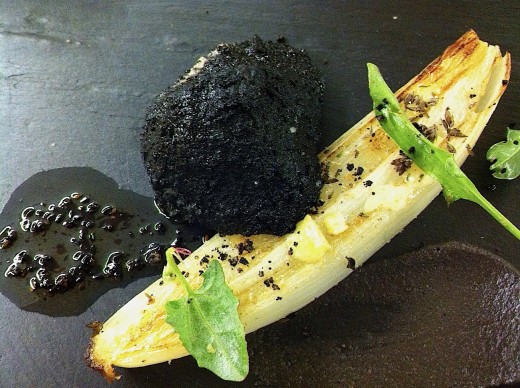 And now for a warning before dessert. Toutain changes his menu constantly, sometimes even twice daily, so there's a very good likelihood that you'll only be served a few of these identical dishes when you come to dine. With any luck at all, though, the cheese course will still be shavings of the magnificent two-year old Comte cheese that Laurent Lapaire's father makes in the Jura, and the peach poached in lemon-verbena syrup will still be on the menu.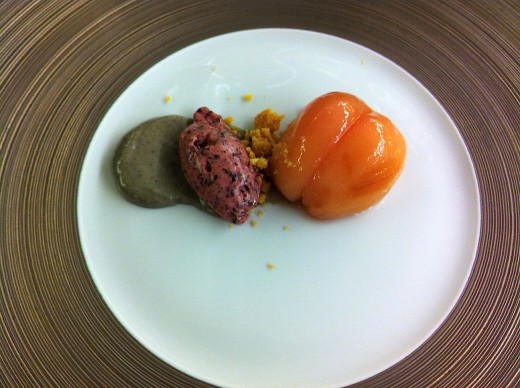 Oh, and since it will inevitably be difficult to get a reservation here, you may be wondering if you should go to one of the other L'Agape addresses–the original L'Agapé or L'Agapé Bistrot, both in the 17th arrondissement. My advice is that both of them are good, but that you should hold out for L'Agapé Substance, a truly remarkable little restaurant.
Agapé Substance, 66 rue Mazarine, 6th, tel. 01-43-29-33-83, Metro: Odeon, Open Tuesday to Saturday for lunch and dinner, www.agapesubstance.com
————-
LA GRENOUILLERE
With rain streaking across the window next to my desk this Saturday afternoon, my heart goes out to all of those people who are on vacation and cooped up in seaside hotel rooms staring out at wet beaches. The poor weather in Paris for the last month has a lot of people second-guessing their vacation plans, too, but for anyone looking for a terrific rain-or-shine weekend getaway, I would highly recommend La Grenouillere, which is located in La Madeleine-sour-Montreuil in the Pas-de-Calais.
Brilliant young chef Alexandre Gauthier has just opened eight striking new 'huttes,' or cabins, designed by architect Patrick Bouchain, and as long as you pack a good book or two, you'll have a terrific time here, since these a cozy, all black roosts that come with iPod dock, televisions, coolers stocked with Ch'Ti beer, apple juice and mineral water, and soaking tubs set next to picture windows that overlook the surrounding meadows.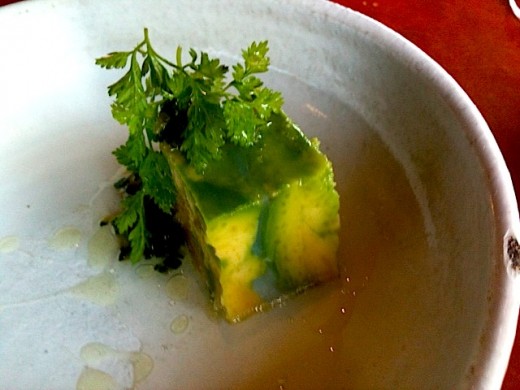 Avocado and monkfish in seawater
The main reason you'll be here, though, is to eat, since Gauthier is one of the top five young chefs working in France today. Stopping by for dinner the other night, I had an astonishingly good and absolutely fascinating meal in this three century old auberge's striking new dining room. Dinner began with sea bass carpaccio interleaved with razor-fine slices of nectarine, and continued with a suite of superb dishes, among them a cube of avocado and monkfish in a shallow pool of sea water, green pea gnocci with pea shoots, frog's legs meuniere, roasted lobster served in smoldering boughs of juniper, and rare beef with salicorne (seaweed) and a nest of grated potatoes in a gentle garlic cream. I loved the grande finale of this meal, too, which occurred when a beautiful young waitress arrived and threw of a transparent sugar globe full of sorrel mousse into plate. Both of us laughed, and the refreshingly astringent mousse was a brilliant conclusion to this meal.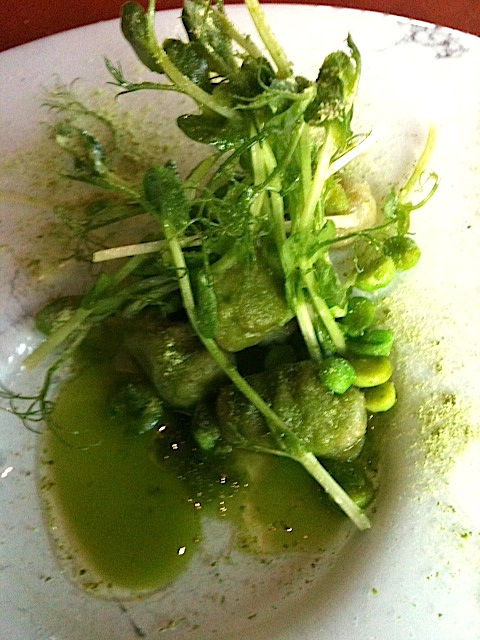 Green pea gnocci with pea shoots
In addition to his 110 Euro eleven-course tasting menu, Gauthier also offers eight dishes for 85 Euros and an a la carte menu. And if you decide you want something tamer, Gauthier also runs an excellent rotisserie restaurant, Froggy's Tavern, five minutes away in the charming town of Montreuil.
La Grenouillère, La Madelaine-sous-Montreuil, Tel. 011-33-3-21-06-07-22, Closed March, 20 December-4 February, Tuesday and Wednesday except July-August, www.lagrenouillere.fr