MYSTERY CUISINE, Good Food with an Amusing Side of Theater, B+; ROSSI & CO, A Nice Neapolitan, B
July 21, 2010
Cards on the table, I've always been pretty dubious about molecular cooking, often finding that I want a real chef in the kitchen instead of a gastronomic Salvador Dali. Instead, I whole-heartedly subscribe to the infallible dictum of Auguste Escoffier who said "Cooking becomes genius when things taste of what they are." So science in the kitchen doesn't really work for me.
On the other hand, I'm not adverse to food as entertainment, and so it was with great curiosity that I went to dinner the other night at the teasingly named Mystery Cuisine, a tiny restaurant next to the Palais Royal. Since my pal David and I had been enjoying the terrace at the nearby Cafe de Nemours, one of my favorites, I was a little apprehensive about stepping into a heat box when we arrived at the front door. Instead, we were greeted by a gust of nicely chilled air and amiable chef-owner Edouard Desrousseaux de Vandières and led to a table for two in a partially curtained niche of this low-lit and decidedly mysterious dining room.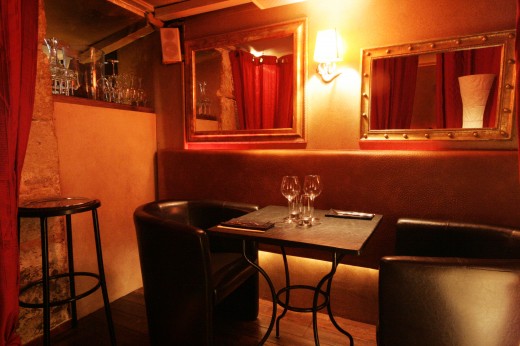 The dining room at Mystery Cuisine
The wonderfully named Desrousseaux de Vandières (sounds like the hero of a romantic novel) then proposed the "best Mojito in Paris" to start the meal, and we happily obliged. I loved the cocktails, and have had some very good ones in my day, notably in their country of origin, so I wasn't going to be an easy sell. But these really were terrific, served in amusing glass that glowed from within (the glass sits on a battery-powered light in plastic holder) with lots of ice, plenty of fresh mint, and as we later realized, lots of rum, too.
After agreeing to the "menu gastronomique," which is priced at a rather astronomic 99 Euros, we were busily gabbing when our hero came through the curtains and served us a very pleasant little amuse bouche of cubed aloe vera with grapefruit pearls that David immediately identified as being made with sodium alginate.
And before I go any further, let me stop here to very firmly say that Mystery Cuisine is definitely not a place for anyone who wants a good solid meal. Instead, it's a whimsical sort of Alice through the Looking Glass culinary experience that will delight some, madden others. So now I consider that you've been fairly warned: you come to this restaurant as much in search of entertainment as you do to eat.
Our first course, a sampler plate, was attractively presented on a piece of black slate and included a canape of excellent duck foie gras on spice bread with a strawberry slice, a little ramekin of lobster bisque, and a bit of drama when the owner painted a corner of the plate with truffle oil a table and then dispensed us each a rosette of foam.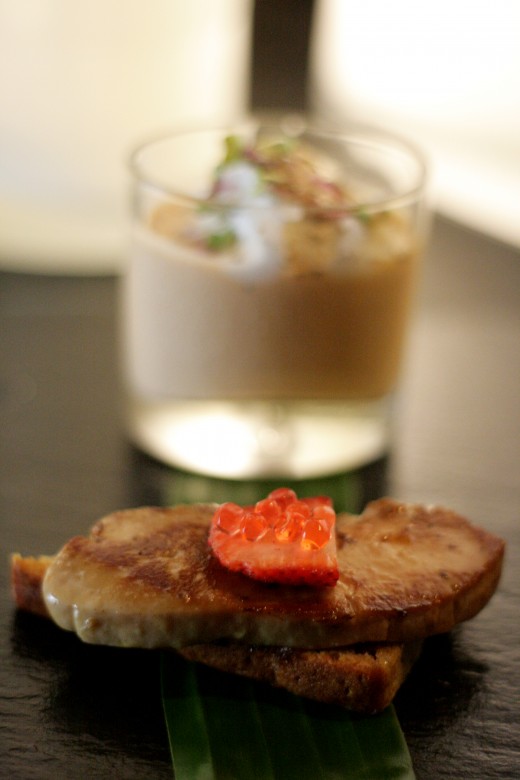 Foie gras on spice bread
This was nothing compared to the performance of the main course, however. Wearing black sunglasses, the owner heated large square pieces of slate with a blow torch and then served us another sampler that included a superb Vietnamese style veal stuffed ravioli topped with foie gras and flamed with Armagnac for me, and a lobster ravioli with seaweed pearls, olive oil and black truffle for David, and for both of us, little bowls of Pho (his wife and fellow cook Thu-Ha was born in Vietnam), a slow-cooked egg yolk in a china spoon with seaweed pearls (lots of pearls here), and a delicious wasabi spiked gratin dauphinois (great idea). All rather odd, but also a lot of fun and unexpectedly tasty.
The star of the counter clockwise cheese course that began with Roquefort foam (lots of foam here) and ended with chevre, was a millesime Comte, and then a dessert sampler with a good crunchy chocolate pastry and macadamia nut mousse with caramel being the standouts. Finally, for the curtain call, an "aphordisiac potion" that left me puzzled and seemed rather impotent, perhaps a good thing under the circumstances.
Through the meal, Desrousseaux de Vandières poured a suite of excellent wines to suit each course and his service was velvet but without being coy. So would I go back? I'd love to try the reasonably menu decouvert at 39E, since it begins with the same very good foie gras and lobster veloute and then offers a choice of three different hamburgers–veal with foie gras and black truffles, duck with asparagus points, or the quite intriguing ecrevisses (crayfish) with mache and black truffles, and this is also the kind of place where you know you'll have fun initiating someone who's never been before.
Back through the looking glass into the muggy Parisian night, we agreed that it had been a lot of fun and chastely set off for our respective beds.
For more on this highly unusual place, take a peak at this video: http://www.restovisio.com/restaurant/mystery-cuisine-130.htm (Just in case you were wondering, the chef has cut his hair since this clip was made)
Mystery Cuisine, 37bis rue Montpensier, 1st, Tel. 01-40-20-03-02. Metro: Palais Royal-Musee du Louvre. Closed Sunday and Monday. Prix-fixe menus 39 Euros, 59 Euros, 99 Euros.
——————————————
As someone who deeply loves Italian cooking from all regions of that country, I've become habitually wary of any recommendation for a good Italian restaurant in Paris. Why? Because for rather unfathomable reasons, the Gallic take on Italian food is almost invariably disappointing. I mean, who else but a Frenchman would dream of adding creme fraiche to risotto?
So it was with politely subdued skepticism that I decided to follow up on the ecstatic report of a friend who lives in the neighborhood and joined another Italian food loving friend for dinner the other night at Rossi & Company, a new Neapolitan salumeria just off of the heaving and very trendy rue Montorgeuil. I arrived first, and was almost taken aback by the warm welcome from Marco Rossi, the handsome Naples born proprietor. I decided to have a glass of white wine while I waited for my friend, and Rossi let me taste a delicious and unusual Sicilian white made with chardonnay and albanello grapes, before pouring. Though it was a very warm night, I instantly felt at ease in this pleasant little place, where much of the menu is on display in a glass case and they're only a few mosaic topped tables.
When Nadine arrived, we moved to one of the two sidewalk tables and after serving us cherry-tomato bruschetta, Rossi explained his brief menu, telling us that he personally imports almost everything he serves directly from Italy. We decided to start with the mixed antipasti platter, and it was excellent, with tasting portions of creamy mozzarella di buffala, fleshy green olives and fat caper berries, garlicky sauteed mushrooms, octopus and squid salad, pickled zucchini, grilled eggplant, roasted red peppers, stuffed artichoke hearts and garlicky sauteed mushrooms. We were enjoying this feast when Rossi returned to the table with a big open crate of fat squat purple eggplant, excitedly telling us that they came from Naples too, and that he'd ordered them to prepare eggplant Parmigiana for the painter Fernando Botero.
"He's just adorable," said Nadine when Rossi left to bring the eggplant back inside, and she was right. It's rare to meet anyone who takes such pride in his produce and his cooking and who also so eagerly wants his guests to enjoy themselves. Our main courses were wonderful, too. The only fault I could find with my linguine alle vongole (baby clams) was that I could easily have a portion twice the size of the one I was served, and Nadine loved her thick salmon steak on a bed of black venere rice with zucchini.
Chatting with Rossi again over very good espressos, he told us that he has family in Brooklyn–a branch of the family emigrated a century ago, and showed us a picture book about New York's Little Italy with a photograph of an Italian bookstore founded by his family called Rossi & Co on Mulberry Street. A complimentary lemon granita ended the meal, and Rossi proudly displayed the wonderfully dimpled and gently perfumed lemons he imports from the island of Prochida in the Bay of Naples. A delightful evening and a very good meal, so now I have two Italian restaurants that I can recommend in Paris, the other being the excellent but tough to get into Caffe dei Cioppi.
10 rue Mandar, 2nd, Tel. 09-54-96-00-38. Metro: Etienne Marcel. Closed Sunday. Lunch menu 14.90 Euros, Average a la carte 30 Euros.