NEWS FROM NEW YORK CITY: KIN SHOP, The Asian Restaurant Paris Needs; ABC Kitchen, A New York State of Mind
January 7, 2011
If Paris is my home and the city I consistently find the most gastronomically rewarding, I also avidly follow the latest openings in many other major cities, since I am not only eagerly in search of good food wherever I go but also find it essential to keep up with the dining scenes in other major food cities as a way of putting Paris in perspective. So on a recent trip to New York City, I was keen to try a few of the places there that received rave reviews in 2010.
Though the stretch of Sixth Avenue in Manhattan between 14th and 8th Street was once a gastronomically distinguished miniature main street for those golden blocks bounded by these streets and Fifth Avenue, it's more recently lost a lot of its once brilliant gourmet cred. The Jefferson Market, once one of the best grocers in New York City, never recovered when it moved across street, and has since become a shadow of the terrific store that it was in the days that I lived around the corner on Waverly Place and would occasionally spot (easy to do) James Beard in the line at the then excellent butcher's counter. Even though I was living in a miniscule studio on the pauper's salary of an editorial assistant at a major midtown publisher, I insisted on eating good meat, and so was in and out of here all of time to buy a single chop, a small steak or a half pound of ground beef from the charming Italian butchers wearing white paper caps behind the counter. On one especially memorable April Friday, I stopped in on my way home from work to buy a single piece of chicken, and Mr. Beard himself happened to be in the midst of having a large order filled when my turn came. Observing the butcher wrap my single piece of fowl, he horned in before I could pay my bill and add two fat lamb chops to my order with his compliments. I was embarrassed by this sudden generosity, toyed with the idea of turning it down, then knew it would be too silly. When I thanked him for the sudden feast, he eyed my leather shopping bag filled with manuscripts and said, "You're very welcome. Now go buy a good bottle of wine to go with the chops, drink it all, put those manuscripts in the closet, and go out and have a good time on this pretty spring night. You're only young once, young man." I did as I was told, especially since it was pretty easy to abandon the huge tome on insurrection movements in Philippine history I was supposed to read by Monday.
I never walk this stretch of pavement without having the memory of this exceptionally kind gesture put me in a good mood, and so it was on an arctic night in Manhattan that Bruno and I showed up to meet friends at the superb new Kin Shop at 11th and Sixth for dinner. Stepping into this busy storefront place, I was immediately impressed not only by the simple attractive decor but by the friendly service and palpable atmosphere of people having a great night out over really good food and drinks.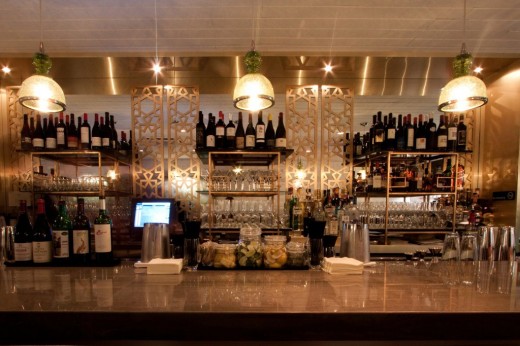 The bar at Kin Shop
Chef Harold Dieterle's alluring menu is a shrewd personal ode to Thai cooking, and over very generously poured cocktails, something that always throws me for a loop since I am a dedicated son of Bacchus, the four of us rather feverishly studied the offer in a frantic attempt to make up our minds. "C'est fabuleux," exclaimed Bruno, who loves Thai food as much as I do, and it was fabulous indeed, which made it tough to nail down final choices even though we knew we could fork into each others plates.
Once the gastronomic dice were rolled, we were able to get down to some serious food talk as three food writers and editors, with the ever patient and ethusiastic pleasure of Bruno's company (he may be a wizard of a financial consultant, but he does love good food), and the good news is that after several shockingly awful years, it seems as though there's a healthy pulse in publishing again.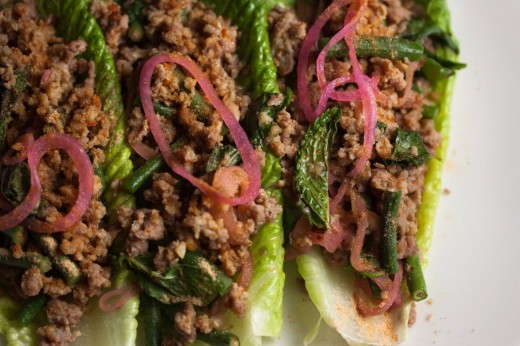 Spicy duck salad
Surely to Bruno's relief, the arrival of our starters tabled this shop talk for good, since we were all swooning over a quartet of dishes that included my brilliantly fiery Spicy Duck Laab salad served on romaine and garnished with toasted rice, the beautiful blonde's duck tongue salad, and her charming husband's sublime Kaffir lime marinated Montauk fluke with pomelo, radish & galangal-tumeric sauce. Bruno's pumpkin and Bibb lettuce salad with pumpkin seeds and an Asian pear and peppercorn vinaigrette was good, too, but not in the same league as the other three dishes.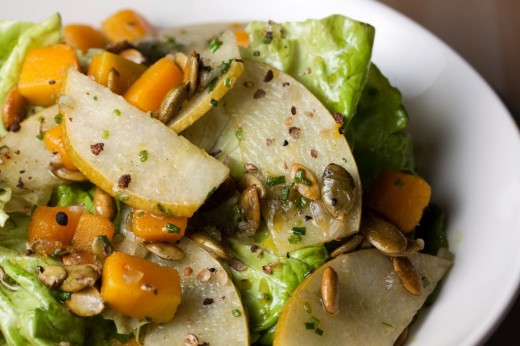 Pumpkin and Asian pear salad In a sated lull before our main courses arrived, I found myself wondering again why Paris doesn't have neighborhood Asian restaurants as good as Kin Shop. To be sure, I have my Asian favorites in Paris, including Au Coin des Gourmets, Bambou and others, but the local Asian offer out my door in the affluent and food-mad 9th arrondissement is pretty uninspiring, and the same can be said for many other well-heeled neighborhoods all over town. One can only guess how the under-the-radar fashion designers and fur-drapped ladies with cashmere clad gents who pack Lao Tseu, a decidedly middling Chinese place in Saint Germain des Pres, would react to this food, and that, perhaps, is the problem–it's just too vivid, full-bodied, and authentic.
My main course–a poached duck egg on red-onion congee with spicy Thai sausages like you find in Chiang Mai and a fried Thai basil and garlic sauce immediately found a place in my comfort-food hall of fame, or that rotunda of dishes I could eat every other day for the rest of my life. What I loved about this dish was its stealthy blast of perfect umami pleasure, since it offered a brilliant constellation of intriguingly subtle tastes and textures. Madame's Massaman, or braised goat with fried shallots, purple yams, mustard greens & toasted coconut and her husband's casserole of bamboo shoots with pickled green peppercorns, romanesco cauliflower, bitter melon and wood ear mushrooms were brilliant, too, and though rather more timid than the rest of this line up, Bruno's steam red snapper in coconut milk with cashews, bok choy and kabocha squash was a very nice dish, too.
We finished up with homemade Kaffir lime and Galangal ice cream, and on the way home, I found myself desperately yearning for a restaurant as good as Kin Shop in Paris. Not only is the food terrific, but it's a lot of fun, has good service, and a surprisingly excellent wine list, including a couple of stand out bottles, notably Heidi Schrock's 2009 Gelber Muskateller from the Neusiedlersee district in Austria's Burgenland at $42 (on the other hand, I'd advise you to avoid the sparkling Shiraz on the menu like the plague; why this wine has become so popular in Australia is an absolute mystery to me).
Kin Shop, 469 Sixth Avenue (11th Street), New York, NY 10011, Tel. 212-675-4295. Average $50.
————————————–
The last meal before heading for the airport and the long flight home is always an important one for me, since even if upgraded on Air France, I know the food airborne will be a tad better than mediocre at best. So on our last day in New York, I booked for lunch at ABC Kitchen, New York based and Alsatian born chef Jean-Georges Vongerichten's latest table in a very pretty loft-like space at the ABC Carpet home furnishings store on Broadway just before Union Square.
It had gotten rave reviews locally, so we were looking forward to a good feed when we showed up after a round of last-minute errands (Why are Gillette razor blades so much cheaper at Duane-Reade than in France, to say nothing of other necessaries like adobo peppers, organic aloe syrup, dried blueberries, etc.?). Things got off to a shaky start with the glacial reception of an almost comically disdainful and haughty hostess, a woman who really should jump the pond and apply for a job with the Costes brothers in Paris, but once we'd settled in, this place started to be fun. First of all, the crowd of hot looking young media types–women with It bags and buffed guys with the NYC uniform of a dark V neck sweater over a white T shirt, was entertaining, and the waitress was very sweet. The menu was quite appealing, too, since it more than delivered on the restaurant's slogan: "local, organic, home," a smart confluence of gastronomy and good health.
I loved my salad of roasted red and yellow baby beets dressed with Greek yogurt, and Bruno's raw Maine diver scalllops with chilies, mint and dill were very good, too. Since he's currently on a major waistline alert, I suggested he try a real New York classic, a Waldorf salad, which came as match-sticked Granny Smith apples, raisins, and a light dressing on a bed of grilled chicken and lettuce and was very good. Unfortunately, I allowed myself to be tempted by a daily special, a lobster roll–a flavorless and rather stingy lobster salad on a cake-like, stale and tasteless roll with a side of soggy fries. Compared to the epic lobster roll at Mary's Fish Camp, this one was a real letdown, but things picked up with some very good dessert–a really excellent carrot cake with cream-cheese buttercream icing and an oustanding brown butter, chocolate ganache and hazelnut crunch tart.
Overall, this was a pleasant meal, and I loved the assiduous use of first-rate organic produce and commitment to running a sustainable business, but I wouldn't describe it as a destination restaurant, but rather as a very good option for lunch or brunch if you happen to be shopping in the Flatiron district. On the other hand, how thrilled we'd be to have a retail-setting restaurant this good in Paris!
ABC Kitchen, 35 East 18th Street, New York, NY 10003, Tel. 212-475-5829. Average $45.