HOTEL THOUMIEUX, A Shrewd Template for the New Paris Boutique Hotel; LE PANTRUCHE, Un Bistro Charmeur, B+
January 13, 2011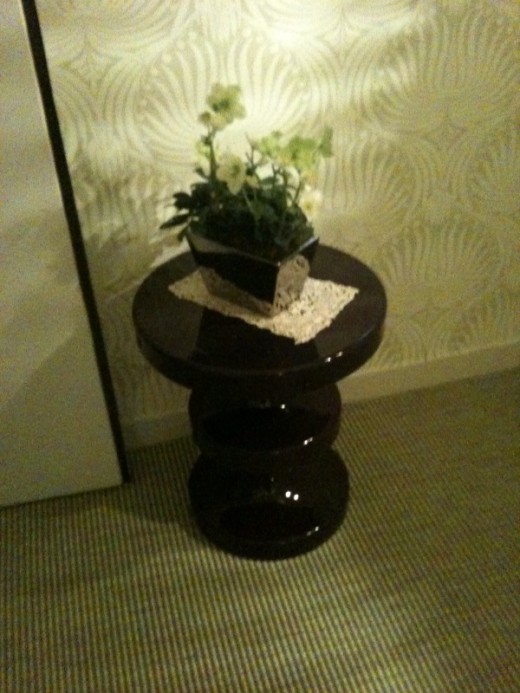 Stairwell decor at the Hotel Thoumieux  On a really ratty January morning, I hoisted myself out of the exceptionally comfortable bed in my room at the new Hotel Thoumieux and wallowed in a long shower with the geranium-scented Australian made Aesop's toiletries in the spacious white-marble wash-up stall in the corner of my room. I'd been out late the night before at a place I never go anymore, Le Cafe de Flore, with a dear friend, and needed some heat and aroma therapy to dissolve the party cobwebs which were reminding me that I'm not 25 anymore. During this good lathering up, I was also looking forward to what very talented chef Jean-Francois Piege might get up to at breakfast, since this new 15 room hotel, a place I'd been sent to write up for a magazine, is just upstairs from his terrific gastronomic restaurant and brasserie (decent food but attitude-pertrubed service at the latter) at the same address.
Since I had an appointment, I couldn't linger–though it would have been nice, I loved my room, and so booted it downstairs to breakfast in the brasserie, where a very polite and friendly waiter set me up with freshly pressed orange juice, terrific pastries (brioche, croissant, 'cake') and coffee that should be better. Unfortunately, there was no head-spinning signature start-off-the-day dish on offer from one of Paris's best young chefs, but with the day's LE FIGARO and the INTERNATIONAL HERALD TRIBUNE to peruse, this quiet morning kick-off was still a real treat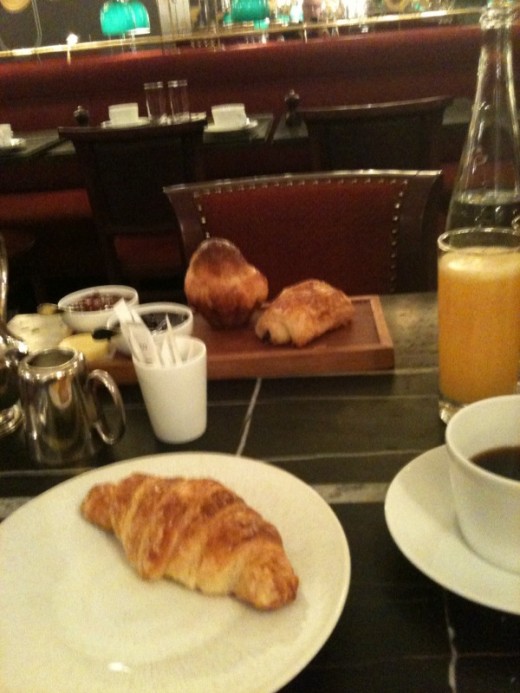 At home, I'd have already been stuck to my computer and drinking strong tea. Instead, I was fresh (sort of), dressed, and out in the world.
Piege, who has a real eye for detail, strolled through the door while I was having breakfast, stopped first at the other occupied table to chat with the two gents there, and then paused by me. I told him that I loved his new hotel–and I do, since it's attractive, well-located and great value for the money, but most of all visually witty. "Comment?" he asked. I explained that it seemed apparent that designer India Mahdavi has had a lot of fun riffing on the homely visual conventions of small Paris hotels. "Comment?" Well, the potted plant on the lace doily on a table in the stairwell, for example. Piege chuckled, so I went on with a reference to the weirdo wallpaper–small Paris hotels have a long tradition of astonishingly odd wallpaper, usually florals. Another laugh from le maitre. "T'as tout compris," he said.
Well, whether I understood what he and partner Thierry Costes (son of one of the Costes brothers) had in mind or not, they've done a bang-up job with this hotel, which has a chuckle-worthy tongue-in-cheek decor, loads of great details (I-Pads, I-Pod docks, room service from one Paris's hottest chefs, linen sheets, etc.). Restaurants attached to small charming hotels are a fixture in the provinces in France, but this is the first one in Paris that cops the formula of gourmet eats and a great room at a wallet-friendly price.
Hotel Thoumieux, 79 rue Saint Dominique, 7th, Tel. 33-1-47-05-79-79. Email: thoumieux@yahoo.fr, www.thoumieux.fr
————————————–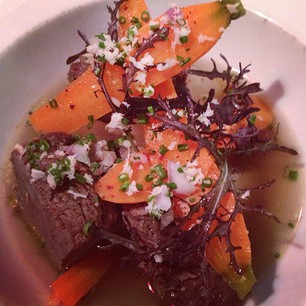 Pot au Feu 
For almost ten years, I lived in a tiny but terrific apartment on the rue du Bac next door to the Couvent de la Medaille Miraculeuse and Le Bon Marche. This place on the top floor of an old stables in the courtyard of a dreadfully stuffy building with an almost fascinatingly nasty concierge was barely 40 square meters large, but it included a bedroom that was just big enough for a bed, a miniature living room with a working fireplace, a dining room cum office, a hobbit's kitchen, and a bathroom with a coffin-sized tub blazed with blue (copper) and burnt orange (iron) stains and enamel so worn as to be velvety–and best of all, the washing machine that delivered me, I desperately hope, from laundromats forever more.
Despite the heroically nasty Madame Rosa–she, who dressed in carpet slippers and floaty on-duty-smocks with alarming religiously themed prints while watering the plants from a hose in the courtyard, could never stop herself from directly an errant squirt at any tenant she didn't like when she or he (me) was walking by, I loved this place and would probably still be there if I hadn't met Bruno. We lived there together as two for six months in the first blush of it all, and then one day, we went for oysters and discussed the obvious, which was that we needed more room.
First we looked for other rentals, but they were expensive, and so finally we decided that maybe we should buy (and thank God we did). Of course the 7th was beyond our means, so we fanned out across the city looking in neighborhoods I'd never been to before and spent hours sifting through the real-estate paper Particulier a Particulier and other lodging rags. Then one sunny May afternoon, Bruno galloped through the door and said he'd found a real winner of an apartment…in the 9th arrondissement. The 9th meant nothing to me, so I looked at a map, which brought no clarity.
As is true of so many long-term American residents in Paris, I was loathe to give up La Rive Gauche, and had it not been for the fact that the place Bruno had found really was swell, a Haussmanian flat on the 5th floor and south-facing, with a balcony, two bedrooms, good kitchen, etc., I'd have dug in my heels. I mention all of this, because I did not move to the 9th arrondissement with any real enthusiasm, but now occupying our second apartment here (eventually I just couldn't do a fifth floor walk-up anymore), I've fallen very much in love with this part of Paris during the last ten years. And even more so within the last few, when it's quietly become a really great place to eat.
This was the spool of thoughts that played in my head as I walked home the other night from the 9th's latest bravo! bravo! address, Le Pantruche, a new bistro in the rue Victor Masse not far from Pigalle. Arriving for dinner with Judy, I liked this place immediately for the fact that the dining room offered a winsome tableau of local residents–a good looking Mom and Pop with their two adorable sons, an elegant older man with an orange blossom pinned to the lapel of his ancient but beautifully tailored jacket and his wife with a tight pale blue chignon and three perfectly draped strings of pearls ("Elles sont faux, you know," she said, her words exactly, on her way out), dating couples of all stripes, and a single man in a too tight sweater vest and trilby hat with a broken feather in its band (a fight with Mom?) at the counter. I also liked the service, which was, for a suddenly alarmingly trendy Parisian neighborhood, studiously polite and reflexively friendly.
So we studied the chalkboard menu, and knowing that this busy dining room meant that our options were probably rapidly dwindling, threw the dice. To start, Judy had the coddled egg on a bed of creamed leeks with salt cod, and I went with the fowl-studded terrine de foie gras (predicatably enough, a supplement to the 32 Euro menu). Since both dishes took a while to arrive, we ate a lot of really good Poujauran bread, some of the best in Paris, and this had dented our hunger a bit when our excellent starters finally arrived. The marine-whiff of salted cod was a terrific spark to the obvious pleasure of Judy's dish–a coddled egg on creamed baby leeks, what's not to like?–and my foie gras was topped with that lemon-yellow layer of fat (normally proof that it really is not only fresh but homemade), exquisitely well cooked and seasoned, and very (too? not just for my pretty much shot waistline, but the inevitably wobbly accounts of a new born restaurant as well) generously served.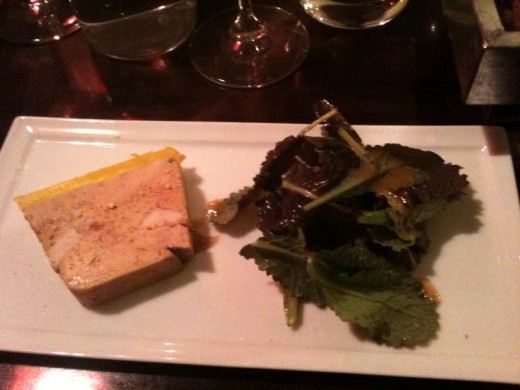 Next, sea bass with Tandoori spices and preserved lemon for Judy, and a free-range pork chop with sauteed baby potatoes for me. Both were excellent, although I'd have liked the spices and lemon in Judy's dish to be a bit more assertive, and my pork was just a touch over-cooked. The current fashion for cooking pork in France is pink-in-the-middle, which is fine with me, but I ordered it "a point," or medium rare, which meant that it continued to cook once it had left the pan and was grainer and dryer than I'd have liked it. Still, under a bed of salad, it was a terrific piece of meat.
The good bread, good vibes, and good food hit a bump when it came to dessert, however. My Grand Marnier souffle was a wash-out, and Judy's rice pudding was a soggy and flavorless. Over coffee, though, we fell into conversation with chef Franck Baranger, who earned his stripes at Christian Constant's Les Cocottes and Le Violon d'Ingres, and he admitted that the finale to his otherwise terrific menu needs, and will imminently receive, work. So after a meal in a month-old restaurant that I already liked well enough to want to return soon, I'm really looking forward to not only the new desserts and upcoming cheese course, but to seeing what Baranger, a well-drilled talent who's just beginning to coalesce a style of his own, will come up with when Spring's more alluring produce hits the markets.
3 rue Victor Massé, 9th, Tel. 01-48-78-55-60. Metro: Pigalle or Saint Georges. Closed Saturday and Sunday. Lunch menu 19 Euros, Dinner menu 32 Euros.