OLIVIER ARLOT–A Young Star in the Loire (Montbazon) B+/A-; CAFE DE LA PROMENADE (Bourgeuil)–A Superb Country Auberge, B+
June 7, 2013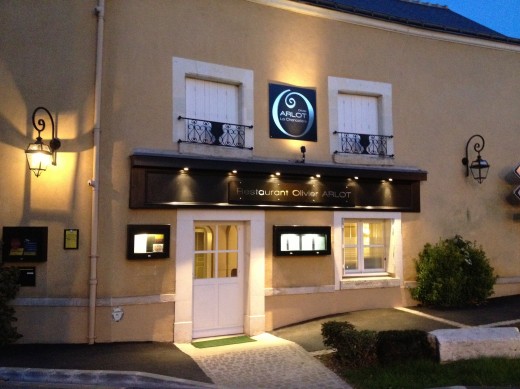 A week recently spent in the Loire Valley, which I hadn't visited for more than a day or two in many years, caused me to fall into love with this magnificent and graciously green patch of France all over again. And this despite the fact that it's not always an easy place to eat. Oh, there's lots of good food in the Loire to be sure, but after two or three of the very old-school French feeds that so many restaurants in the region still feel it incumbent to offer, I found myself squirming for relief from the relentlessness of these heavily formatted meals and their self-consciously serious traditional French cooking. The problem is that many chefs continue to believe this sort of dining is what up-market travelers to the region require when the reality is that most people would be made much happier by simpler, lighter, healthier cooking and a service style that's more relaxed and less sociologically stuffy. As a city-dweller, I'm really not looking for the same thing in the country that I want in Paris either.
Happily, however, a few local chefs have seen the light, and the best among them is young Olivier Arlot, who moved a few miles from Tours to the pretty little town of Montbazon a year and a half ago and took over the premises of a well-respected local restaurant called La Chanceliere. He gave the dining rooms a modern makeover, too, painting the large old exposed beams on the low ceilings dove gray and installing soft artful lighting. So instead of the tedious faux-chateau idiom you so often find in the Loire, this place comes off as a casually chic country auberge, and that's a good thing.
Having eaten lunch at a pretentious and disappointing one-star restaurant in Blois–the service was glacially paced, the food fussy and unoriginal and the atmosphere hidebound enough to bring on the worst symptom of a restaurant where no one feels at ease, a clientele that speaks in whispers at the table out of misplaced respect some high-handed idea of gastronomically serious meal, neither Bruno nor I were very hungry when we left our hotel for dinner. We might, in fact, have begged off going out to dinner altogether if our hotel had offered the option of a slice of homemade terrine de campagne with a nice big green salad and then maybe some cheese. Instead there were silver candelabras on the tables in the dining rooms and the pale salmon colored linens that are a surefire visual warning that the kitchen could be depended upon to offer a eighties time capsule experience of 'gastronomique' dining. So we went out.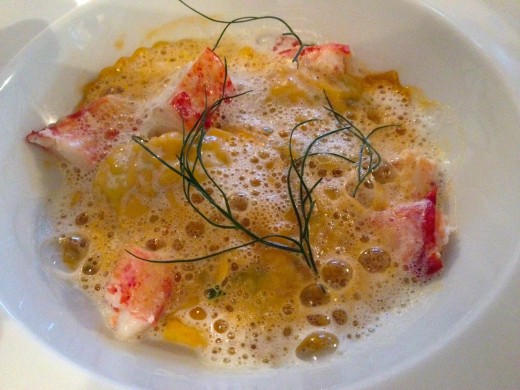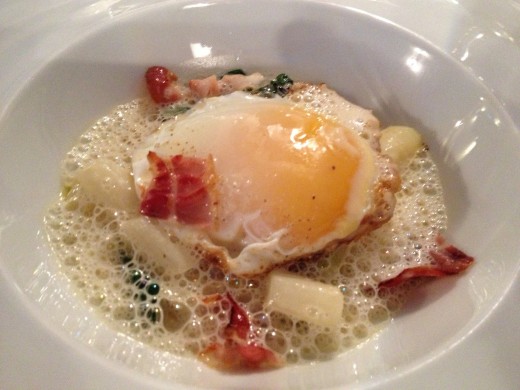 Settling in over glasses of Domaine de la Taille aux Loups sparkling Montlouis, my new favorite vin petillant, the dining room was populated by a mixture of mostly middle-aged Americans and Canadians rewarding themselves with a good meal after a long day of the cycling tourism that's popular in the region and shy locals out for a special occasion, and the young staff was warm and welcoming. Though I'm often exasperated by amuse bouches, since they rarely deliver what their name promises, I wasn't particularly interested when ours arrived, but the bright gently sweet flavor of warm fresh pea soup spiked with the jus of gently poached and chopped baby squid was intriguing. The soft brine of the squid did an intriguing minuette with the vividly vegetal flavor of the peas, and our mouths were amused indeed.
Blanketed in foam though they may have been, our first courses were outstanding. I loved my chopped white asparagus with a fried egg and crumbled bacon in a light smoky broth, and Bruno's lobster ravioli, too often anonymous and barely tasting of lobster, were tender little crescents of homemade pasta filled with perfectly cooked lobster meat and garnished with more of same and served in an intriguing fennel scented froth. The bread served with our starters was excellent, too, and suddenly we were really glad we hadn't thrown in the towel and missed this meal.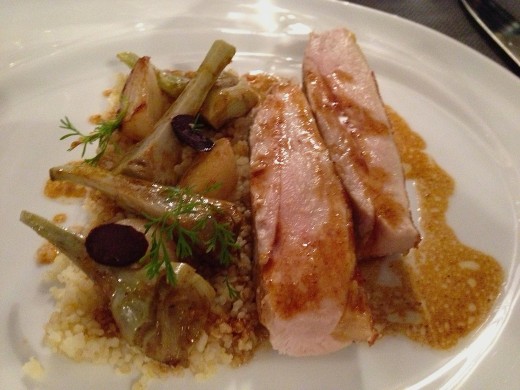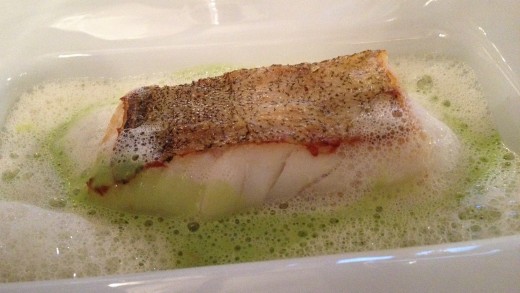 Our main courses, which arrived with pleasant alacrity, were outstanding. My slow-cooked guineau hen breast was served on a bed of semolina with pan juices, baby artichokes and black olives, and the luscious meat was perfectly punctuated by the meaty salty olives and the rich deglaze. The suprise of Bruno's cod, which had been slow-cooked with salt butter, was an eminently seasonal sauce of of lemon verbena. "C'est vachment bon," he said after a first taste, and the older French couple sitting across from us grinned. "Il a vraiment du talent, Monsieur Arlot, n'est ce pas, Messieurs," said the nice lady with an enameled pansy pin that her husband had just given her as an anniversary present (I have the hearing of a bat). Our wine, a 2006 Domaine de la Taille aux Loups Montlouis by Jacky Blot was the best white, was the best white I've had in a very longtime–"It tastes like honey and fermented hay," Bruno observed, in a guileless but accurately lyrical remark.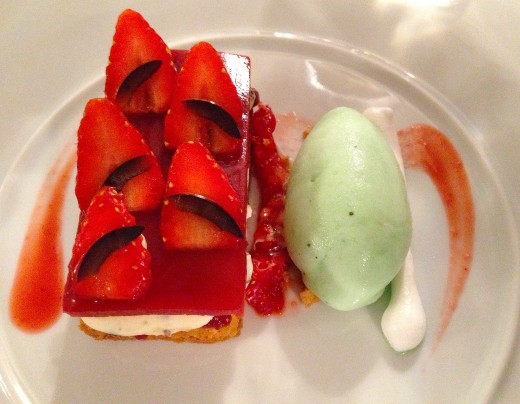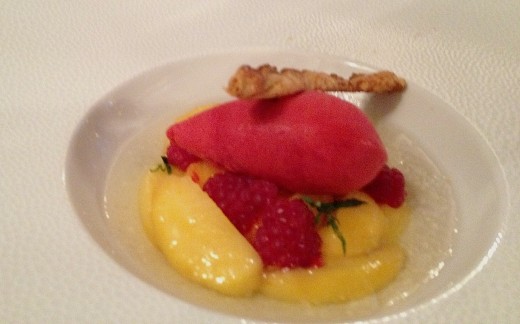 In a friendly gesture characteristic of a restaurant that really wants to please its clients, I was allowed the strawberry-and-black-olive tart with basil sorbet even though it was part of the 49.50 Euro menu and not the 39.50 Euro one I'd ordered, and it was witty and impeccably made. It would never have occurred to me that slivers of black olive could make strawberries more eloquent, but they did, and the sorbet was a sweet play on the acidity of the fruit. Bruno was delighted by his soup of white peaches with raspberry sorbet in a nage of Vouvray moelleux with raspberries and a few lazer fine ribbons of basil, too.
When I tweeted a photo of Arlot's lobster ravioli, several people commented that they were weary of foam. I'm not a mad fan of foam–a very consistent element of Arlot's cooking, either, but in this instance, it's there for a real reason. To wit, this exceptionally talented young chef uses it as a vehicle for adding flavor to his cooking without resorting to heavier sauces, so instead of foaming at the mouth, I left the table with the profound satisfaction of having had a truly excellent meal and every intention of returning here again as soon as I possibly can.
Hungry at noon the following day on the outskirts of Bourgeuil, we were preparing to settle for a likely mediocre meal in cafe just to get at some salad and avoid the overly long and filling steeple chase of another gastronomic feed when I noticed we needed gas. After filling up, I went inside to the cash desk to pay and fell into conversation with the voluble cashier, who insisted on speaking English to me because she's currently trying to learn the language before a trip to visit her daughter in Canada. We chatted about traveling in the Loire Valley and about how much I like Bourgeuil wines, and she volunteered that there was a great place to sample them by the glass just up the road, adding that their food was good, too. I protested that I didn't really want a big meal, and she assured me that I'd be happy at the Cafe de la Promenade.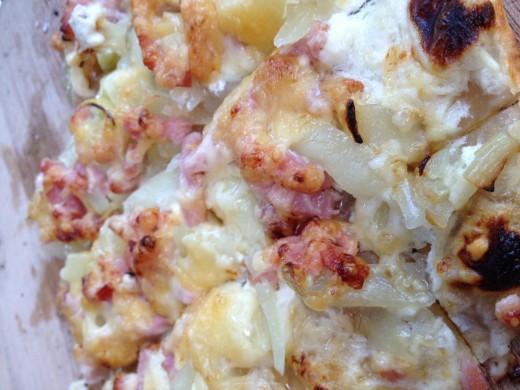 I liked the rustic looks of this place, which occupies an old gasworks, as soon as we stopped, too. To my delight, the menu offered just the kind of light rustic food we were in the mood for too. Though the 'hambourgeuil,' a burger garnished with onions cooked in red wine and sauteed foie gras, sounded tasty, we settled for the formule du laboreur (laborer's lunch) for two, and it started with a superb assortment of charcuterie–lardons confitted in their own fat, terrine de campagne, country ham, and sausage, and continued with a made-to-order bacon tart cooked in a wood-burning oven. The tart pastry was homemade and all of the ingredients used were organic, so it had a lot of flavor.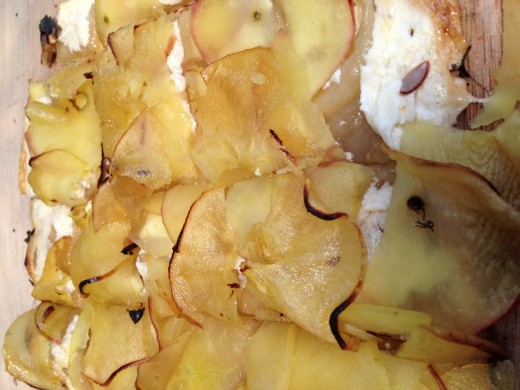 A generous local cheeseboard followed the savory tart, which we ate in the garden under a trellis of vines with glasses of Bourgeuil rose on a hot afternoon. This excellent country feast concluded with a just-baked apple tart with slathered with creme fraiche, topped with fine slices of Golden Delicious apple and sprinkled with Calvados. Service was relaxed and friendly, and there was a lot of teasing banter exchanged between us; Sophie, the proprietaire; and the two well-wined electricians having lunch at the table next to us over coffee. This was exactly the type of light but flavorful country feed we were hoping to find, so we bought a bottle of the rose we'd enjoyed and dropped it off at the gas station after lunch by way of thanks. Karine, the cashier, blushed when I offered her the wine but one kind gesture surely deserved another.
Café de la Promenade, 1 avenue du Général-de-Gaulle,
Bourgueil, Tel. 02-47-95-10-87. Open daily. Average 25 Euros. www.cafedelapromenade.com
Olivier Arlot, 1 Place des Marronniers, Montbazon, Tel. 02-47-26-00-67, Closed Sunday and Monday, Prix-fixe menus 29.50 Euros (lunch), 39.50 Euros, 49.50 Euros, 72 Euros. www.olivierarlot.fr