PIERRE SANG BOYER–Superb Contemporary French Cooking, A-
June 18, 2013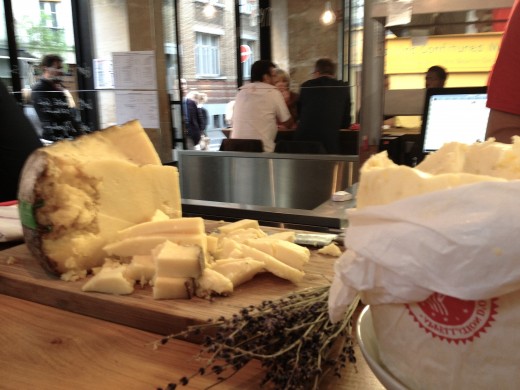 The first two times I tried to go to Pierre Sang Boyer's restaurant in the Oberkampf district of the 11th arrondissement, my luck ran dry. Since they don't have a public phone number, we showed up one night to find that the restaurant was 'exceptionally' closed. Then another time, the crowd waiting to be seated at this compact counter-service no-reservations restaurant was so huge that it would have been an optimistic hour's wait before we were seated. So my interest drifted a bit, because this place seemed so hard to get into.
During the year or so since he's been open, however, the amiable South Korean born chef has received glowing reviews from a variety of colleagues whom I respect, and so at the end of a busy day last week when it had stopped raining for a few minutes, Bruno and I decided to roll the dice again and headed to the 11th. Arriving on early on a Friday night, the place was packed, but they promised a half hour wait, so we ordered glasses of white wine and milled around on the sidewalk for twenty minutes before we were ushered inside. Given the throngs waiting to get in, the first thing that impressed me about this place was the exceptionally courteous and well-organized service. Though there was no written waiting list, the very nice young waiters respected the proper rotation of waiting customers and the kitchen even sent out complimentary hors d'oeuvres–thick slices of toasted country bread topped with pale slices of summer truffle that pleasantly tasted like wet leaves.
When we were ushered inside, we sat at the big oak bar on comfortable stools (they're only a couple of tables for two here, unless you book the one larger table down in the basement, which is the only reservation they'll take) in front of a big sack of delicious looking butter and a huge wheel of Laguiole cheese. The chef himself greeted us, and one of the friendly and impressively efficient waiters set us up with slate plate mats and cutlery. Staring at the cheese, I found myself thinking that whatever proceeded this course in the impending small-plate tasting menu, I could very happily make a meal for myself by shamelessly plundering this heart-stoppingly tempting dairy display.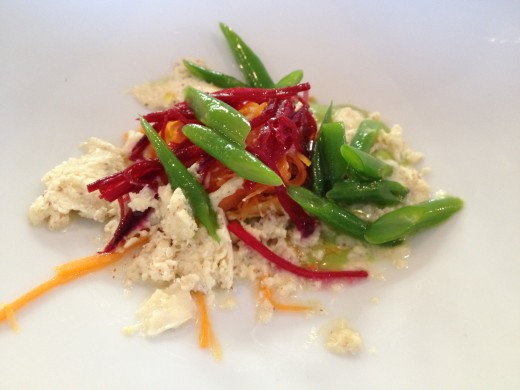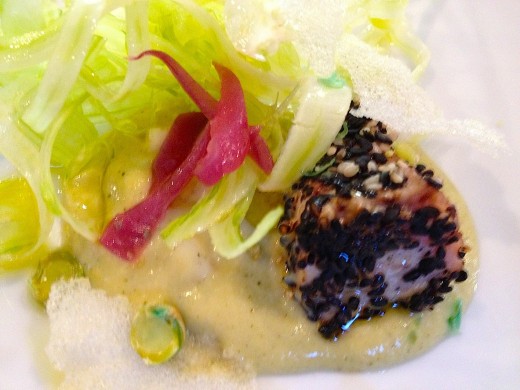 Instead our meal kicked off with a delicious little haricot vert topped salad and a chunk of sesame-seed coated tuna with a small salad of fennel garnished with wasabi peas and a pool of mustardy mayonnaise. Both of these nibble-sized dishes were exceptional for their intricate layering of flavor, intriguing contrast of textures and beauty. And what made them even more impressive is that they were cooked at the speed of light in a tiny open kitchen. Open kitchens fascinate me, but I know from friends who are chefs that they impose an additional layer of pressure on a cook, because everything happens in the public eye. So adding this constraint to the mix made these first dishes even more remarkable.
Every chef has his or her palate, of course, and I immediately liked the way Sang Boyer backstops the umami richness of his cooking with refreshing but subtle tones of acidulated tastes. And for a small, crowded and very busy restaurant, the service was outstanding, at once playful and professional, and the rythm of the meal was flawless. The short wine list had some really interesting bottles to chose from, too, including the velvety, berry rich Saint Chinian we chose.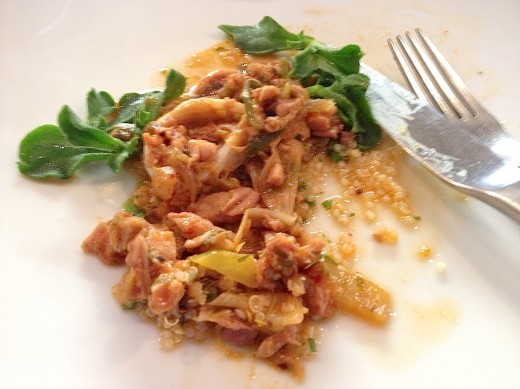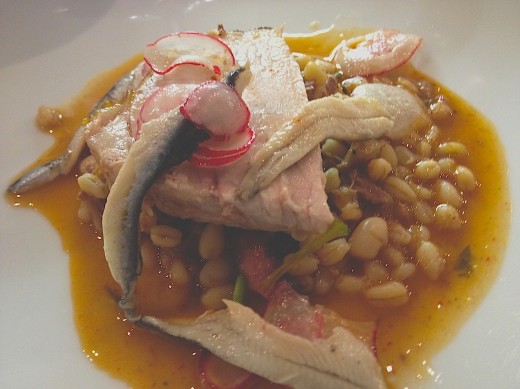 Next up, a rich octopus ragout served on a bed of quinoa with a light vinaigrette and garnishes of chopped yellow tomato and crunchy crystalline iceplant (Ficoïde Glaciale, in French), which was a deeply satisfying dish. If I loved it on a bed of quinoa, I also found myself thinking that it would be delicious with orrechiette or any other small pasta that would catch as much of the sauce as possible. Both this dish and the fascinating saute of pork and white beans in a rich tomato broth garnished with anchovies and finely sliced radish that followed it were suavely cosmopolitan, at once Mediterranean and then sort of winsomely Asian, a style that's very much a reflection of the chef's multicultural culinary roots. He grew up in the rugged Auvergne as the adopted child of a food mad French family, worked at a French restaurant in South Korea, where he'd gone to explore the food ways of his birth country, and has also worked in Lyon and London.
Throughout this meal, there was a terrific atmosphere in this diminutive dining room, too, and if it was mostly generated by the cheerful staff, another part of this glow of well-being came from an intriguing diverse crowd who hailed from all over Paris and points beyond and who had clearly come here to discover one of the city's best and most interesting new chefs. From the snatches of conversation I overheard, everyone else was as impressed by the cooking and the overall experience of this restaurant as I was, too.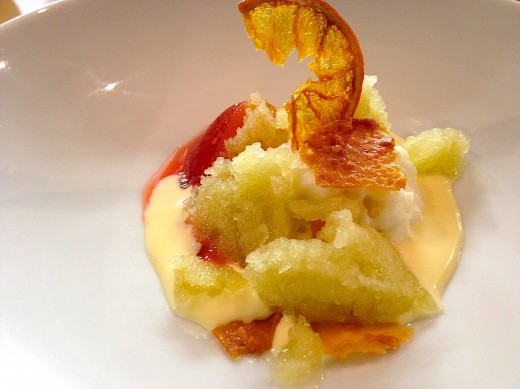 After a generous serving of the Laguiole cheese I'd been eyeing for an hour and a half–the chef's most overt reference to the region where he grew up, the Auvergne, which was plated with a streak of spiced chestnut puree and more of the same good country bread that we'd wolfed down all during our meal, we finished with an unusual but really good dessert. "This is sort of a riff on riz au lait, but it's not my grandmother's recipe," the chef said puckishly as we tucked into this grand finale, which was made with sticky Japanese rice and eschewed the usual sweet soupy richness of the French version. Instead a rice ball was dressed up with a silky sabayon, slices of nectarine, squash puree, yuzu sorbert, a shard of crispy caramelized biscuit and a dried orange slice to create a sophisticated palate cleansing coda to the medley of gentle acidities that had animated the meal.
"I come here every other night," said the single man sitting next to Bruno. "Please don't think I've been listening to your conversation all night, but it made me happy to hear people who like this chef's food as much as I do." I told him that since I so often dine on my own when traveling to report on the food in other cities and countries, I was sorry our conversation was so doggedly food-centered instead of offering the entertainment of, oh, I don't know, maybe a bit of squabbling or a spicy anecdote or two. "No need to apologize," he said with a grin. "You talk great food porn." This stumped me for a second, but then I decided to take it as a compliment, and in any event, Pierre Sang Boyer's the kind of place that'll bring out the dirty food talk in anyone.
Restaurant Pierre Sang, 55 rue Oberkampf, 11th, No phone, Metro: Oberkampf or Parmentier. Closed Saturday lunch, Sunday and Monday. Average 45 Euros. www.pierresangboyer.com