ON THE ROAD AGAIN, AND HUNGRY FOR FRANCE: Creating a Guide to Great Roadside Eats
May 29, 2011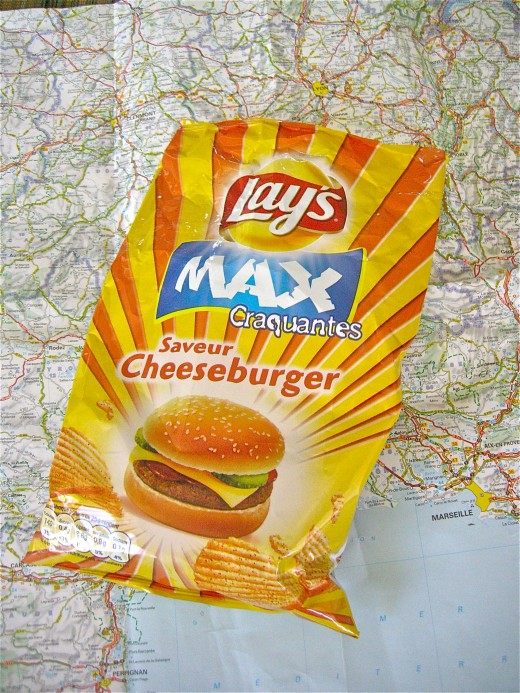 During the course of a major recent French road trip, I couldn't help but wondering how eating in the highway rest stops of France's excellent national highway system went so dismally wrong. In one highway rest stop after after, the edible offer was consistently mediocre to miserable and gallingly over-priced, a state of affairs that's absolutely bewildering when you consider that the original Michelin guide was born a little over a century ago to direct motorists to great eating as they traveled around the country.
Since the high-speed highway system opened, however, France has seemed to follow the woeful American model of really bad road food. Almost everytime we thought to stop for a meal, the offer ran to woebegone salads at the strikingly awful L'Arche chain of restaurants or, increasingly, McDonald's, which seems to be reeling in one highway rest stop concession after another. And miraculously enough, they're all quite busy. It doesn't have to be this way either. Italy's Auto Grill's serve decent pasta and pizza and the Moevenpick chain runs an excellent group of Marche restaurants in various European countries including Slovenia where you can get at some surprisingly good, local food in highway rest stops.
To be sure, you can pack a picnic or leave the main road in search of decent food when you're on a French road trip, and that's exactly what we did, stopping for an excellent lunches at Le Chat in Cosne Cours sur Loire, a better-than-average omelette and salad with a nice little carafe of Haute Cotes du Beaune at the Cafe Baltard in Beaune, and Les Bons Enfants in Saint-Julien-du-Sault (reviewed on this site). ViaMichelin's website is a useful tool for tracking down good eats when you're traveling, but France doesn't have a guidebook or website like Road Food, the terrific book and website created by Jane and Michael Stern. Because I will be traveling a lot in France during the next few months, I'm going to open a new index category on this site entitled "Autoroute Eats," which will be a collection of great, easily accessible addresses for anyone traveling on France's main highways. I'd be delighted if you'd contribute the good addresses you find during your highway travels in France, too.
Oh, and in case you were wondering, the "Cheeseburger" flavored potato chips, which we thought were hilarious and bought to relieve our boredom and satisfy our curiosity, were expectedly awful, with a pronounced taste of ketchup and pickles. Still it does say something rather alarming about contemporary French eating habits that Lay's thought that such a 'flavor' would find a following.
Cafe Baltard, 14 Place La Halle, Beaune (Burgundy), Tel. 03-80-24-21-86. Serves non-stop during the day. Average 15-20 Euros.
Les Bons Enfants, 4, place de la Mairie, Saint-Julien-du-Sault (Yonne), Tel. 03-86-91-17-38. Lunch menus 16 Euros, 19 Euros. Prix-fixe 28 Euros. A la carte 40 Euros. Closed Sunday night and Tuesday.
Le Chat, 42 bis, r. des Guérins – Villechaud, Cosne Cours Sur Loire, Tel. 03-86-28-49-03. Closed Tuesday. Average 30 Euros.