CHARDENOUX DES PRES–Feeding, and Fleecing, Left Bank Tourists, B-/C+
May 30, 2011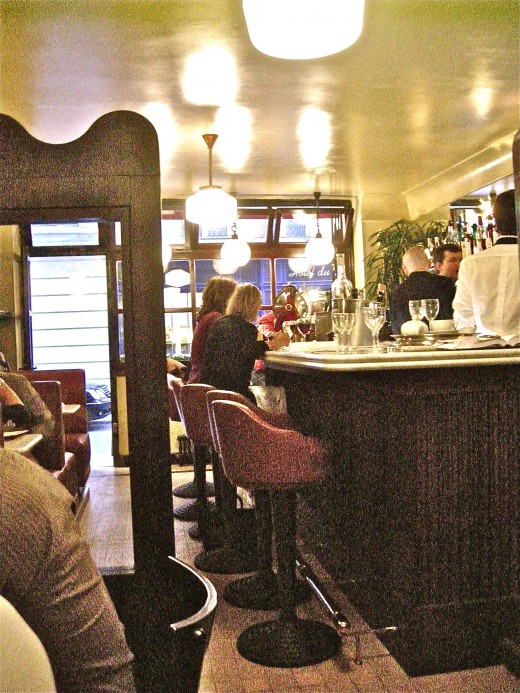 I rarely find myself in Saint-Germain-des-Prés anymore, because it's become the cockpit of luxury-priced tourism in Paris, and no longer exerts any pull whatsoever for anyone in search of good food. Still, so many visitors to the city have recently complained to me about the dearth of good restaurants in this storied neighborhood, I decided to check out the new Left Bank branch of Chardenoux, a beautiful old bistro in the 11th arrondissement that was once one of my favorite restaurants in Paris. Unfortunately, the current version of the original Chardenoux is a pastiche of the old one, serving decent but timidly seasoned and over-priced bistro food.
The just-opened Left Bank branch has been getting good reviews in the French press, and with a strategic location in the rue du Dragon, I decided to go for dinner on a Saturday night with a friend who lived in Saint Germain for many years before being priced out of the neighborhood. Meeting for a drink before dinner on a pretty early summer night, we decided to see what the newly renovated version of the Cafe Bonaparte on the Place Saint Germain des Prés might be offering, but after happily scoring a front row table for some people watching, we opened the menu, saw the prices and decided to bolt. Pre-renovation, the Cafe Bonaparte was the local fail-safe address for anyone who didn't want to pay the exorbitant tabs at the Cafe de Flore or the Cafe Deux Magots. No More. Prices at this well-located cafe have sky-rocketed, and as handsomely renovated as it may be, neither of us want to spend that much money to sip a ratty Gamay from Touraine, one of my least favorite wines. So we went to dinner at Chardenoux des Pres early, and settled in over glasses of 11 Euro Pouilly Fuisse, still over-priced but at least good wine.
Since the cute little rue du Dragon has been pretty much colonized by indifferent Italian restaurants–sadly, even the half decent Korean Barbecue restaurant that was a place I went after the movies for years, has decamped to the rue de Ponthieu in the 8th arrondissement, surely driven away by exploding rents, I really hoped that this place would be good. Unfortunately, things got off to an unhappy start when we were asked three times with ten minutes if we'd made our choice. No, we hadn't made our choice, we were trying to enjoy our aperitif, which, it should be noted, was served without radishes, saucisson or any other snack that might be warranted by its 11 Euro price tag. Chatting about this pestering, we concluded that they wanted to turn as many tables as possible on a Saturday night, and while I don't begrudge any restaurant the need to make a profit, this motivation should never been as egregiously obvious as it was here.
Finally we gave in and ordered in the hopes of gaining a little bit of peace, and the sommelier was instantly upon us, speaking to us in English and suggesting ridiculously over-priced bottles that made no sense with the homey bistro cooking on offer. When I ordered a red Coteaux du Giennois, a perfect summer red that would work as well with my cote du porc as my friend's fish for what was on this list a low-ball 30 Euros, he was visibly surprised. "It, It's a very good wine, yes, yes, a very good choice," or not something that he expected from the tourist pigeons who are so clearly expected to alight at this address.
Still, the irritatingly rushed service notwithstanding, our first courses were good, if under-seasoned. Langoustine stuffed ravioli came as delicate pockets of pasta stuffed with a delicate but pleasantly chunky forcemeat of the crustaceans in a buttery foam and dressed crabmeat was generously served, free of shell, and topped with a corsage of oven-roasted cherry tomatoes.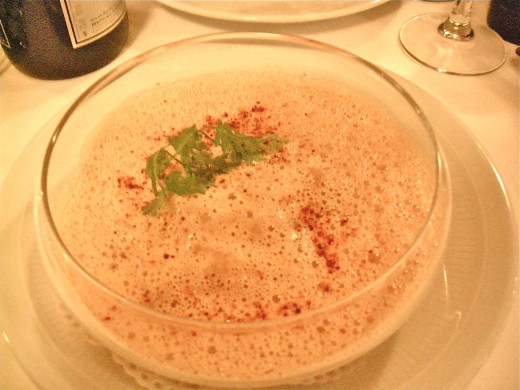 Langoustine ravioli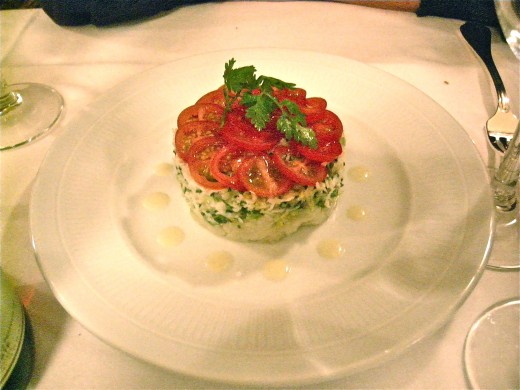 Dressed crab with a bonnet of cherry tomatoes And speaking of crab, we had a good one over the prices at this place. The average bill per head for a three-course meal here could very easily run 50 Euros without wine, which struck us scalping. Yes, the kitchen is able enough, and the food's pretty good, but when did 50 Euros become an acceptable tab for a casual bistro meal? As my friend, American born but a fellow Parisian for over thirty years, pointed out, "You get a double whammy here, because it's Saint Germain des Prés, tourist central, and you're also paying for the celebrity chef name tag," in this instance, the association of French television chef Cyril Lignac.
Unfortunately, our main courses were rather ordinary. Though I loved the pommes dauphine (mashed potatoes mixed with choux pastry and deep-fried as croquettes) that came with my cote du porc, it was overcooked, and even slicked with a vivid red and appealingly spicy sauce that was more diable than the sate described on the menu it was dull and too expensive at 27 Euros. Ditto my pal's John Dory with green peas, cubes of chorizo, and a curiously tasteless sauce on curiously tasteless piece of fish.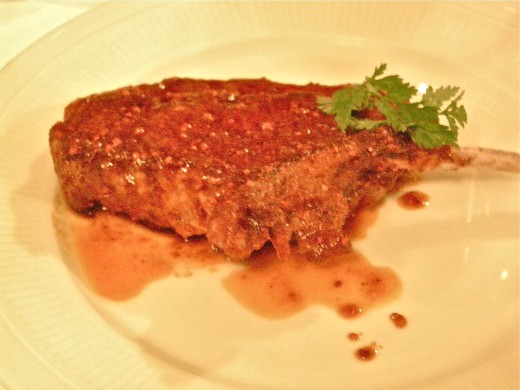 Cote du porc sauce sate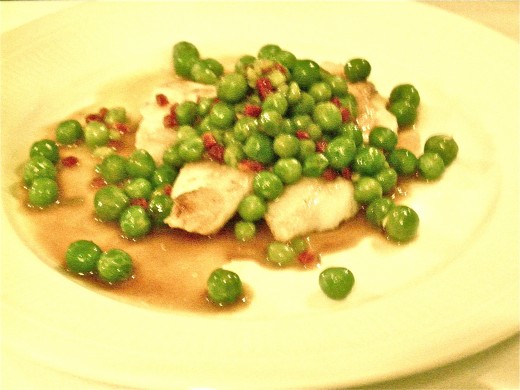 John Dory with peas and chorizo
Happily, things ended on a sweet note with good vanilla-ice-cream stuffed profiteroles in an excellent dark chocolate sauce and pain perdu with black cherries and pistachio ice cream, but even if both of us loved the ghastly roses-on-a-black-background wallpaper that reminded us of the dives we both stayed in as student travelers, neither of us would be inclined to revisit this tourist-targeted money spinner again with the very possible exception of a one-course meal in desperation on a Sunday night as a way of avoiding Paris's even worse brasseries.
27 rue du Dragon, 6th, Tel. 01-45-48-29-68. Metro: Saint Germain des Prés. Open daily. Lunch menu Monday-Friday 25 Euros, Average a la carte 50 Euros.