Paella at PRUNIER, and LE COMPTOIR DU PETIT MARGUERY, A Good Bistro Annex, B-
June 9, 2010
I hadn't been to Prunier, the elegant art-deco jewel of a restaurant on the Avenue Victor Hugo for a very longtime for the simple reasons that it's very expensive and I rarely find myself drawn to the silk-stocking precincts of the 16th arrondissement.
A rather grand friend from Geneva invited me the other night, however, and as we studied the menu over flutes of Champagne, I noticed a copper casserole arrive from the kitchen brimming with shrimp, cockles, mussels, squid rings and fish filets on a bed of pale golden orzo, a clever idea that riffs on the Catalan recipe which uses short stubby vermicelli noodles in place of rice in a paella-like fideua.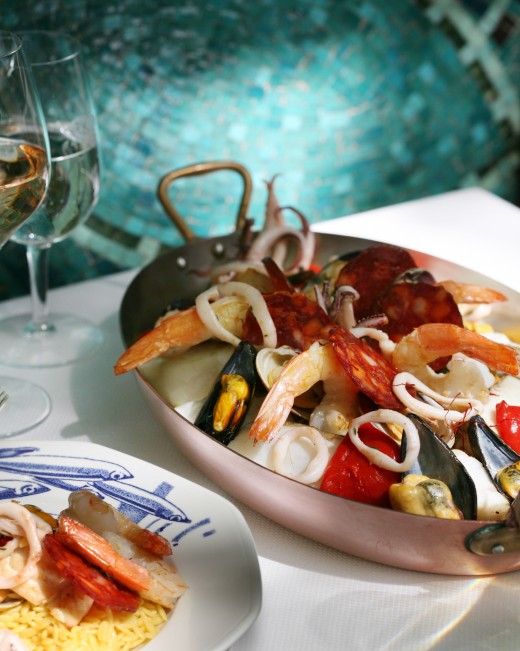 Paella de luxe at Prunier
It looked delicious, but it was hard for me to believe that such a traditional French luxury seafood house would be serving this wonderfully rustic Catalan dish. So I asked the waiter, and he confirmed that yes, indeed, it was paella and that Prunier would be serving it every Thursday night at a relatively reasonable 35 Euros a head during June and July. Since this stunningly beautiful restaurant also has a very pretty sidewalk terrace, this is a great opportunity for a summery treat for anyone who isn't imminently heading to Catalan beaches, too.
To be sure, this paella is urbane, delicately seasoned and eminently more refined than anything you'll find in Spain, but with a nice bottle of Provencal rose, it makes for a very good meal. For those in search of something less hearty, Prunier also offers a relatively good value prix-fixe menu "Simone" for 65 Euros, which includes shrimp sauteed with ginger, combava and baby artichokes, steamed sea bass with baby vegetables in a coulis of peppers and pistou, and strawberry and rhubarb garnished tiramisu, and even on a rainy night when they're not serving inside it's a pleasure to dine in a room that is one of the great art-deco masterpieces of Paris.
Prunier, 16 avenue Victor Hugo, 16th, Tel. 01-44-17-35 85. Metro: Charles-de-Gaulle-Etoile. Paella 35 Euros a person, a la carte 100 Euros.
———————-
Ever since I first went to Le Petit Marguery, the old-fashioned bistro that's one of the most famous addresses for game in Paris in season, many years ago, it's been one of my favorite restaurants, so I was delighted when I learned that they'd recently opened Le Comptoir du Petit Marguery, a less expensive bistro annex (Through the years, the original Le Petit Marguery has become rather pricey).
Trying to think of a place to dine with a difficult friend, an elegant older woman from London whose primary pleasures are monologuing and complaining (I put up with this because she's also brilliant and, when in better frame of mind, has a wonderful sense of humor, and we're both obsessively interested in food and travel), I remembered that this new place is usefully open on Sunday night and booked. On a rainy night that I feared would feed my friend's instinctively negative worldview, I was delighted to arrive at this cozy place with factory lamps, exposed brick walls and wooden tables, and find a warm welcome and a very appealing and reasonably priced menu.
When Madame arrived a few minutes later with a wind-damaged umbrella, I braced myself, but the nice young waiter headed her off with a glass of the same good Macon I was drinking and brought us radishes and a saucer of very good saucisson to nibble while we studied the menu, which offered a variety of very appealing choices among starters at 6 Euros and main courses at 14 Euros. Though my Breton artichoke salad on a bed of mesclun with a slice of foie gras was modest, it was also delicious, made with fresh artichokes in a very delicate dressing of walnut oil and Xeres vinegar and the small knob of homemade foie gras, such a treat as an amplifier of the taste of artichokes, was homemade and very good. Madame was very happy with her starter of plump white Loire Valley asparagus en vinaigrette, which blessedly distracted her from a very long and dull story about a mutual friend in Buenos Aires whose married lover of many years had recently cheated her out of a lot money.
Main courses, with which we drank an excellent Irancy, were generously served, including my excellent gigot de sept heures (lamb baked in a slow oven for seven hours) and for Madame, a steamed sturgeon filet that was served on a bed of seasonal vegetables. While we finished up with Floating Island in an excellent sauce anglaise, I was treated to another long-winded tale about the perfidy of the eldest daughter of Madame's boy friend, and quietly ressolved to return to this very good low-budget address soon with someone who had only eager stories to tell about a fascinating trip to Tibet or a new lover with whom he or she was besotted.
Le Comptoir du Petit Marguery, 9 boulevard de Port Royal, 13th, Tél. 01-42-17-43-43. Metro: Gobelins. A la carte 30 Euros.