PASCADE–Aveyronnaise Crepes by Alexandre Bourdas, C+, And What a Gimmicky Year it's Been in Paris
December 17, 2012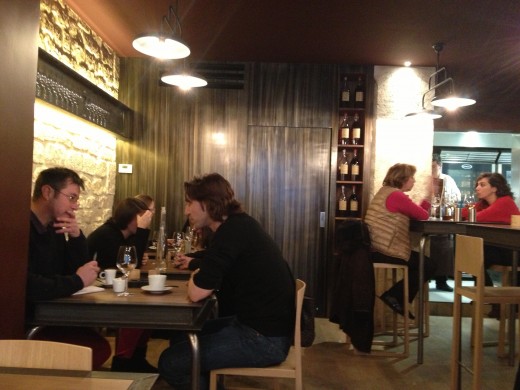 When Mme. Penny de Bay-Shore, an American friend who runs a wonderful B & B in Honfleur (La Petite Folie) first tipped me off that Alexandre Bourdas of Sa.Qua.Na., a chef from the same delightful seaside Normandy town whom we're both big fans of, was opening a restaurant in Paris, Pascade, my pulse raced. Why? For anyone who loves really good food, it's been an odd year in the French capital, with a variety of popcorn-like novelties–cheeseburgers, burritos, hot dogs (never thought I'd see this day in Paris), eclairs in sweet and savory versions, and other foods that are part of the media-annointed cannon of upstairs-downstairs trendy cosmo eats, getting a lot of ink from the French press and all of the international outlets that feed on its teats, but with many fewer good new serious restaurants. So I hoped we might see out the year with a bang, i.e., a really good new restaurant after so many wet fire crackers, ego annexes, marketing step-children and other new spots that were almost anything but interesting and sincere.
To be sure, there have been some great new restaurants in Paris in 2013–Roseval, Abri, Semilla and Terroir Parisien (all reviewed on this site, please use the search engine) come to mind, but otherwise, the year really has been much about gadgets and bold-faced names. So in the hopes that Pascade would go beyond these wearisome compass points and serve some really great food, I met a friend from New York for lunch last week. But before sitting down to the table at Pascade, it might be helpful to have a bit of background on Alexandre Bourdas, the chef-owner of this new place.
The Aveyron born and raised Bourdas ran Michel Bras's restaurant on the northern island of Hokkaido for five years and was profoundly marked by the cuisine and aesthetics of Japan. Returning to France, he set up shop in Honfleur, where his intriguing and intensely disciplined cooking at Sa.Qua.Na shook up the well-heeled Parisian bourgeois clientele who weekend on the Norman shore but also brought immediate renown. Today he has two Michelin stars, and it's necessary to book several weeks in advance to get a table at his spare but handsome dining room in Normandy.
Well, by the time I got to the table, I'd already learned that a 'pascade' is sort of an eggy crepe along the lines of a Yorkshire pudding, and that this was all Bourdas's new place served, in savory and sweet versions. Still, I thought on my way to lunch, there aren't many good bet places for a meal in the heart of Paris–Pascade is equidistant to the Opera, the Place Vendome, the Madeleine, the Place de la Concorde and the Louvre, so perhaps this place would be a happy alternative to all of the faux health-food takeaway places that cater to the strike-of-noon paper-bag lunch crowd–think soup, salads and more salads, quiche, and sandwiches.
Arriving, I liked the looks of this place–think ryokan meets cutlery atelier in Saint Etienne in the heart of Paris, or a Zen industrial aesthetic, despite the fact that the service struck me as a bit arch–it was as if staff were already rather taken by the fact that they were in the employ of a much esteemed chef and thus considered that you should cross yourself as you stepped through the door.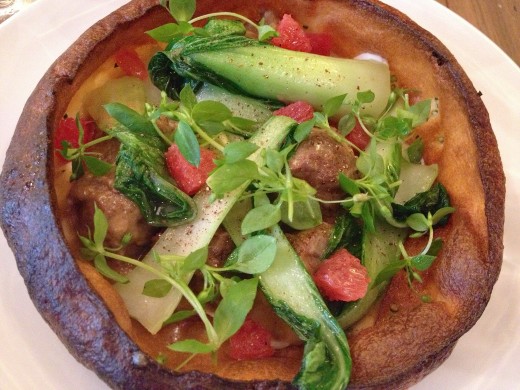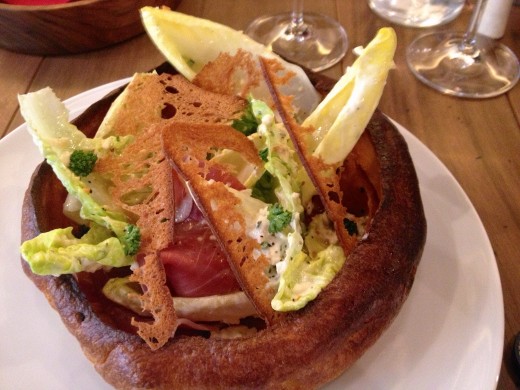 There was a big oak and wrought-iron framed table d'hotes in the middle of the room here, but happily, my pal was seated at a table for two, and so after we got over how expensive the wines by the glass are here, we eye-balled the menu and decided to try a pascade with lamb ragout, pak choi, fromage blanc and black cardamon and another with country ham, lettuce, endive, celery remoulade (which I never found), roast chicken jus (which I never found either) and melba toasts.
Since the menu offered no starters, we tucked into the pascades as soon as they came to the table, and if they were pleasant enough, neither of us found them to be so urgently good that we'd want to return to this restaurant. I was also troubled by the fact that the batter of mine–the one with the ham, had too much sugar in it for my tastes, which prompted my friend to comment that they really should have separate batters for the savory and sweet versions.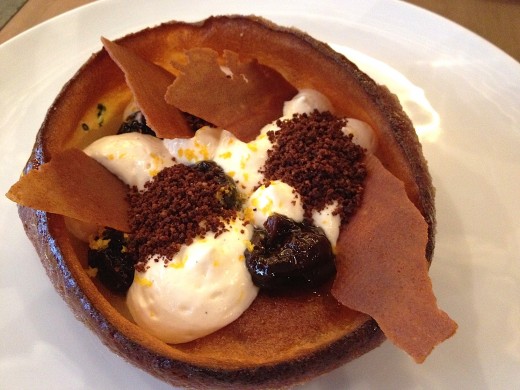 Partially out of curiosity and partially because we were still hungry–a French food writer friend had already responded to a tweet I'd sent out announcing this lunch by advising me: "Plan on a serious snack–soup, bread and cheese, later in the day–you'll be hungry, and poorer for it"–we decided to split a dessert pascade, which came garnished with Armagnac soaked prunes, whipped cream, cookie crumbs, nougatine and yuzu. We both liked this dessert pascade more than our savory ones, and I could even imagine stopping by just for a prune pascade pick-me-up on a rainy afternoon, but when our bill came, it was over 80 Euros for two glasses of wine, three pascades, and two coffees, which is an awful lot of money for a meal that we'd have liked a lot more at 20 Euros a head, a much more appropriate price.
So as much as I welcome Alexandre Bourdas to Paris, and as much as I love the idea of someone trying to do something different in the heart of the city, this place just wasn't special enough to make me want to come back again. If you're staying in a nearby hotel, however, and don't mind the stiff prices, it's just fine for a light bite.
14 rue Daunou, 2nd, Tel. 01-42-60-11-00. Metro: Opera or Madeleine. Closed Saturday and Sunday. Average 30 Euros.