Alléno Paris (formerly Ledoyen) – Chef Yannick Alléno's Comeback is a Quiet Triumph, and That's a Good Thing, A-
November 19, 2014
Please note: This restaurant has now been renamed as Alleno Paris; it was awarded three stars in the 2015 edition of the Michelin Guide to France.
When chef Yannick Alléno  turned on the gas at Alleno Paris, formerly known as the Pavillon Ledoyen, on July 1, 2014, it was poignantly apparent to all early visitors to his new restaurant that he was exultantly relieved to be cooking again. After all, he'd been without a Paris kitchen of his own for over a year and a half since January 2013 when he left Le Meurice, the opulent dining room at the Hotel Le Meurice where he'd won three Michelin stars. And for anyone who's known him as long as long as I have–we first met after the excellent dinner at the Hotel Scribe in 1999 that pricked my curiosity about who'd cooked it–he'd seemed a bit at loose ends during the well-earned sabbatical he'd claimed for himself after a decade as chef at Le Meurice. The reason is that despite some reasonably successful efforts to coin Alléno as a celebrity chef, he's still much more of a feet-on-the-ground cook's cook than he is anything else. Or at least for the time being anyway, although I very much doubt the world will ever bear witness for the full Kardashianization of Yannick Alléno. It's just not his style.
If Alléno backed away from his job at Le Meurice, however, it was both because he needed a physical and creative respite from the ardors of running the huge culinary plant of a major Paris luxury hotel, but also, I think, because of an inchoate ambivalence about the way in which his job duties were evolving beyond anything to do with making a perfect beurre blanc, to say nothing of inventing a new recipe. In this eccentrically mannerist age where the trope of celebrity dictates that it's more important to be talked about than to actually even have anything interesting or important to say, much less a real talent, the metier of Parisian chef has been awkwardly caught up in the nets of celebrity and the social media that fuels it, too. Suddenly, just being a great chef is no longer enough to land a spot running one of the most glamorous dining rooms in Paris. No, now you also have to be a persuasively charming, seductive, photogenic media personality to boot. You should also show up as often as possible in the people pages of the glossy magazines and beam from the screens of high-traffic websites. You should pen opulent cookbooks, get a TV gig, make your own wine, endorse all sorts of probable and half-probable products, and think of dozens of reasons every month that you and your restaurant warrant a sound-bite or a Tweet. A Kim Kardashian shaped cupcake? Hey! That's a great idea!
The problem here, of course, is that many of the men and women who are drawn to this physically punishing and relentlessly hard-working metier do so out a real dedication to their craft rather than as a vehicle to fame. To be sure, almost none of them would fly-swat a Michelin star or three if it came their way, but the passion that drives a love of bone-achingly hard work and constant repetitive stress day in and day out isn't a desire for creative expression, although this certainly becomes part of the metier of any fully evolved chef. Instead, it's a behind-closed-doors love of great produce, the precision of culinary chemistry, the camaraderie of the kitchen and a collective quest for excellence that begins all over again everyday when the lights go on in the kitchen. This is the world that beckoned to Yannick Alléno as a shy fifteen-year-old apprentice to chef Gabriel Biscay at the Hotel Royal Monceau, and it remains beloved ballast of his career in the same way that it does that of any seriously talented chef.
So it was exciting to go off to Ledoyen on a soft summer night for dinner with a very witty and food-loving colleague from London. For openers, I couldn't wait to see what Alleno would be up to, but I was also eager because Ledoyen is one of the loveliest restaurants in Paris. Just a few minutes from the heaving traffic circle that is the Place de la Concorde–it suddenly strikes me that this beautiful but automotively encumbered square offers up an obvious opportunity to retool Paris towards being a greener and more pedestrian friendly city in the 21st century, since it's an absurd extravagance that the whole square is given over to cars–Ledoyen is a romantic white wedding cake of a building tucked away in the gardens at the bottom of the Champs Elysees that offers a surprisingly instant respite from the aural and mental roars of city life without leaving town.
Star decorator Jacques Grange did the beautiful first-floor dining room, which over look the crowns of the surrounding plane trees to give the airy space the feeling of a very luxurious tree house, in 1994, and since he was directly inspired by the good directoire bones of the pavilion's architecture, his look has aged beautifully. Here and there, though, the room had been discreetly freshened up with more modern table settings and very comfortable celadon velvet chairs that flatter the willow green scheme that dominates the room. The decor was of rather little interest to me, however, since I was champing at the bit to see how Alléno would present himself gastronomically at the debut of a new chapter in his career. Or in other words, now that molecular cuisine is well and truly over and a central Paris location rather limits the locavore reflex for the time being, how could, how would he be new?
Meanwhile, my colleague was well into a second vodka tonic when I got there. Seeing me glance at her glass, she said, "Not my fault, Dearie! You're the one who's always late, and anyway, I'm hoping the booze will have burned a place in my poor old gizzards for dinner, since I didn't finish lunch until quarter of four." I asked her what she'd had for lunch. "What I had is a a nice coq au vin, the perfect combination of two of my favorite things, cock and wine." The waiter waiting to present us with menus guffawed, and with my some of favorite reading fresh in hand, he explained that Alléno's idea here was to begin with an assortment of tasting plates and then settle on a main course before the meal concluded with some dessert hors d'oeuvres and then a dessert.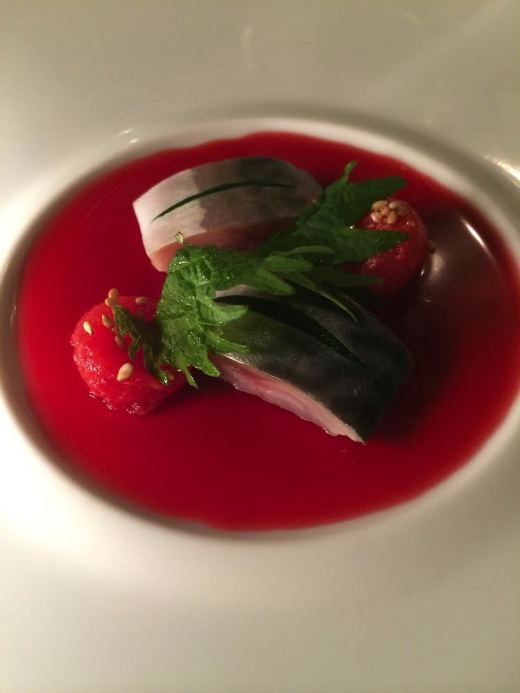 Our first dish was dazzling. Marinated mackerel arrived in a cool red pool of acidulated hibiscus juice with a pair of sesame-seed garnished poached tomatoes and a refreshingly mentholated tasting shiso leaf. It was what a perfect hors d'oeuvres should be, which is simple, limpid, well-reasoned, and beautiful to behold. It was also winsomely summery, which might make you wonder why it's taken me several months to get around to writing about this meal, and the answer here is that I this food needed some serious meditation, and also that I knew I'd have to go back again before offering a public opinion. If it's normal for food writers to revisit a restaurant, what's more uncommon is such a long critical gestation time, and this says as much about what Alléno is up to at Ledoyen as almost anything else. This modern French cooking offers an intriguing new equilibrium between technicity and sensuality, with a subtle but profound fascination with the transformative power of sauces and an  exhilarating but understated commitment to both healthy eating and sustainable produce.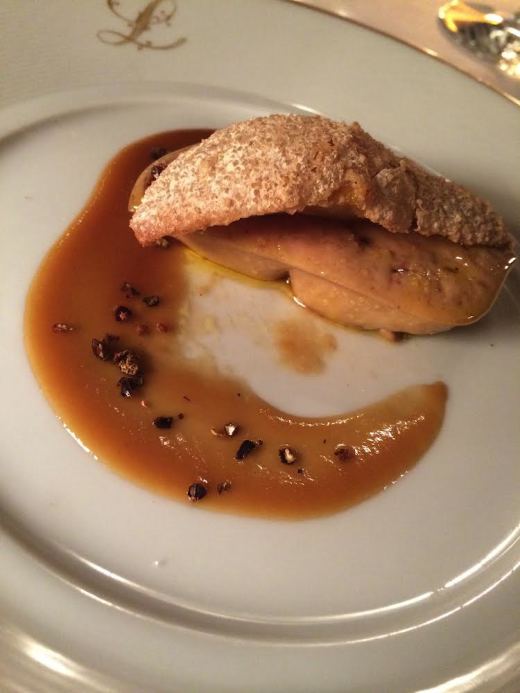 What else could possibly explain a dish as intricately and satisfyingly engineered and executed as foie gras poached in Rivesaltes wine and garnished with a slice of pear with a meringue skin and a pepper and juniper berry gastrique?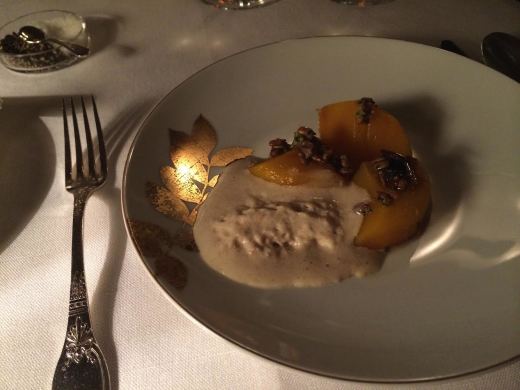 Not every dish worked. Butternut squash with grilled seeds and a sauce of fermented bread might have been foreshadowing autumn that night, but it was too timid and too rustic in the context of such urbane gastronomy and didn't real feel like a natural gesture on the chef's part.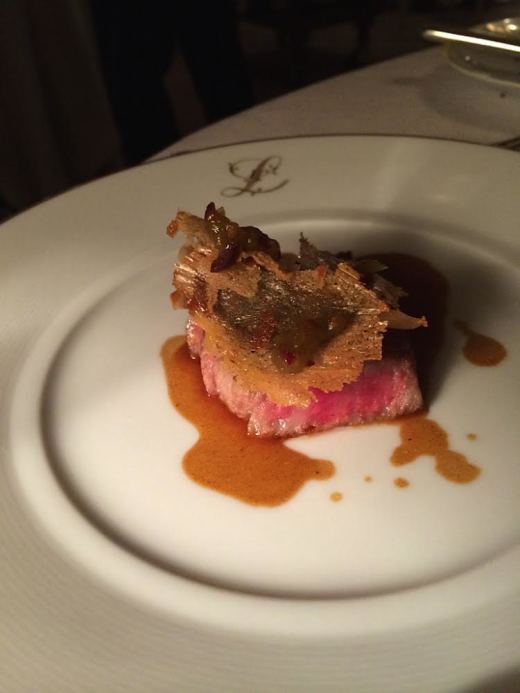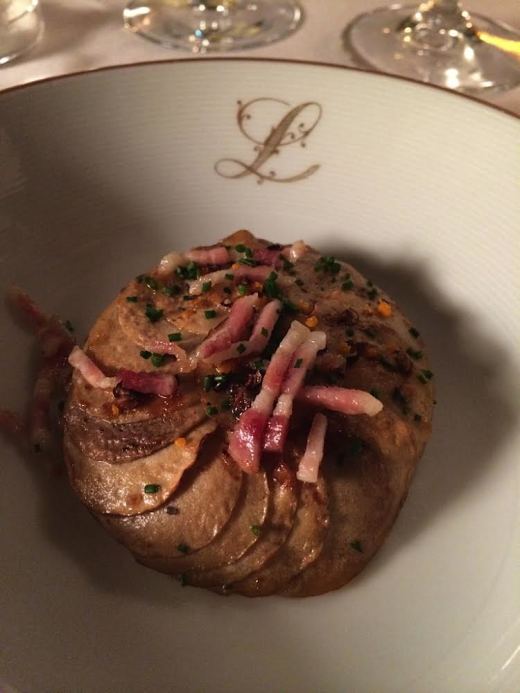 If I enjoyed the lush artistry of Wagyu beef served with crispy ravioli, olives and green tomatoes, the dish that stunned was a stuffed cep mushroom head prepared en civet, a braising method using red wine, orange peel and juniper berries that's usually used for game. "What a brilliant idea! This dish alone was worth my train ticket," crowed my colleague, and I agreed. It was genuis to apply the en civet method to ceps, and to have kept it dialed down enough so that the natural taste of the fleshy and impeccably cooked mushroom permeated the orange and juniper berry seasoned ragout that had been made from its long thick steam. This luxurious hash was then sealed inside of the mushroom cap under a fine fan of laser fine mushroom head and baked, with a final garnish of lardons being added just before it was sent to the table. "So sexy, but also modest, because it just seems like the most natural idea in the world, no?" said my colleague. Well, yes, actually, and one small perfect example of why Alléno is a truly great cook and deserved the trio of Michelin stars he won at Le Meurice.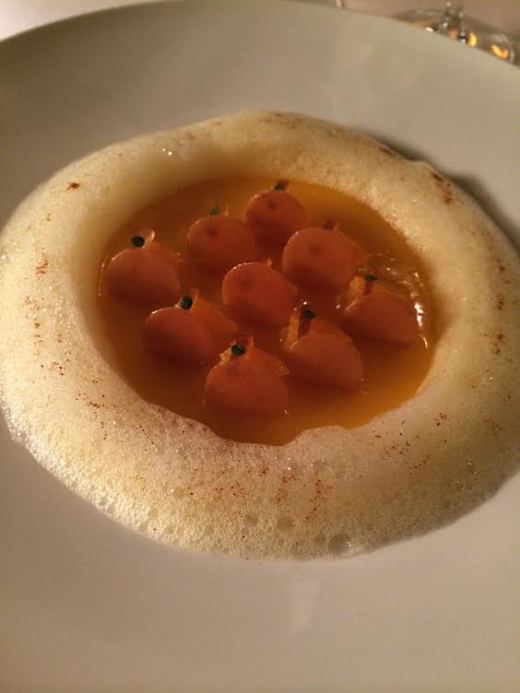 Dessert was lovely, too–pearls of orange coulis sunken into a cinnamon foam as sort of a Gallic riff on a Moroccan orange salad, and with the kitchen performing to such a high standard days after opening, I can only predict good things here in the future. We were dawdling over coffee at the end of the meal when Alléno emerged from the kitchen to greet various friends and clients. During a brief chat with us, he said that he eventually intends to design the menu so that it offers a choice between his own gorgeously imagined dishes and Escoffier style classics, adding that sauces will continue to be more and more important in his cooking, because "Sauces are the expression of an evolved cuisine."
And to answer the two final and perhaps most urgent questions you're likely to have about this restaurant–Is it worth the money? and is this a good choice for that one special-occasion meal you might be thinking of treating yourself to during a trip to Paris?, the answers are 'Yes' and "Very much so," respectively.
1 Avenue Dutuit, 8th Arrondissement, Paris, Tel. (33) 01-53-05-10-00, Metro: Champs-Elysées Clemenceau. www.yannick-alleno.com/restaurant/le-pavillon-ledoyen/ Closed Saturday, Sunday and Monday lunch. Lunch menu 128 Euros. Dinner 295 Euros, Average a la carte 240 Euros.