Le Frank, The New Restaurant at La Fondation Louis Vuitton, Paris, B+
November 6, 2014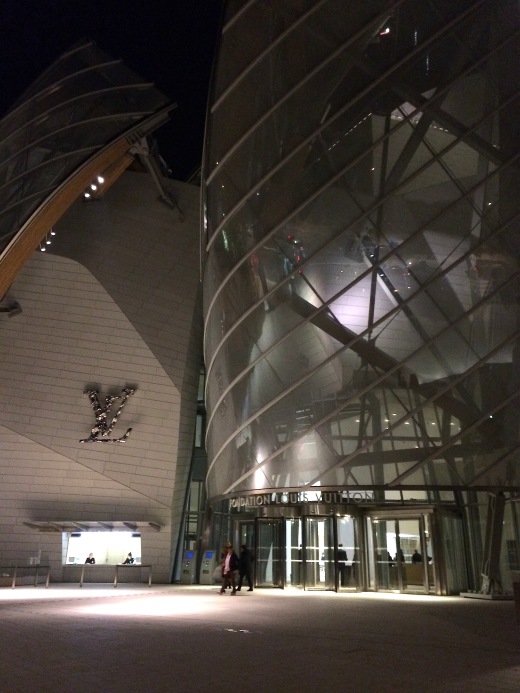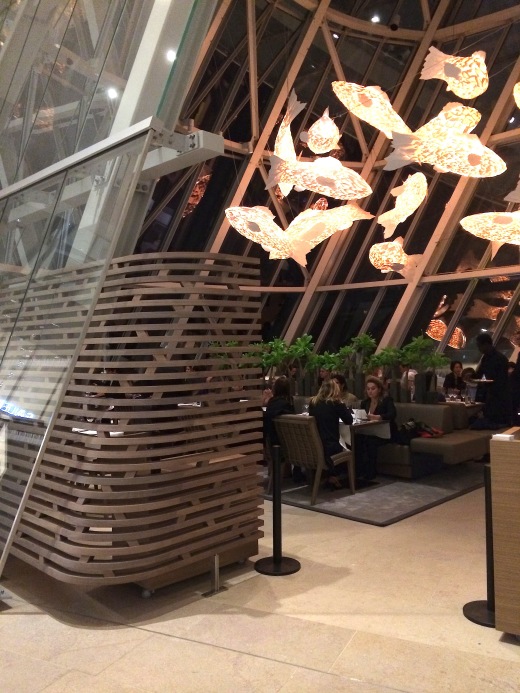 On my way to dinner at Le Frank, chef Jean-Louis Nomicos's very good new restaurant at La Fondation Louis Vuitton in Paris, I found myself musing on museum dining.
I've always had a soft spot for museum restaurants, even if many of them have never previously been very good, because they were such a relief from the long studious hours I was required to spend gazing at saints with arrows sticking out of their sides or fleshy ladies being chased by a satyr or other paintings in the museums I was taken to in various East Coast cities as a boy by my well-meaning mother and grandmother. It's not that I didn't like looking at the paintings, but rather that we always stayed much too long, and that the real treat during any visit to the city–mostly New York, but sometimes Boston or Philadelphia–was going to a restaurant. On rainy or snowy days, of which there were many, the ladies in charge often opted for the museum restaurant, however.
So I have vivid memories of the mediocre fried chicken, meat loaf and other hot food served at the now long vanished cafeteria at the Metropolitan Museum of Art in New York City. If the food was as dull as the invariably wet-from-the-dishwasher fiberglass tray on which it was pushed down the rails, the restaurant itself was exquisitely glamorous. It was styled like a Roman villa around a central atrium with a big fountain ornamented with verdigris bronze figures, and it used to prick my imagination with yearning to live like an ancient Roman rather than as a boy in a colonial house in suburban Connecticut.
"I bet the Romans didn't eat meat loaf," I once said to my grandmother, and my assertion disguised, sort of, as a question elicited a puzzled look from her.
"Well–probably not. But if they did, I expect they'd have covered it with garum," she said, and puffed her Parliament.
"What's garum?"
"A fish sauce the Romans used to fancy. I expect it tasted a bit like a cross between A1 Sauce and Worcestershire sauce with a lot of anchovy paste."
Be that as it may, even garum probably couldn't have rendered the Met's gray meat loaf palatable, and these feelings of general dubiousness towards museum food remained my a priori until very recently.
Then several years ago, I had a very good meal at the restaurant at the Guggenheim Museum in Bilbao, Spain when it was run by Basque chef Martin Berasategui (it no longer is). This was followed by an excellent lunch at Danny Meyer's The Modern restaurant at the Museum of Modern Art in New York City, and then a terrific feed at M. Wells Dinette at the MoMA P.S. 1 in Long Island City, New York. Recently I read that chef Michel Bras is running the restaurant at the new Musée Pierre Soulages in Rodez, too.
The museum restaurant, once the last resort dining choice for grandmothers with their grandsons on rainy days, is clearly on a roll.
On a pretty Fall night, the Fondation Louis Vuitton looked like a turfed glass cloud when I arrived, and the only discordant thing about architect Frank Genry's beautiful building was the huge shiny LV emblem branding the building. Since the name of the museum is the Fondation Louis Vuitton is clearly legible over the front door, this commercial overstatement struck me as a very false note, but from the moment I met Bruno at the restaurant, the habitual elegance of Louis Vuitton came into play.
Beneath a school of softly illuminated Gehry designed school of suspended fishes that looked like a motif from Japanese porcelain, the understated dining room is tucked away behind a gorgeous walnut screen and is furnished with sumptuous gray leather banquettes and gray-leather-and-walnut chairs. Only open for a week that night, it was pulling a stylish Western Paris and suburbs crowd–the couple on one side of us was trying to decide between a winter vacation in the Seychelles or the Maldives, while the two immaculately coiffed and dressed ladies of a certain age on the other flank talked about their dog groomers.
Still, this museum restaurant was off to a much better start than any I'd been to in Paris for a very long time, and they would be Georges, with its appalling service and mediocre food on top of the Centre Pompidou; the equally snooty, over-priced and mediocre Cafe Marly at the Louvre; and the beautiful but underperforming restaurant at the Musée d'Orsay. For openers, Le Frank is beautiful, and with talented and winsomely sincere chef Jean-Louis Nomicos in charge, I knew we'd eat well, and we did, very well.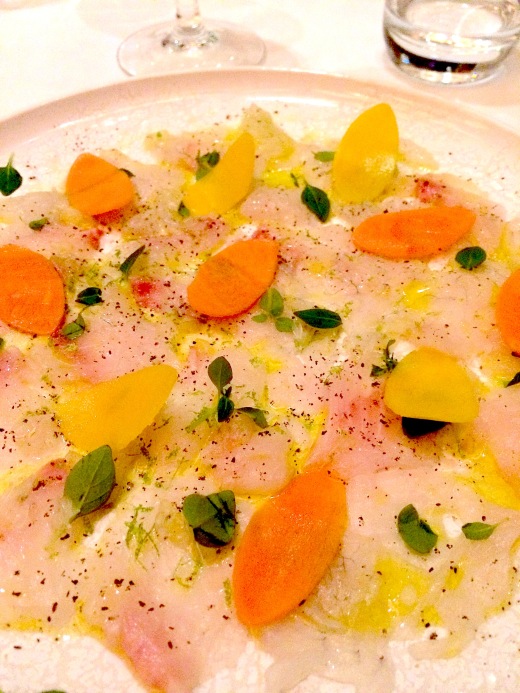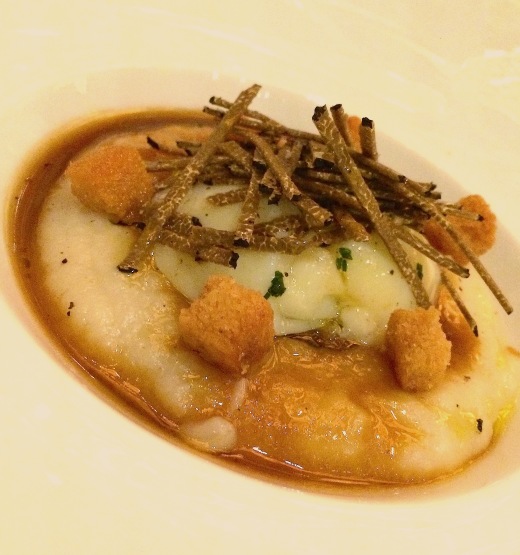 After an amuse bouche of pleasantly ruddy pumpkin soup with garnishes  of creme fraiche, croutons and baked chestnuts, Bruno tucked into the sea bream carpaccio with marinated carrots, "lemon caviar" (fine grains of lemon pulp), basil and piment d'Espelette, and I chose the egg cooked sous-vide and nestled in a bed of Jerusalem artichoke puree on top of a delicious soubise of onions. The egg came with match-sticks of black truffle and the dish was just as soothing and satisfying as climbing into a hot bath.
As I've come to expect from Nomicos, who also runs the very good Les Tablettes de Jean-Louis Nomicos, and whose cooking I've known at both La Grande Cascade and then Lasserre, both dishes were impeccably prepared and masterfully seasoned. I couldn't help but also thinking, however, that this food was rather polite, in terms of being pretty and inoffensive in olfactory terms, and I guessed that the briefing the chef had received from the Fondation probably emphasized the importance of aesthetics and the need for olfactory discretion, too, since the dining room is just off the lobby of the museum. So there was little chance of finding bottles of fresh garum on the tables at Le Frank. Intead, I gather that Louis Vuitton wanted cooking in what it sees as its own image–beautiful, classic, discreetly stylish and carefully crafted. So hold the garlic, and don't get crazy.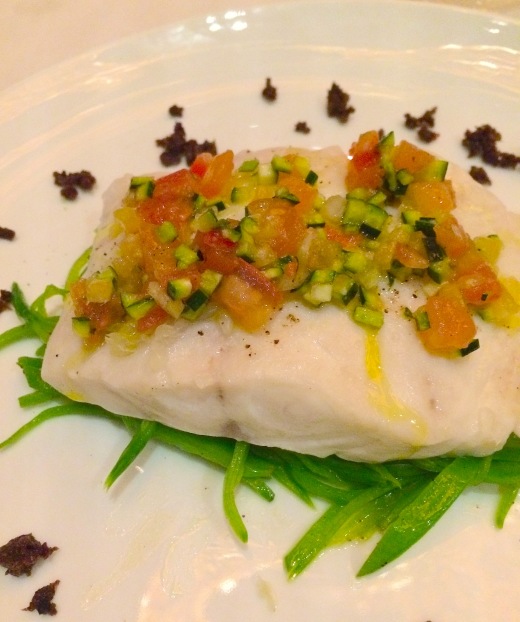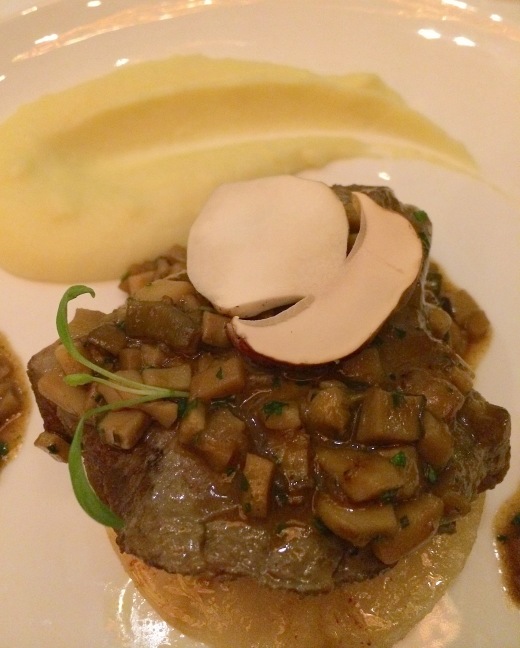 Nomicos, a gifted and deeply experienced chef, doesn't have to tack too far from his natural style to satisfy what I'm guessing to be Vuitton's marching orders either, since a certain visual and gustatory elegance has always been a major part of his signature. But what gives his cooking character is the earthy Mediterranean punctation of his cooking. It was the syncopated crown of black-olive powder that really lit up my steamed sea bass on a bed of finely sliced snow peas with a nicely made sauce vierge,which would have been even better if the tomatoes weren't so wan. And in Bruno's braised veal cheek with a ragout of ceps, it was the marigold, another vivid Mediterranean touch–Nomicos is from Marseille–in the sauce that brightened this composition and made it personal. Ultimately, Nomicos's cooking, whether here or at his own restaurant, is often so choir-boy winsome that I've occasionally found myself wondering what he'd cook if he suddenly jumped the gastronomic rails. That's not going to happen at Le Frank–this restaurant is all about shrewd gastronomic branding, a conceit that's more Louis Vuitton's than Nomicos's–but someday I hope to find out. In the meantime, however, I'll happily go to any address where Nomicos is cooking and enjoy his craft, because there's no logical reason to complain about a cook as solidly talented as he is.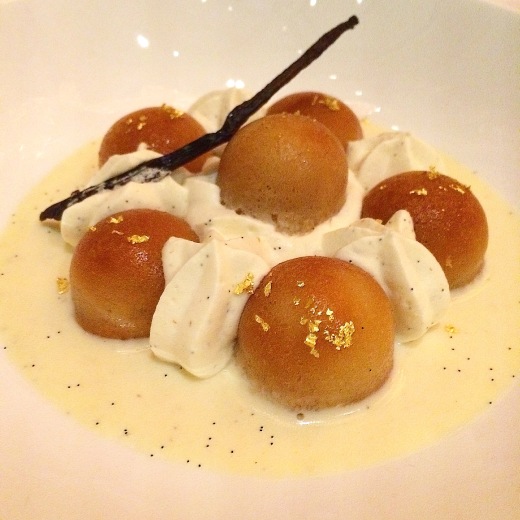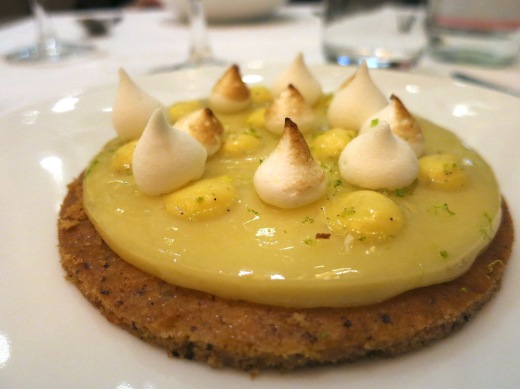 Desserts–a sort of post-modern riff on baba au rhum and a clever lemon tart with meringue drops–were beautifully made, too, and if the service still needs some fine tuning, Le Frank is a delightful restaurant and a great night out if you decide to dine here after visiting the museum on Friday, when the museum stays open until 11pm. Note that they serve a light lunch menu and tea-time menu at the restaurant outside of dinner hours, and that it's simple but very appealing, too.
8 Avenue du Mahatma Gandhi, 16th Arrondissement, Paris, Tel. (33) 01-58-44-25-70. Metro: Les Sablons. www.fondationlouisvuitton.fr , Open Wednesday to Sunday from noon to 7pm. Dinner by reservation only Wednesday to Saturday. Average lunch 35 Euros, Average dinner 70 Euros.