PIERRE AU PALAIS ROYAL–A la Recherche du Temps Perdu, B+; FISH LA BOISSONERIE–High Tide at a Left Bank Favorite, B+
April 13, 2013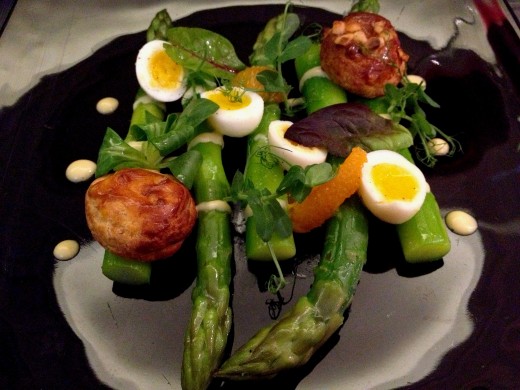 Pierre au Palais Royal: Asparagus with aioli Maltais, quails' eggs, hazelnut gougeres
Though I certainly wouldn't enjoy a meal in an ugly dining room, and actively avoid places that are too noisy (happily still less of a problem in Paris than in other cities I know well, notably New York and London), I'll gladly admit, as I have many times before, that for me the appearance of a restaurant very much takes a backseat to the quality of what I find in my plate in terms of my overall judgement of its worth. To be sure there are a few restaurants in Paris–Le Train Bleu at the Gare de Lyon and, once in a blue moon, Vagenende (St-Germain-des-Pres) among them, that I'd go to mostly because they are so beautiful, but otherwise, I'm reflexively willing to overlook an unfortunate decor in favor of good food.
With this established, a recent meal at a Paris restaurant I've known for many years, Pierre au Palais Royal, set me to wondering about the advisability of my being so aesthetically forgiving. This first time I came here, sometime in the early nineties, this was a serious old-fashioned wood-paneled restaurant with pale pink table cloths (if memory serves me) and some decorative wrought iron work here and there. It was also among the favorite restaurants of a New York magazine editor, the late David Bruel, for whom I did a lot of work at the time that he was running an excellent travel magazine called European Travel & Life, and I have many happy memories of long jolly defiantly clock-ignoring meals here during which we'd all order foie gras, boeuf a la ficelle (beef tied with a noose of string so that it could be poached in hot bouillon) and at least two bottles of Pommard, followed by what David used to refer to as a snifter of "amber fluid." No one eats or drinks like this anymore, alas, but I never walk by Pierre au Palais Royal without thinking of–and missing, those bawdy and bibulous evenings.
I gave up on Pierre au Palais Royal after the long-running owner sold it to someone who never really understood why the regulars liked it so much. Instead, he ruthlessly changed both the menu and the decor and scared everyone away. A few weeks ago, however, I read an eloge to this restaurant by French food critic Francois Simon. It made me eager to return to this much-loved old place, and so when a favorite Dutch friend who has just moved back to Amsterdam after many years in Paris and who has told us that he very much misses French food, came to town, I though this would be just the spot for a reunion dinner.
Arriving, we found the very tall Carel blinking and cringing in the harsh spot-lights above a table for four up front. The lighting was so bright, we all felt like we were sitting in a used-car lot, so I politely asked the very nice waitress if it could be turned down. Well, she and a colleague did all they could, but finally it turned out this dreadful lighting could not be adjusted, so the three of us moved to a table in the back of the restaurant, and once my eye balls had cooled off, I was able to see what an unfortunate new decor this place has been given. Think the type of tacky throw pillows embroidered in sequins with nonsensical sayings which are meant to be saucy but come off as more resonantly tacky you might see on a Riviera mega yacht: Bad Girls Have More Fun, and things like that, and worse, all of the chairs and the banquettes were covered in zebra stripe fabric.
Given the prices practiced here, and the equally misconceived serving style–the earnest and adorable young staff have been coached to behave in a solemn and very old-school way, which is the second seriously wrong footed aspect of the reboot here, it's hard to imagine how anyone could imagine a congruence between the likely lunch crowd of world-class taste-makers in the design and fashion fields, French government officials, and seriously top drawer executive brass from a cross-section of businesses and such a silly and unoriginal decor.
In fact given the fact that Carel is a massively distinguished museum curator and art-historian, I couldn't help but flinching on his behalf as I first took in the decor of this place.
Fleetingly, I thought of doing a bolter, but since we'd already ordered glasses of Champagne, this would have been complicated, plus it was raining that night and all of us were tired and hungry. So we stayed put. And in any event, the menu read well. So it was fat lukewarm green asparagus from the Luberon with hazelnut-studded goyeres, quails' eggs and a sublime hybrid sauce–an aioli (garlic mayonnaise, bien sur) that had been thinned with a sauce Maltaise, a brilliantly old-fashioned sauce–hollandaise to which blood-orange juice has been added, that one almost never sees anymore, for me and Carel, and a tarte Tatin of boudin noire, red onion confit and shallot cream for Bruno.
Both of these starters were superb–spectacular produce perfectly prepared as part of intelligently creative compositions of balanced taste and texture. So I asked about the chef and was told that he's a young Englishman of Polish origins, Konard Ceglowski, who worked at Gordon Ramsay and Simpson's in London before he crossed the Channel to work at the Meurice and then as the last chef at Jacques Cagna before it closed.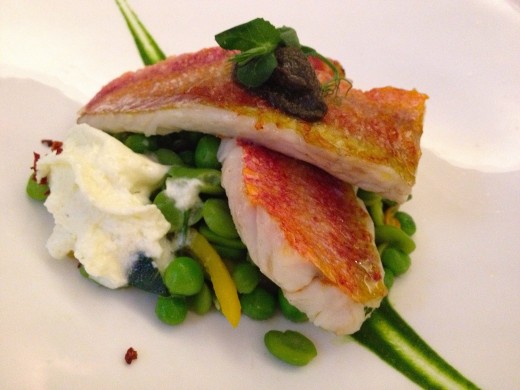 Red mullet with fava beans and feta mousse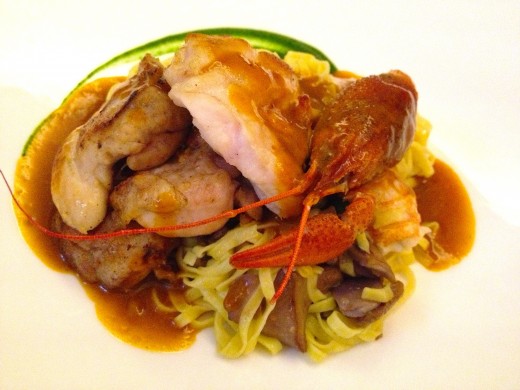 Crayfish stuffed rabbit with sauce Nantua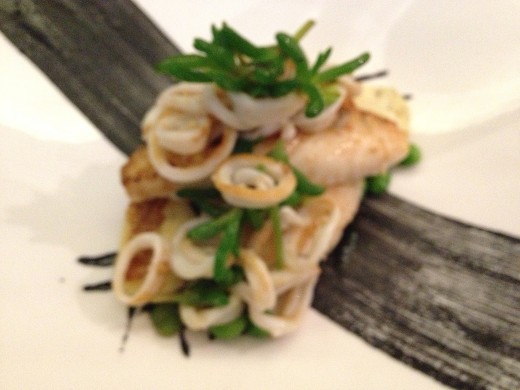 So the three of us had three different main courses. Carel had the grilled red mullet filets from the Ile d'Yeu with tapenade, fava beans, and feta mousse, while Bruno chose the crayfish-stuffed rabbit with fresh linguine and a tarragon-spiked sauce Nantua (a lovely old-fashioned crayfish cream sauce). Again, both of these dishes were excellent–perfect cooking times, exquisite produce, and delightfully off-center takes on Escoffier style French culinary classicism. I loved my line-caught Breton John Dory with baby squid, pousse pied (crunchy seaweed), and rosemary-scented grocchi, too. There was an impressive amount of work in this dish, and the quality of the produce was excellent, too.
To conclude, I finished up the rest of our excellent white Saint Joseph with a well-chosen and generously served cheese plate, while Carel had the brownie with sugar-syrup poached fennel and peanut butter ice cream and Bruno pounced on the honey-bergamot cheese cake with rhubarb compote and sour cherry ice cream. With delicious food, excellent service and terrific company, this was a delightful meal, and Pierre au Palais Royal once again wins a place on my go-to list for a seriously good sit-down feed. Oh, and did I mention that the decor here seems to take a leaf from a Las Vegas cocktail lounge?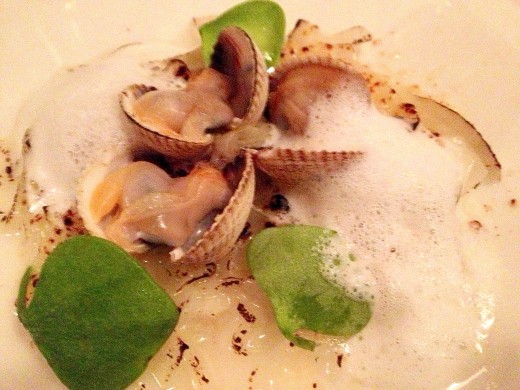 Cockles with seared onions
Meanwhile, over on the Left Bank, there's some terrific news from Fish La Boissonerie, one of the most popular restaurants in Saint-Germain-des-Pres, this Spring. To wit, with the arrival of young Ducasse trained Japanese chef Taku Sekine, Drew Harre and Juan Sanchez's place has suddenly become one of the best modern bistros in Paris.
Dining with Bruno, Dorie and Michael the other night, we ate our way through almost the entire menu, which the very serious and earnest young Mr. Sekine told us will be changing every two or three days, and were hugely impressed. Our meal began with Chawanmushi with cockles, a sublime and very delicate steamed Japanese egg custard with tiny salty shellfish, and a complimentary starter of lamb sweetbreads with green asparagus in a brilliant sauce of cider and pan drippings.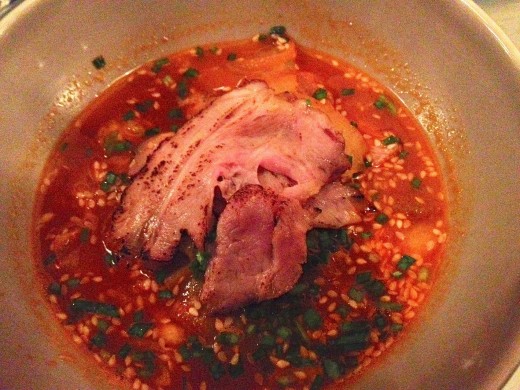 Kimchi soup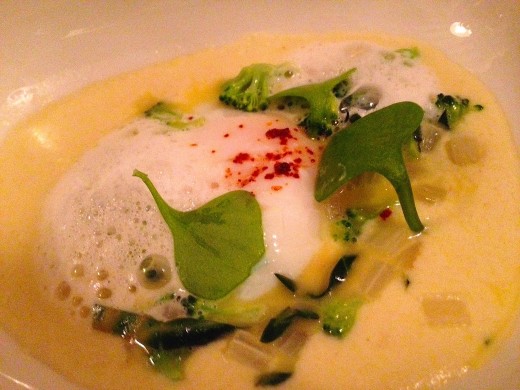 Coddled egg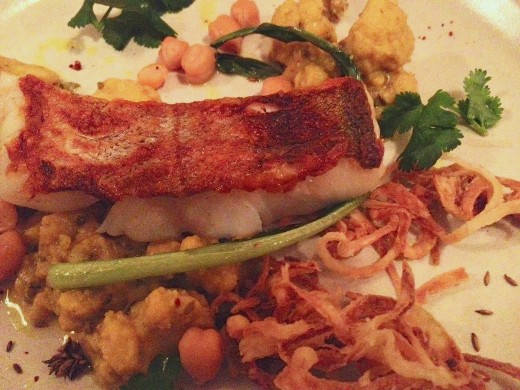 Yellow pollack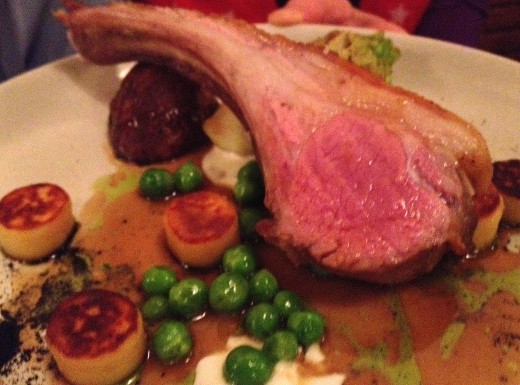 Roasted lamb
Other stand-out dishes from an excellent meal included a kimchi soup with grilled pork breast; coddled egg with parsley root, Swiss chard and roasted garlic; yellow pollack with curried cauliflower, garbanzo beans, and lime condiment; and roast lamb with baby peas and gnocci. Not only was the produce used in every dish uniformly excellent, but the intringuingly international flavor palates were impeccably mastered, too.
Fish has always been an exceptionally convivial restaurant with an outstanding wine list and just-fine food. With the handsomely renovated dining room–the lighting is now vastly improved by a row of retro globe lamps overhead, and Sekine leading a hugely talented team in the kitchen, it suddenly becomes a serious destination restaurant. This will inevitably make it a lot busier, which means that locals used to ambling in the door and finding a table would now be well-advised to book in advance.
Pierre au Palais Royal, 10 rue de Richelieu, 1st, Tel. 01-42-96-09-17. Metro: Louvre-Rivoli, Palais Royal, Closed Saturday lunch and Sunday. Lunch menu 33 Euros, prix-fixe menus 38, 44, 70 100 Euros, average a la carte 70 Euros. www.pierreaupalaisroyal.com
Fish La Boissonerie, 69 rue de Seine, 6th, Tel. 01-43-54-34-69. Metro: Mabillon, Saint-Germain-des-Pres. Open daily. Prix-fixe 35 Euros.