LE STUBE – The Best Place to Rhine and Shine in Paris, B
March 8, 2013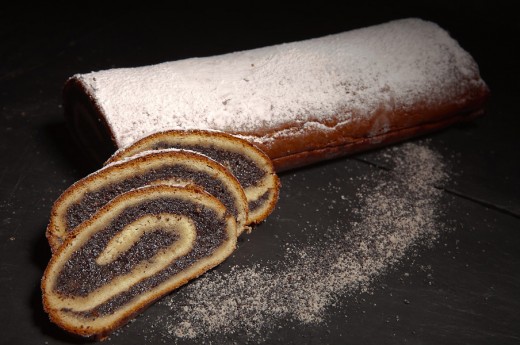 Everyone has their own personal geography of gastronomic pleasure, which is why you might occasionally have trouble navigating mine without some help. My love of stuffed grape leaves? They were served as part of father-and-son Cub Scout banquets at a Bulgarian restaurant which once rather improbably existed in the decidedly Topsider shod Connecticut town I grew up in. A weakness for fresh mangos? I associate them with the first heady days I lived in my own apartment on West 85th Street in New York City; I'd never eaten a mango before, and noticing them for sale outside of a bodega one night on my way home from work, I bought one out of curiosity, almost lost a thumb trying to cut through the thick pit I didn't know they had, and finally peeled off a patch of green skin and cut out a juicy deep orange chunk of the fruit, which was sweet, succulent, sensual, tropical. And during that same new-in-New York time frame, I also developed a life-long love of pastry stuffed with poppy-seed filling. This was not something I grew up with either–the baked goods in my life up to that time ran to cinnamon-crumb-topped coffee cakes, brownies, layer cakes, the occasional pineapple upside-down cake and apple pie, bien sur.
I didn't even know poppy seeds were edible the first time I stepped through the front door of the Louis Lechtmann bakery on West 86th and hungrily took in the linzertorte, rugelach, streudels and mohntorte. If two of the solid older blonde women who worked in the bakery were stern and often impatient Germans, the third was a jolly, ample and, for a sixty some odd year old woman, surprisingly flirtatious Hungarian. I asked for a loaf of rye bread and a confectioner's sugar dusted jam cookie, and she looked me up and and down and shoved a slice of mohntorte into the bag with the cookie, amiably shaking her head and muttering "sovány fiu"(skinny boy). As surely as the mango did, the poppy seed filling, which also included Corinth raisins which had been soaked in something alcoholic, instantly propelled me thousands of miles from Manhattan and deep into the heart of a Mittel Europa I'd never laid eyes on. I loved not only the taste and texture of the poppy seeds but also the very idea of poppy seeds, seeds from a flower, which is why it was a huge pleasure to sample them again for the first time in many years when I stopped for an impromptu lunch while doing some shoe-leather research on the covered passages of Paris the other day.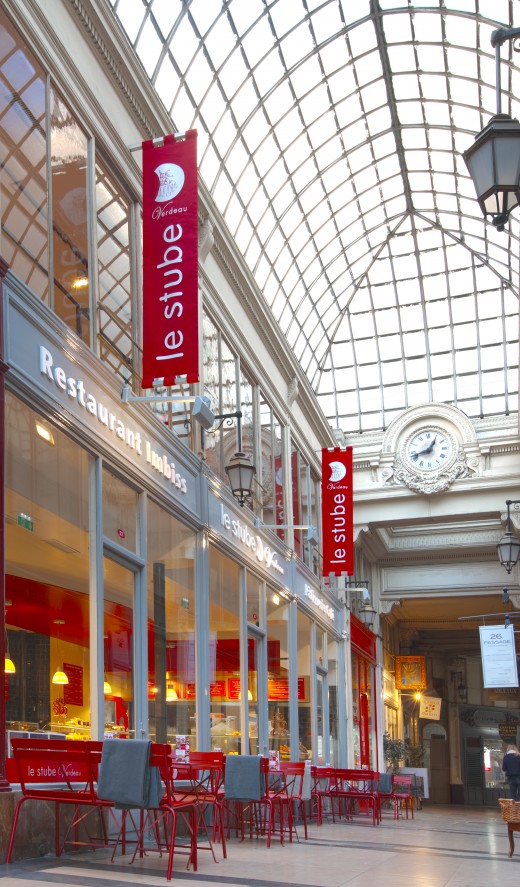 It's rare for me to be out at noon–I'm invariably shackled to my computer, so there was something festive about rummaging around in Paris in the middle of the day, and since I'm an inveterate menu reader, I stopped in front of the tidy good looking store-front of a German restaurant called Le Stube as soon as I came upon it in the Passage Verdeau, one of the quieter covered passages, which has its northern entrance on the rue du Faubourg Montmartre in the 9th.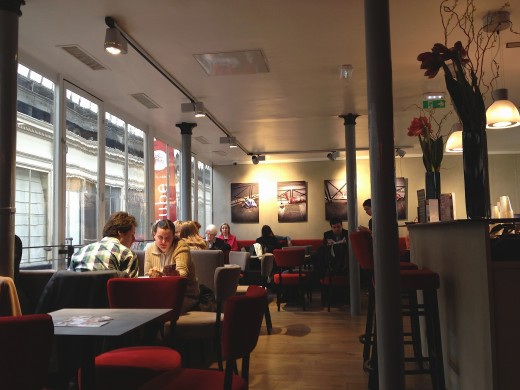 I'd actually been thinking about something Asian for lunch, but the more I read of Le Stube's menu, the more tempted I became, and so I finally went in to inspect what was on display in the glass cases. The pastries looked wonderful, and based of their visual quality, I guessed that the bratwurst I was also craving would be good, too, and went upstairs to the eat-in dining room.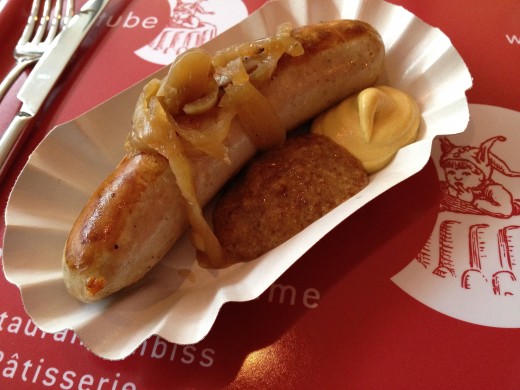 While sipping a nice glass of Grauer Burgunder, a pinot gris from Baden, I noticed that the dining room was filling with regulars–they were warmly greeted by the head-waiter, always a good sign. My nice fat bratwurst looked so good when it came that I was instantly tempted to order a second one, but tamped down this gluttony and tasted the accompanying kartoffel salad instead. This was beautifully made German style potato salad, and the bratwurst, which was drapped with sauteed onions and came with small tidy pumps of sweet and hot mustard, was delicious, which set me to thinking about how nice it was to be sampling the comfort food of another European kitchen instead of running into yet another cheeseburger in burger mad Paris. Don't get me wrong–I really like burgers and I'm delighted that you can now get a decent one in Paris, formerly a near impossibility, but I also love gastronomic variety, and the burger trend in Paris seems to be developing sort of snow-balling copy-cat momentum that's pushing other possibilities to one side.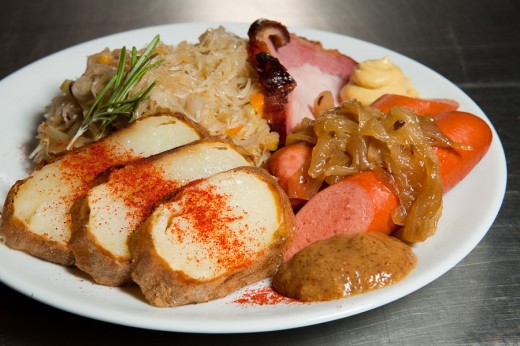 The chatty antique-dealers sitting next to me had ordered sauerkraut plates, which looked wonderful, too. And so I found myself wondering why German food, which I've always loved, is so under-appreciated, especially when it's not only regionally varied and delicious, but Germany has some of the most stringent food purity regulations in the world. Years ago, on Sunday visits to the Metropolitan Museum in New York, we'd eat at the long-gone Cafe Geiger on East 86th Street, and I craved the Königsberger Klopse–meatballs in creamy caper sauce, from one visit to the next. I also loved sauerbraten (marinated pot roast) with red cabbage and potato dumplings. But most of all I looked forward to dessert, usually a slice of Palatinat, or very light cheesecake.
Palatinat was on the menu at Le Stube, but I had my head set on some Mohntorte, and it was unexpectedly excellent, with a perfect dry crust and impeccably spiced poppy seed filling. I was so impressed by the quality of this pastry, in fact, that I ran amok before leaving Le Stube, and brought home a slice of the Sachertorte, which was easily the best Sacher Torte I've ever eaten, some sour cherry streudel–superb, and slice of feather-weight Palitinat, which is surely the most elegant cheesecake in Paris and will be a revelation for anyone who's accustomed to the very heavy thick New York style cheesecake that predominates in the United States.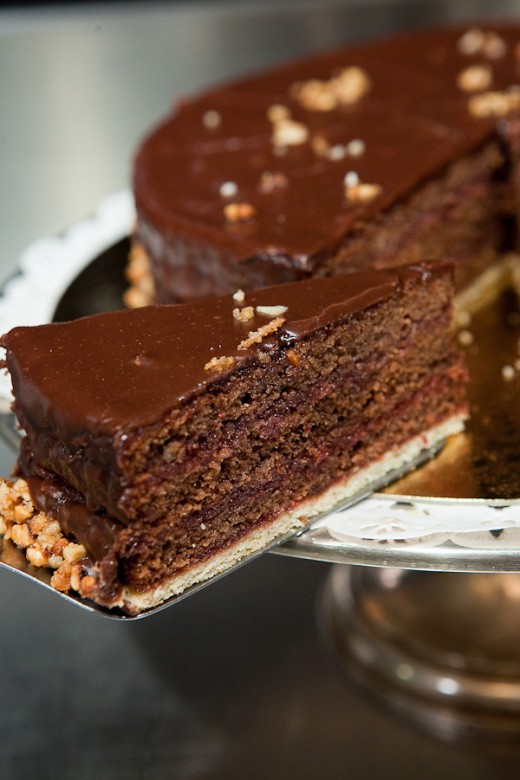 Sachertorte
I was so amazed by the quality of this pastry, in fact, that I looked up Le Stube when I got home, and found out that it has three addresses–another one on the rue de Richelieu and a stand at the Goethe Institut in the 16th arrondissement, and that it's the latest endeavor of Gerhard and Sylvie Weber, the charming couple who ran the very good Le Stubli in the 17th. Gerhard Weber, who's originally from Sachsenberg in Germany, is a fifth generation pastry chef and baker, and he's the one who assures the spectacular quality of the bread, cakes and pastries sold at Le Stube. And so my life in Paris acquires yet another outpost of permanent and powerful temptation, since it's not going to be easy to resist the Lorelei like call of Gerhard Weber's bratwurst and mohntorte.
Le Stube, 23-25-27 Passage Verdeau, 9th, Tel. 01-47-70-08-18. Metro: Le Peletier, Grand Boulevards, or Richelieu Drouot. Mon-Sat 8.30am-8.30pm, non-stop. Avg 15 Euro