PORTA GAIG, Barcelona, B+, and Why the Sad Ongoing Gastronomic Turbulence at Paris Airports?
August 11, 2012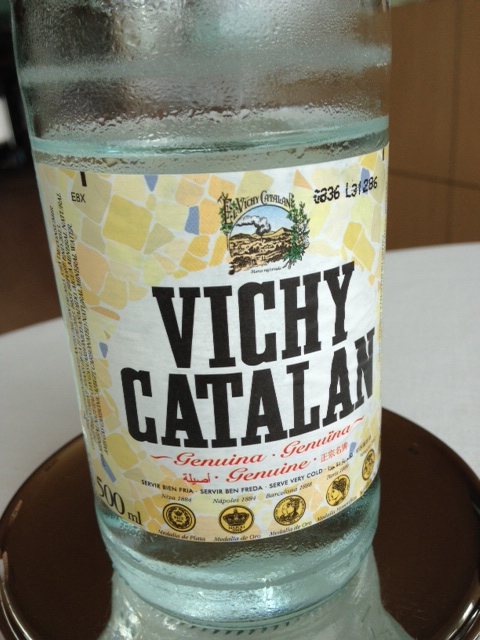 To be sure, Aeroports de Paris, the organization charged with running Paris's airports, seems to regularly announce (much-needed) improvements, and recent renovations of several of the older terminals at Charles de Gaulle are indeed an improvement over the crowded faded seventies spaces they replaced. Ditto recent refurbishing at Orly, Paris's other airport.
Unfortunately, however, Paris airports still regularly rate a 'D' (poor), at best, when it comes to feeding travelers. And I, for one—many colleagues, including my pal David Lebovitz, have publicly moaned over this state of affairs for a longtime.
It absolutely mystifies me, too, since you'd think that in the post 9/11 era, when most of us inevitably end up with more time than we need on the other side of security because prudence has us guessing our timing conservatively, ADP would recognize that there's a gastronomic goldmine to made from feeding people who decide to offer themselves a really nice meal before boarding their flight. You'd also think that some higher power that be in France, which is, after all, the world's leading tourist destination, would have long since recognized that Parisian airports represent a vital opportunity to showcase the vaunted gastronomic reputation of France. Millions of people who've never set foot in Gaul have a vague idea that it's associated with great grub and elegance, so why not pour it on if their only experience of the country is a couple of hours behind customs between flights?
Instead, even in the newer terminals, what you end up with is some weird, gimmicky and expensive-for-what-it-is outlet from chef Guy Martin, at best, or similarly over-priced and just plain dull faux health-food at AKKI, a "healthy" eating chain. Things are so lousy in terms of anything edible at Paris airports that the arrival of a PAUL (industrial bakery) at Orly struck me as a major game changer.
Nothing could possibly cast Paris's pre-flight mediocrity into a sorrier and more vividly unappetizing light than the superb lunch I recently enjoyed at Barcelona airport's magnificent Terminal 1 at Porta Gaig, a really excellent restaurant that was opened there last November by Barcelona chef Carles Gaig, who trained under Juan-Mari Arzak and owns two outstanding restaurants in the city.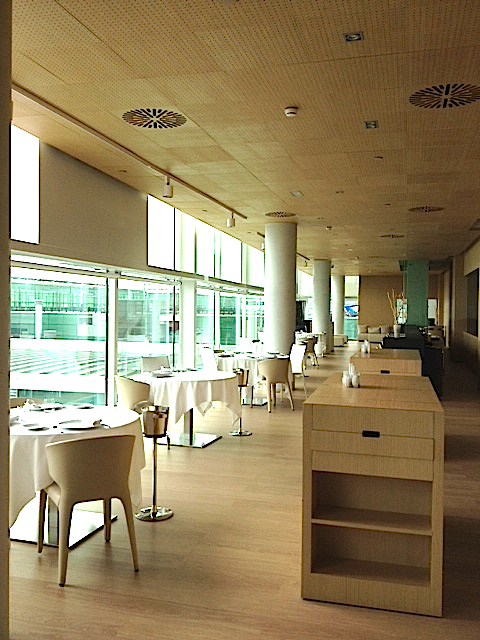 Porta Gaig, Terminal 1, Barcelona Airport
Finding ourselves at the airport rather early at the end of a wonderful seaside Catalan holiday, Bruno and I read the very appealing menu posted outside of this place and decided this sleek dining room paneled with pale beech wood and furnished with comfortable vanilla-colored modern leather armchairs at white linen dressed tables would be just the ticket to lift spirits dampened by a sudden severing from the sea, sun and Spanish warmth.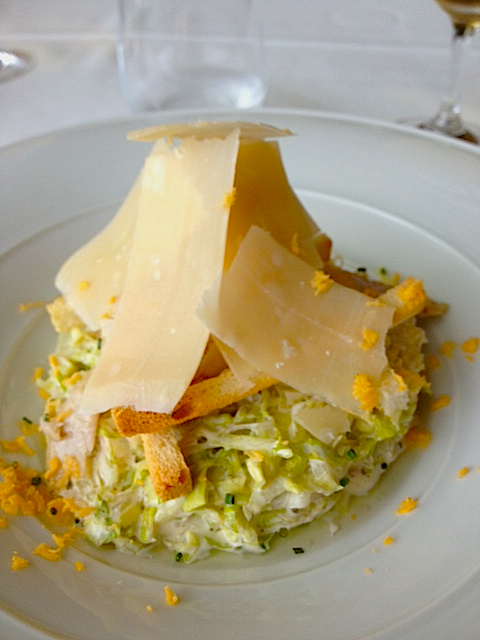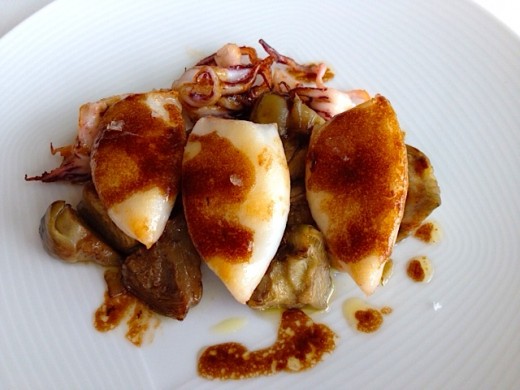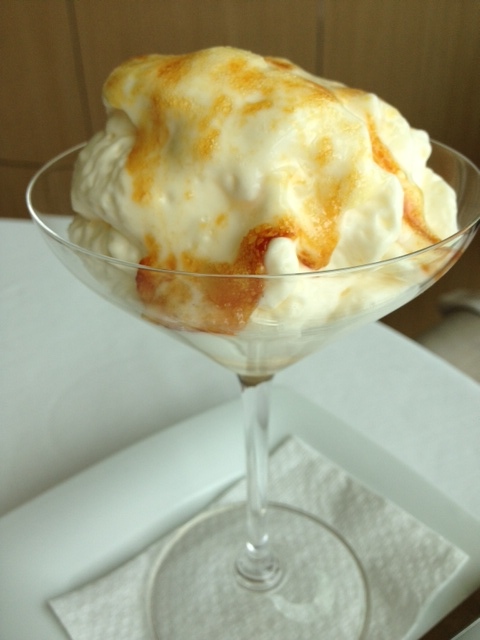 What followed was a really excellent meal. Bruno was delighted with a starter of anchovies on pa amb tomàquet, or fleshy pink Cantabrian anchovies on toasted bread dressed in classic Catalan style with garlic, crushed tomato and olive oil, and my canelons, cannelloni stuffed with hashed roast veal and served gratinated in a light Bechamel sauce and a Gaig classic, were sublime. Bruno, who, in his love of salads, is probably almost the more American of our pair, loved the elegant Caesar salad he had as a main course, and my baby squid with artichokes in a ruddy almost funky sauce of chorizo drippings and roasted tomato puree were delicious. The little squid contained that wonderful milky juice you find only in the freshest of these cephalopods, and the carefully turned artichoke hearts were clearly fresh. I thought that the deconstructed crème Catalane that Bruno ordered for dessert would be gimmicky, but was proven wrong—it was a pleasantly light dessert with strong flavors of caramelized sugar and eggy custard.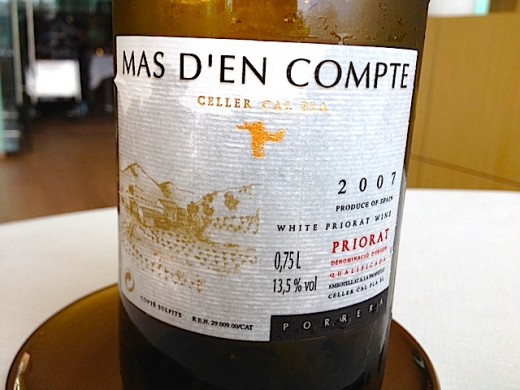 If the food was terrific, the other glory of this table was that the wine list allowed me to finally snag a rare bottle of the white Priorat that I'd been assiduously hunting down all week long to no avail (2007 Mas d'en Compte, FYI). Bref, this was a superb and very reasonably priced meal that left us not only profoundly well-fed but with a freshly budding desire to return to Catalunya again as soon as possible. And surely this is exactly what Paris airport eateries should be aspiring to—promote both Paris and France. So hey, how's about a branch of Benoit at 2E or 2F at Charles de Gaulle—Alain Ducasse is such a consummate pro he could pull this off to great advantage, and hell, maybe a couple of Frenchie's wine bars or Le Verre Vole's here and there? Why on earth doesn't France care more about its gastronomic image, and don't even get me started about the food in the French train stations or on French trains.
Barcelona Airport Terminal 1, Tel. 34-93-259-6210, Open noon-5pm. Average two-course meal 30€.