CIEL DE PARIS–Sky-High Dining That Doesn't Fall Flat, B-
July 31, 2012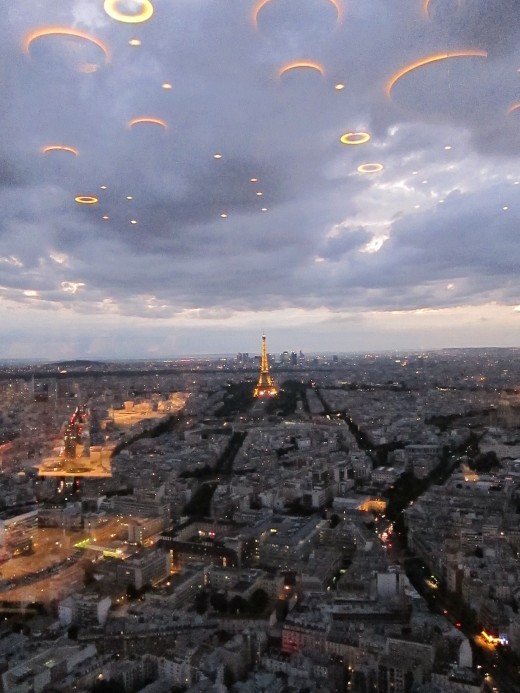 An almost universally obeyed tenet of the canon of contemporary tourism unfailingly has tourists shopping for a really good view of any place they visit. I suspect this quaint habit dates back to the era of hot air balloons and improvements in the technology of fair ground rides, which made it possible for anyone with a couple of coins to thrillingly see way over the tree tops for the first time, but beyond that there's probably always been something refreshingly if head-spinningly humbling about a really good view, since they have a way of putting us in our place.
In North American cities, meals with views of the dazzling tentacular metropolis below are a dime a dozen, which is why dining with a view strikes many people as hay-seed corny shading to tacky, but as far as I'm concerned I love a great view while dining. The real problem is that no one needs to be told that it's usually impossible to find a great meal and a great view in the same place.
Or do they? In Paris, there's Le Jules Verne in the Eiffel Tower, of course, where the food is good but the prices can induce oxygen deprivation, and of course the other problem here is that you don't get to enjoy Paris's most famous landmark, the Eiffel Tower, bien sur, as part of the view since you're inside it. And this is why I went off to dinner at Ciel de Paris on 56th floor of the Tour Montparnasse, the seventies vintage high rise opposite the Gare Montparnasse that's perhaps the most relentlessly loathed building in Paris for dinner the other night, with great curiosity.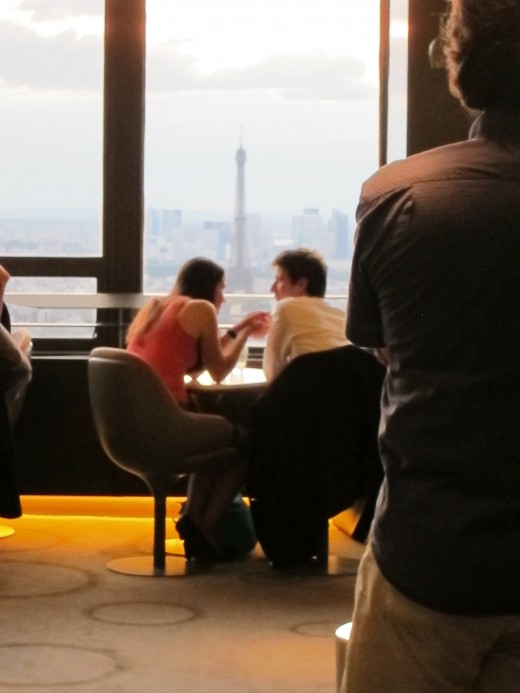 One of my oldest French friends, Christophe, a prosperous pharmacist from Bordeaux who'd once been a ballet dancer, was coming to town with his new second wife, and they'd booked for dinner here. "Alec, I know it's terribly touristy but Stephanie hasn't been to Paris since she was fifteen, so I thought it might be fun." I assured him that no excuses were necessary and quietly resigned myself to the fun of meeting the new wife—my guess was that she'd be a busty blonde, as compensation for what I was certain would be a very ordinary meal at best.
Well, suffice it to say that I was wrong, full stop. Arriving, the restaurant, where I'd once gone for an ill-fated drink many years ago, had been stylishly renovated (by French designer Noé Duchaufour-Lawrance) with a sort of appealingly campy seventies décor entire appropriate to the Tour Montparnasse—flying saucer cut-out lighting, etc., and Stephanie turned out to be chic brunette who owned a bookstore and who talked about her passion for novelist Jonathan Franzen for the first half-hour we were together.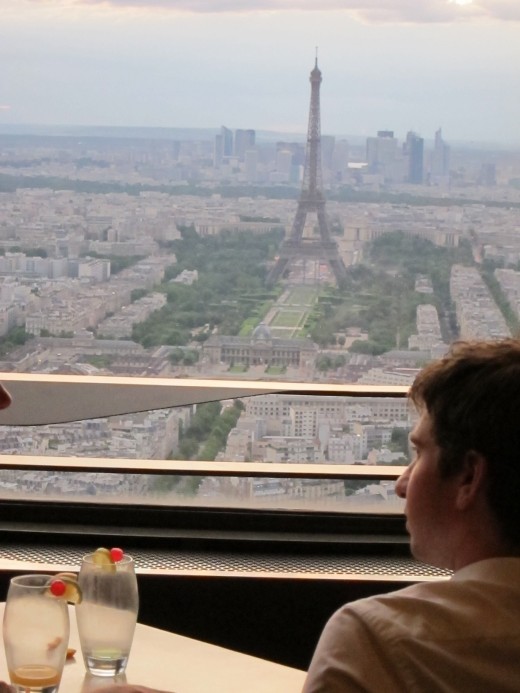 Over a good and surprisingly reasonably priced bottle of Champagne, the views of Paris were magnificent, too. When we got around to it, the menu read rather Business Class, but chef Christophe Marchais delivered a fine surprise with a starter of dressed crabmeat with a rich and ruddy gelee d'etrilles (crabs) for me, smoked salmon with an interesting millefeuille of celery root and Granny Smith apple for Stephanie and escargots with little beignets of boned pig's feet for Christophe.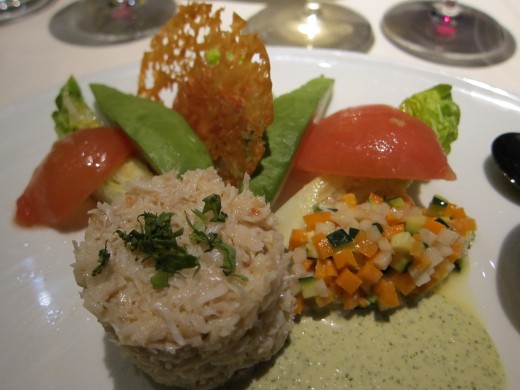 Main courses were pleasant, too, including a perfectly cooked filet of beef in truffle sauce with a very clever 'risotto' of finely diced Charlotte potatoes for me, steamed turbot with baby spinach and a seaweed sabayon for Stephanie, and lobster with black rice and fava beans with an vanilla emulsion for Christophe. This was well-conceived and executed fun festive food that avoided the pitfalls of being frilly and silly, which is what too often happens in high-altitude settings.
A well-served plate of cheeses came from Quatrehommes, and Stephanie's chocolate dessert looked like a little model of a Le Corbusier's villa—all planes and panes, but was delicious. Working in tandem with Christophe Marchais, chef pâtissier Baptiste Méthivier's desserts are studiously art-directed but also delicious.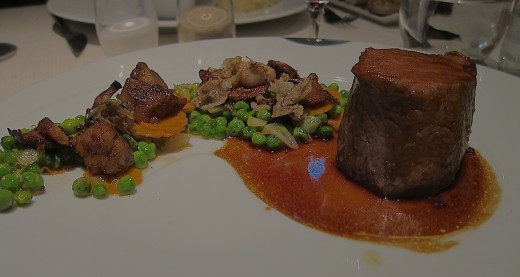 So will I be rushing out the door to eat at Ciel de Paris again soon? Probably not, but that's because I live in Paris. On the other hand, I'd certainly send visiting view hunters here, since the food and service are good, and the prix-fixe menus make it relatively affordable for a meal with such gulpingly good views of the Eiffel Tower and all things beyond.
33 Avenue Maine, 15th, Tel. 01-40-64-77-64, Metro: Montparnasse. Open daily. Prix-fixe menus: 65 Euros, 114 Euros. Late night supper menu (after 11pm): 44 Euros, 50 Euros. Average a la carte 120 Euros.