POSTCARD FROM ROME–A Trinity of Good Eating: Arcangelo, Piperno, Tricolore
January 22, 2011
After a wonderful week of eating in Rome, one dish stands out beyond all others. Though I went to many excellent restaurants, it was a quiet and solitary lunch at L'Arcangelo in the Prati district that will have me missing Roman cooking once I've returned to Paris.
Though many people balk at the idea of dining alone, they're times when I enjoy it a lot, and on this particular day, when I still hadn't completely made a mental transition from Paris to Rome, the pleasant welcome of Signora Dandini to her husband's otherwise empty restaurant immediately put me at ease, as did the fact that she told me to sit wherever I like with a big smile (the accelerating trend towards rather deranged pre-arranged psycho-social seating charts is a noisome trend that seems to have recently jumped the Channel from London to Paris).
So even though I'd already almost memorized the menu by heart (when I can, I always peruse a restaurant's menu on-line before going for a meal, since the quiet mulling and musing I can do at home always leads me to a better meal than hurried decisions made to placate an impatient waiter) I pretended to study it while enjoying a demi-tasse of excellent pumpkin soup, but was eminently ready-to-order when la Signora returned after a perfectly timed interlude that was calculated to leave me feeling neither rushed or abandoned. So I ordered the rigatoni all'amatriciana and then a main course of lamb with a poetic-sounding name that made an allusion to la transumanza, or the now pretty much extinct tradition of Mediterranean shepherds to drive their flocks from lower-level grazing lands to higher altitude pastures, normally on a winter to spring-summer cycle.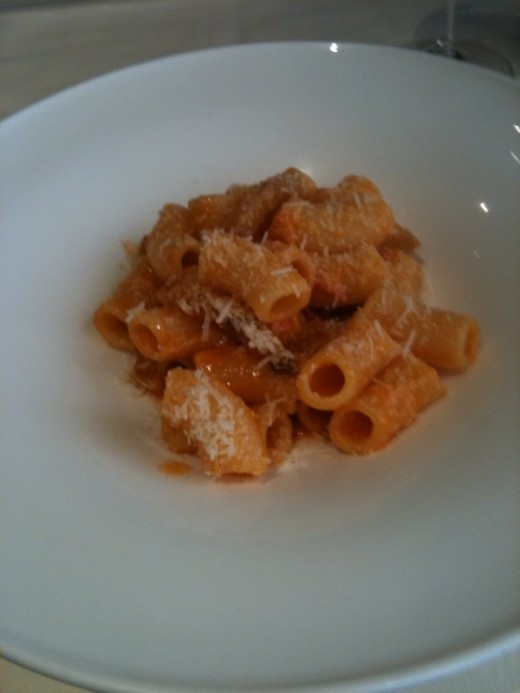 The rigatoni all'amatriciana was the best I've ever had, superb bronze-extruded pasta cooked aggressively al dente and glossed with a superb sauce of tomatoes and hot peppers studded with cubes of intensely flavorful guanciale (cured pork jowls) that were crispy on the outside but meltingly tender, and a fine dusting of Pecorino. I've made this dish hundreds of times, and manage to do a reasonable version in Paris with organic lardons from my butcher, but it will be a while before I find any pleasure in my Gallic version of this Roman dish par excellence, since this pasta was just plain sublime.
Next, the lamb, tender cubes of deeply flavorful lamb sat on a bed of gently but deliciously bitter wild greens surrounded by a pool of sunny yellow sauce (egg yolk, pecorino and black pepper) garnished with olive-oil painted croutons.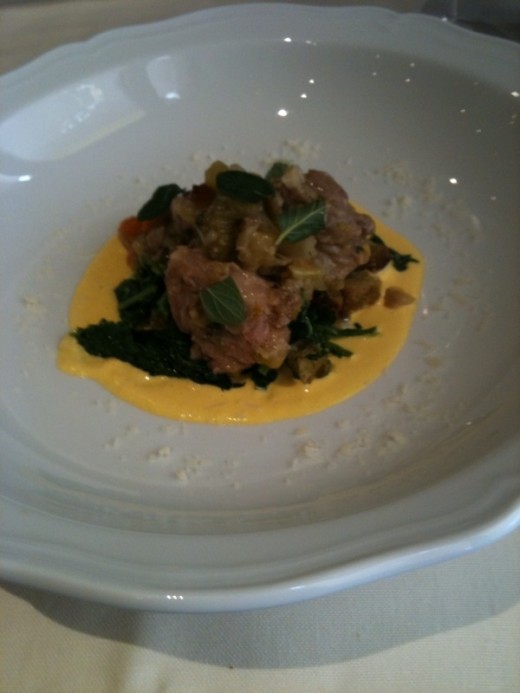 Aside from the fact that it offered a superb tableau of complimentary tastes and textures, what was really exciting about this dish was that it was so deeply well reasoned. Chef Arcangelo Dandini is from the Lazio town of Roccca Priora, and so he knows the indigenous ingredients of this part of Italy by heart. "The idea of this dish is that it combines all of the foods that local shepherds might have eaten during la tranzumanza in the past," Dandini explained when I complimented him. "They ate bread, Pecorino, eggs, wild greens, olive oil, and lamb." And this is why this dish stands out for me as a brilliant example of how a talented chef can be both innovative and respectful of local culinary traditions.
The first time I ate at Ristorante Piperno in the old Jewish ghetto of Rome was in 1972, and that lunch, with my mother and two brothers, was branded on my brain forever by the fact that one of the handsome courtly waiters told me that my Mamma was bella, a concept that had never occurred to me before—Mom? Pretty?, and even more so by the crispy succulence of the Carciofi alla Giudia, or flash grilled artichokes with which we started our meal–this cooking process leaves some of the trimmed leaves of the artichoke as crispy as potato chips, while assuring that the heart is cooked but still firm. Unusually for a family in suburban Connecticut in the sixties and seventies, we ate artichokes regularly, a feint at the fact that my father's family is originally from New Orleans (Dad would buy them somewhere near his office in midtown Manhattan and bring them home as a special feast, during which I always wondered whether it was the artichoke or the drawn butter we loved more).
So on a rainy Saturday after Judy and I had stocked up on Pecorino and Parmesan at the excellent Beppe cheese shop found accidently because Piperno wasn't yet open, we arrived for lunch, and for me, entering this restaurant was like opening a precious time capsule. To wit, nothing had changed. Everything I loved about Italy as an adolescent boy was still here to delight me as, um, well, a rather more mature man. There was an enticing display of fresh produce just inside the front door (where on earth were those wild strawberries from?), the dining room was still painted the pretty teal green it had been a generation ago, and the waiters, sly dogs, were still masters of doing an instant diagnosis on every table and then meteing out the perfect service for same.
And the food? I frankly wasn't expecting much, but the artichokes are still the stuff of memory, and my spaghetti cacio e unto (Pecorino, lardo and black pepper) was terrific. Judy had an excellent antipasto to start, and then was very content with spaghetti alle vongole (with baby clams), not at all a Roman dish, but something that's impossible to find in any really credible version in Paris.
And maybe the newsiest thing I did during this trip to Rome was head over to the newly opened Tricolore (thanks to a heads up from Elizabeth Minchilli, my go-to muse for all things Roman), the city's very hot and very innovative new bakery and paninni purveyor for a Paolo Parisi egg with white truffle shavings on corn bread. This pricey (10.50 Euros) sandwich was sublime.
Despite all of the delicious meals I had in Rome this week, one phrase, a quote from Roman-chef-in-Paris Giovanni Passerini–"The reason I moved to Paris is that Romans only really want to eat Roman food," kept spooling through my thoughts all well, and with it, came the realization that Paris is not only a vastly more inventive and innovative city in gastronomic terms than Rome, myriad though its charms may be, but almost all other major European cities right now, Barcelona included.
Ristorante L'Arcangelo, via Gioacchino Belli 59, Tel. 390-6-3210992. Closed on Sunday.
Ristorante Piperno, via Monte de'Cenci 9, Tel. 390-6-68-80-6629. Closed Sunday evening and Monday.
Tricolore, Via Urbana 126, Rome
Sandwiches from 12:30 to 3, Monday-Saturday