RESTAURANT ENCORE- Cuisine d'Amis–A Pleasant Modern French Bistro, Again (Ou encore?) B-
September 5, 2013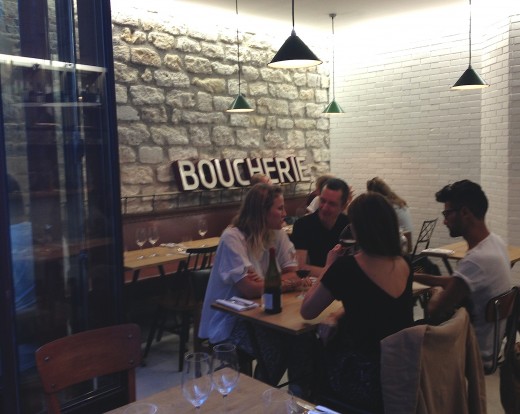 Walking home from dinner at Restaurant Encore, a new contemporary French bistro with a Japanese chef, the amiable and earnest Yoshi Morie, in the 10th arrondissement last night, I gave a lot of thought to the meal I'd just eaten. Overall, it was pleasant, and I liked the space, a former kosher butcher shop in the rapidly gentrifying rue Richer, and the service, which was really charming, a lot. The impact of the food, however, a suite of tasting plates as part of the 48 Euro prix-fixe dinner meal, was so evanescent that it made only the most fleeting of impressions. To be sure, Morie, who formerly cooked at Le Petit Verdot on the Left Bank, works with impressively pedigreed produce from a prestigious roster of suppliers, including Joel Thiebault (vegetables), Annie Bertin (vegetables and herbs), Terroirs d'Avenir, butcher Hugo Desnoyer, and the Pain des Amis bakery for bread, and several of the dishes we ate were momentarily interesting, but these fragile compositions worked like haiku, offering a brief moment of sudden clarity before rapidly fading away.
This is the challenge of the Pointilist style of contemporary French bistro cooking that's practiced at so many of the most popular and successful recently opened tables in Paris. For these gastronomic slide shows to work, they have to be vivid–even when they're being gentle, deeply imagined and sort of revelatory in some fleeting way, often by introducing unexpected or unknown ingredients or creating really fascinating contrasts of flavor and texture. When these small plates sequences work, they can be really spectacular, too. Chef David Toutain pulled this style off brilliantly when he was cooking at L'Agape Substance (he's since moved on, taking the magic with him), Bertrand Grebault masters it remarkably well at Septime, too, as does Daniel Rose at Spring and Braden Perkin at Verjus, and other chefs, including Michael Greenwold and Simone Tondo at Roseval, have moments of greatness as well–their smoked potato puree with baby clams was one of the best things I've eaten in several years. But ultimately, unless the chef is seriously gifted, these meals fade like dew. When I replay all of the small plates tasting menus I've had during the last couple of years, only a very few dishes remain in memory. Daniel Rose's sea bass with cold-smoked tomatoes and salicorne in a pool of soothing boullion at a recent lunch was an exquisite dish, and I loved chef Louis Philippe's barbecued pork with a carrot crepe at Le 6 Paul Bert, along with almost everything else I've ever eaten there, because of he's a master of differing tones of acidity, the use of smoke as a seasoning and has a deft touch with herbs and unexpected garnishes.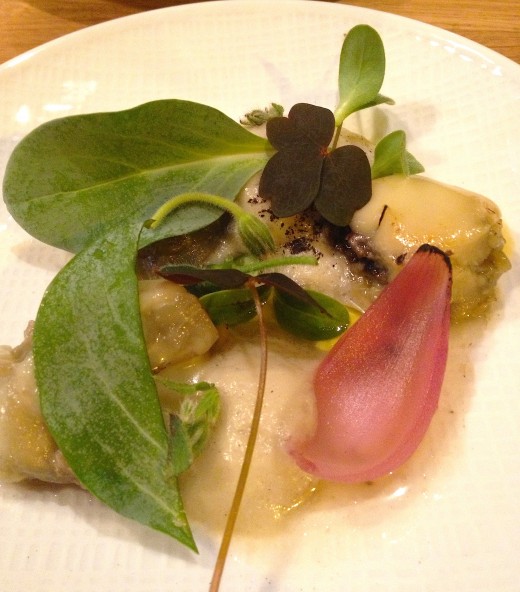 Unfortunately at Encore, our first dish (or was it our second?) set the tone for the meal that followed. A few small cubes of melted brie from Quatrehommes were garnished with borage, which has the wonderfully startling taste of oysters; wood sorrel; and a shred of pickled shallot. It was an unusual little composition but faltered for being void of any real gustatory logic. The cubes of seared tuna with tomato coulis that followed were succulent but most interesting for their appealing garnish of fresh dill, an herb still infrequently used in the French kitchen, but there wasn't any real percusion to this dish.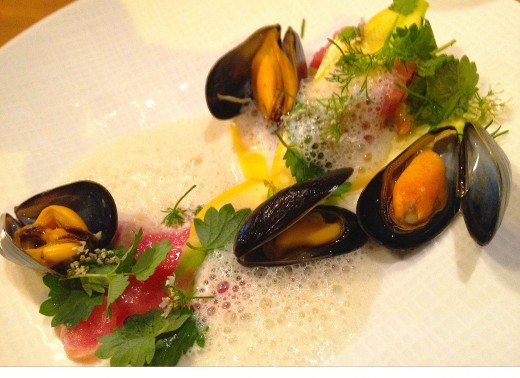 Made with excellent meat from Hugo Desnoyer, a teaspoon or two of veal tartare was served with mussels, which were too timid to create the terre et mer contrast found in a dish like veal-and-oyster tartare, a modern classic which has often turned up on the menus of contemporary Parisian bistros. This dish was pretty to look at and good enough eating, but small-plates menus come with an implicit promise of amazement, which didn't happen with this dish, or my main course, two small pieces of bavette with rather incoahate garnishes of white currants, black berries and a single grilled shallot similarly underwhelmed. My Kansan dinner date's sauteed cod with baby leeks was similarly timid, and I couldn't help but thinking of something that chef Yannick Alleno said during a recent chat, which is that every meal needs the anchor of generously served main course so that you know you've been fed. Likewise, several Alain Ducasse dictums ricocheted around in my mind–"Fushion leads to confusion," and "More than four ingredients, and a dish is too complicated."
Maybe this meal would have surprised and delighted me more if I hadn't already eaten in so many other restaurants with small-plates prix-fixe menus. But ultimately I couldn't find any real logic in this succession of culinary cameos, and pleasant enough though they were, they rarely had enough personality to distract us from our conversation. In fact, the only things I'm likely to remember about this place in two week's time are the soulful icon of the smooth old wooden butcher's block incorporated into the bar, the excellent white Gaillac we drank, the exceptionally alert and friendly service, and the pleasure of a long shaggy-dog kind of chat with a good friend. I don't doubt that Yoshi Morie is a sincere and talented chef, but I'd want him to find his own unique culinary signature and dare some livelier music on the plate before I returned for an encore, especially at these prices.
And the last thought I had before I got home was that the pervasiveness of the suppliers I mentioned earlier is having sort of a dulling and homogenizing effect on Paris's gastronomic landscape. All of them supply superb produce, but when it reaches a point that I can identify Terroir d'Avenir produce blind-folded (well, almost), it strikes me that it might be time for some of these young Turks to diversify their order books.
Encore, 43 rue Richer, 9th, Tel. 01-72-60-97-72. Metro: Le Peletier, Grands Boulevards or Cadet. Lunch menus 25 Euros, 30 Euros; Dinner menus 48 Euros, 76 Euros. Open for lunch from Tuesday to Friday. Dinner from Monday to Saturday. Closed Sunday.