Restaurant Pages – The Best New Restaurant of La Rentrée (Fall Season) 2014, A-
October 10, 2014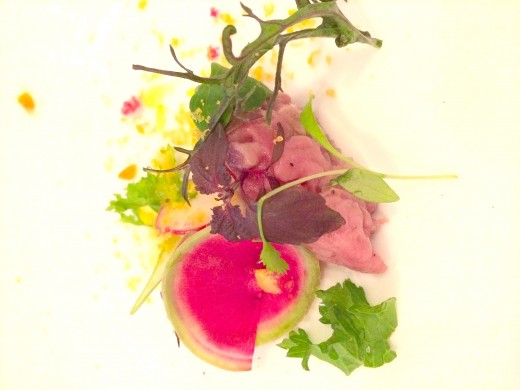 On the eve of my California book tour, I've been thinking about all the good news from Paris I'll have to share, since this year's rentrée (Fall season) has seen so many superb openings, with the best new restaurant among them being Restaurant Pages, a handsome new bistro near the Arc de Triomphe by Japanese chef Ryuji Teshima. I had already been to Porte 12 and Neige d'Ete, the two other stand out newcomers, before I went to dinner at Pages. To be perfectly honest, I arrived for this meal feeling a little weary of the trope of new restaurants in Paris these days: a no-choice tasting menu, a 'suggested' glass of wine to accompany every course, acolyte-in-a-temple style service, and produce from the same handful of suppliers. Even if it's excellent food, there is something wilting and a little unnerving about immediately being able to identify the wares of Terroirs d'Avenir, Annie Bertin, Joel Thiebault, Hugo Desnoyer and other hyped brand-name suppliers of the new generation of 'artiste' chefs who are doing what I would describe of as a sort of precious cuisine Angelique (Angelic cooking style), or one that's very delicate and sort of aggressively innocent.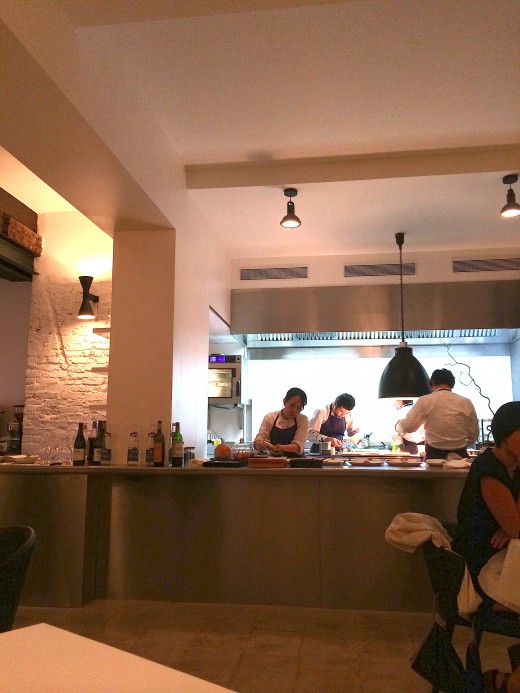 Still, despite its odd location–the 16th Arrondissement, never a lively or particularly interesting part of the city, which has now gone rather slack due to the palpable exodus of affluent Parisians who've decided they just can't bear to let the government skim them so deeply anymore–this restaurant seduced me the moment I walked through the door. It's beautiful. Aside from the exposed stone at the back of the room, the walls are white, there's an immaculate open kitchen up front, tables are comfortably spaced and the lighting from black matte re-editions of lamps that are a famous sixties French design is gentle and beautiful. This initial impression of an alluring serenity was immediately enhanced by the elegance and graciousness of the all Japanese serving staff.
"One of the things I love best about the Japanese is that they're able to be proud and humble at the same time," said Bruno, a spot-on observation, since the humility of the serving style here was deeply nourishing and revivifying–you felt like a welcome and respected guest–even before any food came to the table. That said, our waitress, an attractive young Japanese woman who'd grown up in Virginia before going to university in France, seemed to have drunk the whole old-school boilerplate of now very out-dated mannered French formality right down to the horrendous phrases, "Ca vous a plu?" and "Je vous souhaite une tres bonne continuation." This latter phrase has always puzzled me, because it sounds more like something you'd say to a motorist rather than someone eating a meal. Despite the socio-psychological corset she'd laced herself into, she was charming, and winsomely excited about both the restaurant and chef Teshima's cooking. It was from chatting with her that we learned that Teshima has previously cooked at Passage 53, Alain Senderens and In de Wulf in Belgium. As impressive as these credentials might be, what impressed me most, however, was that Teshima has also been an apprentice to butcher Hugo Desnoyer, the best meat master in Paris.
Even if I hadn't known about the Desnoyer connection, I might have guessed it when the first course of our meal arrive, a pretty composition–almost none of the young chefs in Paris actually 'cook' anymore, rather they layer flavors and textures in artful compositions–of candy beets, fresh coarsely chopped veal tartare, and a gentle but bracing anchovy sauce. It was an exquisite and very sexy way to begin a meal, since the carefully dosed presence of the potent little fish playfully flattered the baseline minerality of the meat.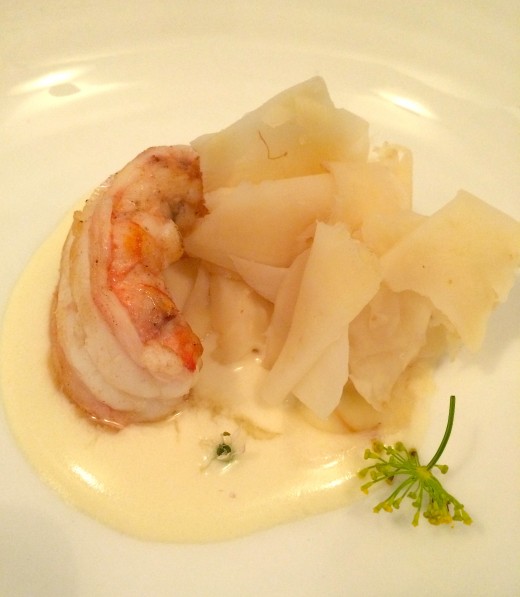 Next, an exquisite little miniature: a plump perfectly flash-fried langoustine escorted by shavings of celery bulb that had been baked in a crust of bread and a silky yuzu spiked sabayon. This dish demonstrated a stunning mastery of technique and timing, but it was with the next one where Teshima's signature started to become apparent.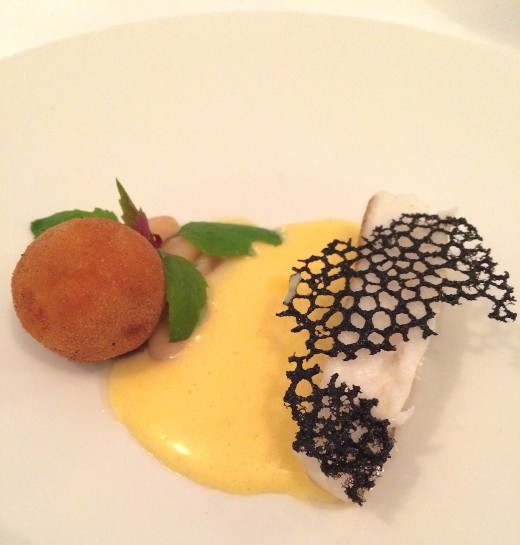 On the border of a small yellow pond of apple-wood smoked Hollandaise sauce, a lozenge of steamed yellow pollack was decorated with a beautiful edible lace made from squid's ink and garnished with a croquette stuffed with lava beans and chorizo. This dish wasn't just beautiful and deeply studied, it was delicious, since there an astonishing equilibrium of taste and texture in this dish. Unlike other many other modern bistro chefs, who over intellectualize and over conceptualize the act of cooking, there's something winningly if subtlely earthy about Teshima, and the winning proof of this is that the man is a proud and unrepentant saucier. By that I mean sauces–yes, real sauces, and not foams. Mind you, I have nothing against foams, but as Teshima demonstrates, the same new technologies used to create them can also be deployed to make a very airy sauce.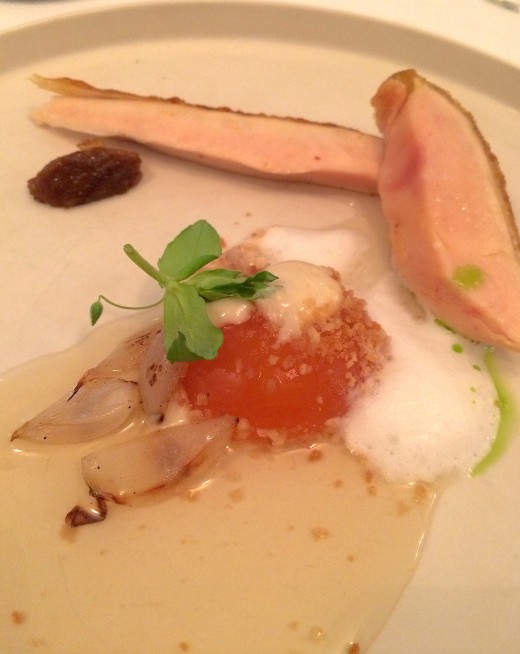 For me, the proof of a truly great meal is the gift of a new permanent gastronomic souvenir. So accumulating these marker moments doesn't happen very often. Among these marker point dishes for me–off-the-top-of-my-head–are Bernard Loiseau's frogs' legs in parsley sauce; Jacques Maximin's quart quarts fish recipe–the fish is cooked with tomato, Nicois olives, basil, fennel and bay leaves in 1/4 butter-1/4 olive oil-1/4 lemon juice-1/4 white wine, a recipe I included in HUNGRY FOR FRANCE; Paul Bocuse's black truffle soup;  Alain Ducasse's langoustines topped with creme fraiche and caviar and his chiboust dessert; and Joel Robuchon's potato puree. The new point that Ryuji Teshima added to my culinary compass was a sublime dish of slow cooked but crusted Bresse chicken with charred onions, a slow-cooked egg yolk with the texture of thick custard, a teaspoon of smoked eggplant puree, and a skein of deeply reduced and clarified chicken stock garnished with finely chopped roasted chicken skin. Soothing and sexy don't often come as a pair, but they did in this dish, which was powerfully consoling and sensual at the same time.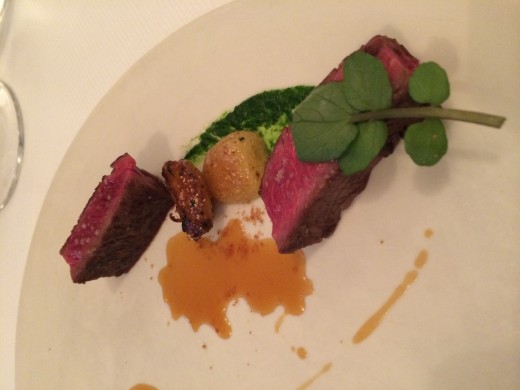 Not surprisingly, the two different types of beef–Normandy and Simmenthal–in a tasting portion with baby potatoes and a persillade sauce fell sort of flat on the heels of the chicken. But this wasn't because the dish was without interest–it was beautifully prepared and actually fun to taste the beef side-by-side, but it was a very quiet, if coherent, segue from the chicken. The dessert that followed was as gentle, sincere, and, well, yes, loving, as being tucked into bed by your grandmother on a snowy night–a verbena sudashi (Japanese egg custard) came with a scoop of currant sorbet and on another little plate, a white peach vacherin.
This was a deeply enjoyable meal and a beautiful demonstration of how a Japanese chef can sublimate French technique and produce into a cuisine that reflects both his roots and personality.
4 rue Auguste Vacquerie, 16th Arrondissement, Paris, Tel. (33) 01-47-20-74-94. Metro: Iéna. Menus 40 et 65 € (lunch) et 80 € (dinner)Closed Sunday and Monday. https://www.facebook.com/pagesparis