Restaurant 52 Faubourg Saint Denis, Paris – Good Casual Dining in the Trendy 10th Arrondissement, B-
October 24, 2014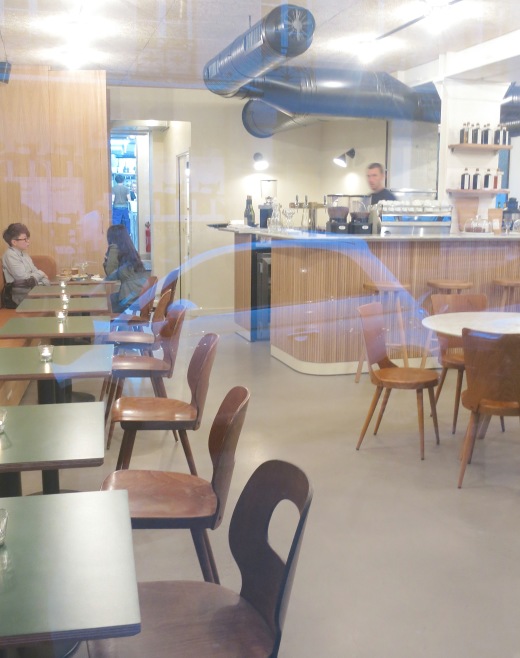 With the opening of Restaurant 52 Faubourg Saint Denis, a studiously hip bistro with non-stop service, shrewd restauranteur Charles Compagnon continues to define the emerging culinary style of Paris's rapidly gentrifying 10th Arrondissement.
This new place, which occupies a former butcher shop on the Faubourg Saint Denis neighborhood's busiest shopping street, expands on the style he originally launched when he took over L'Office, the still very good modern French bistro that brought an initial gust of hip into a quiet faded residential corner of the quarter then dominated by Kosher bakeries and butchers. Next Compagnon opened Le Richer, a sort of a Parisian version of a New York coffee shop cum London gastro pub a few blocks away, and now with 52 Faubourg Saint Denis he's built out his popular formula even more concisely.
In much the same way that New York based restauranteur Danny Meyer's Union Square Cafe in New York City defined the gastronomic personality of the Union Square neighborhood when it was in the earliest stages of its now fulsomely achieved gentrification, Compagnon is framing a distinctive restaurant idiom for the 10th Arrondissement.
It's a real winner, too. This place has the same in-the-raw industrial chic as the other two addresses, with a polished cement floor, walls that are still attractively scared by the now exposed grout of the demolished tile work of the butcher shop which formerly occupied the premises, and a an eye-catching bar where you linger over a drink or have a proper meal. Compagnon lived in New York–where he worked at the James Beard Foundation–for several years, and he has proved to be a good student of the myriad styles of casual eating venues that make that city so interesting.
To wit, Compagnon has gambled that young Parisians will like the idea of a relaxed friendly no-reservations-required restaurant with healthy, affordable, interesting contemporary cooking as much as New Yorkers or Londoners do. And they do. But this address is also a really appealing address for visitors to Paris, since it's open daily from 8am to midnight–they serve light eats outside of the main lunch and dinner serving hours, the prices are relatively reasonable, and it offers a keyhole view of one of Paris's most interesting neighborhoods right now.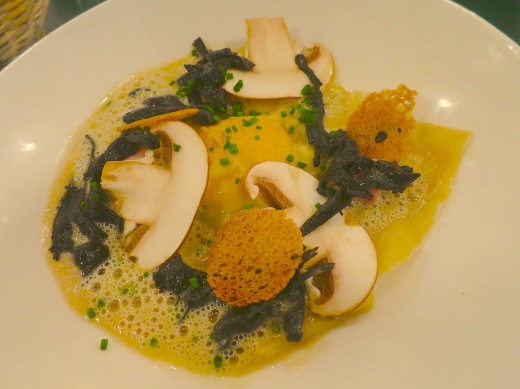 The menu is short–four starters, four mains, four desserts–but the prevailing gastro gestalt is modern French comfort food, and this the kitchen does very well indeed.
Stopping by for a Sunday supper with Bruno on a rainy autumn night when we were just way too lazy to cook, I couldn't stay away from the raviol0 (giant ravioli) with an egg yolk and soft cheese tucked inside and garnishes of croutons, cooked and raw mushrooms, and cubes of ham in a buttery, foamy sauce made with good bouillon.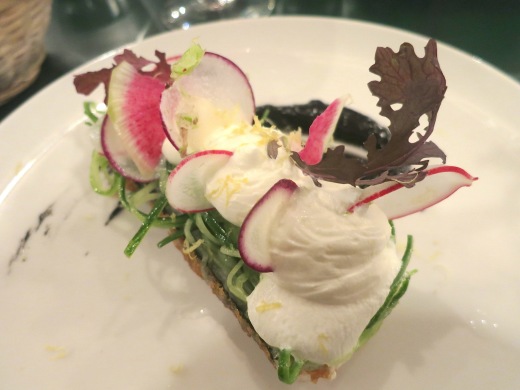 Bruno was happy with his oddly named 'maki' (open sandwich) of cucumber, radishes, and horseradish cream, but I found it rather too cerebral and lacking in flavor. A smear of pureed seaweed was probably intended to add some balance to this dish, but as delicious as the condiment was, this one undershot the mark for me.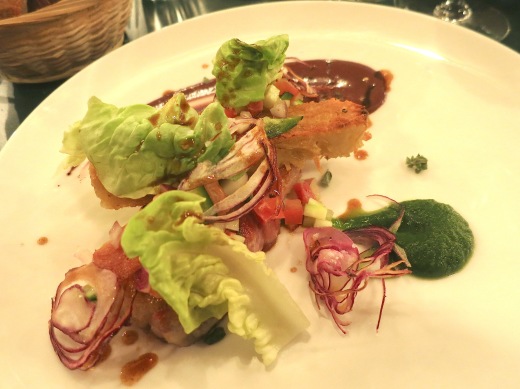 My slow-braised pork belly had a nice crust from a turn on the grill, though, and came to the table with refreshing garnishes of salad with a lively vinaigrette and a lush herbal persillade.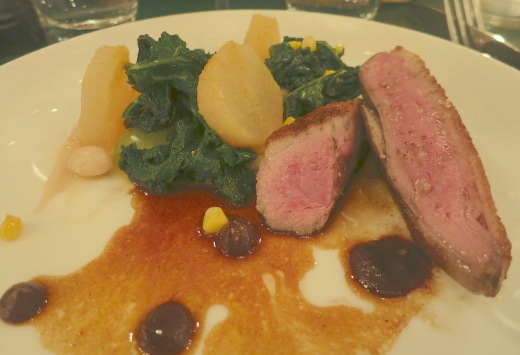 Bruno loved his beautifully cooked duckling breast–crispy skin, juicy bird–with torn kale, turnips, a scattering of corn kernels, a few pickled grapes and a light sauce of pan juices, and it was probably more revealing of the kitchen's style than anything else we ate during this pleasant meal. The menus in all of Compagnon's restaurants spin on an axis of good product and the logical compositions of taste and texture that inform well-reasoned home cooking as opposed to restaurant food.
What makes the difference? Some subtle stripe of sincerity and an endearing lack of polish that pleasantly errs on the side of food you might very conceivably have cooked yourself if you were a really good cook. And as far as I'm concerned, this is a real sweet spot, too, since the ubiquity of restaurant going in most large Western cities is today as much a reflection of being time short as it is an expression of bourgeois leisure. If you're an overworked professional in a big city today, you go to restaurants often, maybe even too often, and so it's really nice to come across food that is more about making you happy than it is about expressing the chef's 'vision' or 'personality.'
This is, in fact, where I think much of the best cooking in Paris is coming from right now–that place where a professional culinary education intersects with an earnest desire to leave people feeling well-fed in the broadest sense of a restaurant meal. Examples? Le Servan, Restaurant Pages, and all of Charles Compagnon's tables.
Restaurant 52 Faubourg Saint-Denis, 52 rue du Faubourg Saint-Denis, 10th Arrondissement, Paris, No phone. Metro:  Strasbourg-Saint-Denis. Open daily from 8am to midnight. Lunch service from noon to 2.30pm, dinner service from 7pm-11pm. Average meal 35 Euros.