Restaurant Passerini, Paris | The Best New Italian Restaurant in Europe, A-
June 27, 2016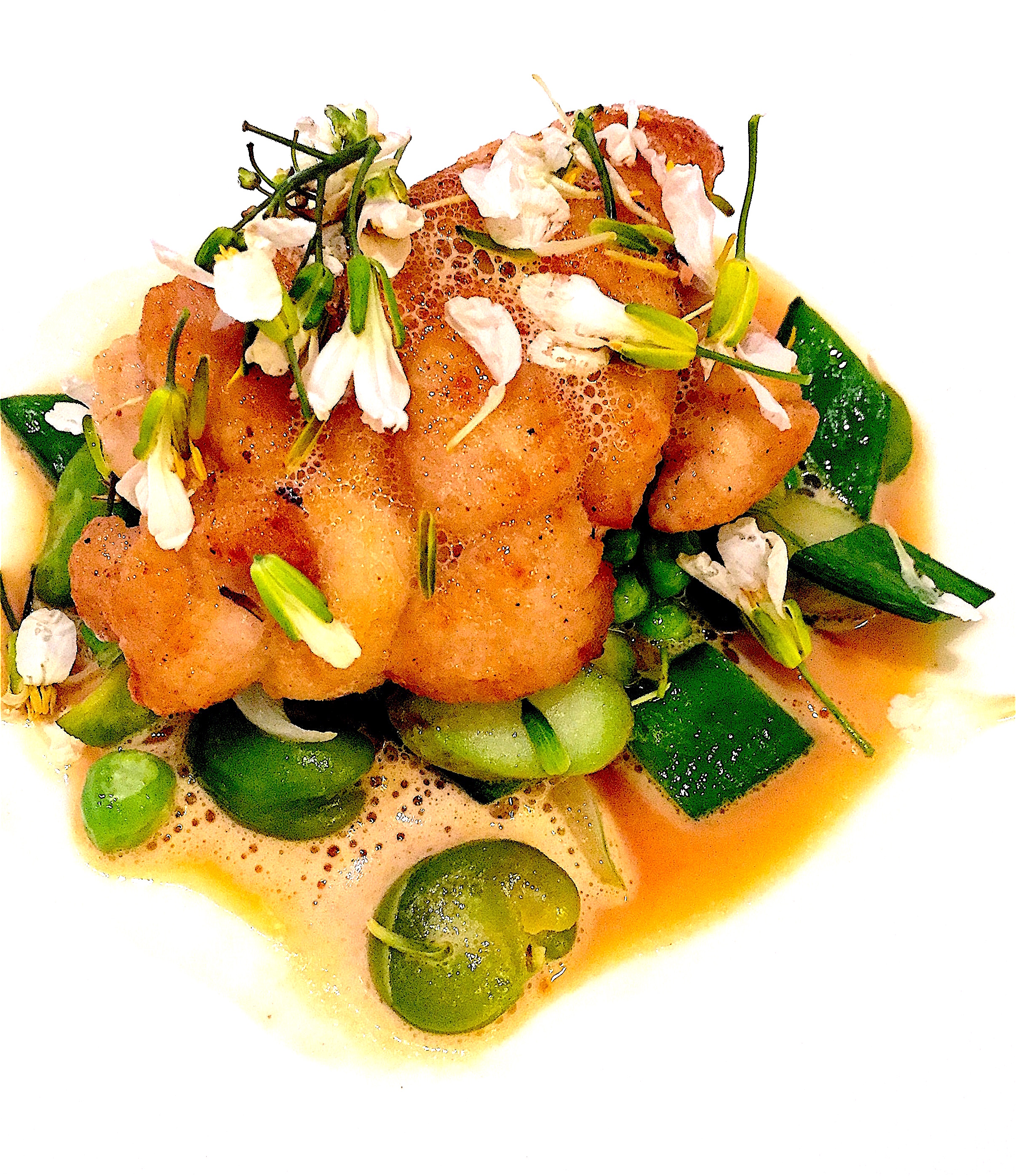 Restaurant Passerini, which occupies a spare but handsomely renovated former cafe in the 12th Arrondissement of Paris near the Marche d'Aligre, one of my very favorite Paris markets, is not only the best new Italian restaurant in Paris but Europe. Now that's a tall statement, Alec, you might think, but I know it's true. Giovanni Passerini, the Rome born former chef of Rino, the delightful little bistro in the rue Trousseau where he first won his name and which is now closed, is so solidly talented that he would be a rising star in Italy if he still lived there. And though it's not my subject here, Paris is on the brink of becoming a city that ranks on par with Rome and Milan as an ultimate destination for outstanding Italian cooking.
Why? Well, briefly, Parisians love Italy perhaps more than other European country with the possible exception of Spain, and the current mode among young chefs in Paris for highest quality produce simply prepared to express its essential goodness is every bit as Italian as it is French. In fact, this is approach to cooking is probably even more Italian than it is French, because depending on the region of Italy, the Italians exalt a gastronomic simplicity that's typified by dishes like a really good insalata Caprese (you know, of course–tomatoes, mozzarella, olive oil, basil, salt), an excellent pizza, or a great risotto.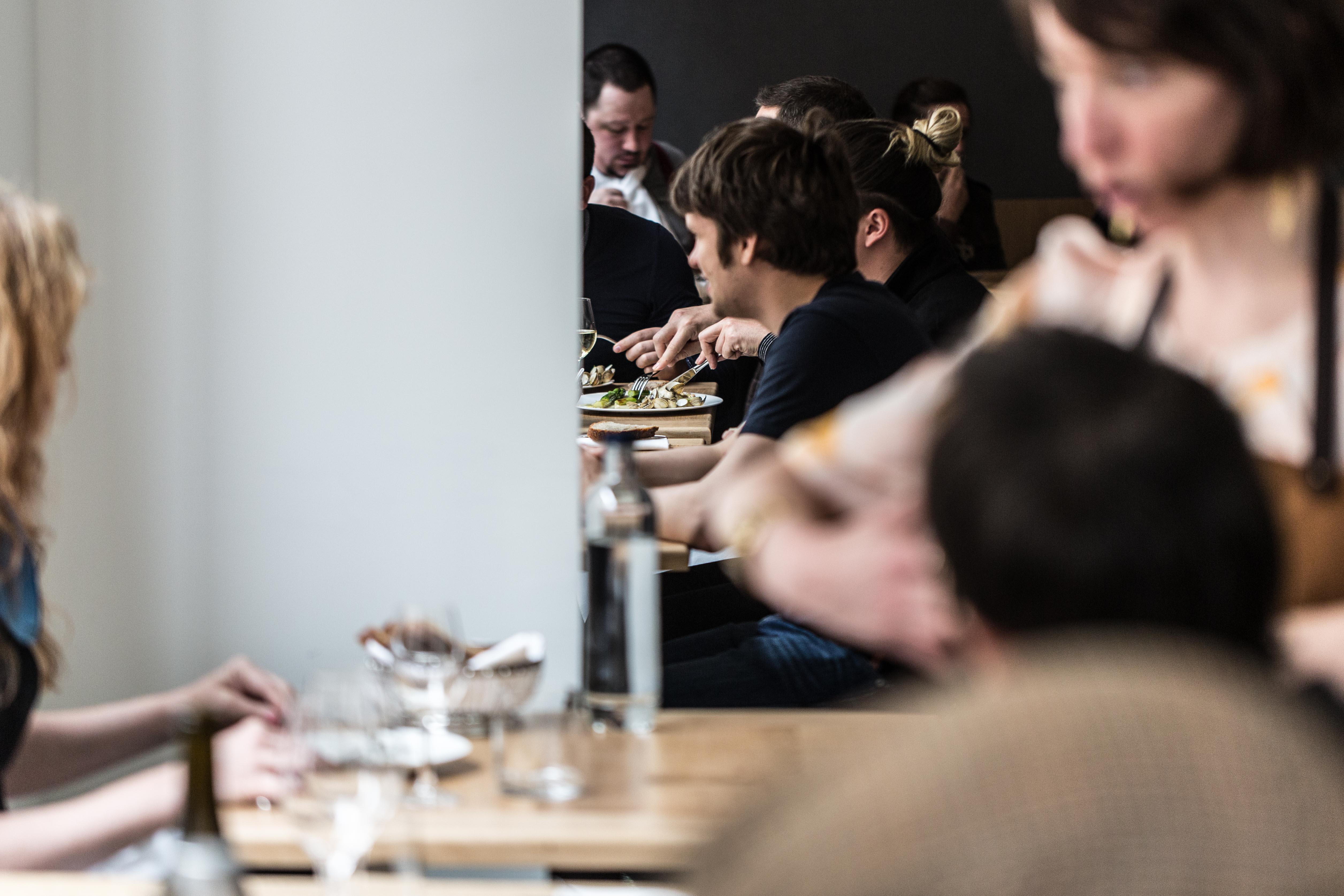 Well, this is how Paris wants to eat right now–simply, with the alluring sideways twist that Italian cooking is also usually as full of flavor as it is low-fat. For me, this explains everything about the new gastronomic Italianophilia in Paris right now. And even though I rarely recommend foreign restaurants in Paris, because I believe most travelers come to the city bent on eating as much French food as possible, Restaurant Passerini is such a good restaurant that it completely warrants a meal on the carefully plotted dining schedule of even the most discerning Paris bound diner.
"It's a lot of pressure for me to represent Italian cooking in Paris," Passerini said when we crossed paths when I went to his new digs for dinner the other night. But on the basis of the meal I shared with an asutely gastronomic friend  from LA who also lives in Paris, he has nothing to worry about. His food is superb, and the restaurant itself, which channels Gio Ponti and Olivetti, or the great days of Italian design in the Sixties, is a very pleasant space in which to have a meal, especially with its gray terrazzo floors. The only thing that could use some fine tuning is the service, which was regrettably impatient shading to aggressive and even impolite to us, people whose credentials for politeness are beyond all doubt. I worked in restaurants at another time in my life and my scales always bang down hard on the side of the one who's standing not the one who's seated, because I know how hard this work is. So was it really too much to expect that our bottle of wine be served before our first courses reached the table?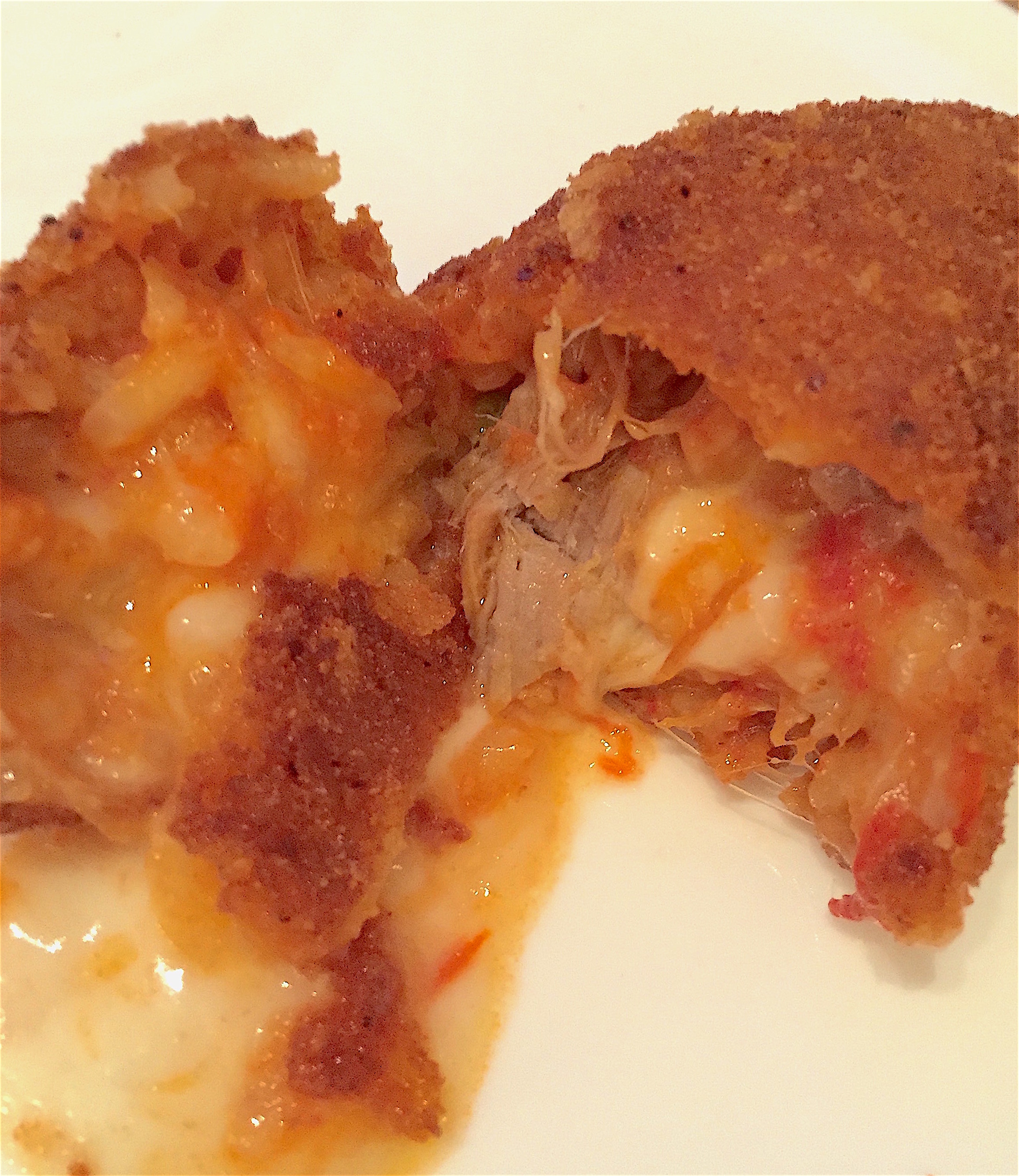 Happily, a more amenable waiter came to the rescue, and when an order of suppli–breaded deep-fried rice beignets stuffed with roast pork, cheese and tomato sauce arrived at the table, all was suddenly hugely right in the world, especially since we also loved our excellent natural wine from the Alto-Adige region. I'd never seen this ur Roman snack in Paris before, and it was not only thrilling to find it on home turf, but in a version that would be spectacularly good even by Roman standards.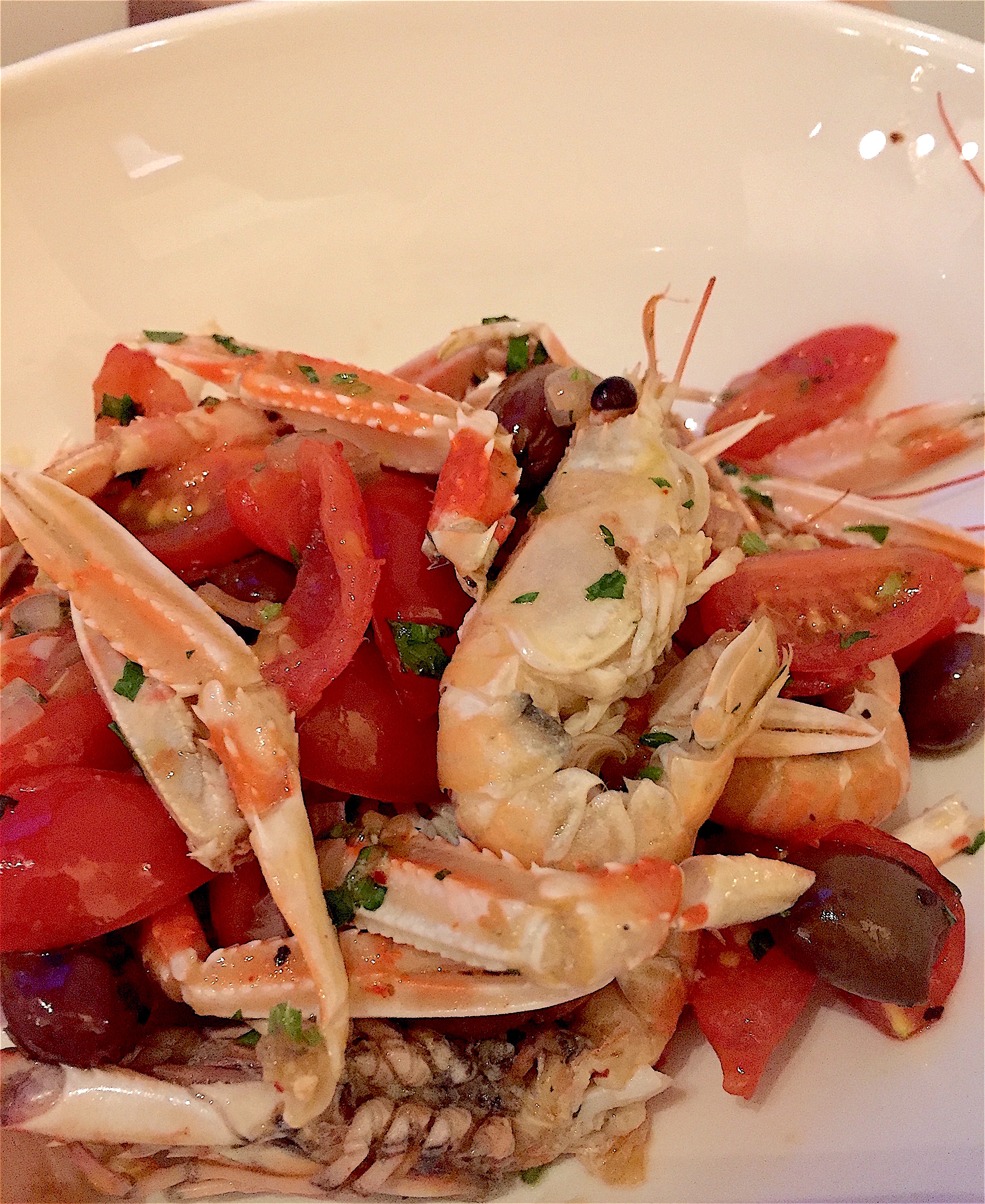 Since our approach to a menu that induced a slightly frantic fit of gastronomic greediness–there were just so many things we wanted to try, we shared most dishes, including a plate of live baby langoustines sautéed in olive oil, garlic and red pepper with a little bit of tomato and some black olives. Here, the sauce was lovely, but the langoustines were either overcooked or past prime, since most of them were disappointingly pasty.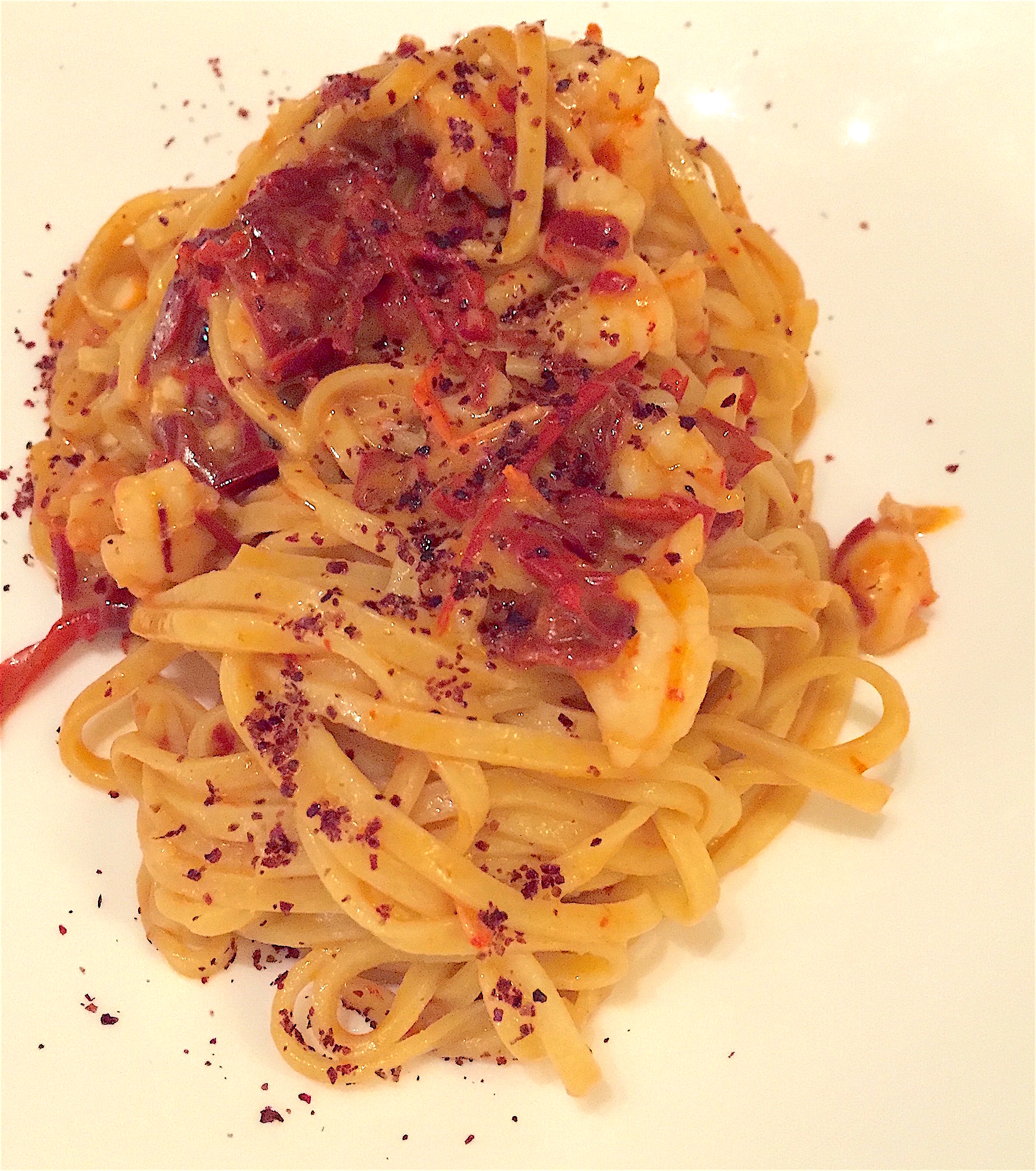 Since I knew Passerini had opened a fresh pasta shop near the Marche d'Aligre several months ago, I certainly wasn't going to let the pasta course slip by, and the freshly tagliolini with red shrimp from Sicily, dried peppers from Crusco and sumac was easily the best pasta dish I've ever had in Paris. The texture of the pasta was springy and al dente, the Sicilian shrimp were sweet and succulent in a way no imported long-distance crustacean from Asia, Africa or Central America could ever be, and the addition of sumac–ever so slightly chewy, pungent, and fragrant with a perfume that mixes dried black cherries and tobacco with pine needles and roasted red peppers, was sublime.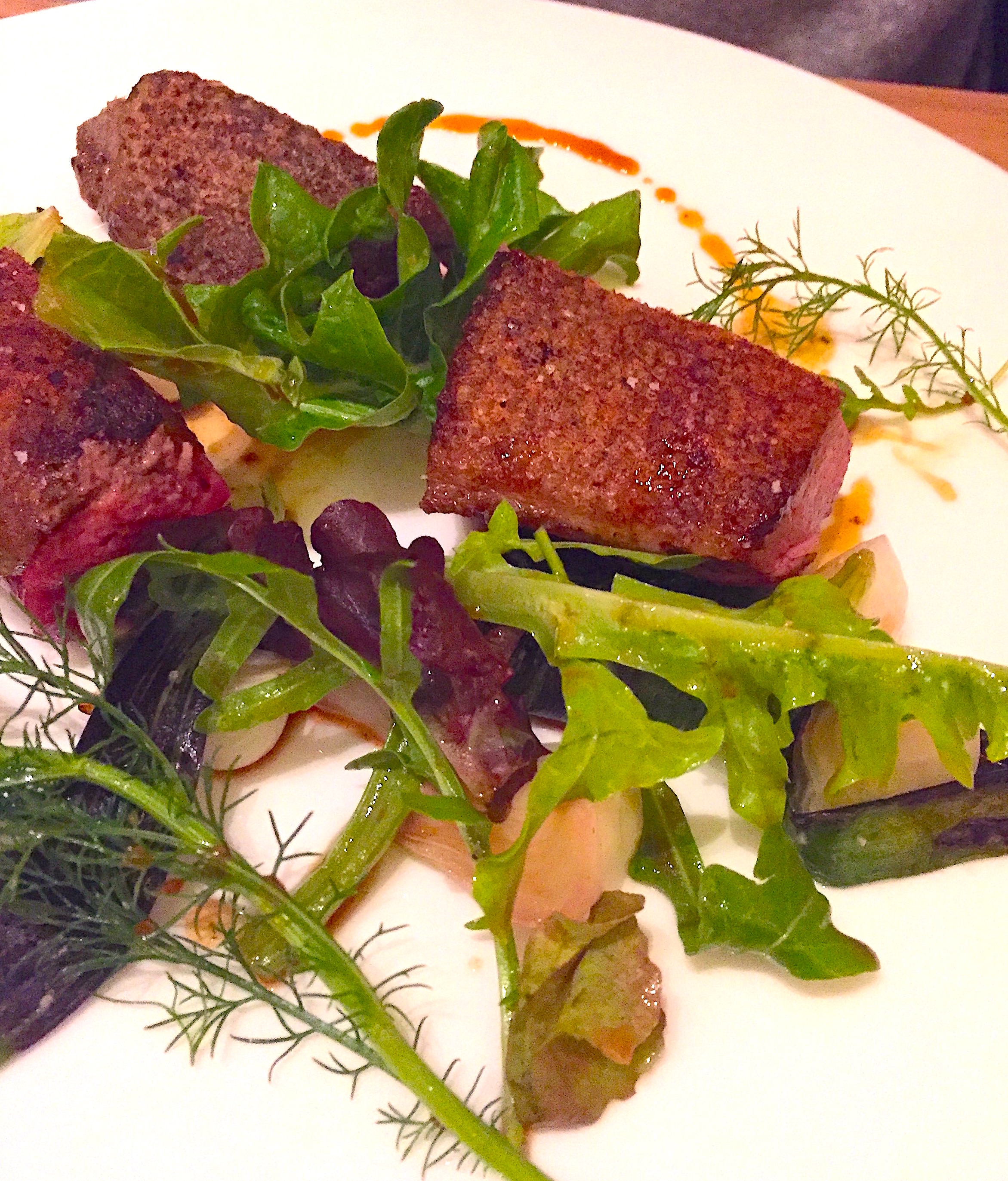 After the hors d'oeuvres, starters, pastas and main courses, there is a large section the menu devoted to dishes to be shared among four or more, including brill with lemon sauce; turbot with lemon sauce; roasted pigeon; lobster; and whole ducks and guinea hens. Since all of these dishes would have been too much for us as a deuce, I doubled back to a starter for my main course–veal sweetbreads with spring vegetables that included lava beans and peas in a suavely acidulated sauce of cooking juices and citrus (lede photo in this post). Madame chose the exquisitely roasted Challans duckling with baby onions and olives. Both of these dishes again explained the heightened magnificence of Passerini's Italian cooking in Paris, to wit, he uses the very best French produce with Italian culinary logic, and it produces some spectacular food.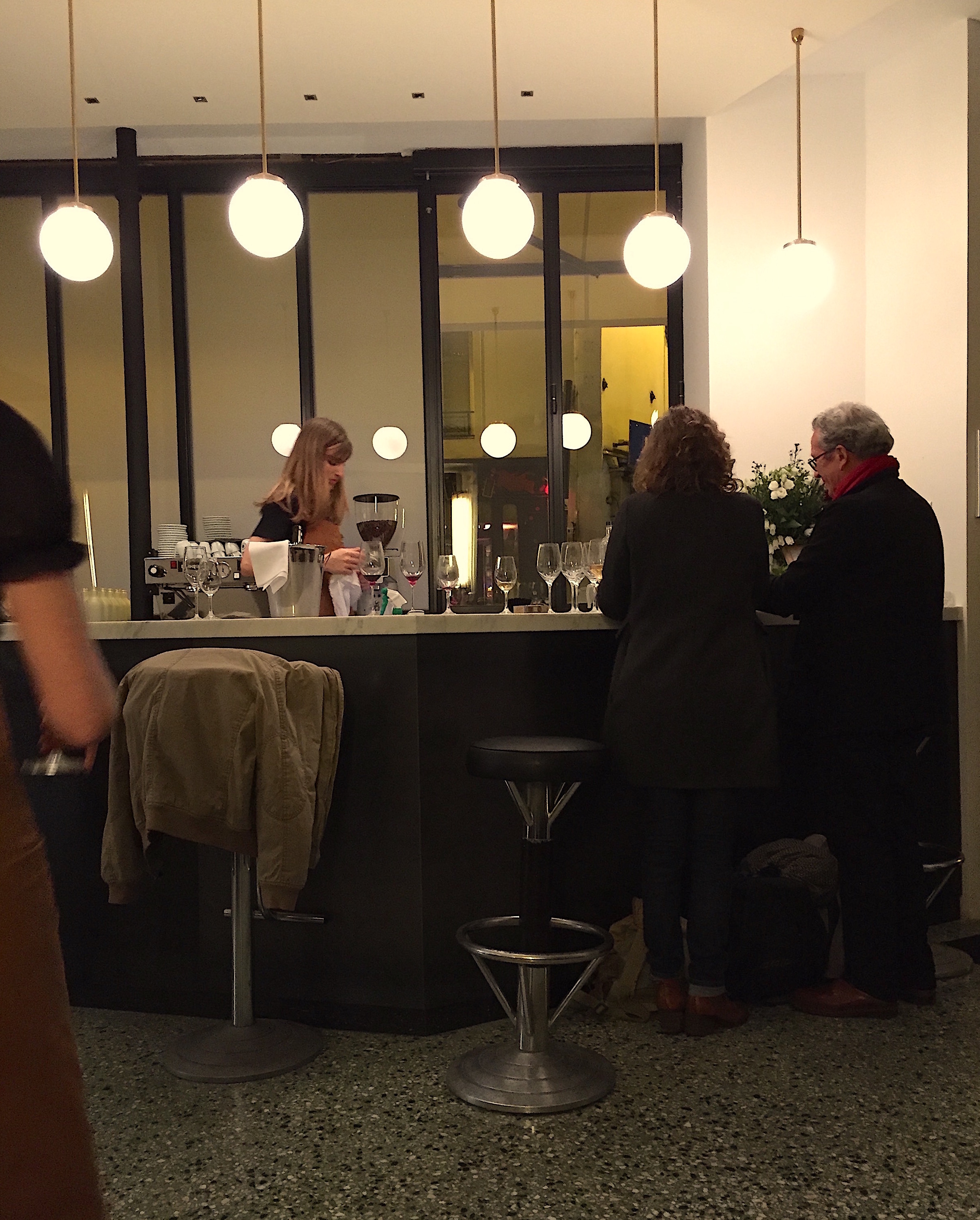 We concluded with a cheese plate that would have been better had it included more of the great Italian cheeses that are still woefully under-represented in Paris, and the only dessert that night was a baba au rhum with unpasteurized ivory-colored cream and fresh strawberries.
If the service at this restaurant will doubtless benefit from some inevitable and necessary fine-tuning–almost every restaurant is a little ragged when it's just out the gate, this table is a real gift to Paris and a poignant expression of how the French capital continues to attract, groom, discipline, teach and cherish the world's most ambitious young chefs. We're lucky that Giovanni Passerini is one of them.
Restaurant Passerini, 65 rue Traversière, 12th Arrondissement, Tel. (33) 01-43-42-27-56, Metro: Ledru-Rollin, http://passerini.paris/  Open for lunch Wednesday to Saturday, dinner from Tuesday to Friday. Saturday night, the restaurant becomes an Enoteca, or wine bar, with no reservations and a small-plates menu. Average 45 Euros.