L'Assiette, Paris | A Superb Bistro in Montparnasse, A-
June 6, 2016
Chef David Rathgeber's restaurant L'Assiette is not only the best bistro in Montparnasse, but one of the best bistros in Paris. Why? I'll let the chef himself explain why it's so good. "I don't like la cuisine d'assemblage (the modern mode for plates of food that are layered compositions of flavors). I like melded flavors that wouldn't exist without real cooking, and this is what I do at L'Assiette. Some of my dishes are traditional, like cassoulet, and others are my inventions, like pork belly with octopus, but follow the same logic of building new flavors by tempering and intensifying the natural tastes of produce you're actually working with," says the chef, 44, an amiable Auvergnat from Clermont-Ferrand. So Rathgeber is a disciple of Escoffier and his cooking adheres to the the great dictums of Curnonsky, the famed 19th century French food critic: "In cooking, as in all the arts, simplicity is the sign of perfection;" "Make food simple and let things taste of what they are;" and "Sauces comprise the honour and glory of French cookery."
To be sure, Rathgeber worked for Alain Ducasse at the Louis XV in Monaco and then the Plaza Athénée in Paris for fourteen years, but today his style is purely his own, although a certain love of and respect for vegetables continues to echo Ducasse's kitchens. Rathgeber also worked at Aux Lyonnais and Benoit, two Ducasse bistros, and he won a Michelin star while working at the former, which is  where I first discovered his cooking. Then, after opening branches of Benoit in New York City and Tokyo, he returned to Paris in 2008 and decided to take over this legendary beau-monde bistro, where everyone from the late French president Francois Mitterand to Yves Saint Laurent president Pierre Bergé once dined regularly, from the beret-wearing, wise-cracking Lucette Rousseau (aka Lulu), when she decided to retire.
"This was a perfect move for me, because the food Lulu was serving was so close to the way that I like to cook and eat, and she'd built up a solid clientele of people who love solidly traditional French food," says the chef. "Of course cooking is not static, it evolves and changes, which is why I love tinkering with old recipes to reinterpret them without causing them to lose their essential character."
Suffice it to say that there's absolutely no danger of that happening in Rathgeber's kitchen, since his cooking is exquisitely ground in Gallic gastronomic history at the same time that it's fresh, unexpectedly light and sometimes surprisingly bold.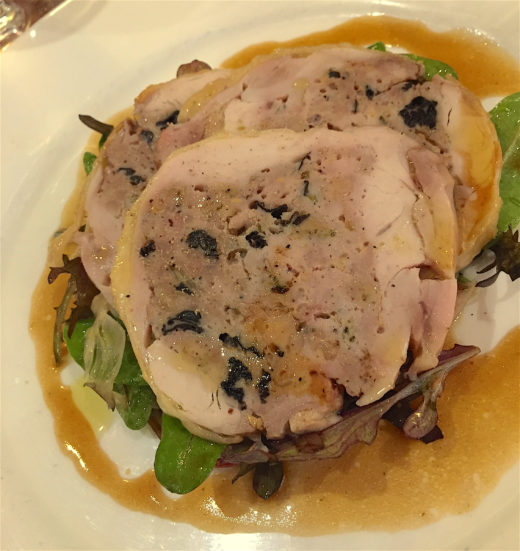 On yet another recent woefully rainy night, we were hungry when we arrived in these beautiful dining rooms with painted glass ceilings, a marble counter, lacquered bistro tables and creaking parquet floors, and the little saucer of ham that was served with our glasses of white wine was the perfectly tuned signal that we'd arrived in a place that cared deeply about good food and which would take good care of us at the end of our long days. Potently porcine, this hand-sliced highest quality Burgundian ham was a repudiating reminder that industrial charcuterie should be avoided both for reasons of health and its tragic lack of flavor and texture.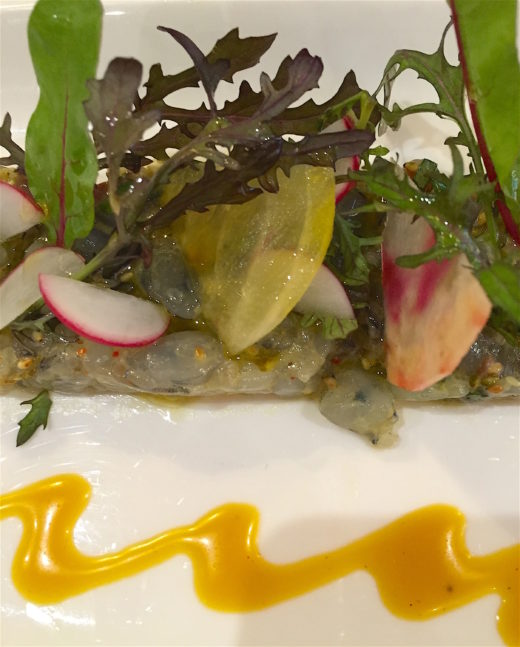 Rathgeber's menu offered so many things that both of us wanted to try that it took us some time to come to reciprocally acceptable choices. Since a real ballotine de volaille fermiere is something you rarely see on Paris anymore, because this luscious dish rolled breast of chicken stuffed with a forcemeat of its legs and thighs mixed with spinach, herbs and vegetables takes too much time to make, I wasn't going to miss it, and Rathgeber's version delivered brilliantly, since it was earthy and richly flavored and sauced with a chicken jus that merged deliciously with the Xeres brightened vinaigrette of the mesclun salad upon which it was served. Recognising that not everyone is as fiercely fanatic about old-fashioned barnyard cooking as I am, Rathgeber also proposed the unexpectedly toothsome tartare of New Caledonian blue shrimp that caught Bruno's eye. Garnished with salad leaves, beet slices and a scribble of preserved lemon vinaigrette, the crunchy shrimp were seasoned with chopped pignoli nuts, lime zest, and remote traces of lemongrass and ginger to create a dish that was brilliantly vivid and original.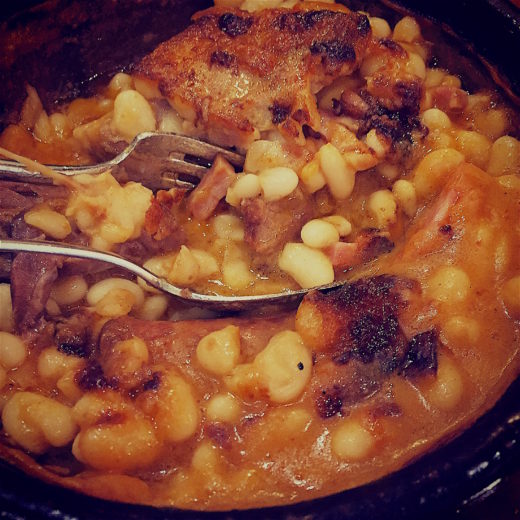 On a raw night, the maitre d'hotel counselled cassoulet as one of the house specialties, which was an entirely unnecessary suggestion, since I had already made this decision while studying the menu online during a fit of procrastination in the middle of the afternoon. It was magnificent, too, since the crust was a crispy skein of savoury lace, the white beans were al dente, the Toulouse sausage was succulent, and the sauce was irresistibly redolent of duck fat rendered by the confit de canard (duck preserved in its own fat) the sturdy ceramic casserole also contained.  This, too, is a dish rarely seen on Paris restaurant menus anymore, which why there was something celebratory and triumphant when it was lowered in front of me, bubbling and pipping hot.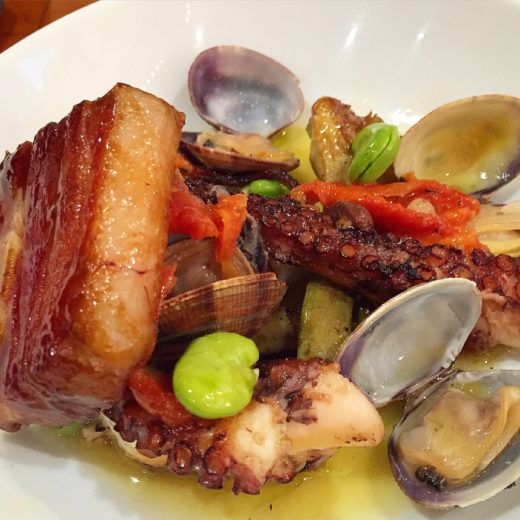 Though we're often of one mind on most important things, Bruno and I part ways when it comes to issues of gastronomic pleasure vs. healthy eating. I fall squarely for the former, while he is most likely defending the latter. But in this instance, he was truly victorious, since his pork belly and roasted octopus with baby clams, fava beans and roasted tomatoes in a sauce of cooking juices deglazed with aged vinegar offered a sumptuous possibly Lusitanian inspired tapestry of tastes and textures that were lusciously light, bright and clean.
Abetted by the superb red Saint Joseph the shrewd, friendly female sommelier suggested, a quilt-like sense of well-being overcame us, and before long we were chatting with the good-looking couple from Philadelphia across the way who were on their second honeymoons and who were also wallowing in the cassoulet. "Why is cassoulet so delicious?" the woman with the beautiful aquarmarine eyes wondered aloud, and I suggested that it was not only the ultimate Gallic expression of umami, but also a perfect reflection of those dishes Rathgeber loves best and does best, dishes with melded flavors, the duck, the fat back, the beans, some tomato, and so forth. "I think it just has to be one of the best things to eat in the entire world," she sighed, and the two of us and her husband nodded vigorously.
Then, just when a fledgling but fleeting conversation about Donald Trump briefly threatened our sense of sated gastronomic comity, the creme caramel with caramel sauce we were sharing out of delirious gourmandise and floating island they'd ordered for the same reason, arrived and propitiously puffed out the politics.
Through eight years of hard work, the talented David Rathgeber has created one of the very best bistros in Paris, and a place I am never able to return to often enough. So until that occasion, I'll dreaming about the rabbit stuffed with boned pig's feet that would have been my choice if I hadn't had the cassoulet.
181 rue du Chateau, 14th Arrondissement, Paris, Tel. (33) 01-43-22-64-86, Metro: Mouton-Duvernet, Gaite, Alesia, or Pernety. Open Tuesday-Sunday for lunch and dinner. Closed Monday and Tuesday. www.restaurant-lassiette.paris, Lunch menu 23 Euros, average a la carte 50 Euros.