Salsamenteria di Parma | The Pleasure of Authentic Italian, B
January 22, 2016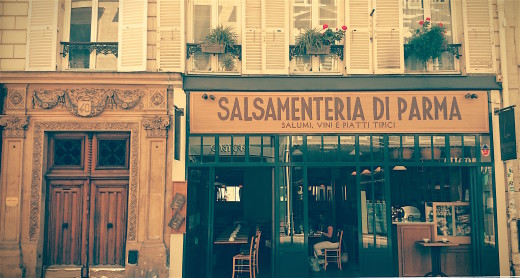 In Paris, the new Salsamenteria di Parma is a very reasonably priced trattoria specialising in the delicious foods of Parma and the famously gastronomic Italian province of Emilia-Romagna. It's an exceptionally clever and surprisingly good "fast casual" restaurant, too. I say surprisingly good, because for such honest well-cooked food made from expensive pedigreed mostly Emiglia-Romagnan produce the rapport-qualite prix (value for money) is especially impressive.
Beyond the quality of the food, I find this restaurant fascinating from a commercial and marketing point of view, too, because it so astutely satisfies the big demand for good, healthy, promptly served food in a large city like Paris with some welcome originality. The previously existing lunchtime offer in this 9th arrondissement neighborhood with many offices in the heart of Paris not far from the big department stores and the Opera Garnier ran to a dulling culinary refrain of gussied up burger joints trying and failing to sling a 'Brooklyn' attitude;  overpriced salad joints hiding their mediocrity behind jaunty graphics and insistent claims of healthy eating; sad Chinese traiteurs where the food sits in big aluminium trays inside of neon-lit glass cases, something that's always made me wonder if there might not be a single huge factory somewhere in the suburbs of Paris cranking out these dishes in industrial quantities; and a couple of cafes still serving steak-frites type menus to that diminishing number of Gauls who still like a little glass or two of red wine with lunch and perhaps a Gauloise with their post-prandial coffee.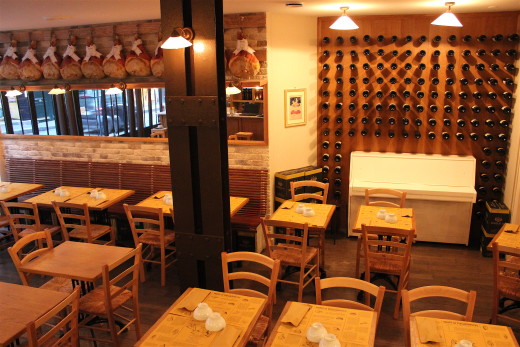 In contrast, the shopfront premises of Salsamenteria di Parma are decorated with big wheels of Parmesan over the bar and whole Parma hams hanging from hooks on the walls, and there's a mixture of opera and sixties Italian pop on the soundtrack. The wooden tables are covered with the mustard-colored paper mats you often find in Italy and set with scodella (white china bowls) from which to drink your wine–most of the wines served here are Lambruscos and other rustic and rather raspy Emilia-Romagnan ones. The menu is structured to make it as easy to have a quick bite as it is to enjoy a larger fuller meal, including tempting offers of those foods urbanites around the world seem to love the most these days–garnished flatbreads, garnished salads, and pasta, and also features many dishes that are perfect for sharing, especially the charcuterie and cheese assortments.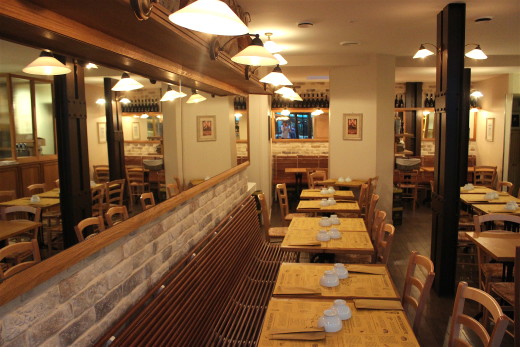 To be honest, I doubt I'd have been tempted by this place if it hadn't been chosen by a visiting friend from Milan who already knew and loved these restaurants for the simple reason of having been so very often disappointed by the Italian food in Paris (the latest letdown was La Comedia in the 5th Arrondissement, where the waiter tried to bully me into buying a 68 Euro bottle of Amazon with the promise of a 'special gift' and became sullen, even borderline rude when I declined this laughable suggestion; otherwise, the food here is served in buffoon-ishly massive portions to compensate for its mediocrity and lack of taste).  "This is real Italian, Alec," insisted Anna. "The company is based in Parma, which I'm sure you know is the headquarters town of the Barilla group, and I think they've learned the good lessons of Barilla and avoided the bad ones."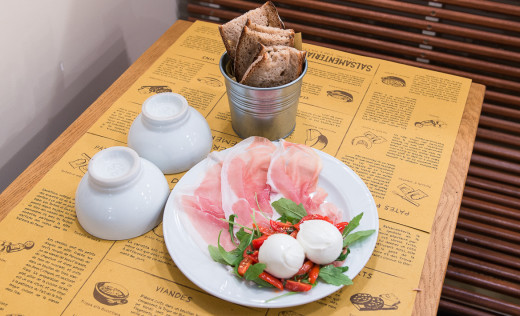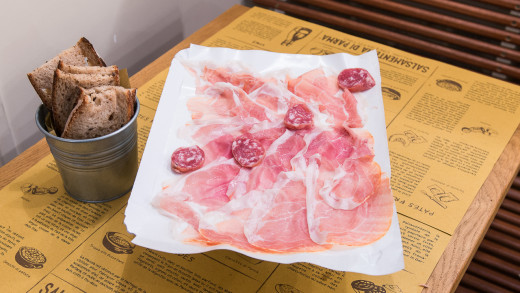 She'd also chosen this restaurant as the venue for a quick lunch during a one day visit to Paris, and because we hadn't seen each other in a longtime, I went. Aside from the wine, it was very good. In the Italian tradition of the coperto (coverage charge), we paid one Euro for bread and salsina, a dipping sauce of pureed pepper. We also ponied up another Euro per portion the artichoke and red-onion-and-balsamic sauces. They were all good, as were the Caprese di Parma, freshly sliced Parma ham with mozzarella on a bed of arugula with red peppers in oil and the Poker di Culatello, a tasting plate of culatello ham and other charcuterie.
Anna works in fashion and she talked a blue streak about how much trouble the Italian industry is having competing with illegal copy-cat producers in Asia and hand-work in places like Morocco or Sri Lanka that costs a fraction of what it does in Italy. Finally, she sighed and said: "Well, the one thing they can't copy is our food. Or maybe they can, but it won't taste as good as it does when it's real Italian." She also told me a strange but revealing little anecdote about how her uncle, an eyewear designer, had lost his job working for a huge well-known Italian eyewear manufacturer, been out of work for four months, and was then contacted by the Chinese company that has been causing his former employer so many problems to work for them as a designer from his home in Ancona. "Un mondo cosi strani!" said Anna; 'Such a strange world.'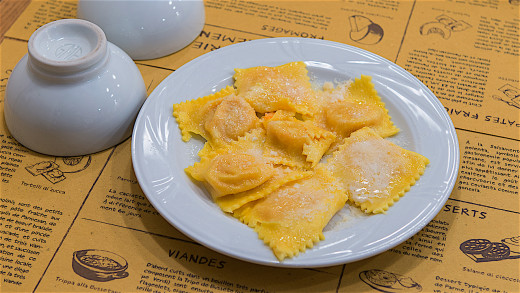 Next we shared some pumpkin-filled tortelli with butter and grated Parmesan and a Maialata, a tasting plate of roasted culatello ham and two types of sausage with nicely made potato puree.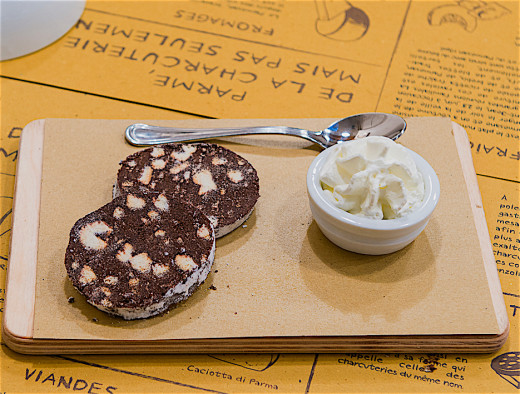 Served within the space of 75 minutes, the meal concluded with some chocolate 'salami'–a loaf of chocolate, meringue, and hazelnuts, and two good coffees.
Walking home past the local salad bars, Chinese traiteurs, etc. I found myself wondering why no clever young Frenchman or French woman hasn't conceptualised some branch of French cooking to appeal to the 'fast-casual' segment of the market. There are such rich possibilities to decline for such a concept from the regional kitchens of France, and since most of the 33 million tourists who make Paris the world's most visited city would like to eat French food most of the time while they're in town, it would seem that the market for such a product is huge.
It also occurred to me that the Italian concept as it now exists would also be a really big hit in the U.S., U.K., and most other European countries and would also work really well in airports and train stations, etc., so it has huge potential. So until the day that a French version of Salsamenteria di Parma comes into existence, I'll happily return to this cheap and cheerful little restaurant when I have a request for a quick but satisfying lunch instead of a more leisurely traditional restaurant meal.
Aside from the fact that I'll never be a fan of Lambrusco, or any other Emiglia-Romagnan wine for that matter, and the music was just a little too loud, I enjoyed this place and tip my hat to the clever team who invented this mini-chain of restaurants, since in Italy where the first one opened in Parma, there are now two branches in Milan, one in Cannes and this latest one in Paris, with more coming soon.
40 rue Saint-Georges, 9th Arrondissement, Paris, Tel. (33) 01-48-24-58-94. Metro: Trinite d'Estienne d'Orvre, Notre-Dame-de-Lorette or Le Peletier. Average 20 Euros.  www.salsamenteriadiparma.com  Also in Cannes: 86 rue Meynadier, Cannes, Tel. (33) 04-93-99-66-67.