La Rotonde, Paris | The Pleasures of Simplicity, B+
January 7, 2016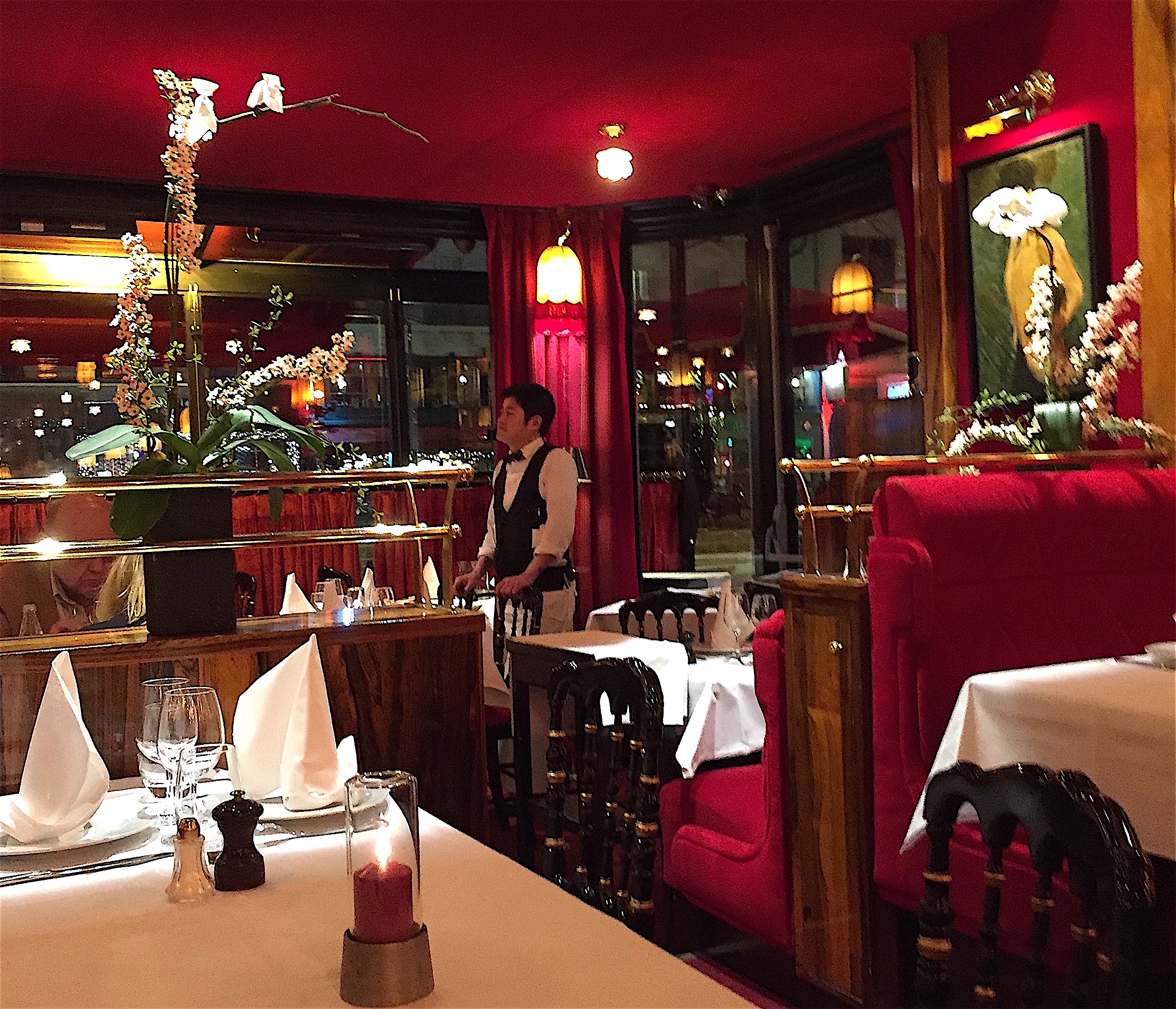 Like most Paris brasseries, La Rotonde was founded long before people started going to restaurants for revelations. No, in those days, people went to restaurants to eat, and they pretty much knew what the menu would look like even before they stepped through the door.
When it opened on the boulevard Montparnasse in 1911, the Left Bank neighborhood was just beginning to attract artists like Picasso and Chagall and it was a busy commercial thoroughfare leading to a one of the city's main train stations. So people went to La Rotonde to eat, to people watch, to while away an hour or two over a coffee or a glass of wine with the distraction of a book or a sketchpad. But most of all, they went to eat, because that's why you went to brasseries, the brilliant Parisian invention that made dining out a nonchalant metropolitan pleasure by putting it within reach of almost every pocket and every pocketbook. You went because you were hungry and could get something to eat in a brasserie pretty much all day long and often well into the night.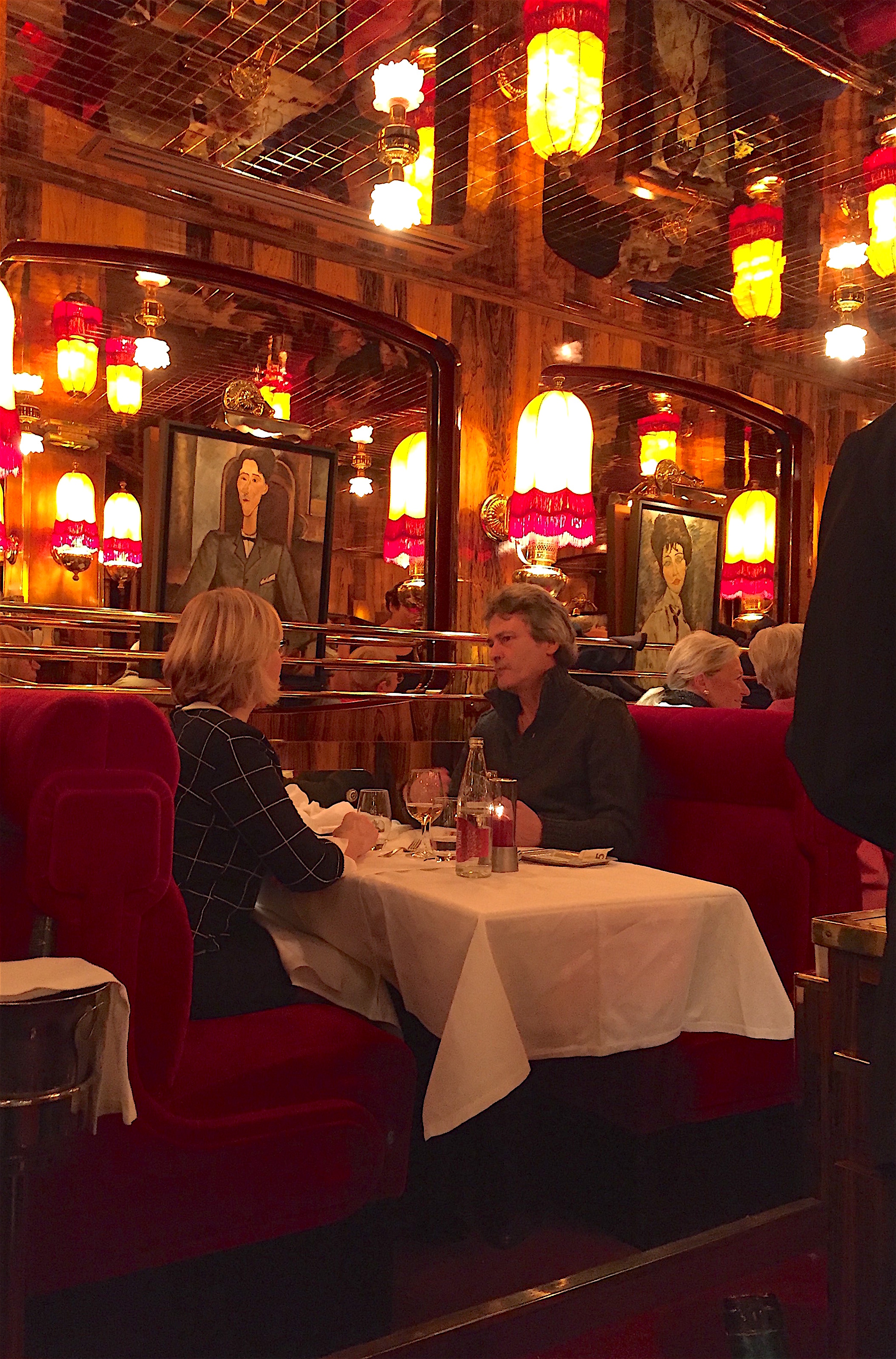 When I first moved to Paris from London a longtime ago, I couldn't have explained to you what made a brasserie different from a bistro, but I instinctively liked them, especially since I often worked very irregular hours and me and most of my friends were single. So brasseries were our default choice for a meal, the place to go to snuff out a case of Sunday night blues with friends, or unknot my nerves after work with some oysters and a bottle of Muscadet. They were our one-size-fits-all restaurant, and they reliably offered a good time and a decent enough feed for an acceptable price. (Oh, and the difference between a bistro and a brasserie? Very simply, bistros specialize in simmered dishes and sauces, brasseries are about fast cooking, like grilling or frying, with a shellfish stand out front and perhaps a choucroute garni on the menu that refers to their original roots as brewhouse restaurants in Alsace).
And then it all went wrong during the 1990s when most of the great brasseries of Paris were swallowed up by chains, which increasingly resorted to commissary-supplied kitchens and gastronomic shortcuts to make these places as lucrative as possible. The thing is, of course, is that this didn't go unnoticed, and like thousands of other Parisians, I sadly gave up on brasseries as their quality tumbled and their prices soared.
A brasserie revival has been in the making for a longtime, with chef Eric Frechon getting things off to a solid start several years ago when he opened Lazare and the Minipalais. Last year, chef Mauro Colagreco of Miramar opened the excellent Grand Coeur brasserie in the Marais. Now Alain Ducasse has a new-style brasserie slated for  Les Halles, which will open this spring, and chef Thierry Marx has another one in the works, Le Train Blanc, for the Gare du Nord later this year.
In the meantime, however, the only possible brasserie I could pull out of my hat when I had to find a place for a "cheerful and lively meal"  at the request of a friend who was inviting me and Bruno out to dinner as a Christmas present on a Sunday night the weekend before New Year's was, rather guardedly, La Rotonde. I say guardedly because if it's a popular table with an intriguing tapestry of Parisians and out-of-towners woven from   politicians, show-biz types, captains of industry, a complete alphabet of the French bourgeoisie, plus the happy shot of Lurex supplied by well-bred wide-eyed tourists who are more welcome in town than ever, the service can be luck of the draw, sometimes charming, sometimes bored and brusque, sometimes a mixture of all three.
Protective of my friend's purse and pride–she'd never ever have let us snatch up the bill at the end of the meal as would be our wont, I knew the three-course 44 Euro prix-fixe menu offered a reliably good feed for the money and also that there are several pleasant reasonably priced bottles on the wine list, too: Mâcon AOC Domaine du Gros Mont, La Roche Vineuse 2014, 28 Euros and an organic Languedoc AOC Hecht & Bannier 2014, for example. So we went.
There was a nice buzzy in the room when we came in on a rainy Sunday night, too, and it was the occupants of the booths around us provided an intriguing array of vignettes to decipher as a backdrop to our conversation as we perused the menu, which was encouragingly dotted with dishes that deserved organic shout-outs for their ingredients or brand-name produce, like a veal chop supplied by butcher Hugo Desnoyer. Here a noticeably affectionate and very attractive middle-aged brother and sister on one side of the table and their scowling silent spouses who refused to look at each other on the other. And in that corner, the older man and cute younger boy, both with the telltale wet hair of a recent shower, and across from them, hmmm, a heart-warming example of a very rare Parisian genus, a middle-aged man-and-wife who were clearly still besotted by each other.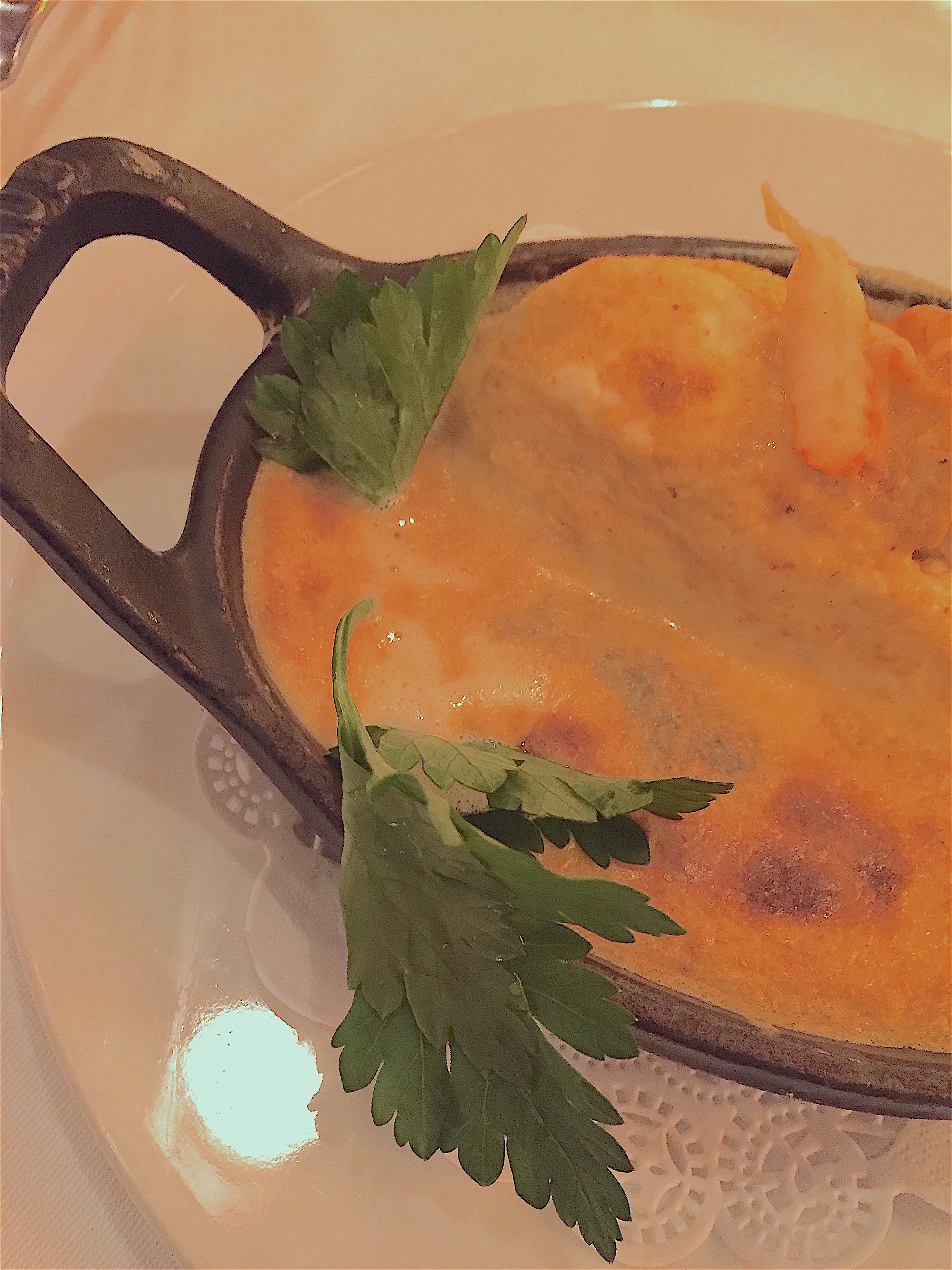 So everyone in the room was hungry, if for different reasons and different delicacies, but to start Judy chose the wild-boar terrine from the excellent nearby charcutier Gilles Vérot, and after a lot of silent hemming and hawing on my part–the odds were extremely good that I'd regret my choice, in much the same way I always regret ordering anything called 'risotto' in France–I rolled the dice and order the quenelle de brochet gratinée façon manta (fluffy pike-perch dumplings with crayfish sauce, a specialty of the Rhone-Alps region), because I love them and I wanted something light. Bruno shot me a dubious 'Do you think that's a good idea?' kind of glance but then he followed suit. Fifteen minutes later, all three of us briefly enjoyed a contented silence as we sampled our starters.
The squirt-bottle graffiti–Why? I mean, really. Why?–of balsamic vinegar notwithstanding, Judy's terrine was politely feral and had the thrillingly varied texture–by turns emollient and chunky–that displays the charcutier's true art. Our quenelles had nothing to do with the air-plane catering style dish I feared, but were airy, gently fishy, and napped in a hot sauce Nantua (crayfish cream sauce pinkened by tomato paste) that was just as comforting as a flannel blanket in a tent on a cold night.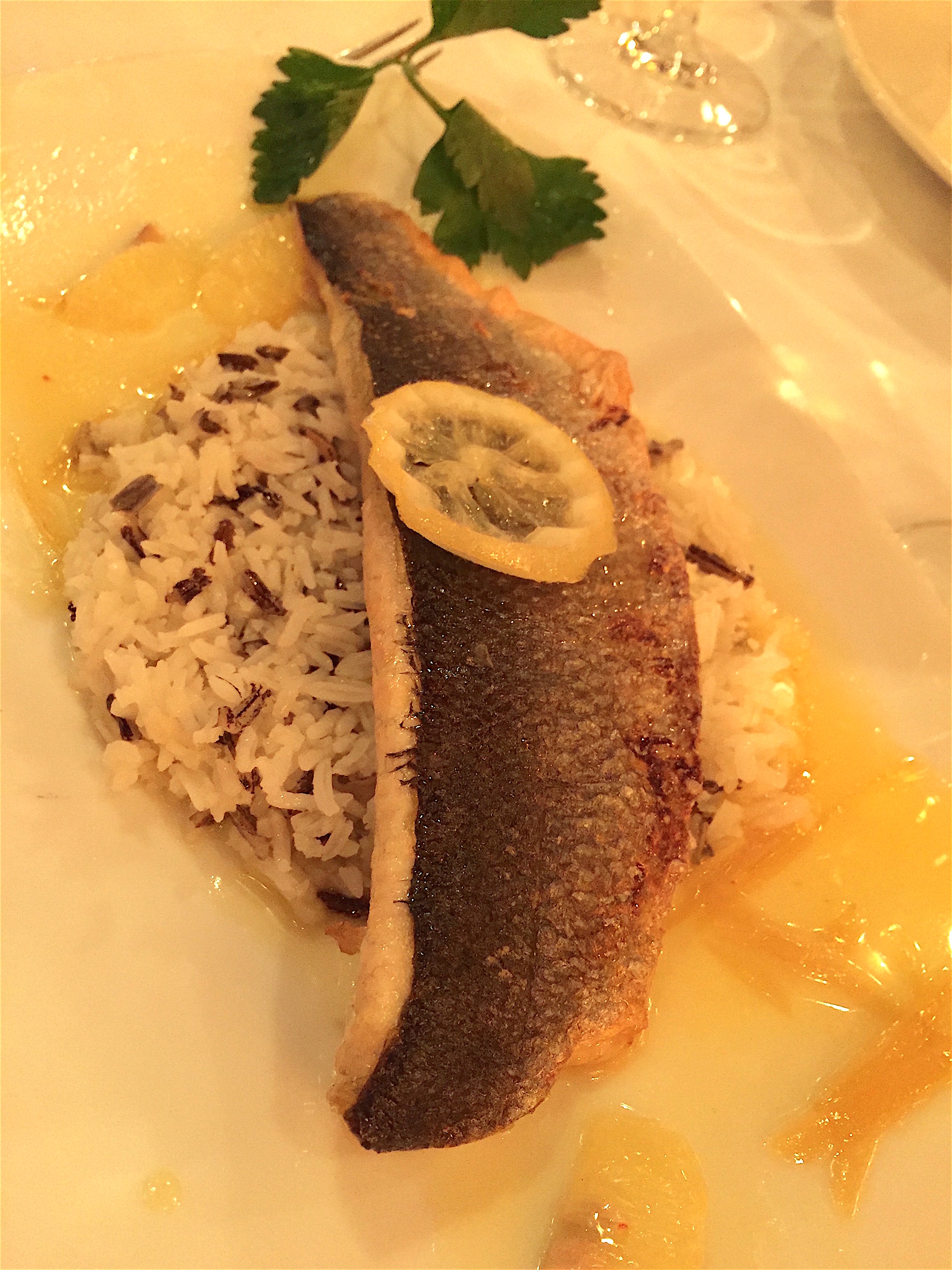 Our main courses were nicely executed vieille France comfort food, too, and this is exactly what we wanted on this particular evening. "Isn't this nice?" said Judy after sampling her sea bass filet on a bed of white-and-wild rice in a sauce of preserved lemons. "It reminds me of the good old days when you could just enjoy your food without talking it or photographing it to death." I nodded, and waited a few minutes before I started snapping away again.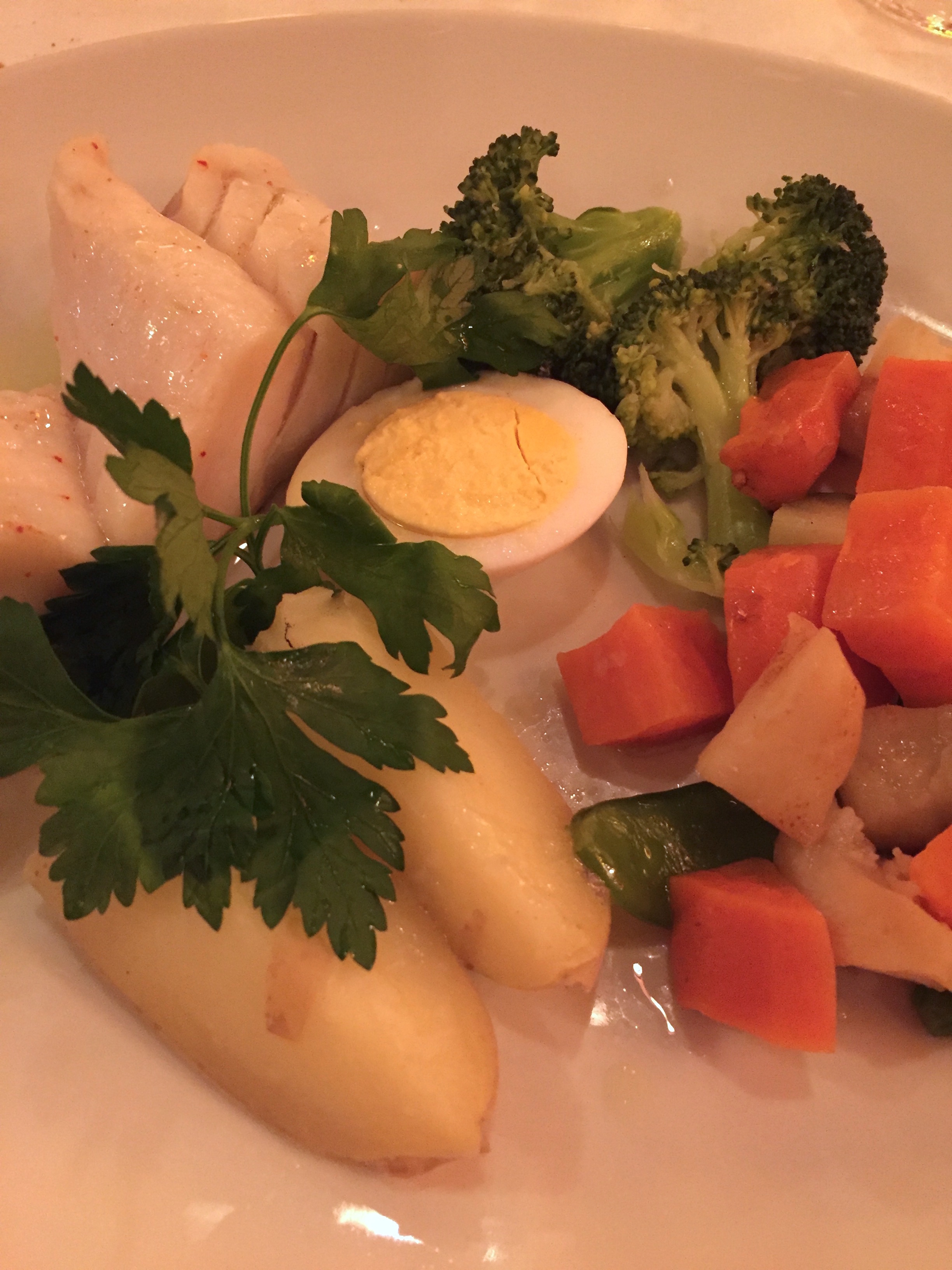 In the same way that I was skeptical about the quality of my quenelles, I had my doubts about ordering an aioli, cod and boiled vegetables with garlic mayonnaise, a provencal dish that's one of my favorites, in a restaurant where I suspected the uptight fear of bad breath might cause the kitchen to be too light-handed with the garlic. But no. The little sauceboat of mayonnaise packed just the garlicky punch I needed after several days of extravagant Christmas food, including foie gras, seared scallops in a sauce of bergamot and Cointreau that I invented, and lobster (for Bruno's birthday dinner on December 25–yes, he's a Christmas baby) all on the same day, and brought me back down to earth, which is where I like to eat best of all anyway.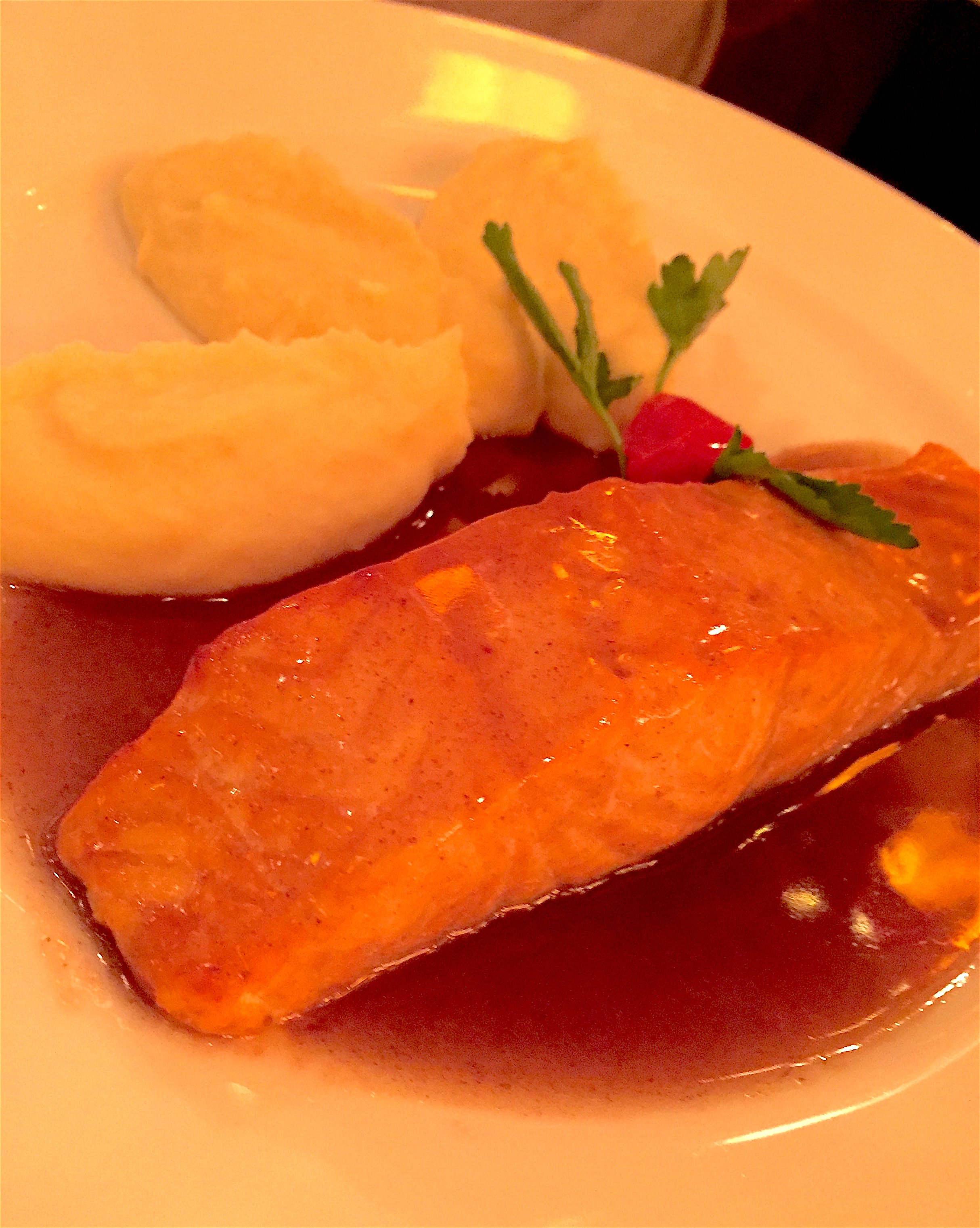 I was fascinated by Bruno's perfectly cooked Scottish salmon in a sauce Genevoise with nicely made potato puree, too, because I couldn't remember ever having sampled this particular sauce, which was invented by Escoffier. When I asked the waiter about it, I was surprised by how accurate and in-depth his explanation was, to wit, "The sauce is made from sauce Espagnole [one of Escoffier's five mother sauces, a deeply reduced brown sauce alternately made with veal stock or hambone stock], a fumet made from salmon heads, vegetables, white wine and lots of butter, bien sur." It actually even tasted as though it had been largely made on the premises, too, although many restaurants buy in their fonds de sauces these days. Oh, and by the way, if you're thinking, hmmm, that salmon's a rather grand dish for brasserie grub, you're right, but La Rotonde is very much of a black silk-stockings (and hidden garter belts) kind of a place.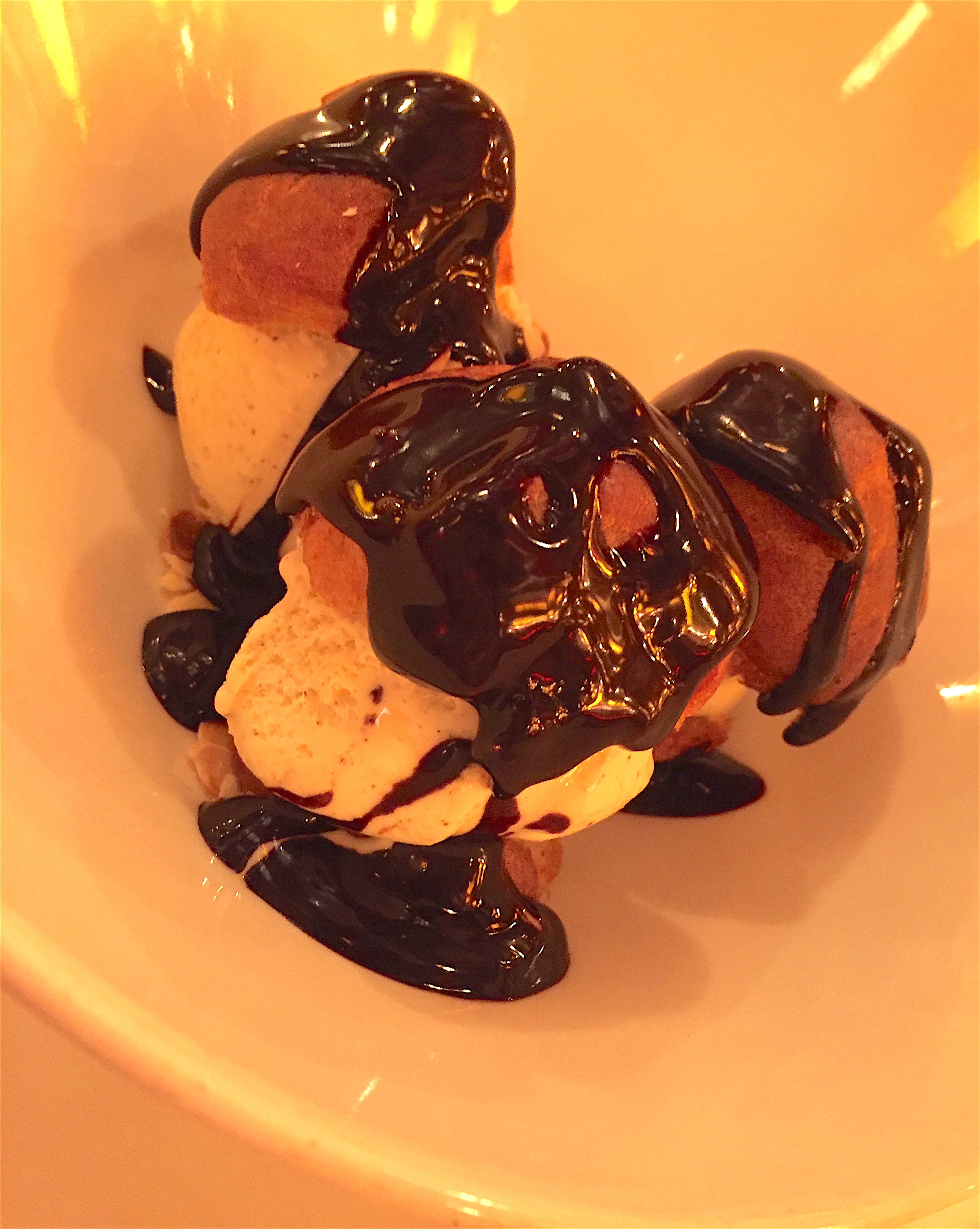 Only one of us could manage dessert (it wasn't me), so we shared some profiteroles, filled with good vanilla ice cream and lashed with a sauce of Valrhona chocolate, and they were delicious. Served with charm and a deep professional knowledge of proper table service, this meal was the kind of feed upon which the good reputation of French cooking was originally constructed, because what this food says is that you can eat well even when you're not interested in making a fuss about it or spending too much money.
La Rotonde, 105 boulevard Montparnasse, 6th Arrondissement, Tel. (33) 01-43-26-48-26, Metro: Vavin. Open daily for lunch and dinner. Prix-fixe menu 44 Euros. Average a la carte 60 Euros. www.rotondemontparnasse.com