SUR MESURE BY THIERRY MARX–Bold Haute Cuisine for the 21st Century
June 28, 2011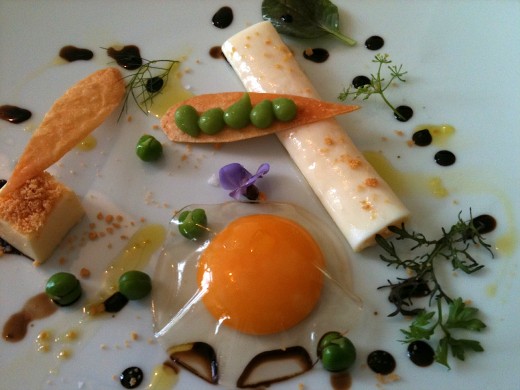 L'Oeuf Eclate
The new 138 room Mandarin Oriental hotel opened its doors in Paris today, and brilliant chef Thierry Marx fired up the ovens at his new Parisian restaurant, a stunning looking space by Patrick Jouin and Sanjit Manku called Sur Mesure that will seat only forty covers. If you're not familiar with Marx, you will be soon, and in the meantime, you might want to read a piece I wrote about him for the late but still lamented Gourmet Magazine several years ago: http://www.gourmet.com/restaurants/2009/05/the-new-marxism-in-france
Among the dishes Marx will be serving at Sur Mesure are such light and beautiful compositions as L'Oeuf Eclate, a richly imagined declension of a hen's egg, with a roll of scrambled egg white, an egg yolk, and a small savory square of Parmesan custard and a Semipris de coquillages, longuet caviar, a luxurious cameo of chopped razor-shell clams in an iodine rich foam garnished with a buttery finger of toasted caviar-topped brioche.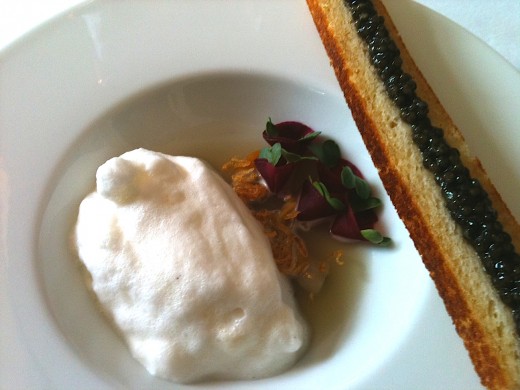 Semi-pris de Coquillages, Longuet Caviar Main courses will also demonstrate Marx's prolific gastronomic imagination, commitment to healthy eating, and fascination with both Japan and new culinary techniques, including his signature risotto of bean sprouts and truffles in soy milk foam, a sublime dish I sampled when he was cooking at Cordeillan Bages, and boned quail with spices and a jus d'herbes.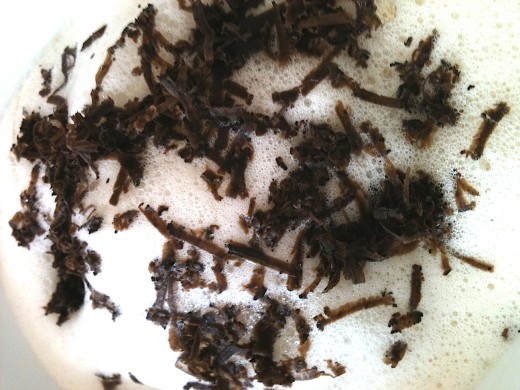 Bean Sprout and Black Truffle 'Risotto"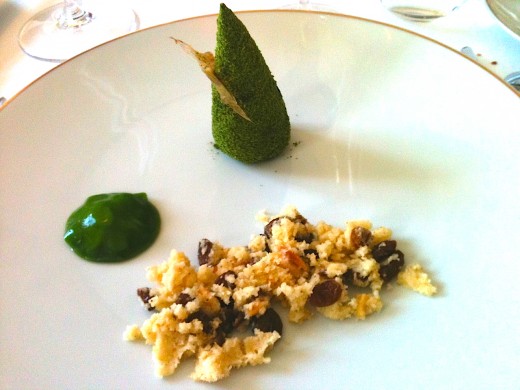 Quail with Spices and a Jus d'Herbes
Desserts will be spectacular, too, including an olive oil tart with red fruits.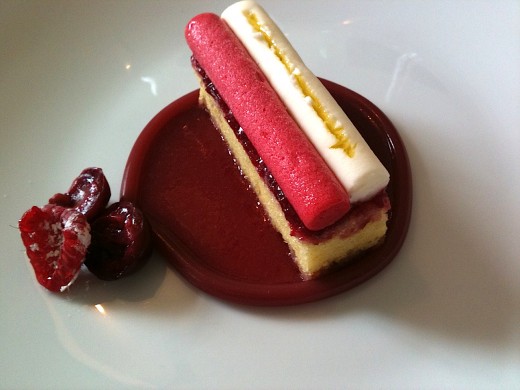 Biscuit a l'Huile d'Olive et Fruits Rouges
Stay tuned for a complete review of Sur Mesure within a week or two.
Sur Mesure par Thierry Marx, Mandarin Oriental Hotel, 251 rue Saint Honoré, 1st, Tel. 01-70-98-73-00, Metro: Tuileries or Louvre.