BOURGOGNE SUD–Decent Cuisine de Terroir, B-
June 28, 2011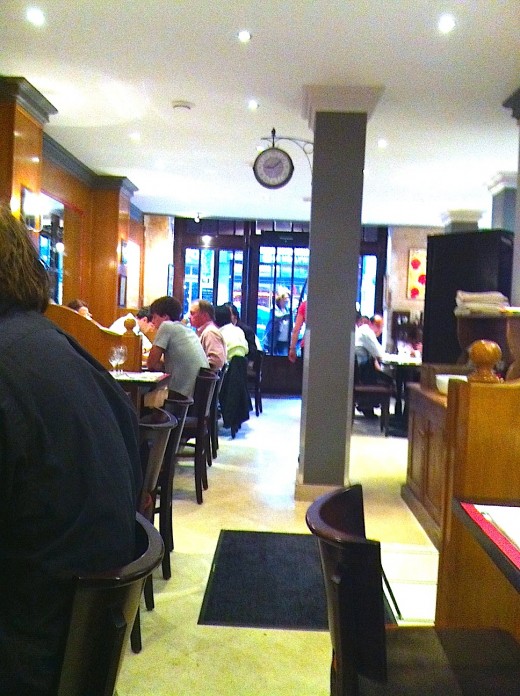 Walking to meet friends for dinner the other night at Bourgogne Sud, a new Burgundian table in the drab rue de Clichy, it occurred to me that it's become very rare for a new regional table to open in Paris these days. If the city was studded with outposts of the various regional cuisines of France when I moved here 25 years ago, many of them have closed as Parisians have become more interested in, well, cheeseburgers and Asian food than the traditional dishes of provincial France.
The highly dubious politics of the owner notwithstanding, I used to love L'Alsaco in the 10th, which served excellent Alsatian food, and Chez Maitre Paul in Saint-Germain-des-Pres for its delicious cooking from the Jura and Franche-Comte. There was a mode for provencale restaurants in the mid-eighties, a reflection of the sudden accessibility of the south of France as TGV (high-speed) train service started, but this tappered off too.
This is a real shame, since the regional kitchens of France are the brilliant gastronomic bedrock of what the world knows as 'French' cooking. There are, I think, many reasons for the current disinterest in French regional cooking in Paris, among them a preference for food that is both lighter and more cosmopolitan than Basque classics like Axoa, a succulent veal stew, or Pot'je Vleesch, a hearty northern French dish of boned rabbit, veal, pork and chicken. Then, too, the economics of running a restaurant in Paris these days do not favor regional cooking, since many of these wonderful old-fashioned dishes are time-consuming preparations that require someone in the kitchen to watch, skim, taste and adjust as the day goes by. Unfortunately, this has become an expensive proposition with the arrival of the 35 hour work week in France. Then, too, it's not easy to find cooks who know how to prepare such food–younger chefs have been primed to want to express their creativity and have rarely been trained to make these dishes of yore.
So I showed up at Bourgogne Sud hoping that this new outpost of Burgundy between the Eglise de la Trinitee and the Place de Clichy would be good. Since we were six at the table, we were able to taste a variety of different dishes, too. Starting off with a good bottle of white Macon, we were offered cubes of head cheese to nibble on, but I was the only one who went for one, or in fact several, of these morsels–the Dutchman and two French men at the table wrinkled their noses, and the two other Americans were having none of it. It was delicious, too.
One thing everyone liked right off the bat were the prices, including a 23 Euro three-course menu, which is what half of the table ordered. So we began with generous slices of jambon persille (chunks of ham in parslied white-wine aspic), real Burgundian snails, a very nicely made pork terrine spiked with Marc de Bourgogne and green salad garnished with large croutons topped with country ham and goat cheese.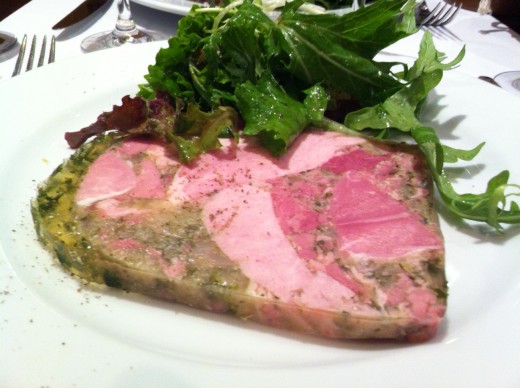 All told, this first round from the kitchen was nicely made food prepared with good quality produce, though several dishes, including the jambon persille, were under-seasoned and none of them were better than just plain good. Next, the calorie-conscious Bruno went with a steak tartare, which he said was good, while the rest of us sorted ourselves out between an excellent chicken with shallots in a vinegar-spiked terra-cotta colored cream sauce (I'd have liked for the vinegar to have been a bit more pronounced) with potato puree, quenelles de Brochet (pike-perch dumplings), and paleron de boeuf en Bouguignon, or beef braised in a pleasantly ruddy red wine sauce.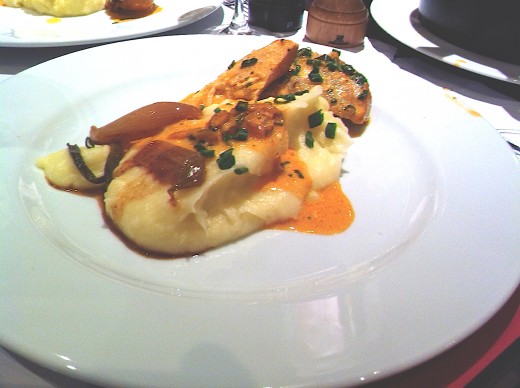 Service was pleasant throughout the meal, and the atmosphere here feels more like Macon, the owner's hometown, than Paris, with a mix of pennywise suburban theater-goers, neighborhood types, and solitary business travelers relieved to have found a decent feed near their mid-range accountant-selected hotels.
We also appreciated the wine list, which is heavy in southern Burgundian bottles and Beaujolais, and offers a nice selection of pours by the glass and differently sized carafes.
In a male-oriented restaurant–with its andouillettes, steaks and other meat dishes, this place seems more likely to appeal to Monsieur than Madame, unless she has a trencherman's appetite, I didn't expect much from dessert, but the compote of fresh apricots with vanilla ice cream was a grandmotherly pleasure, and they also served up a very nice strawberry tart and a fine selection of mostly goat cheese from the Maconnais and Charolais regions.
All told, even though the cooking lacks precision, it's still solidly good, and this is a recommendable if rather plain address for anyone looking for a Burgundian feed in the heart of Paris. Hats off to the owner, too, for chosing to raise the flag of Burgundy instead of adding to Paris's already wiltingly large stable of alarmingly bad sushi restaurants or pasta places.
Bourgogne Sud, 14 rue de Clichy, 9th, Tel. 01-48-74-51-27, MetroL Liege or Trinitee. Open for lunch from Monday to Friday and dinner from Tuesday through Saturday. Lunch menus 13.50, 15.50 Euros, prix-fixe menu 23 Euros, average a la carte 35 Euros.