THE BEEF CLUB–A Mis-Steak in Les Halles, C-
April 20, 2012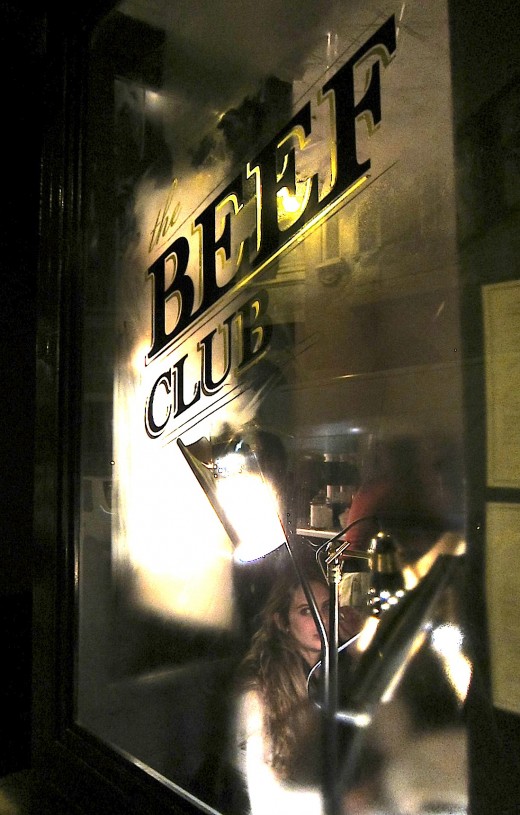 For the last year or so in Paris, there's been a sudden curious flowering of 'Anglo-Saxon' (the French often benightedly insist on using this medieval term when referring to almost any English speaking country, even Nigeria) restaurant concepts that run from burger trucks and joints to Upper East Side style dating restaurants (La Maison Mere) to some happily very decent Mexican places, with a couple of tedious mini-pastry trendlets (cupcakes, whoopie pies) thrown in for good measure. Since I love a good burger, I've been delighted by the arrival of La Camion qui Fume and Blend, and generally bemused by the profusion of Caesar salads and cheesecake all over Paris, since in the main, this is a harmless set of trends that mostly bespeak the fact that Parisian Bobos really love New York City.
After dinner at the new The Beef Club the other night, however, I'm starting to have some serious doubts about what this trend means for Paris. If the food scene in every major city is in constant evolution, Paris isn't every major city. It's much smaller than London and New York, and without the same jumped-up financial sectors as those two cities, there's less money to spin the wheels of the local restaurant industry, which is already struggling for a variety of distinctly local factors like the moronic 35 hour work week (whoever France's next president may be, I hope they'll renounce this daft Ruby Goldberg feint at economics once and for all).
What this means is that a big trend here has a lot more impact that it would in a larger city with a more lavish expense-account dining culture. A perfect–and rather sorry–example is the fact that almost everytime a neighborhood cafe or brasserie is remodeled these days, it turns up with a faux Costes brothers restaurant style decor. Though they're definite signs Parisians are finally becoming bored by the Costes restaurants, the ripple effect of their success is still being copied everywhere. They were the ones who pioneered the local idea of well-sourced brand-name products instead of real cooking, and they also launched a whole sad battery of recipes that are more about assembling things on plates–salmon tartare, sliced tomatoes and mozzarella, etc., or just plain applying some heat here and there than are about the transformational art of cooking. And the new wave of Paris burger restaurants and steakhouses are basically just taking a leaf from the same playbook, since they're all about prestige sourcing, too–meat from star butchers like Yves-Marie Le Bourdonnec or Hugo Desnoyer, plus a smattering of tantalizing culinary snobberies like moutarde de Meaux or Ogleshield cheese, and the smart art of grilling.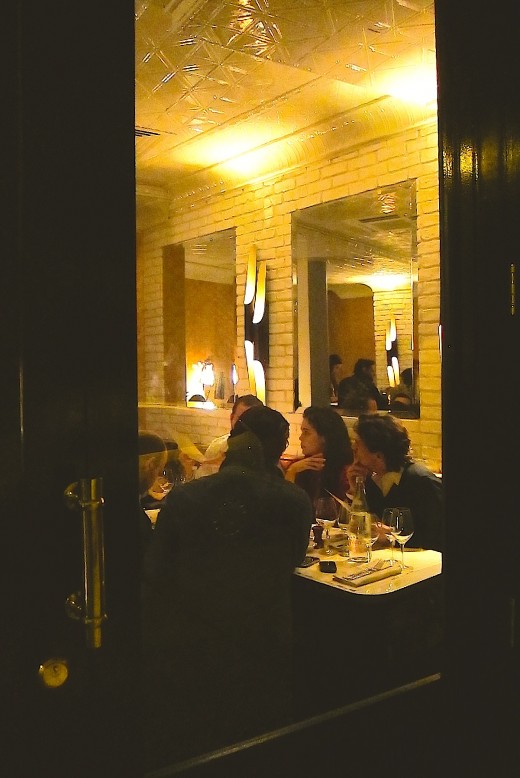 So the menu at The Beef Club offers a rather wilting and warning boilerplate of things that are likely to become ubiquitous in Paris, and what bothers me most about this is that they're not French. I'm very far from being a gastronomic protectionist, but I honestly don't understand why the beef served at The Beef Club comes from farmer Tim Wilson's farm in Yorkshire (yeah, yeah, yeah, it's grass-fed and the breeds are different from what you find in France, but so what–give me Bazas beef or Charolais or Blonde d'Aquitaine any day), but most of all I just don't get this completely misbegotten and off-kilter version of a New York City steakhouse cross-bred with some wispy English version of same and then lightly extruded through a French sensibility. Paris already has several superb steak restaurants, like Le Severo, so why do we need the Peter Luger modeled, super market-researched The Beef Club when what we're really short of in the City of Light these days are good French bistros?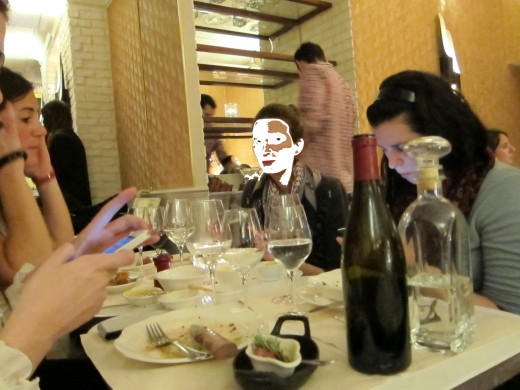 On the basis of the crowd there the other night–lots of younger affluent but fashionably bedraggled Parisians who checked their iPhones and Blackberries constantly through dinners with which they mostly drank Coca-Cola Light, I am light years away from being part of the target demographic. Still, I might have liked this place if the food had been better than average and the service half-decent. Since starters were expensive and neither original nor very appealing–Caesar salad, Scotch Egg with salad, and grilled rabbit livers, among others, we went directly to the main courses.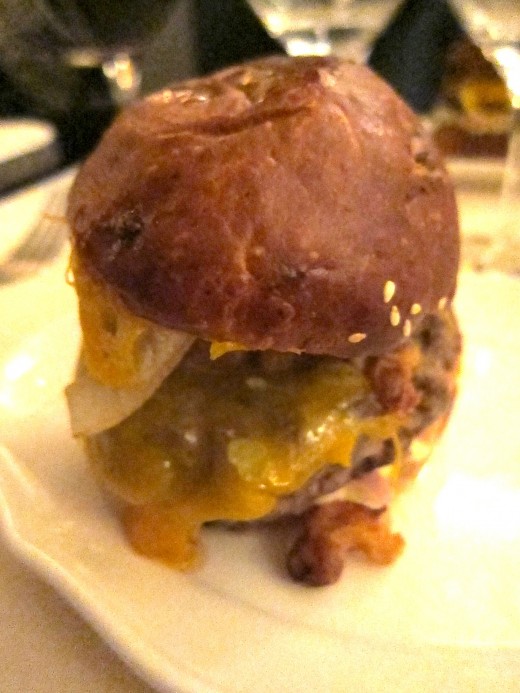 I had a very sorry 23 Euro "Beef Burger" (as the Brits call hamburgers, a puzzling but precious little beat of verbal snobbery), a tasteless and rather overcooked burger on a stale roll that exhibited almost none of the promised garnishes of "bacon, grilled onions, lettuce, pickles, red leicester, ogleshield and sauce maison au whisky" and a side of ho-hum frites cooked in duck fat. The others had steaks, which were good, but in no way memorable, and we drank the cheapest red on the wine list, a Gigondas at 29 Euros.
To be fair, service was doubtless off its game because the restaurant had been reconfigured to accomodate two large tables of French food bloggers, but the amateurish and absent-minded behavior of everyone who waited on us drove Michael and Dorie right up the wall. We glanced at the menu for dessert–cheesecake, bien sur; chocolate mousse with crushed pecans and salted caramel sauce; or a fruit salad on a bed of passionfruit mousse, and decided to pass.
"I hate this restaurant," the normally sugar-sprinkled Dorie exclaimed while we were waiting for the bill, which a waitress finally deposited on the table with an, "Et voila!"
With an an average meal running at least 60 Euros a head at The Beef Club, I couldn't help but comparing this place to La Rotonde, where I'd had dinner a few nights before with Bruno. There, in a grand old dining room with a decor recalling the first-class dining carriages of another era–brass coat rails and fringed silk-shaded lamps, it was a pleasure to sink into an atmosphere so profoundly Parisian. To be sure, tourists fill the glassed in terrace of this historic Montparnasse brasserie, but the low-lit booths in back are still the haunt of a cross-section of Gallic captains of industry and Left Bank power brokers, and the impeccably calibrated service–polite, alert, vaguely deferential and exquisitely wry, couldn't possibly be more old school French, which meant that I just lapped it up.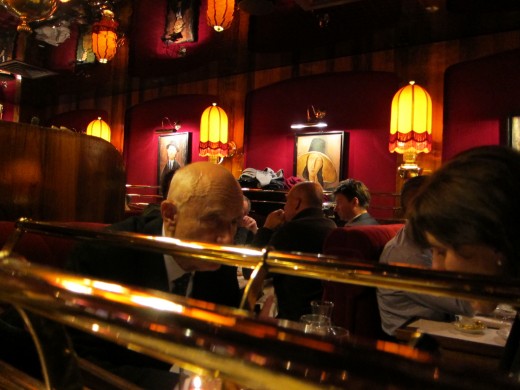 I'd hadn't been to La Rotonde in at least twenty years, and so had almost no memory of the food whatsoever. And truth be told, I wasn't expecting much, because I never expect much from Paris brasseries anymore. So what were we doing here? Bruno was craving oysters, I was hungry for meat, it was late, and we'd just been to a gallery show of a friend's photographs around the corner. So Bruno went with the 39 Euro menu, which brought him six Quiberon oysters, sea bass in preserved-lemon sauce on a bed of wild rice and one of the best millefeuilles I've had in Paris for a very longtime.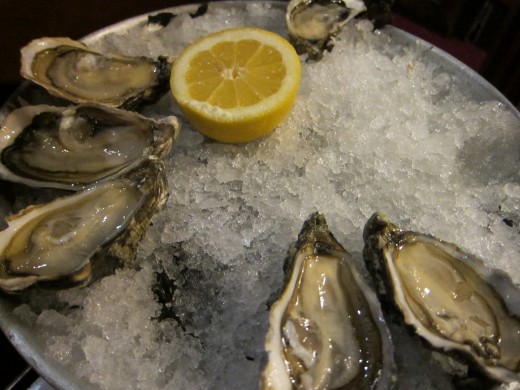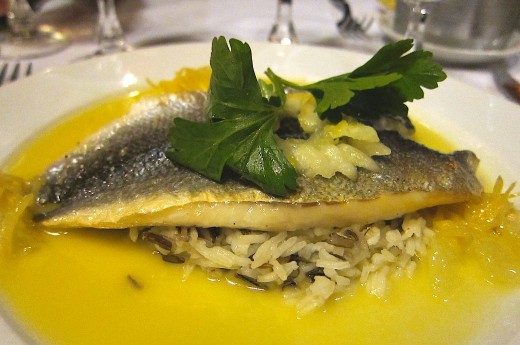 I went with some oysters, too, and then had an outstanding steak tartare made with beef from butcher Hugo Desnoyer and so generously served I almost couldn't finish it. The tartare came with beautiful little mesclun salad and freshly made frites, and even though the ever dieting Bruno wasn't drinking that night in penance for a lot of Sagrantino recently consumed in Umbria, I was able to make myself happy with a little 25 cl carafe of white Macon to start, and then the same measure of a good inky Colombo cotes du Rhone before I forced Bruno to share his millefeuille with me.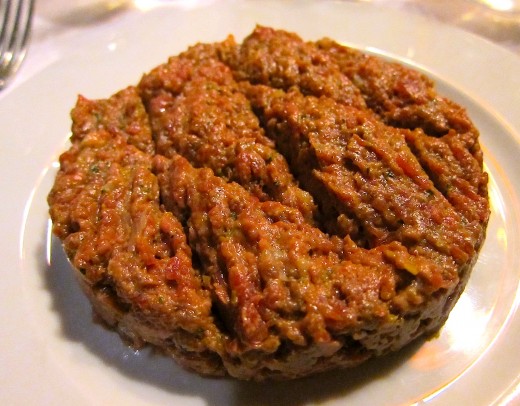 You won't get to eyeball the millefeuille, because our pretty blonde waitress knowingly and neatly divided it in half before she served us, and it looked so good that I immediately devoured my half before thinking to record it for posterity. If the menu at La Rotonde name dropped a bit–the Saint Marcellin was from the cranky La Mere Richard in Lyon, sorbets from Berthillon, veal chop and a few other tasty morsels from Hugo Desnoyer, what I quickly understood was that the quality of this restaurant is so supervailing you really don't even need these hang tags. I can't remember the last time the little playing-card squares of rye bread served with an order of oysters were actually good–they're invariably stale and taste like baked dust, but here the bread was delicious. So the next time I'm hankering after a meaty comfort-food feed, I'll give a definite miss to all of the new 'Anglo-Saxon' restaurants in Paris, and head for La Rotonde, where I'll order the 39 Euro menu, and have the following meal.
1) Terrine du moment de Gilles Vérot
2) Gigot d'Agneau de Lozère (Hugo Desnoyer) rôti aux herbes, jus et garniture
3) Baba au vieux rhum ambré
I'm really looking forward to it, too.
The Beef Club, 58 rue Jean Jacques Rousseau, 1st, Tel. 09-52-52-89-34. Metro: Les Halles, Louvre-Rivoli. Dinner only, Tuesday to Saturday. Average 60 Euros.
La Rotonde, 105 boulevard Montparnasse, 6th, Tel. 01-43-26-48-26. Metro: Vavin. Open daily. Prix-fixe menu 39 Euros. Average a la carte 50 Euros.