SEMILLA–Really Good Contemporary French Food in Saint Germain des Prés, B+
April 10, 2012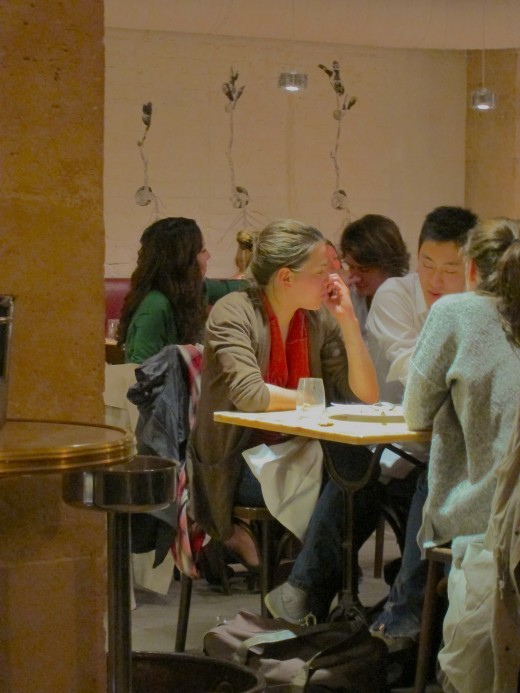 Since everyone laps up charming Miami born Juan Sanchez and New Zealander Drew Harre, the very successful business duo behind the excellent La Dernière Goutte wine shop and good Cosi sandwich shop in Saint Germain des Prés, honest opinions about the food at their third shingle–the very popular anglophone expat hang-out galore Fish la Boissonerie are usually exchanged in whispers, behind closed doors, and most definitively not for attribution. It's not that that the food at Fish isn't good, but rather, well, um, er, hmmmm, it's that it's pretty dull in view of all the other amazing options available in Paris, and yet somehow the personal popularity of the owners has given this place a permanent Pass Go card. And this is something that's always been puzzling to me, since I know how discerning both of them are about what they eat and drink.
So it was with a somewhat anguished reluctance to be critical that I met my friend Christian for dinner at Juan and Drew's new place, Semilla, just a few doors away from Fish la Boissonerie, the other night. I really wanted the food to be good so that I wouldn't enter that awkward twisting-in-the-wind space between being a good egg–they're too many fawning Paris food websites around, and doing my job as a writer. The problem, you see, is that if the food hadn't been good, I'd have to say so irregardless of what feathers might be ruffled in the small pond of people who write about restaurants in English in Paris. So do I like being critical–not especially, but it comes with the territory, and I got used to it a longtime ago, since I learned this job while working for one of the best restaurant critics to have come along in my lifetime, Ruth Reichl, of the late and but still lamented GOURMET Magazine.
Since Christian likes white Cheverny, we tucked into a carafe of same–wines on the terrific list at Semilla, which means 'seed' in Spanish, come by the glass, carafe and bottle and are well-chosen and reasonably priced, especially for this expensive Paris turf. Since we hadn't seen each other in ages, we were chatting up a storm and almost chronically incapable of paying attention to the menu and ordering dinner, but then the somewhat theatrical impatience of the waiter, who had been here since the days that this space was the never very good Le Temps Perdu, brought us in for a landing.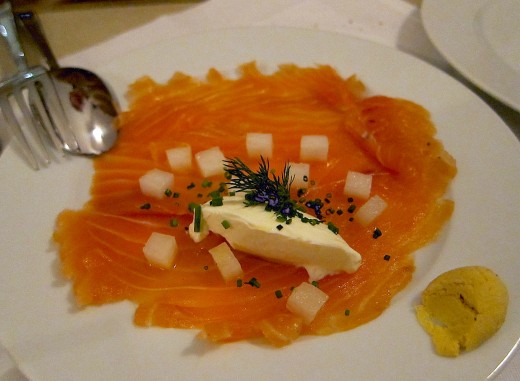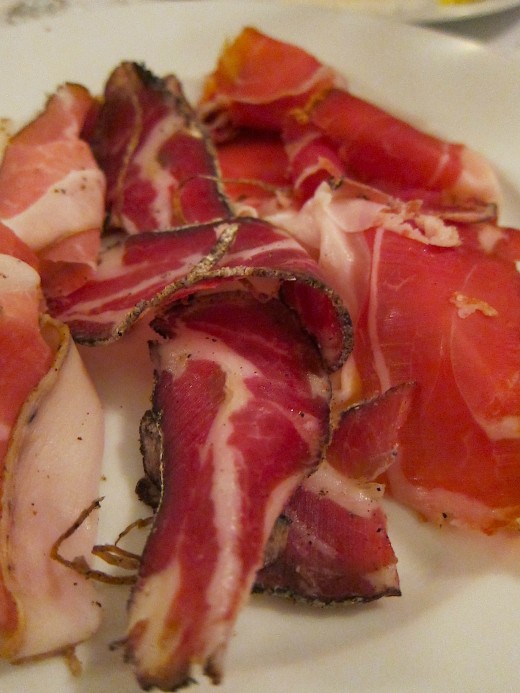 Okay, so we'd start with half portions of the smoked salmon and the Corsican charcuterie from Pascal Fiori, and then share an order of the griddled shitake mushrooms, before rather unimaginatively both having the blanquette de veau with a side of ratte potatoes with braised garlic. To be sure, there were lots of other terrific sounding dishes on the menu–among them, a rib steak for two with bordelaise sauce, squid risotto with a persillade, and yellow pollack with celery puree and meat jus, but since both of us had been traveling non-stop for the previous couple of weeks, this was one meal where we wanted to eat what we wanted to eat (I remain alarmingly convinced that I consumed at least an entire cow during my recent trip to South America). And in the meantime, this place looked great, with big exposed shiny metal ventilation ducts overhead and exposed stone walls, or more new Barcelona bistro than Paris actually, and the crowd was lively, keen and attractive. In fact for a brand new restaurant, this place already felt like a neighborhood institution, which was very telling.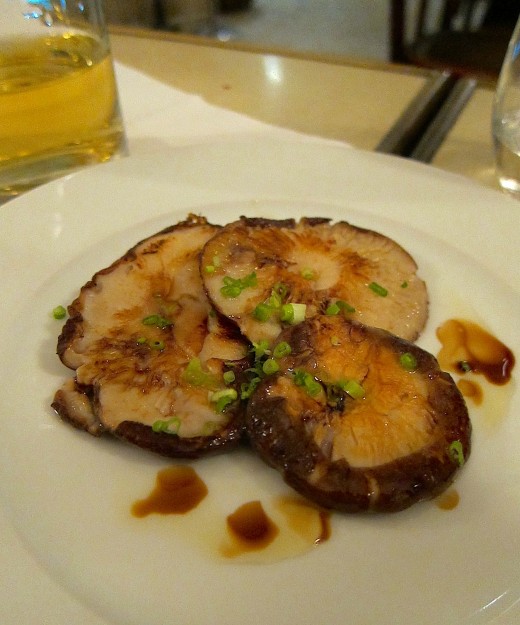 I could easily have eaten a platter of the nice meaty shitake mushrooms, but we decorously made due with three, which were dressed Spanish style with good oil, Xeres vinegar and chives, and then we greedily tucked into one of the best blanquette de veau I've ever had, tender veal in a silken gently acidulated sauce with shavings of green asparagus, fava beans and other Spring vegetables. This dish was so good, in fact, that I momentarily drifted out of our conversation, carried downstream by the thought that this is a restaurant that I know I'll be eating in often during the months to come and so really looking forward to seeing how the menu evolves through the seasons. I was also musing that this just might be the best new Sunday night address in Paris when Christian lasooed me back to our conversation. "This is just so good," he said, noting that it was the first time his appetite had quickened since having caught a bug while traveling in Asia.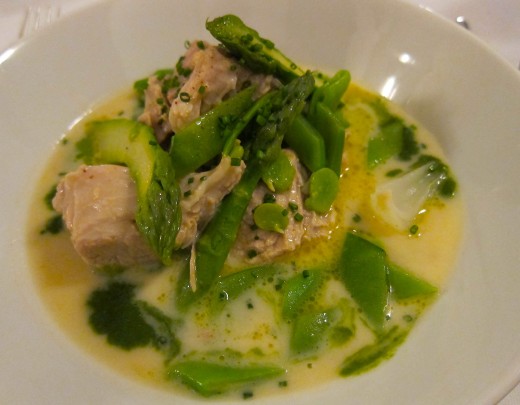 So now I was curious about who was in the kitchen and asked the heroically theatrical waiter. He explained that it was a young team of chefs from the first-rate Ecole Ferrandi, which is probably where I'd go in Paris today if I wanted a serious professional culinary formation, under the auspices of Meilleur Ouvrier de France (MOF) Eric Trochon: Somehow this didn't surprise me, because this food was so fresh, sincere, tender and young. Desserts sound terrific, too–citrus-fruit soup with orange-flower ice cream, shortbread with lemon cream and meringue, aloe vera cream with exotic fruits and a caramel tuile, but lavishly well fed and happy, we decided to share a nice assortment of cheeses from Quatrehomme and take a walk on the sweet side of things next time round. One way or another, this is a terrific restaurant, and a stand-out in a city where there's a brilliant and ever burgeoning offer of cosmopolitan bistro cooking with good old-fashioned French bones.
Semilla, 54 rue de Seine, 6th, Tel. 01-43-54-34-50 . Metro: Mabillon, Odéon & Saint-Germain des Prés. Lunch menu 19 € (starter, main course), dessert 8 €, a la carte 20-50 €.