TRAVELS IN THE NEW WORLD: NYC—Maialino, A-; Kajitsu, A-; CT—Ola, B; Little Thai Kitchen, B-
August 26, 2010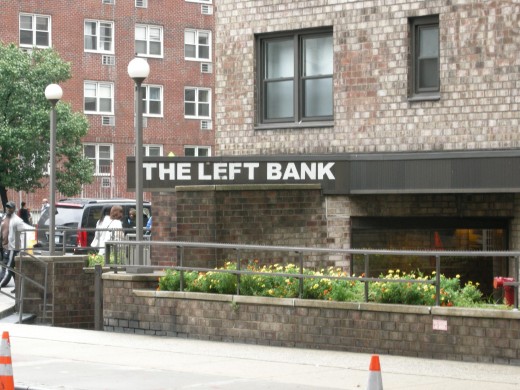 "THE LEFT BANK," 15 Street & 6th Avenue, NYC….Er, um, well not quite. When I was growing up in Westport, Connecticut in the sixties and seventies, the default "good" restaurant was a place down near the train station called Manero's, an Italian-American owned steakhouse with a brick walls covered with shiny copper cookware and jovial older waiters with accents of indeterminable origin. This was where Grandmother Drake would take us for a birthday dinner or sometimes just a special night out, and with her pretty green eyes, Titian blonde hair in up-swept French Twist chignon, good jewelry, faux leopard jacket and quick wit, the waiters adored her. The running joke at almost every meal was that it was her birthday, and they'd often bring out a baked Alaska with a candle in it for her after we'd eaten the exact same meal we always had: cocktails—bourbon for the adults, and Shirley Temples for the girls or Horse's Necks for the boys, the difference being in name only, because they were the same concoction of ginger ale and grenadine syrup with an orange slice and a vivid Maraschino cherry (oddly enough, the concept of children's cocktails seems to have gone completely out of style…can't think why), shrimp cocktail, steak with onion rings, baked potatoes wrapped in foil, and salad with blue-cheese dressing.
If the food at Manero's was good, no one could ever have accused it of being interesting, but then in those days no one wanted food that was interesting. To be sure, Westport had an excellent Chinese restaurant, West Lake, and the Italian food at the Apizza Center in nearby Fairfield was wonderful, too, but aside from a couple of New England-y seafood places—The Clam Box, etc., and a "French" restaurant downtown where they flambéed everything, but most of all the bill, the town offered slim pickings for anyone who really loved good food with the exception of the rather mysterious Café Varna, which served, rather amazingly in retrospect, Bulgarian food.
The local restaurant pulse quickened in the seventies with the opening of places like Viva Zapata, a Mexican place that Grandmother Drake heartily disapproved of—"Barbara," she'd say to my mother, "You shouldn't feed food like that to growing children"—and a fun little café called Bon Appetite.
During a recent trawl through southwestern Connecticut, I thought of this long ago gastronomic landscape and couldn't help but be amazed by the variety of ethnic eating now on offer in the area, a reflection, I think of how Americans have become so much more adventurous at the table than they were forty years ago. I mean, who'd have ever thought that there'd be a half-decent Thai restaurant, the Little Thai Kitchen, in a white-bread suburb like Darien? (Their pineapple fried rice is killer good) Or Ola, a really good pan-Latino place owned by Guatemalans in Orange, Connecticut just outside of New Haven.
To be honest, I didn't expect much from the later on a rainy Sunday night, but my friend David was enthusiastic, and while traveling in the U.S., I enjoy being "off-duty," and so rather less exigent than I am in Paris. The colorful "fiesta loca" décor and location in a strip mall encouraged me to seriously temper my expectations, so it was a surprise when lobster and avocado quezadillas with chipotle creme fraiche came to the table and were delicious. My churrasco beef—marinated skirt steak served with rice and beans. lime-horseradish-and-parsley chimichurri and long wands of deep-fried plantain, was excellent, too, although I'd have liked a bit more fire in the sauce, and David's shrimp "Bahia" was wonderful—plump shrimp in a gentle but nicely seasoned sauce of coconut milk. With a good bottle of Rueda rose, this was an unexpectedly pleasant meal, and a perfect example of how terrifically cosmopolitan dining options have become all over the United States.
Back in New York City, I had one of the best Italian meals I've ever eaten at Danny Meyer's new Maialino restaurant at the Gramercy Park hotel. This place is his homage to Roman trattoria, and he nails it perfectly with absolutely stunning food. The four of us swooned over a daily special of insalata Catalana—perfectly poached squid, prawns, and fish with diced tomatoes and tiny croutons in a brilliant lemon vinaigrette, a superb plate of Italian charcuterie, and tripe cooked with mint as first courses, and then tucked into malfatti with sublime shreds of roasted sucking pig in a lemony sauce, spaghetti alle vongole, roast suckling pig, and swordfish, all of which were outstandingly good.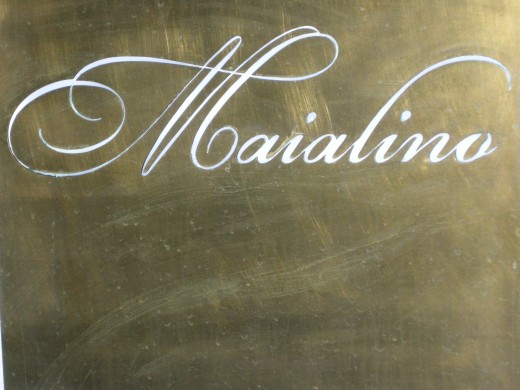 In fact the only things I'd didn't like about this place were the prices—staggering, and the décor, which was too high-concept with a fussy marquetry style floor. But the service was charming per all Meyer restaurants, the wine list had some terrific off-beat bottles, and the crowd was fun, too, including the just-in-from-LA couple nearby. She, a perfect cooing Barbie in sequins, and he sort of a junior Phil Spector type. Former boss and fellow diner Ruth Reichl advised me that Maialino also does one of the best breakfasts in New York, and I can't wait to try it on a future visit. In the meantime, I'll be remembering that roast suckling pig with rosemary potatoes with gunning salivia glands until my next trip to New York, where my other stand out meal was a superb dinner tasting menu at Kajitsu, a very beautiful Japanese restaurant in the East Village where the tempura sweet corn on steamed rice with corn soy sauce and Italian parsley was one of the best things I've eaten all year. In fact, the only place I really wanted to get to and missed was Kyochon, the Korean chicken restaurant on 5th Avenue that David Lebovitz made sound so appealing. What Grandmother Drake would have made of Korean fried chicken or udon with yuzu is beyond me, but I have a hunch she'd have preferred Manero's. Myself, I return to Paris more impressed by the food in the U.S. than ever before.
Kajitsu, 414 East 9th Street, New York, NY, Tel. 212-228-4873, Tasting menu $70
Little Thai Kitchen, 4 West Avenue, Darien, CT, 203-662-0038, Avg lunch for two $60
Maialino, Gramercy Park Hotel, 2 Lexington Avenue, New York, NY, Tel. 212-777-2410. Avg dinner for two $150
Ola, 350 Boston Post Rd, Orange, CT, Tel. 203-891-0522, Avg dinner for two $100.